George Millspaugh (Big G)
Pearl Handle Band - Big G And The Real Deal
Interview by Luc Brunot.
Original version of the interview published in Bands Of Dixie #94 (September - October 2013)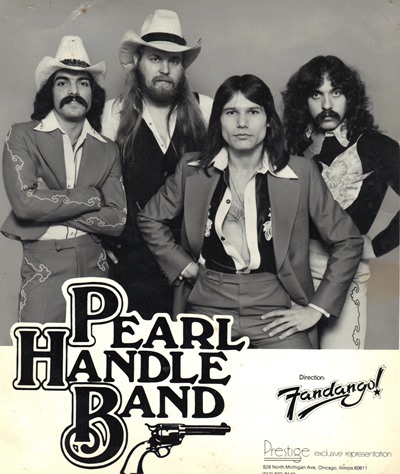 The CD edition of the rare Pearl Handle Band's LP and the lack of information intrigued us ; so Bands Of Dixie put its detectives on the case ; they tracked down Big G who tells us the story of his band and the amazing story of this album.
Hello Big G,
We are happy to have the opportunity to meet you to talk about the Pearl Handle Band and the curious history of "their" LP.
The band was put together in 1974 in Chicago. Could you introduce yourself and the other players? What were their musical influences? What did the band play at the beginning?
My name is George Millspaugh, A.K.A. Big G, I was the lead singer and guitar player, Danny Hurc was the other guitar player, Mickey Gentile played bass, and Dean Aliotta played the drums, in the Pearl Handle Band. Our musical influences at the time were the Allman Bros., Wet Willie, Charley Daniels Band, Marshall Tucker Band, ZZ Top, Lynyrd Skynyrd, Johnny Winter, and all of the Chicago blues legends. The band, at the beginning, played a combination of rock, blues and southern rock, and later on, wrote a lot of our own songs. We were highly influenced by the southern rock bands, and were the only Chicago band, at the time, that looked like they were from Texas. We all dressed in blue jeans and cowboy boots, and I always wore a wide brimmed cowboy hat like Charley Daniels.
We will talk about the LP done by Brylen Records from your 1980 sessions in Nashville but apart from that, did you record any other stuff?
The only other things recorded were live shows, and a few things recorded at rehearsals. I also have a live show recorded from a radio broadcast by a college radio station, done at a local club from 1978 or so.
What were the highlights of the life of the band until the end in 1983?
The best times with the band were, of course, the road trips. We played mostly around the Midwest states, but we also played many cities in Texas, and a few in Florida. We opened for a few major bands at concerts, Van Halen, Black Oak Arkansas, Journey, Mahogany Rush, Point Blank, Amazing Rhythm Aces, Johnny Paycheck, Captain Beyond, Sea Level (Chuck Leavell band after Allman Bros.), Dickie Betts, Nicky Hopkins, Mitch Ryder &the Detroit Wheels, Waylon Jennings, and a few others that escape me right now. The road work was the most fun, of course. We travelled in a Dodge Maxi-van that was tricked out on the inside with a fold down bed, sink, refrigerator, and a high watt stereo for the tunes. Our equipment and the roadies followed in a 28 foot truck. The only thing I wish I had back then, was a video camera! Many good times were had in that van!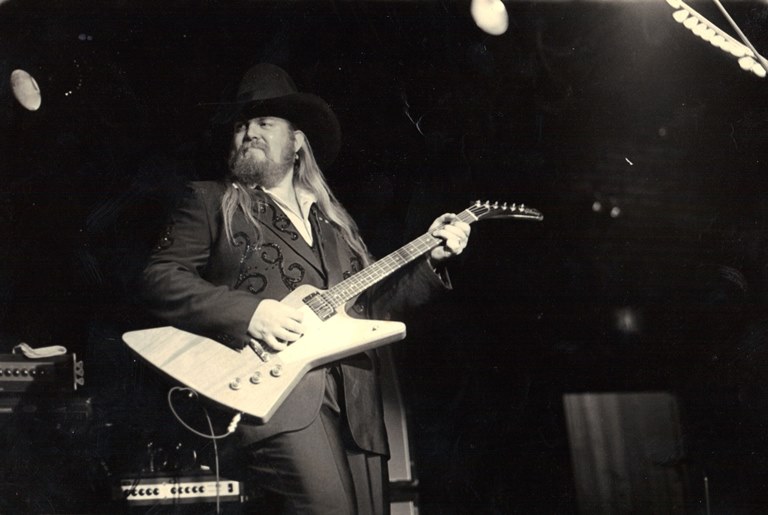 Did the line-up change sometimes?
The only time the original line up changed, we added a keyboard guy that only lasted one week. We liked the original four guys, better.
And did the style of the band evolve thru the years?
We started playing mostly cover material, mostly country rock, and blues rock. As time went on, we wrote more songs, and added them to the show. But our country rock and blues roots never changed.
What was it possible to find in your set-lists.
Our set lists would go from country, to blues, to hard rock, all over the board. This is a song list from a night at "Rush Up" in Chicago in 1976 or 77. I have a live CD of this show.
1. It's Alright Mama - Wet Willie version
2. Silver Train - Rolling Stones ; Johnny Winter version
3. Bedroom Thang - ZZ Top
4. Macon Hambone Blues - Wet Willie
5. Motherless Children - Derek &the Dominoes
6. Let It Bleed - Rolling Stones ; Johnny Winter version
7. 24 Hours At A Time - Marshall Tucker
8. Misty Mountain Hop - Led Zeppelin
9. Waiting For The Bus / Jesus Just Left Chicago - ZZ Top
10. So Much - Pearl Handle
11. Bad Luck Situation - Johnny Winter
12. Schoolin' Them Dice - James Montgomery Band
13. Grits ain't Groceries - Little Milton
14. Midnight Rider - Allman Bros.
15. Cheap Wine - Pearl Handle
16. Shame, Shame, Shame - Wet Willie version
17. Can't Get Next To You - Savoy Brown version
18. Goin' Back Down Again - Pearl Handle
19. We Got To Have A Good Time - Wet Willie
20. LaGrange - ZZ Top
21. Ghost Riders In The Sky -
22. Statesboro Blues - Allman Bros.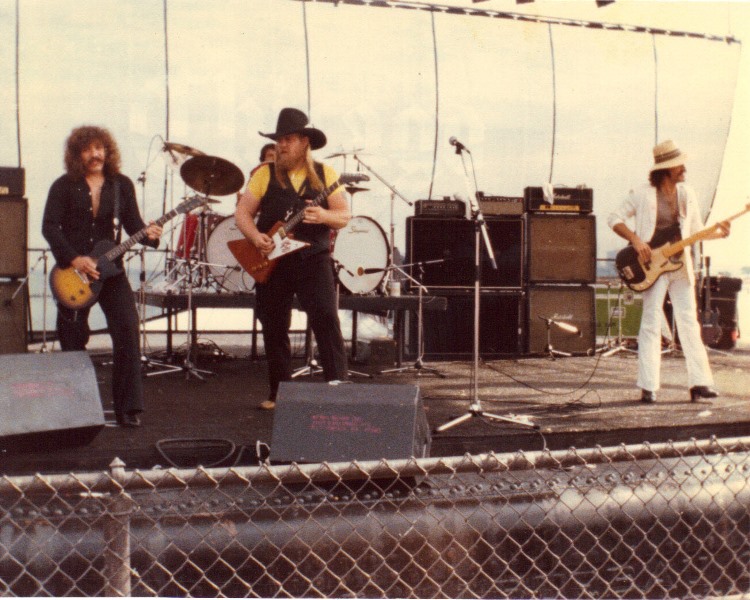 This was two of four sets we did that night, as you see, we played a few different styles, but they were rocking!!
Can you tell us about the 1980 sessions and why you didn't finish it?
I don't remember, but I think it was sabotaged by our booking agent / manager that we were at odds with at the time. We were never able to do final mixes, or add vocals, or guitar part, etc. We got the original offer from Sunbird records, because a friend of our sound man did photo and graphic work for that studio. Through him, we sent them a demo of our songs, and that's what started the whole session. All these songs were mostly one take songs. We were playing a lot in those days, and we played all those songs every night, except for "Stranded On A Deadend Street", and "Call For The Doctor", that were songs given to us by the studio people, we learned and arranged them overnight, and played them in the studio the next day.  The whole session was shelved, because "Sunbird" records went out of business. We never heard from the studio people after we returned to Chicago. We were told we would return to finish everything, in a couple of weeks. It was then that things fell apart with our management guy, and the recording deal.
We never heard another thing about those recordings until 3 or 4 years later. A friend of mine called and he had just returned from a trip to Nashville. He told me he was in a record store checking out cassettes in the bargain bin, and he saw the Pearl Handle "Brylen" tape. I was completely surprised, and had no idea how that was done. We tried to get a hold of the producer of the sessions, but he was long gone by then, and no one else seemed to know a thing about it. I believe they probably sold the master tape, along with others that were "on the shelf" like ours, and someone listened to it, picked a few out, and released it just like it was. I have no idea who the person was that first put the one song from that session on YouTube.
It would be nice if we could find the original master tape, go in and finish everything today. There are a few of our songs on that recording, that might do well these days. Who knows?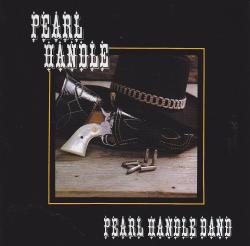 [After having talked with Mickey, the bass player, he adds:] Mickey used to work for WEA (Warner, Elektra, Atlantic) after the band broke up, and at one of the WEA conferences sometime in the 90's, he ran into Nelson Larkin, the former owner of Sunbird records. He talked to him about the bootleg tape, and Nelson knew nothing about it, but through him, Mickey was able to get the original master tape of the whole session, so now it's in his possession. It would be great if some day we could go back in the studio with that tape, and finish what we started 33 years ago!
Weren't you the owners of these tapes? Was it not possible to take legal action against the label, Brylen Records, to get at least money? Have you seen A CD version was recently released? What do you intend to do about that?
As I remember, the studio payed for everything, including our expenses while we were in Nashville. I don't remember how this whole session came about, and at the time it seemed weird to me, as I didn't think that most of the songs they wanted to record were marketable at the time. I don't remember ever signing any kind of recording contract, but it's been 33 years ago, I could be wrong. I remember that Mickey, our bass player, tried finding the producer,who's name was Nelson Larkin, to get the master tape from him. At the time, he was never able to find him, and the people he talked to down there, had no idea of how to find him.
I imagine we could bring some sort of legal action against Brylen Records, but I have no money for lawyers. It should be something we could look in to. As far as a CD version being released, I know nothing of that. The CD of those sessions that I send you, will be a copy of cassettes we had of the sessions from 1980.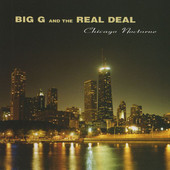 Why did the band break up in 1983?
The band broke up because the club scene was dwindling in, and around the area. Clubs were going disco, or DJ music, and were not interested in paying big bucks for live bands. The only bands working back then, were heavy metal "hair" bands, and we refused to be any part of it. We all needed a break from each other as well. After constant touring, playing clubs 4 to 6 nights a week for 6 or 7 years, we were pretty burned out.

What did you do after?
I was a bartender and bouncer in a couple of bars on Lincoln avenue, after the break up, and later got in the air cargo business at O'Hare airport in Chicago, where I spent the next 25 years. I always had my fingers in the band business through out all that time. My band "Big G and the Real Deal" formed about 2000, and have been playing here and there ever since. I'm also putting together an acoustic duo with a friend of mine, playing blues, classic rock, and country, on my acoustic and resonator guitars.
You have released two CDs with The Real Deal. Are they blues records? Where are they available?
Both Big G and the Real Deal CD's are available on iTunes. Both are blues CD's, but the First one called "Chicago Nocturne" has a blues rock edge. Six of the ten songs on it are our own compositions. The second, called "Chicago Blues Party" was paid for by Toucan Cove label, and they wanted a CD of all Chicago blues standards, so that's what they got. I personally like the first one better, because it has our own songs on it.