Charlie Starr
Blackberry Smoke
Interview by Luc Brunot.
Original version of the interview published in Bands Of Dixie #71 (November - December 2009)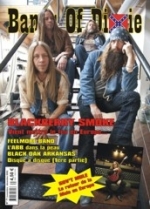 The Allman Brothers, Lynyrd Skynyrd, the Georgia Satellites, Black Crowes, Gov't Mule, etc. The rock from the Southland see, more or less regularly, some powerhouse bands rising up. The new one could be Blackberry Smoke. And, how lucky we are, they're about to come over here real soon. Meeting with their guitarist / singer / leader: Charlie Starr.
Hello,
When was Blackberry Smoke created?
If I remember correctly, we formed the band in 2001.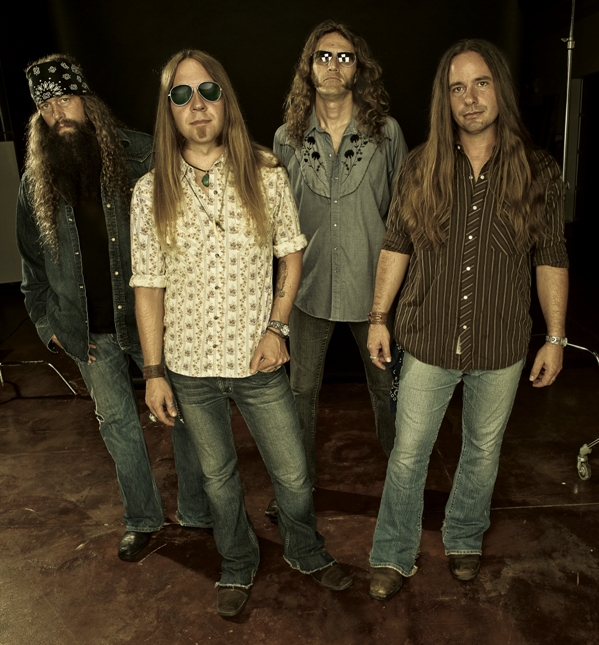 Why this name?
Chris Robinson from the Black Crowes told us to.
Are you close from Chris Robinson and the Black Crowes?
Yes we grew up in Cobb County Georgia.
Why did he suggest this name and why did you adopt it? It has a hidden meaning?
We asked for help in finding a name that was not already taken and he helped out with the name. No hidden meaning.
What is the band line-up?
Richard Turner - bass guitar, vocals. Brit Turner - drums. Brandon Still - keys. Paul Jackson - guitar, vocals. Charlie Starr - vocals, guitar.
I thought you were four. When did Brandon Still join the band?
As soon as we got a vehicle we could fit a organ/piano in... we grabbed him.
Why did you add a keyboard?
Always wanted to add that sound in our music.
What was your musical background during your childhood and teenage years?
I grew up playing bluegrass, country and gospel music. I was bitten hard by the rock n roll bug as a young teenager
What was your career as a musician before Blackberry Smoke?
I played in a lot of bands around LaGrange and Atlanta, Georgia.
What are the main influences of each of you?
I love Bill Monroe, Hank Williams, Stanley Bros., Jimmy Martin, Flatt n Scruggs, The Stones, Skynyrd, Gram Parsons, Allman Bros., Marshall Tucker Band, Little Feat, Faces, Aerosmith, Waylon Jennings, Steve Earle, AC/DC, etc. Only the good stuff.
How did you meet?
We met in different bars around Atlanta through mutual friends and acquaintances.
You have two guitar players, how are the different guitar parts shared?
I guess I'm a bossy control freak at times so I'm the one who decides who'll take the guitar solos. And I'm the only one that plays slide. We try to keep the guitars both working towards the same goal. Less is more and it's all about decorating the tree, which is the song.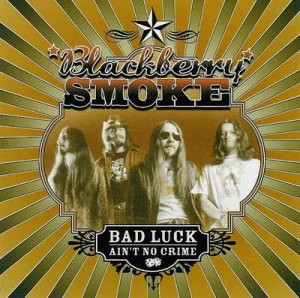 Was "Bad Luck Is not No Crime" in 2003 your first album?
Yes it was.
Why did you choose to cover the Georgia Satellites "Another Chance" and "Freeborn Man" that is known here by the Outlaws?
Jim Zumwalt requested that we record "Another Chance" and we agreed, because we all loved it, of course, and are huge Satellites' fans. Although we also love the Outlaws version of "Freeborn Man", our recording is more a tip of the hat to Jimmy Martin's fiery old bluegrass version.
Who is Jim Zumwalt?
He was an attorney that we were wanting to represent us at the time.
Are the nine others tracks composed by you?
Yes they are.
Who in the band write the songs? How does the songwriting take place?
I do most of the writing, but we do collaborate as a band quite often. Sometimes a song might be finished when I bring it to rehearsal. Other times, we'll take an idea and flesh it out together. We've also cowritten some songs with a few friends.
What has been the disc reception?
So far so good.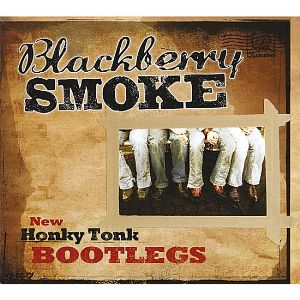 While "Bad Luck Is not No Crime" was a very hard rock song, you released , last year, an EP that was sounding country. Why did you change your style?
We don't ever want to stay inside one box musically. "New Honky Tonk Bootlegs" was us playing the type of country music that we love.
And why this EP format with only six songs? Didn't you write something else in five years?
Of course we wrote other songs. Every time we would get ready to release another full album of material, we seemed to meet another group of people that wanted to be involved in the recording and/or releasing of said product. So we wound up with about twenty songs that we "demo-ed" before re-recording them for the new album with Dann Huff. "Bootlegs" was released as a thank you to our fans who were patiently waiting for "the powers that be" to release a new full length album.
Did you sell The EP well?
Sure. We are very proud of it.
Do you play live in this style?
Every night.
Why didn't you record anything between 2003 and 2008?
We recorded between twenty and thirty songs. We toured a lot, but we went into the studio a few times during breaks in the work schedule.
You now release "Little Piece Of Dixie". If I am not mistaken, you had no label until now. Why did you sign with Big Karma?
We have now signed with BamaJam Records, which is a division of Sroudavarious Records. Our dear friend, Mr. Jim Slaton, who headed up Big Karma Records, recently passed away. We miss Mr. Slaton very dearly and pray for his family.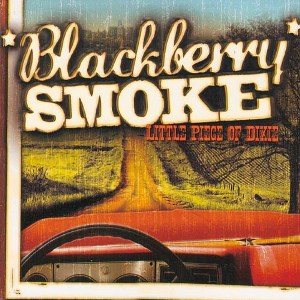 Having dealt with a label, what is different for you?
It feels great to have a team of people working with us, that believe in our music and share our vision.
Did the recordings go off differently from other discs?
So far, we have not enjoyed the luxury of having a lot of time to experiment in the studio. We've had to work very efficiently because of time restraints due to busy schedules. I'm very proud of our recorded material regardless of that. It's been very spontaneous.
Do you like this live in the studio recording side or would you prefer to have the opportunity to take more time to polish up a record?
We like to do the recording live in the studio.
"Little Piece Of Dixie" is perhaps a little bit less hard than "Bad Luck Is not No Crime". Is your style evolving?
I think we're just adding textures to our musical landscape. As long as we continue to grow, we don't have to repeat ourselves musically.
Did Brandon Still take part in recording the disc?
No, but we are currently recording with him involved.
Are all the songs composed by you?
Seven of the songs were written or co-written by us. Four of them were written by others.
Are these four songs written for the record or are they covers?
Written.
Why did you use external writers?
We got the opportunity to write with some great song writers through our publishing company. It was a great experience.
Are there others artists asking you to write songs?
Yes, we've been asked to write with other writers and artists. Anything like that is such a great compliment. We appreciate it very much.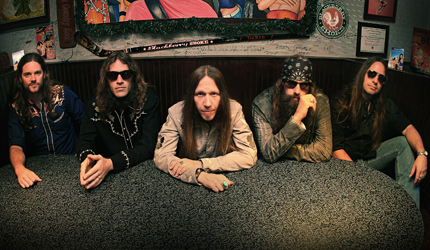 Some names?
Darrell Brown, Leroy Parnell, David Lee Murphy, Randy Houser, Rob Hatch.
What is your set-list in concert: songs form different discs? Covers? Songs not yet recorded?
All of the above. We like to put together sets that have a particular rhythm. A lot of musical ups and downs. Playing a favorite cover now and then is a nice change as well.
So which covers can we listen at your concerts?
"Don't Do It" by The Band, "Tuesday's Gone" by Lynyrd Skynyrd", "I Got The Blues" by The Rolling Stones.
How many shows do you give each year?
150 plus.
In which area do you usually tour?
We play all over the United States. Starting in December, all over Europe!
A lot of artists find the audience is different (attitudes, responses) in Europe than in the USA but is the audience the same everywhere in the US?
No it just depends on where you go and how hard the people hit it the night before.
What is your audience (in age, in number, etc.)?
18 to 80. High, low and everything in between.
This year, you took part in the Simple Man Cruise 2009 with other Southern rock bands. How did you get the job?
We were approached by representatives of Sixthman. The company that is responsible for the cruises. This year will be our fourth consecutive Simple Man cruise.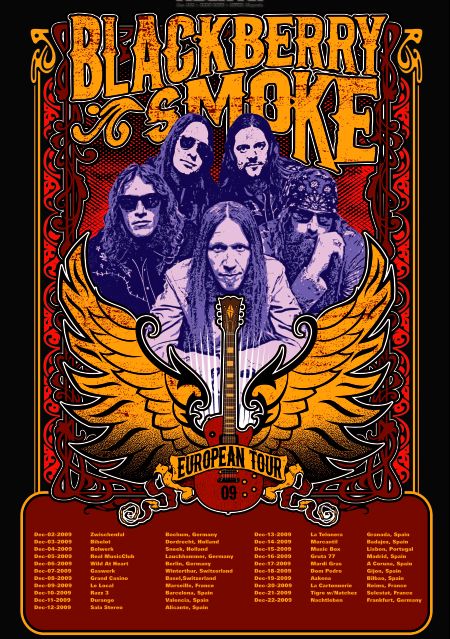 What are your memories about the cruise?
Having Ricky Medlocke play with us onstage! Meeting so many great people from around the world. Superb shows from Skynyrd, Marshall Tucker Band, etc.
With your so busy scheduled, do you have the time to listen to other artists discs? Is it something important for you and your music?
Yes we listen to music 24 hours a day.
What do you listen these days?
Little Feat, The Band, Hank Williams Sr., Jamey Johnson or The Black Crowes.
You have been meeting with some legends such as Lynyrd Skynyrd, 38 Special, the Marshall Tucker Band and Molly Hatchet. Except on this cruise, which other bands did you share the stage with?
We've played shows with all those bands on and off the cruise.
What are your most vivid memories in concert?
Every show that I didn't forget a lyric! Ha ha.
Southern rock is famous for its long guitar solos, that we can rarely hear with you on disc. Don't you like it too much?
We absolutely love it. Our records so far have been definitely more song oriented. At this point in our career, we get afforded the chance to stretch out a little more live than on record.
An European tour is scheduled for December. Is it the first tour outside of the United States?
Yes it is. We can't wait for the opportunity to come play for you!
We rarely see Southern bands in Europe and even Lynyrd Skynyrd didn't seem to come and play as many dates as you'll do. How di you put together a so long tour?
Teenage Head Music is to be thanked for putting the tour together. Great folks!
How would you define the Southern rock?
Don't really have a definition for it. I'd just say the bands that created the genre as we know it are bands from the South that were not afraid to play rock n roll music with added elements of country, delta blues, Chicago blues and a little jazz. Or maybe a lot of jazz. And maybe they all loved to raise a little hell now and then.
What are your favorite Southern rock records?
Lynyrd Skynyrd - Second Helping. The Allman Brothers At Fillmore East. Marshall Tucker Band - Searchin' For A Rainbow. The Outlaws - The Outlaws. Georgia Satellites - In The Land Of Salvation And Sin. Too many to list?
Thanks.