Les Dudek
Allman Brothers Band - Steve Miller Band
Boz Scaggs - Cher - Dudek, Finnigan, Krueger Band
Interview prepared by Luc Brunot, Didier Julien, Dominique Turgot and Didier Demeslay.
Interview realised by Luc Brunot.
Thanks to Sherry Peck and special thanks to Christopher Satterfield for his active and effective assistance to make this interview happen.
Photo credits: photographers unknown except if mentionned. Photos provided by Les Dudek.
Original version of the interview published in Bands Of Dixie #96 (January - February 2014)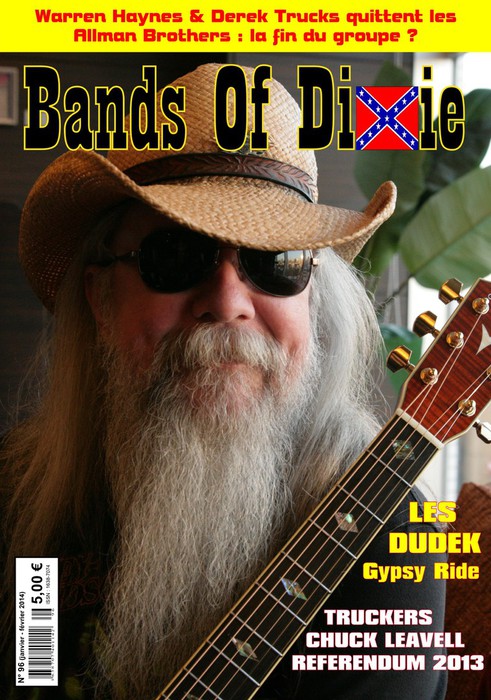 In 1973, Les Dudek made a name for himself because of his guitar work on the famous "Brothers And Sisters" where he played on the two albums gems. One might also wonder whether if we would sumptuously celebrate, in 2013, the 40th anniversary of this record if Les Dudek hadn't been there? But 2013 also sees the release of a new album after more than ten years of waiting ... and what an album! A delight from start to finish! The career of the Florida biker is rich in many projects and we would have had a thousand questions to ask him... priority to the Macon period, to his solo career and especially this "Delta Breeze" which we don't want to wait ten more years for enjoy its successor !
As far as I can tell, your introduction to the Allman Brothers Band came through Dickey Betts, with whom you had been working with at that time. Can you tell us about that project, and how it came to be that you were introduced to the Allman Brothers Band?
After Duane's untimely death, Dickey didn't think the Allman Brothers Band would stay together, so he was planning another band of his own. After hanging out, jamming with him one weekend, I got the call to come back up to Macon to be in his band. That band was put on the back burner when ABB decided to do another album. So Dickey invited me to work on that project with them, which became the 'Brothers &Sisters" album.
Were you at all influenced by Duane Allman before you ever met him or worked with the Allman Brothers Band?
Since we both grew up from the same area, as it turns out, Duane was influenced by some of the same folks I was influenced by. Ry Cooder being one. And yes, to some extent, I was also influenced by Duane's interpretations of the same folks we were both influenced by. Every great player I know has taken a piece of another great player and made it his own.
You co-wrote, and played on, two of the Allman Brothers' most famous songs, "Jessica" and "Ramblin' Man." Were you involved with any of the writing and recording of any of the other songs on the "Brothers and Sisters" album?
I co-wrote and played acoustic guitar on "Jessica", but was never given credit for co-writing it, nor paid any royalties. And I played lead guitar and helped arrange the guitar parts on "Ramblin" Man". I wasn't involved with anything else on the original release, but I am playing on "A Minor Jam" from the new 40th Anniversary "Brothers &Sisters" Allman Brothers Band release.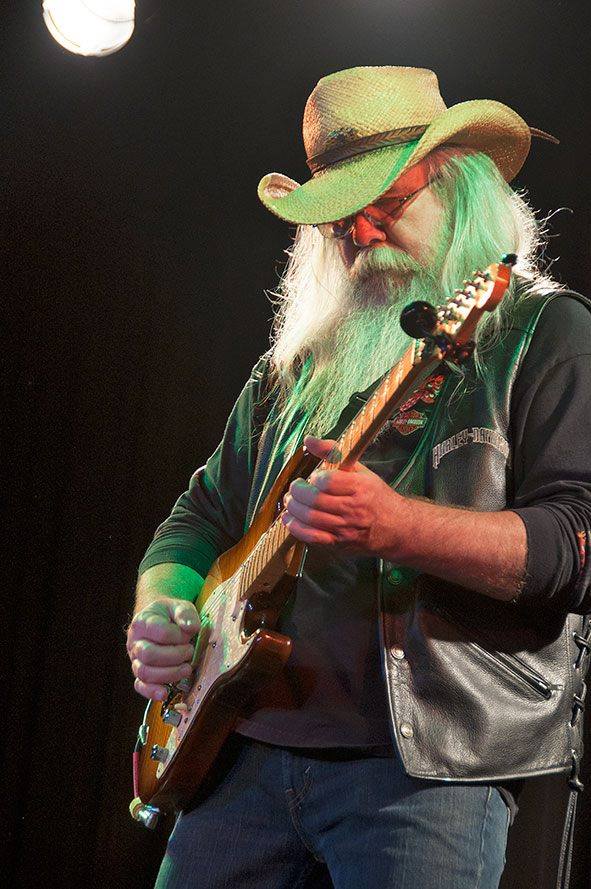 2013 marks the 40th anniversary of the release of the Allman Brothers' "Brothers and Sisters" album, and a Special Edition of this album is being released to commemorate the occasion. Is there anything different or unique about this Special Edition from the original release?
Yes, they added a jam that I played on titled "A Minor Jam". It took us about a week to arrange and record "Jessica". We wanted to record it live in the studio, so we recorded it every night until we finally got the one. One of those nights Dickey and Gregg went home early, so the rest of us, (Jaimoe, Butch, Chuck, Lamar &myself) decided to jam. It also gave Johnny Sandlin, (engineer/producer) the opportunity to tweak out the sounds. I guess he liked what he was hearing, because he recorded it on a long playing quarter inch tape machine. What they used for the anniversary release is good, but there were better parts of that jam they didn't use.
After the "Brothers and Sisters" album was released, did you tour with or perform in any shows with the Allman Brothers Band?
The only show I ever sat in on and played "Ramblin' Man" live with ABB was at Three Rivers Stadium in Pittsburgh, Pennsylvania in 1974. I was actually playing with Boz Scaggs at the time.
How long did your collaboration with the Allman Brothers Band last? Were you ever formally asked to join the band, and/or have you stayed in touch with any of the band members?
I lived in Macon for a little over two years, I was only a part of the Brothers &Sisters project. It was a short association, but a very memorable one, since I played on their two biggest hits, "Ramblin' Man &"Jessica". Phil Walden (manager/CEO Capricorn Records) told me once that he was going to make me a star and put me in the Allman Brothers Band. I told him he might need to talk with Dickey about that. The vibe I got off Betts was that he wanted to be the only guitar player. So, I was never asked to be in the ABB, and I haven't heard from any of them.
During the time that you were working with the Allman Brothers Band, it's my understanding that you were also working with Joe Dan Petty, Larry Howard and Rick Burnette. Did you have any connection to, or were you involved with, the formation of the band Grinderswitch?
Joe Dan asked me if I would like to be in a band he was creating, (Grinderswitch). I was still waiting to see if the Allman Brothers Band gig would happen, so I declined, but turned Joe Dan on to some old band mates I played with in Florida bands. Larry Howard and I were in two bands together (United Sounds &Blue Truth). Rick Burnette and I were in three bands together (United Sounds, Blue Truth &Power).
Is it true that at about that time Toy Caldwell asked you to join the Marshall Tucker Band?
I was living in Macon when Marshall Tucker first came to town. I jammed with them many times and just before they did their first Capricorn record Toy asked me if I would like to be in Marshall Tucker. Again, I declined while waiting to see what would happen with the Allman Brothers Band.
At the time you recorded your first solo album in 1976, you were also busy working with Steve Miller and Boz Scaggs. Were you working alone then, or did you have a backing band of your own that you worked with?
I had my own band and was still working with Scaggs &Miller. Plus, I was offered a gig with a new band called Journey. I decided to sign with Columbia Records and start my solo career.
I see that your first, self-titled, solo album was produced by Boz Scaggs, but that your second and third albums, "Say No More" and "Ghost Town Parade," were produced by Bruce Botnick. Were you able to choose your own producers and session players for those albums? I've read an interview of yours wherein you stated that you were a bit frustrated with not having complete artistic freedom during the recording of those albums; is this true, and if so can you talk about that?
Columbia Records teamed me up with Scaggs and then with Botnick as my producers for my first three albums. I chose some of the players and Scaggs and Botnick also helped with more players. I had some control over artistic freedom with the first three, but fought for more freedom with my "Gypsy Ride" album, which I produced.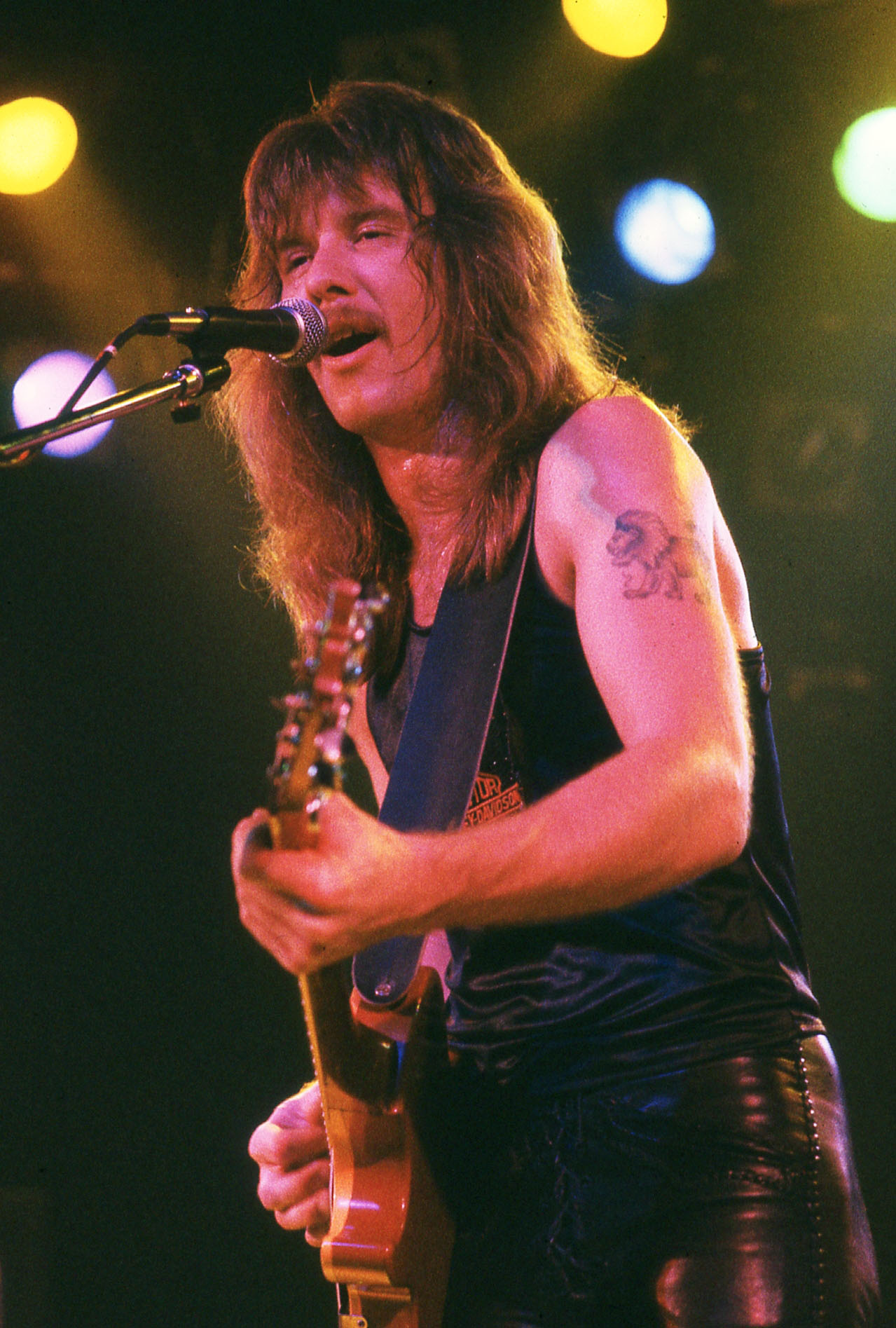 Photo by Mike Heller
There is a song called "Old Judge Jones" on your "Say No More" album that for me is reminiscent of the Allman Brothers songs "Jessica" and "Ramblin' Man." Did you have either of these songs in mind when you wrote "Old Judge Jones"?
No not really. "Old Judge Jones" came to me when I was rehearsing my band to play a gig with the Doobie Brothers at Spartan Stadium in San Jose, CA 1976.
Please tell us more about your own personal process of songwriting and recording. Do songs come quickly, or do they come only over a period of time?
My song writing process is personal. Some songs come so fast I can't write it on the paper quick enough, and other songs take years to develop.
You recorded and released your first four solo albums in relatively quick succession between 1976 and 1981, then did not release any other albums until your "Deeper Shades of Blues" album in 1994. Was there any particular reason for this, and/or what other musical projects or collaborations were you working on during that period of time?
Yes. Money. Making music albums cost money to make. When you're under contract with the biggest record label in the world, it's easier to put out more records because you have a budget to work with. And, yes, I did two other records in that time period; the Dudek, Finnigan &Krueger (DFK) album and Cher's Black Rose album. Just a few years later I also did a movie with Cher and Sam Elliott called Mask.
Are there any additional tracks that were recorded during the time you recorded your first four solo albums that were not included on the albums, but which one day might be released?
Yes, maybe a few. Will they be released? Maybe someday. I never thought they would release the jam I did on the ABB Anniversary Brothers &Sisters album, but they did.
BGO Records recently remastered your first four albums and re-released them on two CDs, each CD with two albums on it.
Yes. To some extent it does bother me for the reasons you mentioned. I had no say in the matter. But, at least by doing so, they're keeping my name alive. So I try to stay focused on the positive.
Please tell us more about your Dudek, Finnigan, Krueger Band project, and where and how that fit in to your life and solo career at that time in your life?
You just asked a question that requires a very long answer, but, I'll try to keep it brief. Basically, it was the "big idea" of the manager I had at the time. Finnigan and Krueger were under the same management and record company as me. So, our manager had the bright idea to put us all together in one super band to promote each of our three solo releases at the time, instead of letting us each promote our own solo records individually. DFK toured first and then released a DFK album later. Bad idea. It should have been in reverse and we spent entirely too much money on that project. DFK is bittersweet to me. It was probably the best band I was ever in, but it ruined my solo career with Columbia Records.
From your discography I see that your next solo record, "Deeper Shades of Blues," was released in 2001 even though it is listed as having been recorded in 1994. Can you talk about how and when that album was recorded, and explain why it took so long for it to be released after the recording was finished?
Trust me. You don't even want to know that answer. It's just too hard to explain. I'll say this; it was first released with a different company in 1994. Then I got all the rights back and re-released it in 2001 with my own company. I started recording "Deeper Shades Of Blues" in 1990. Money is why it took so long to get it released.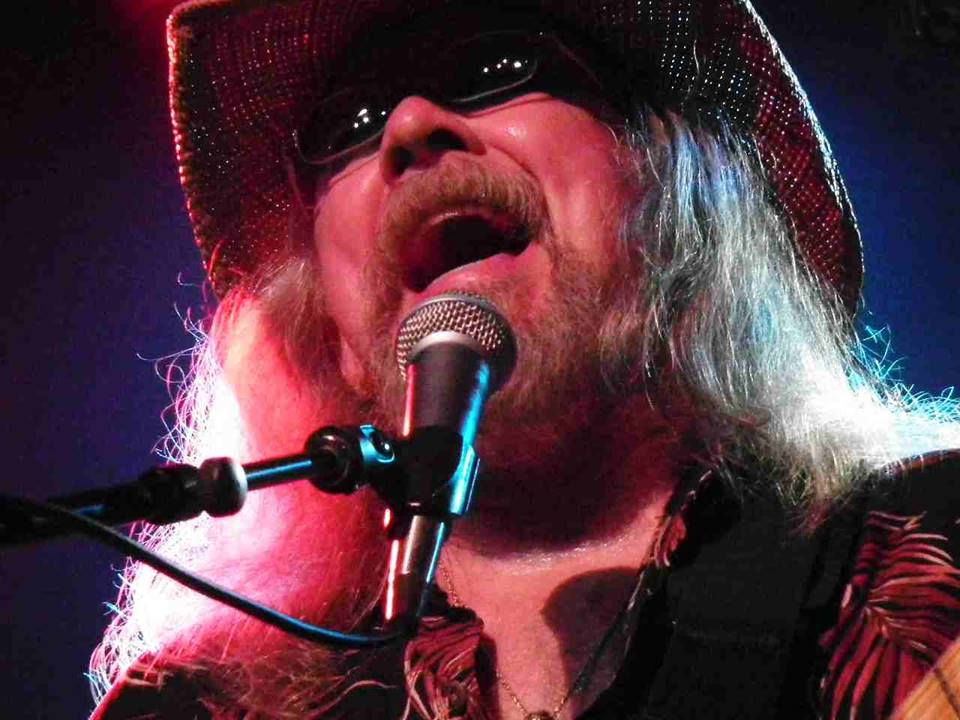 I see from the album credits that legendary drummer Jeff Porcaro played on that album. He, along with Gerald Johnson and David Paich, are credited on several of your albums. Can you tell us about your relationship with these three noted musicians, and why you chose them specifically for your projects?
Boz Scaggs and I first discovered Jeff Porcaro together, while finding players for my first solo album. Jeff played drums on five of my albums. I miss him dearly. No one played drums like Jeff Porcaro. He was a good friend and it was a real learning experience working with him. Jeff was all about the pocket and interpreting each measure of a tune. What a cat! It came time for me to find a keyboard player, so I asked Jeff if he knew anyone. He said yes, his name is David Paich. I asked, " where can we find him?", and Jeff replied, "he's in the hallway waiting for you". That's how I met Paich, through Jeff. What can I say about Paich? Other than he's a monster, an incredible writer and player. Gerald Johnson I met through Steve Miller. Gerald and I had some great times playing together.
Since Jeff passed away in 1992, and since he appears on both the "Deeper Shades of Blues and your "Freestyle!" album (that was released in 2003), were the tracks that he performed on for both albums recorded during the same sessions?
The last time I recorded with Jeff was in 1990 for my Deeper Shades Of Blues album at Schnee Studio, right next door to the old Davlen Sound Studio on Lankershim Blvd. near Universal Studios, Los Angeles, where we recorded my first album fifteen years before. I remember standing by the piano with Jeff reminiscing about the first project we did together just next door at Davlen. Little did I know, that would be the last time I saw and worked with him. Jeff played on every song except the title track of that album. The two tracks Porcaro played on my Freestyle album were from the Deeper Shades Of Blues sessions that I didn't finish until later. They were so good they ended up on my Freestyle CD. Sadly, Jeff never got to hear those two albums completed before he died.
After looking at your discography, one could easily assume that since your work with the Steve Miller Band it's been over 20 years since you made any recordings for other artists. Assuming that that's probably not the case, can you tell us about what kind of other musical projects you've been working on since then, aside from your solo projects?
I did three albums of what they call library music. They are, basically, two-minute instrumental songs I wrote to be used for background music in commercials, TV sitcoms, sports shows etc... And I've appeared here and there on some other projects, but not very often.
During the course of your long career, you've recorded and performed with a number of artists that represent an incredibly wide variety of musical styles: The Allman Brothers Band, Boz Scaggs, Steve Miller, Toto, Journey, Stevie Nicks and Cher, just to name a few. They obviously chose to work with you because of the unique musical style that you represent, and what you could bring to their projects. My question is, did working with any and all of these different artists influence your music in return, in any way.
Any time I work with a real talent, what they contribute always influences me in some way.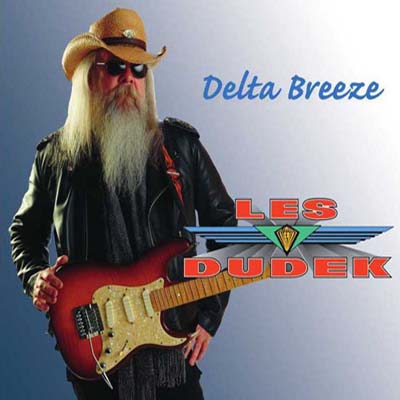 The term "Southern Rock" can be used to describe a genre of bands that are quite diverse in their styles. However, if pressed, you could probably divide them into two "camps": those that are more in the vein of the Allman Brothers Band and Capricorn Productions, and those that are more in the vein of Lynyrd Skynyrd, Molly Hatchet, etc. Since your name is more often associated with the first camp, what are your thoughts and/or opinions about Lynyrd Skynyrd and music of that nature?
Well I've known the Skynyrd boys for a long time. Leon was a dear friend. I miss him and I have a few great stories about being with them. I don't view Southern Rock as two camps like you do. Rather, as different flavors. The groups you're mentioning are all Southern Rock in my opinion, primarily because we're from the American South, and we all like to rock. It's just that simple.
Regarding your new "Delta Breeze" CD, you chose this time to make the recording with only two other musicians: Dan Walters on bass, and Gary Ferguson, who also played on your "Gypsy Ride" and Cher's Black Rose album. However, there is a fourth musician listed in the album notes, Joe Skinner, who is credited with playing a Frattoir, which I understand is the Cajun word for "washboard". This "instrument" is not usually associated with rock music. Why this choice?
I wanted to keep this album simple, that's why no keyboards. I had a Cajun second line groove tune titled "Take My Money" that was crying for a Frattoir part, so I had to have it. Plus, Joe Skinner has been a very dear friend that has helped me get things done with my previous two releases, who also plays drums and Frattoir. So out of respect, I wanted to have his name on one of my records as one of the players. Let me say this; there are many sounds of the American South that make up what the American South represents. You're trying too hard to put everything in a category.
We'd like to know more about the recording sessions for "Delta Breeze." Is there anything different about how this album was recorded compared to your earlier solo projects? Since then, recording and digital technologies are available. Are it very helpful for you?
Yes. I purposely wanted to keep the production on the "Delta Breeze" project very simple, basic, and in your face. I wanted this album to sound like a band playing right in front of you without all the fancy enhancements I hear on recordings these days. The advantage I like about today's technology is how you can edit and fix things quickly to save time and production costs. And, there is a secret to making digital recording sound as good as the old analog days, but I'm not going to tell you.
I see that you toured Japan last February. Was this the first time you played your new material in concert, and was it with the same musicians that you recorded the CD with?
No, I've been playing my new material for a while now, but it was the first time I went to Japan. We enjoyed playing for the Japanese fans very much and I look forward to touring there again in the future. I still have Dan Walters on bass guitar from the new album, but it's very hard to use Gary Ferguson because he lives on the west coast. So, I have Greg Stewart, from Macon, Georgia, on drums now.
Thus, it was your first visit to Japan. Do you have many fans there? How was the tour overall?
Yes and yes, I do. And it was a very nice tour indeed! I told the Japanese people, every show, that I was really enjoying my stay in Japan, even though I had no Godzilla sightings and I couldn't seem to find a sushi bar anywhere. They would say, "Oh Rez..." That's what they called me, Rez, because they can't pronounce Les, God bless them. "Rez made a funny. We got sushi bars on every corner, Pal!!! And Godzilla don't live here no more!"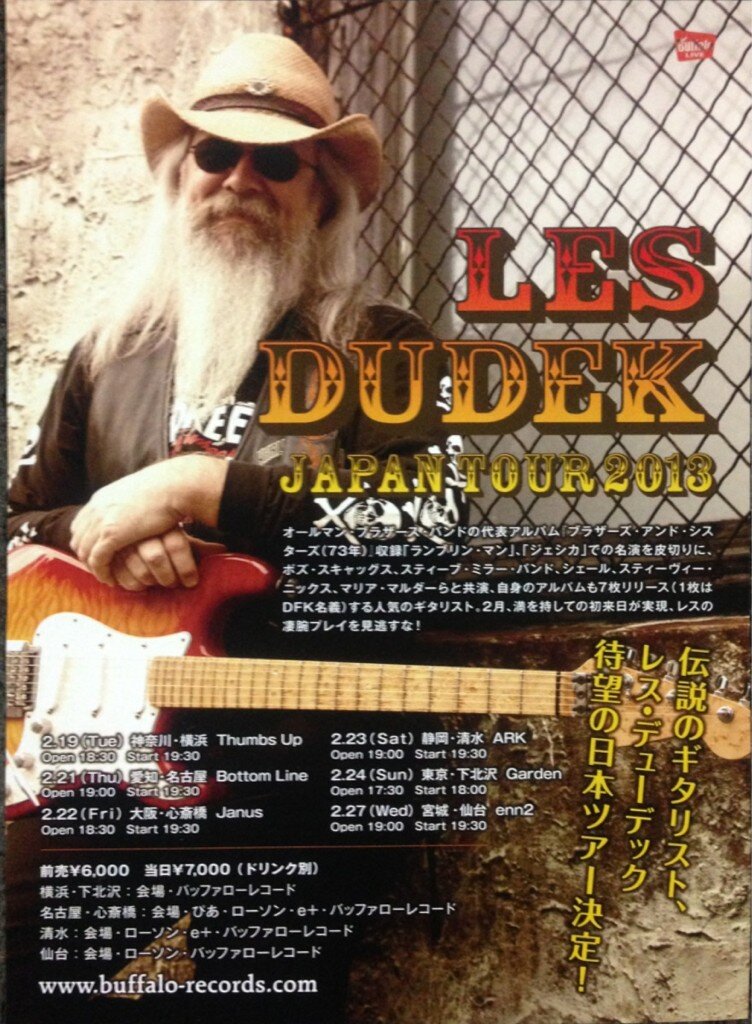 You've been through Europe a few times. Can you tell us about the different times and circumstances that brought you here? Have you been to France in particular?
Yes, I've played Europe before and I would love to play Europe more often. I played the second Knebworth Park Festival in the UK with the Steve Miller Band in 1975, the Bond Blues Fest in Bond Germany with my band, Mick Taylor &Ten Years After 1990, the Smukkeste Fest in Denmark with my band and a list of others, also 1990. And, I did guitar clinics for Rivera Research all the way down the French/Germany border and even the Moulin Rouge in Paris. I love Europe, my grandparents were from there.
How long are your concerts, typically? I once saw a set list of yours that had 27 songs!
I typically do a 90 minute show, but sometimes I do "an evening with" show that can be over two hours.
From what I can tell, your set list is usually made up of a number of songs from each of your solo albums, along with some of your other recordings that you made with other artists. How do you go about deciding which songs to include in a particular set list at each show?
I decide the very same way you described. I do a few of my more popular songs from each of my albums, and I do a few hit songs I've played on from other artists. My fans seem to like it because they get a chance to hear me play my tunes live, and some of the other big hits I played on.
How many shows do you typically play each year, and do you have any upcoming tours currently planned?
That all depends on how lazy my booking "anti-agent" is. If I had my way, I would lease a Star Coach Prevost and live out of it because I'm playing so much. We're now soliciting festivals for next year. How about it? Make some noise about it folks! Tell your concert promoters you want Les Dudek!
Do you currently have any plans for your musical future, both short-term and long-term, that you can tell us about?
Just that if you like southern flavored rock music, you'll love my new CD, so please go to
www.cdbaby.com/cd/lesdudek
or Amazon.com or Itunes and buy or download my new CD, "Delta Breeze". You'll be glad you did! And by doing so, I'll still have a future creating more music for all of you. My goal is to keep on rocking, because that's what I do. If you, my fans, support me, I'll be coming around to a city near you...