Eddie Stone
Roundhouse - Doc Holliday - Grinderswitch
Interview by Luc Brunot.
Photo credits: photographers unknown except if mentionned. Photos provided by Eddie Stone.

Original version of the interview published in Bands Of Dixie #101 (November - December 2014)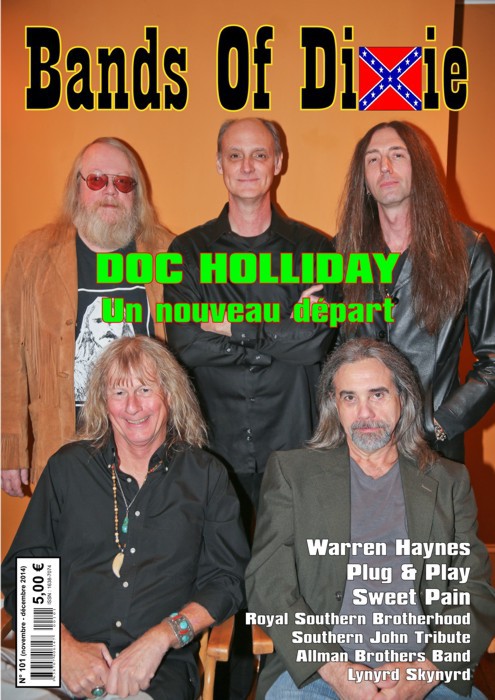 Doc Holliday is back!
Doc Holliday is back!
Doc Holliday is back on the road... what a surprise!
Yes, this Doc Holliday is without John Samuelson, Danny ďCadillacĒ Lastinger and, above all, Bruce Brookshire, and it can raise questions...
But the presence in this new Doc Holliday of Rob Walker, the great Stillwater guitar player and close friend of the band, but also of Michael Gilbert, ex guitar player of Preacher Stone, are great assets for the band...
To talk about this Doc Holliday new start, was it a better than to meet Eddie Stone, the historical keyboard player of the band?
The opportunity to talk also about his solo career and his adventures with Grinderswitch, Wet Willie, the Winters Brothers, etc.
Hello Eddie,
I remember you answered in an interview that you began to play music after having seen the Beatles on TV in 1964. Iíd like first to know how old were you?
I believe I was 12 years old at that time, almost 13.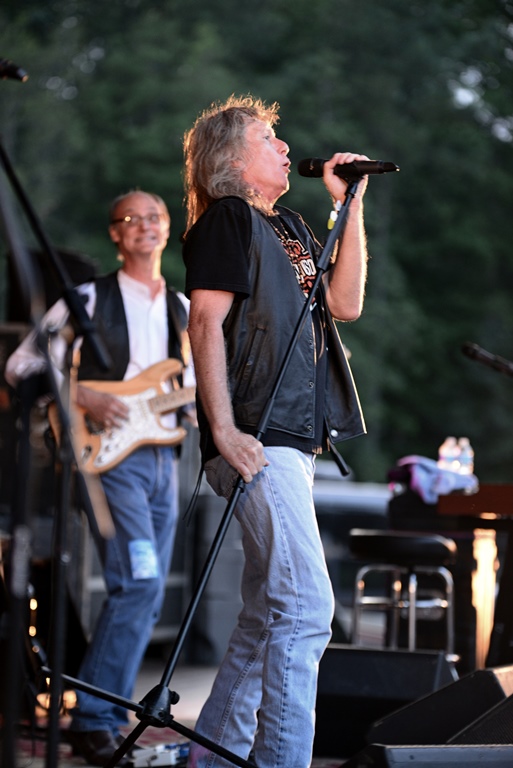 The Beatles had been an essential influence on you but not only on you. Several Southern rock bands has covered Beatles songs and Doc Holliday is one of it. In Europe at least, the Rolling Stones are the rival of the Beatles for the greatest band title and their music Ė more blues rooted - appear closer to the Southern rock than the Beatles but I donít remember covers of their songs and rarely mentioned in interview. How do you explain this weak influence on Southern rockers?
the Rolling Stones were an influence on us early on. As Roundhouse we used to do covers of Satisfaction, Get Off My Cloud, Jumping Jack Flash, Brown Sugar, Bitch and several others. While recording our first Doc Holliday album we recorded the song Under My Thumb, but was never released.
Are there many unreleased songs remaining from the A&M days?
There may be a few unreleased tracks, but very few remain of the A&M days. I think we have just about released all of them
. Doc Holliday began has Roundhouse in the first years of the seventies. How did you meet Bruce Brookshire and the other musician?
I met Bruce when we were in high school in Ga. I met Daniel Bud Ford when we were just young kids, I also went to school with him. I met Herman Nixon in the 60ís, we were both into car racing, I didnít know he was a musician until 1973 when he auditioned for Roundhouse. I also met John Samuelson when he auditioned for Roundhouse in 1974.
Was John Samuelson from your area?
We met John while doing some recording in Atlanta. He is from the Atlanta area.
Ric Skelton came later?
We met Ric in his home town of Johnson City Tennessee when Roundhouse was playing there. We became fast friends and when we needed a guitar player, he was the first man we called.
What memories and feelings do you keep of the A&M days?
The early days of being on A&M records and our tours are very dear to me. we were a very close family that was together all the time. We were always on the road, so we were always together. We played on great tours with great bands all over the country. Those were great times!!!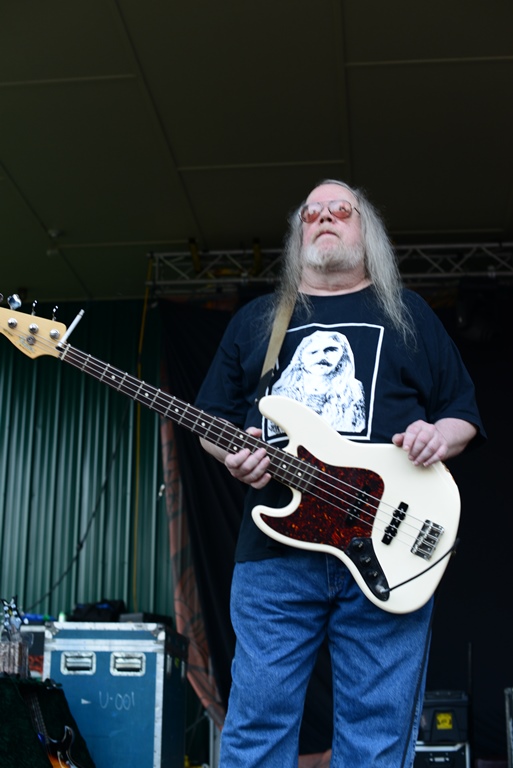 After "Modern Medicine", I guess that it were hard times for Doc Holliday but you stayed some more years with the band and you were present for "Danger Zone". When and why did you leave after?
I stayed with the band until we broke up the first time. It was 85 or 86. I rejoined after Song for the Outlaw was released, in time for the European tour of 89.
Grinderswitch Ė Stillwater/Rob Walker Ė Solo Ė etc. Except Doc Holliday, you were involved in a lot of projects. Letís talk about it, please and letís begin with Grinderswitch: How and when did you meet Dru Lombar and how were you involved in the Grinderswitch re-formation in the 2000ís?
I met my good friend Dru Lumbar when Roundhouse was opening for Grinderswitch. in 1974-1975. They became great friends and asked us to join them on the road. We played lots of shows with them, learning how to be a road band. They showed us the ropes and how to survive on the road. In the 2000ís when Dru reformed Grinderswitch Steven Miller was very ill and not able to travel so Dru asked me to join him recording and on the road. It was an honor and a privilege to do so. I still miss him very much!! Steven Miller as well. Steve taught me so much about playing the Hammond B3. I still remain close to Larry Howard.
Larry has from a long time a CD in making. Do you have worked on it?
No Larry has moved from Macon to Florida and although we talk by email and phone, I havenít been able to see him or play or record with him. We have talked about getting together and doing some recording though.
Youíre close also from the Stillwater guys, especially Rob Walker.
I met Rob Walker in high school also. He was 15 years old. He along with Mike Causey, Sebie Lacey, and myself had a band our last year of school. At the end of that year I was drafted into the army, they went on to form Stillwater.
Would you have been part of the band without the army?
That is a good question, I donít know. Before the army I was playing in a band with all of the Stillwater guys. So I really canít say.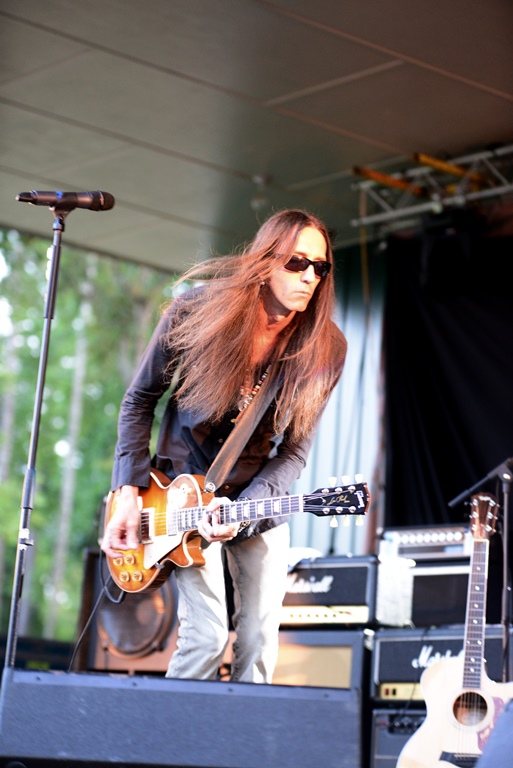 Do you play a lot Ė it seems Ė with Rob Walker as a duo. From when are you performing together and what do you play?
We play a lot of local jobs at home, we play a variety of acoustic music from the 60s and 70s. James Taylor, Marshall Tucker, Allmans, Eagles, Beatles. Itís all great fun!
Nothing recorded or planned?
Nothing planned at this time, we are very busy working on the new Doc Holliday project.
The Has Beens is another project and seems like another Stillwater because you are or were with Al Scarborough, Sebie Lacey, Mike Causey and Rob Walker. Do you play often?
The Has Beens is another fun band, we get to play lots of old songs we grew up with. Allmans, Doobie Bros., Beatles Stones, Free, Skynyrd, Motown, Stax, and the occasional Stillwater songs. We play 10 to 12 times a year.
Bobby Golden wasnít interested?
Bobby lives in Atlanta area, some 100 plus miles away. So itís not very practical for him to travel that far. But he is always welcome to join us at any time.
Have you other projects than to play the good old stuff?
I have a solo cd that is partially finished but is now on hold because of the Doc Holliday CD.
I do some studio work from time to time, whenever someone needs some Hammond B3.
I have read youíve been also in Wet Willie and in the Prisoners of Love, that was the band of Jimmy Hall. Could you tell us more on these experiences?
Iíve known Jimmy and Jack Hall and their sister Donna for many years. When John Anthony decides to leave Wet Willie Jimmy contacted me to fill in on keyboards. It was one of my most fun projects to be a part of. Jimmy is one of the greatest singers to ever grace the stage. Wet willie is one of the hardest working bands out there today. their show is like going to an old time church service! Iím always available if they need me. I love those guys and gal!!!
Well, before to talk about your own albums, would it be other bands you played in?
My first band at 13 was the Nightriders, I was then in a band with the Stillwater guys called Hiway, after that came Roundhouse, which became Doc Holliday, Iíve also played and recorded with Grinderswitch, played briefly with the Winters Bros. and played with Wet Willie. Iím also an active member of Stillwater, when the play. Guess Iím a busy man!!!
Also the winters Bros? When was it?
Winters Bros. was 2007-2008? can't remember for sure, I'd have to ask Dennis
You released "Right Tonight" in 1999. How was born the idea?
That album was recorded at the old Capricorn Studios. It was an outlet for a bunch of songs that I had written, I had some great musicians and singers on it. Paul Hornsby, Skip Slaughter, Phil Palma, Michelle Palma, Ken Wynn, Tim Brooks, Mike Causey, Spencer Kirkpatrick, and Chris Hicks, just to name a few. It is what got me going back in the music business.
If "Right Tonight" was built essentially with your new songs, "Eddie Stone &Friends" in 2004 contains more covers. Was the purpose not the same?
The CD Eddie Stone and Friends was recorded for Phoenix records in Germany, it was something that Tom Halek (Phoenix Records), Bruce Brookshire, and myself did to further my solo career in Europe.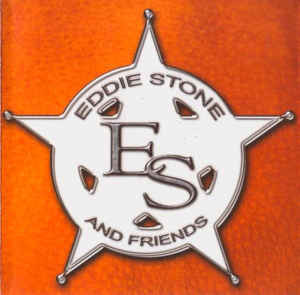 And about your album in making. Will it be different as the two first? Always a lot of friends?
When I do finish the next solo CD, yes it will have lots of my friends playing on it. I really like to do that it's lots of fun to play with musicians that you don't play with every day. A lot of good ideas come out of that and I get to see my old friends.
Are there some albums where youíre playing except Doc Holliday, "Ghost Train To Georgia" and your own discs?
In addition to Doc Holliday recordings, my solo CDs and Ghost Train to Ga., I played on Some of Chris Hicks demos, A blues album by E.G. Kite, a Christian rock CD by Phil Palma and assorted other demos.
Well letís come back to Doc Holliday.
Was the decision to stop Doc Holliday a collective wish?
We decided that at the end of the 2011 European tour that we should maybe stop, that maybe it was time. Bruce was tired and wanted to focus on his Ministry and his Church.
When and how came the idea to reform Doc Holliday?
Bruce called me in 2014 and told me that there was an interest in Europe for Doc Holliday to continue but he didnít want to go on. He told me if Iíd like to carry on that heíd give his blessing and that I should keep rocking. I then contacted the old members to find out who would like to carry on. Bud signed on, Danny "Cadillac" Lastinger told me heíd like to stay with Bruce in his church, John had obligations with work and family but said heíd contribute in writing and recording.
Our New members, Rob Walker, as you know, we have known for many years, He actually played in Roundhouse for a time he was a member of the Southern rock band Stillwater and wrote the hit song Mindbender, Michael Gilbert was in a band called XXX, they used to open for Doc Holliday in the late 80ís-early 90ís. Our newest member is actually an old member. Ross Lindsey was the drummer who originally replaced Herman Nixon in the late 80ís. We are glad to have Ross back in the band!!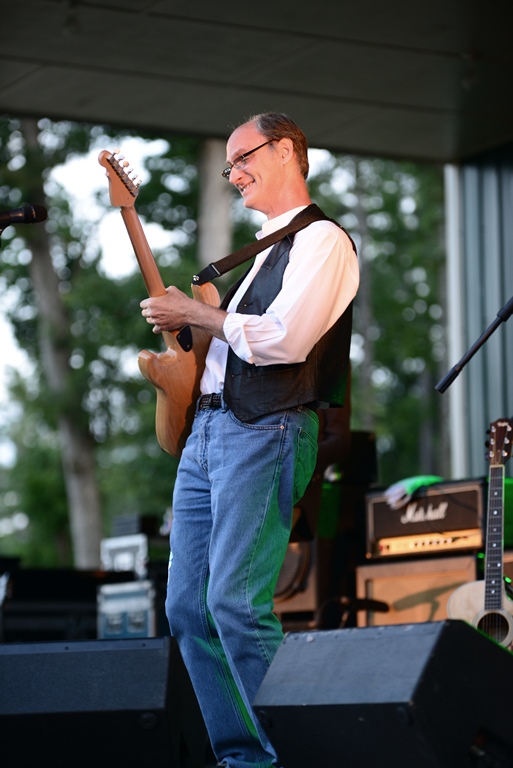 What is the position of Bruce Brookshire about that?
As I said above it was Bruceís and my Idea for the band to carry on, providing that we were true to the Band and music.
Can Doc Holliday be Doc Holliday without Bruce Brookshire?
We believe that we can carry on as Doc Holliday, the New lineup is very strong and the new and old music is sounding very good!!!
Has Bruce Brookshire some musical projects?
I'm not sure what Bruce's plans are right now. I know he is focused on his church and ministry. But I'm sure he will release something somewhere down the road. He has endorsed the new Doc Holliday Band and wishes us continued success. He told me he just didn't want to go on the road or continue with Doc. We are still friends and Brothers!!
Is not Michael Gilbert playing with Preacher Stone?
Could you tell more on him?
I met Michael many years ago when he was very young, I produced a cd on his band, they also used to open for Doc Holliday a lot. He was a great guitarist then but was playing a more metal style. when I started looking for a new guitarist foe Doc, I thought about him and found out he was now a "Southern Rocker". I called him up and arranged to get together. He is an awesome guitarist and a great guy, we are glad to have him in the band. He and Rob Walker work very good together, they understand each other and compliment each other. He left Preacher Stone to join Doc Holliday full time.
On the few videos I saw, Rob Walker seemed to play not too much the solos, less than with Stillwater. Is it a false impression?
Yes, that is false, the random videos just happened to be mostly Michael, but Rob plays just as many solos as Michael. When we come to Europe next year you will see what I mean.
I thought Leroy Wilson was your drummer. From when was he replaced by Ross Lindsay?
Leroy had a lot of other projects going on and could not devote full time to Doc Holliday. We needed someone full time. He left as friends, we wish him well in his future projects. Ross Lindsey was available so I called him up. If you remember he was the first replacement for Herman Nixon, He joined doc in 85, during a Molly Hatchett tour. At that time he had a family with a small child and couldnít stay on the road, as I said we had a very rough schedule back then. we are very pleased to have him back in the band, Heís a great addition!!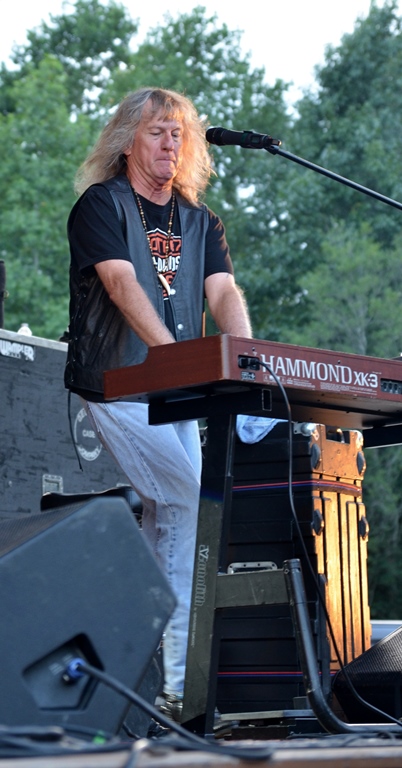 Could you introduce a little more Ross Lindsay and his background?
Ross was a Macon native playing around for many years. He was a student of Jaimoe, also played with John Anthony, Razzy Bailey, And many other great musicians. I was working at a local club called Whiskey River and Ross was the drummer. we opened for many of the top country and Southern rock artist when they came to town. Many good times.
Do you have played a first show August 16, opening for Blackberry Smoke. Did you do play some other shows?
We are playing a show the 28 of November in Macon Ga. at the Cox theater. We will be hitting the road in late January, and coming to Europe late spring/ early summer of 2015.
The rebirth of Doc Holliday is due from an European interest but how are the reactions in the USA?
The interest has been very positive here in the US, many people are glad that we are keeping the music alive.
At the Blackberry Smoke show we had people come from Texas, Mississippi, Alabama, Tennessee, Virginia, Ga. North and South Carolina. Iím receiving invites from all over the USA and Europe.
What are the projects: not only to play the old stuff; you talked about songwriting and recording. Are you already planning to release a CD?
We are writing songs and arranging studio time in Dec. and Jan. to record a new CD of all new material. Michael, Rob and myself all are writing and contributing material. the Cd will release in late winter, early 2015.
Will the new CD be released on Phoenix Records like these last years before Doc Holliday stopped?
Right now I'm not sure which label will be releasing the new Doc CD. Our management is working out those details.
I'm not saying that it won't be on Phoenix.
Before to have your new Doc Holliday songs, are you playing only the traditional Doc Holliday stuff or do you include a few other songs?
Right now the new Doc Holliday Band is playing a lot of the old songs with a few new ones. As we finish the new CD more new songs will be added to the live show. But we will always play some of the old songs, itís where we came from!!
Luc, I hope this is what you were looking for. Doc Holliday will be in Europe in 2015, I hope we can see you then!!! Thank you for this interview!!!
2015? Do you have already precise information about when and where?
The European and Scandinavian tour dates are being worked out now, I will let you know as soon as I have Information.
Iím being told that we will be performing at Bike Week in Daytona Fl. this year also. We look forward to seeing and rocking all our old fans and our new ones!!