Tim Kelliher
Galloway & Kelliher
Interview by Luc Brunot.
Original version of the interview published in Bands Of Dixie #63 (July - August 2008)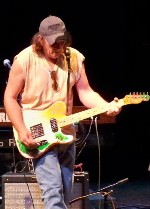 The year 2008 started well after the release of the great Brothers Of The Southland, here are others veterans that provide us with another splendid success: "Outlaws & Renegades". Indeed, Galloway and Kelliher are certainly, for you, less known names than those of an Henry Paul or a Jimmy Hall but our two Florida rogues have a solid experience, deeply rooted in the blues, and they show us how this kind of music is close to the Southern rock and feed it.
Hello Tim. Let's begin by the beginning. What was your career before you started this duet Galloway & Kelliher?
Yeah, I played in bands for years, growing up in Florida. I had many influences from the Beatles to Buffalo Springfield and the Allman Bros. In the mid 80s I had gotten good enough on guitar to start getting jobs as a sideman. The first guy I worked with was Bo Diddley who also lives in Fla. I also worked with Lester Chambers (Chambers Bros), Earl King from New Orleans, Noble (Thin Man) Watts, Carey Bell, Nappy Brown to name a few. In the Southern U.S. you got to have a good blues base, and I always loved the blues!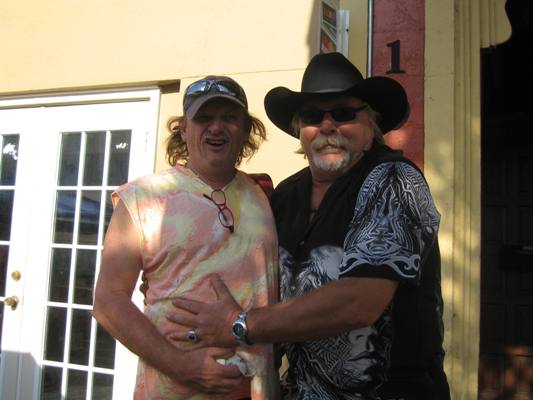 Did you only worked in the blues field?
We all played in cover bands for years of all kinds, but the blues was always home base.
Which albums did you record with those artists, or even other people?
I played on an album with Lester Chambers. He put on his own label. And also Johnny Thompson out of Chicago and Florida. I also have a side band in Fla. called Skin and Bone. We have recorded five discs, since 2000. It's a great outlet for writing songs and making the music better and better. I will send you some.
Could you resume us the Mike Galloway's career?
Mike worked in the same area of Florida and all over the U.S. with different blues bands. He was a founding member of a band called the Midnight Creepers on the Kingsnake record label out of Sanford, Fla. with bob Greenlee and recorded with many of their artists: Noble Watts, Lucky Peterson, Floyd Miles, Alex Taylor. Mike is a great harp player and entertainer: he will not disappoint you live!
I have a Midnight Creeper disc: "Breaking Point" (1993). I still remember a phrase of the critic: "Some blues as tight as an espresso". They did others ones?
The Midnight Creepers did the first album out of Kingsnake records in Sanford, Fla. called "Daytona Blues", but I think it was only on vinyl not on a CD. I may be able to get you a copy on a disc, I will try.
What are your musical influences?
I like all kinds of music, I always liked B.B. King and Bobby Bland for their blues, but one of the first bands I saw as a youngster was the Buffalo Springfield: 3 guitars, stills young. They speak for themselves and they can play! Also living in Fla I was able to see the original Allman brothers: Duane, Berry, Greg were amazing, holy shit!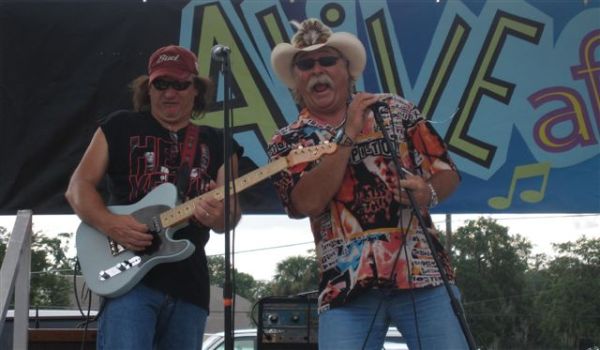 And your guitar playing, it results from which influences?
I really think it's from everybody, I love to steal licks on the guitar, from Eric Clapton to some cat in a local blues club. It never hurts to keep an open eye, know what I mean!
How and when did you meet?
I met Mike in the late 70s cause we all grew up in central Fla, and there were tons of bands. We played together in a couple of groups and never did an original project until this venture. Most of the time it was straight blues.
How did you begin to play as a band? Do you play together at full time or is it only a project among others?
A couple of years ago we started playing blues again as the Kingsnake Allstars (and we do love the blues). But we also really love Southern rock and country, which I believe is all connected. So we wanted to write some of our own stuff in this vein and we did. So I am answering two questions at once. We have a core of musicians we work with all the time and we play as the Kingsnake Allstars (blues) and do the Southern rock gigs as Galloway-Kelliher. I started writing music about 15 years ago along with recording and to me it is the artform, I love it!
Did the Kingsnake Allstars record something?
Yes, we have about 12 tracks down. They need to be mixed next. They should be coming soon. It's blues and in your face too.
What is different between blues and Southern rock?
I think it all comes from the blues, country, jazz, gospel, rock. Like Muddy Waters said "The blues had a baby, and they named the baby..."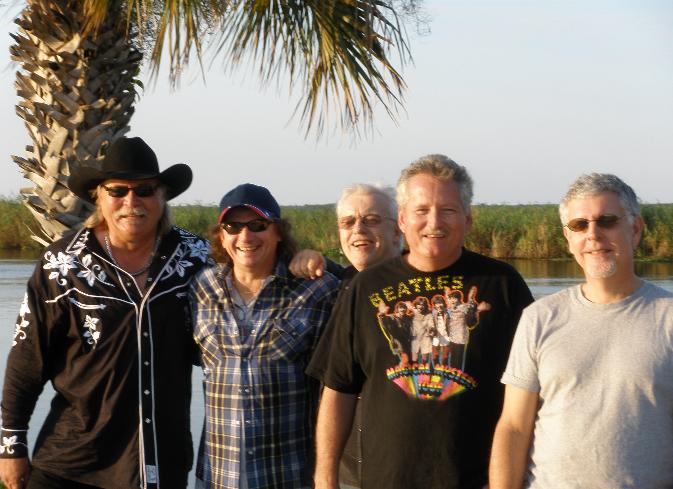 Harmonica is almost never a major instrument in Southern rock. Isn't it surprising to have a Southern rock band with a harp player?
I hope you have not forgotten Wet Willie? Jimmy hall is amazing! It was really an accident. When we got into recording, we just sort of started jamming and the next thing we know, it's like some big saxophone sound with a rockin guitar, trading licks and lookout, kick ass southern rock!
Were the musicians who are on the disc with you only to record the disc or do they form a band with which you play in concert?
We play with the same musicians all the time which ever gig were doing and I would like to tell you who they are. All of which have been friends for years. On drums is Juan Perez, who played on the road for 7 years with the Bellamy Brothers, a country band. He's a master! And we refer to him as the Cuban missile crisis! What a drummer. Our bass player is Barry Dean, who hails from England. He played and recorded with Brian Auger's Oblivion Express. Barry is the best musician I ever played with in a band. On rhythm guitar and sometime drums, is Ron (Byrd) Foster, who played drums on six Roy Buchanan albums including "Live In Japan" and is a great vocalist in his own right. On keys is my good friend Bill Delk we go way back. Bill owns the studio and is a great engineer. We do all recording there.
Do you play a lot of concerts?
We play 4-5 shows a month, always looking for more. We just came back from New England, where we had a great run of shows. They love the South in the North yes they do!
Four or five shows, is it for the two bands or only for Galloway & Kelliher?
It's about half and half.
Are the people, who ask you for the band Kingsnake Allstars, or who ask you the band Galloway & Kelliher, different or is it the same kind of people?
Southern rock and the blues are popular in the States. People like to party and have a good time. We try our best to make that happen. Life is so much better for music I believe.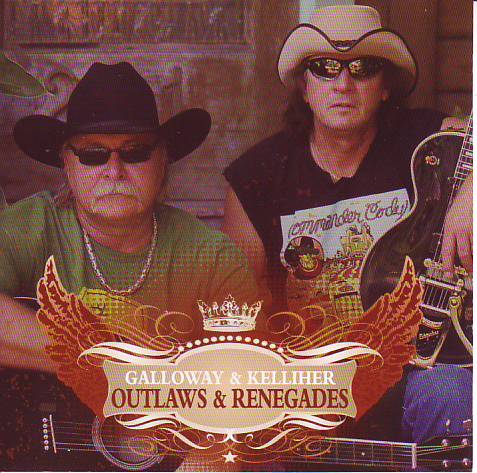 The CD credits aren't very precise: could you tell us who is singing each song?
Mike sings "Rebel Rock", "Virginia Moon", "Willie", "Hurt", "She's Got The Rhythm", "Edna" and "Blues In The Morning". I sing "Carolina Mountain Time", and "'nite Train" with Ron and Mike.
Were the songs written before you decided to record or were the, written for the recording?
I write all the time so, some songs I had already and some songs we wrote in the studio, but were targeting the songs for this style of music.
How do you write the songs?
I don't have a real method of writing songs. To me they come from everywhere, in the car, watching the news, just playing guitar. They seem to come with an open mind. I have been lucky that way.
The songs are credited to Kelliher and Galloway but is there one of you who writes rather the music and the other one rather the lyrics? One who writes more than the other one?
We try to work together; I would call it a group effort. But you have to have an idea, a place to start. So whoever has an idea throws it on the wall, so to speak!
Did you have precise artistic projects to do the disc or just to record what would come?
I would have to say I had it in mind to write this style of music.
When did you record?
We recorded this disc last summer 07, from June to September. A little at a time when it's too hot to go outside in Fla. Ha ha!
How was the recording?
Most of the time we would go to the studio in the morning, like a regular job and work till 4 or 5 in the afternoon. It just sort of happened that way.
Are you musically satisfied by the disc? And at the sales level?
I think this disc is our best to date and it's also the best selling to date but there's always room for improvement in music and that what great about it you never stop learning.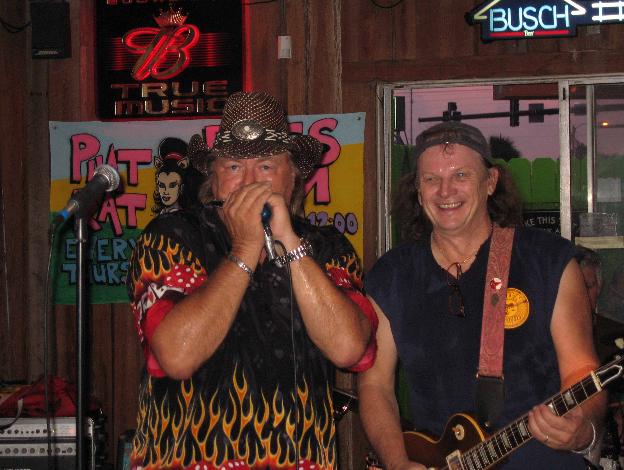 Now, what are the projects for your duet?
We never stop recording, and the next disc we are working on has some great guest artists on it. Tommy Talton, from the Capricorn band cowboy is on a track. And Tommy is from our home town in Fla. He is a great friend, an inspiration to me. Also we have my cousin Mark Emerick, who has been on the road with Commander Cody for the last 11 years, and still plays guitar with him. He's on four tracks so it's looking better all the time.
When next Galloway & Kelliher's disc will come out?
We are also recording the next Galloway-Kelliher CD. We have about 5 or 6 tracks done on that one as well. All original southern rock songs that should be done by the end of the summer. We also have some guest artists on that record which will be great!
Will it be in a similar style?
It's going to be the same in your face Southern rock.
About your disc, some are talking of Blues, of Country music, of Southern rock. How do you see that?
Music comes from all kinds of influences, and a good musician is a good thief! Borrow from all that is good, and I think the disc speaks for it self, it's American, it's Southern, and it's from the heart for the listener to decide.
When you arrive on your website, you see an harmonica. Does it mean that it is the flagship instrument for Galloway & Kelliher?
Well Mike plays harp, and I play guitar, and we both try to kick ass and take names. That was pretty much the web designer's idea. I do think we have created a unique sounding record using the harp and the guitar to play off each other, let it rock!
What are your favorite Southern rock albums?
1 "Live At The Fillmore" Allman brothers,
2 "First album" Outlaws,
3 "Live At The Fox Theatre" [Editor's note: real title is "One More From The Road"] Lynyrd Skynyrd,
4 "Fire On The Mountain" [Editor's note: It's the title of a song. Name album is "Searchin' For A Rainbow"] Marshall Tucker Band,
5 "First album" Cowboy.