The Gibsons
Interview by Luc Brunot.
Original version of the interview published in Bands Of Dixie #82 (September - October 2011)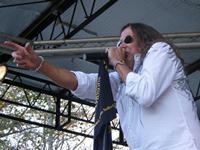 If we often see brothers setting up Southern rock bands, we are less used to a band consisting of a father and a son. Well, we will have to use to it. Here are the Gibsons coming out with the word of God out of their mouth, and their wailing guitar in the hand.
Hello,
Jerry Martin, I read in the band's bio that you set up Diamondbak, a Southern rock band with original Lynyrd Skynyrd drummer, Bob Burns. When was it and has the band recorded something?
Jerry Martin
We were a band from about '83-'86. We will send you a complimentary copy of all the original Diamondbak songs that are recorded, and a few pictures of the old band and studio that you will definitely enjoy.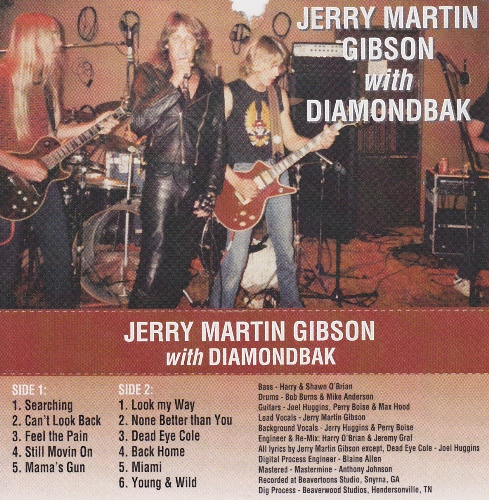 About 1982-83, I met Harry O'Brien, a bass player, on a construction job where I was a roofing contractor. We got to talking, and he was playing with a little copy band with Bob Burns, and made up of mostly college kids. They were playing fraternity houses, bars, etc. Harry invited me to come sing with them in Athens, GA at a show. I did so, met Bob Burns, and we became good friends. I knew 2 friends from my hometown that were very good musicians, Joel Huggins and Max Hood. I had them come down and go to work for me in Atlanta, where also we could put together a band with Bob and Harry. I put everybody on salary, everybody but Harry worked on the roof with me, even Bob worked for a while on the roof. I put together all the stuff we needed to record, including finding an engineer. We started writing and recording such songs as "None Better Than You", "Can't Look Back", and "Back Home." We sent these songs to Jimmy Johnson in Muscle Shoals, AL and it looked like we were on our way. About 2 weeks after conferring with Jimmy Johnson, Harry O'Brien, the bass player had a terrible accident, broke his neck, paralyzing him from the neck down. Joel Huggins and Max Hood went back to Blairsville, GA. Harry O'Brien went into rehab, and Bob was just kicking about. I moved my studio stuff to Norcross, GA, since the band was no longer. There I met Jeremy Graf of Riggs. Riggs had been disbanded by Warner Brothers, and Jerry Riggs had moved on to the Pat Travers Band. Jeremy Graf started recording in my studio, and recorded people such as Brent Daniel with Shebang, Peter Stroud who later joined Sheryl Crow, and Rick Richards who later formed the Georgia Satellites. After Harry O'Brien got to where he could get around in a wheelchair, and use his hands limitedly, I saw that he was able to become an engineer since he couldn't play bass guitar any longer. I put Harry on salary to learn to be an engineer and record us as we wrote new songs. I got Harry's brother Shawn O'Brien to play bass. Bob Burns on drums, Joel Huggins on guitar and Perry Boyce on guitar. Shawn had difficulty sounding like Harry sounded with Bob, so the whole band suffered. We recorded a few more songs, using Mike Anderson on drums. I dissolved the band, because it never did sound like it used to, and I was getting tired of playing daddy to a bunch of musicians. I decided I was out of the music business, and just put all the recordings in the closet. After about 10 years, I decided I might end up losing it all if I didn't get it duplicated, so I had it duplicated from reel to reel to CD. Since there was another country band named Diamondback, and people kept confusing the two, I put out the CD just for me and my friends listening pleasure, and since everybody knew me as Jerry Martin Gibson, that is what I titled it, "Jerry Martin Gibson with Diamondbak." And all that training back over those years was only experience that I needed to put together The Gibsons along with my partner and co-writer Shane Paul Gibson. Shane and I agree with this statement "only one life will soon be past, only what's done for Christ will last."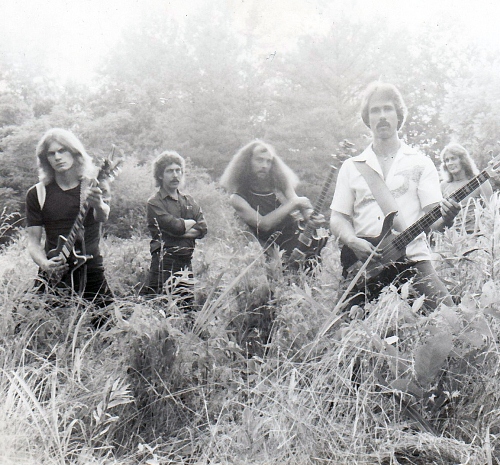 Jerry Martin, you had a studio in the Atlanta area where people such as T Lavitz (Dixie Dregs) and Rick Richards (Georgia Satellites) recorded. When was it and why this activity did stop?
Jerry Martin
I owned a studio in Atlanta from '82-'86. During Diamondbak, we had several acquaintances and friends such as the band Riggs, T Lavitz, Rick Richards, and Jeremy Graf, who recorded these friends' demos. After our bass player Harry O'Brien broke his neck, paralyzing him from the neck down, the band dispersed and I moved to Hendersonville, Tennessee to start a family, with no intention of getting back into the music world.
Jerry Martin, you recorded "The Path" with sessions musicians. When was it and what was the musical style?
Jerry Martin
I recorded "The Path," in '98. I had no intention to mess with music anymore, but the urge to write kept surfacing. I brought my all-original songs into the studio and hired Christian Country musicians and produced "The Path."
Is it important to have Christian players? What difference does it make?
Jerry Martin
It is important to be equally yoked, especially when it's God's All-Original Southern Rock Band.
Your son, Shane Paul, began taking guitar lessons at age 9 and "Sing the Lord", the debut album is from 2007. How old was he?
Jerry Martin
Shane began taking guitar lessons at the age of 9 years old, and composed his first full length album "Sing For The Lord" from ages 12-13.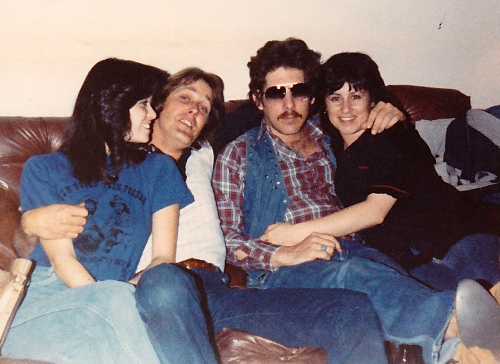 On this record, Shane Paul plays guitar, bass and drums. Why didn't you call for a bassist and a drummer on most of the tracks?
Jerry Martin
We couldn't seem to find people that wanted to work with a father and son basement team. Nobody seemed to have the vision we did. Out of necessity, Shane Paul also recorded, mixed, mastered, engineered, and produced all three albums!
For this first record, there are nevertheless some additional keyboards players, background vocalists and sometimes a drummer or a bass player. For "Shine The Light" in 2008, you're really only both, Shane Paul playing all instruments. Was it driven by an economic or artistic will?
Jerry Martin
We were in the writing stages of the music and had not put the full band together yet. We wrote, produced, and put out "Sing For the Lord" and "Shine the Light" before we ever considered putting the full band together. We wanted plenty of all-original music before creating the full live band
Shane Paul what are your influences on guitar?
Shane Paul
My influences on guitar include Allen Collins, Gary Rossington, Ed King, Jimi Hendrix, Duane Allman, Rickey Medlocke, Paul Kosoff, Leslie West, Michael Schenker, and David Gilmour.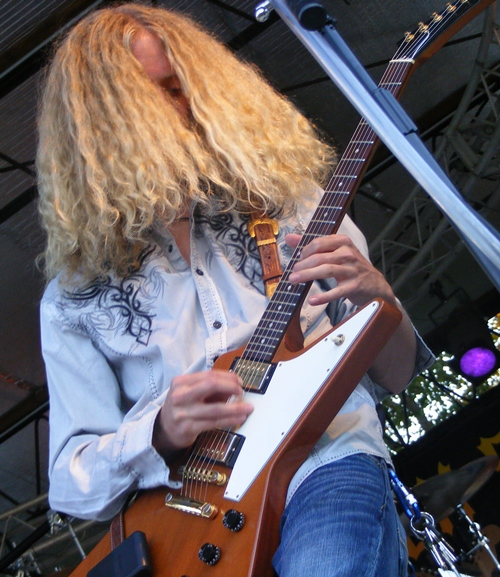 And more widely, what are the musical models of father and son?
Jerry Martin
Lynyrd Skynyrd, enough said! We also draw inspiration from Blackfoot, Molly Hatchet, and The Outlaws.
You define yourself as a Southern rock band. What is your Southern rock definition?
Jerry Martin
We are the true essence of Southern rock. What makes it Southern rock? When guitars cry and sing, and the music has a foot stomping beat, and the lyrics make sense and tell a story. In Southern Rock n' roll, the men singers sound like men.
You very often cite God and Jesus names. Are your lyrics totally dedicated to religious themes or do you broach too with secular themes?
Jerry Martin
The music is totally dedicated to God. We want to write truth only, not fiction, because we are God's All-Original Southern Rock Band, and he puts the song in our heart and we know it.
How do you write songs together?
Jerry Martin
Shane comes up with the rhythms and music, talent given by God, and after listening to the music several times, I pray to God that the lyrics will be truthful and honest, using as much of God's pure word as possible.
For your last record, we find Steve Warfiels on drums and Steve Steinhauer on bass. Why did you change to a quartet?
Jerry Martin
The music that we write is written for a large band to play live. After "Shine the Light" we started putting the band together and added Steve Warfield on drums and for a short while Steve Steinhauer on bass. We are thrilled to have a pro-drummer as a solid third piece to The Gibsons Ministry.
Artistically, what do you think about your records, especially of the last one? What are its strong points and do you see a few things to improve?
Jerry Martin
It's rockin'! Especially with a powerhouse drummer in the mix now. We were very pleased with the outcome of "Southern Rock Revival."
Steve Steinhauer is no longer on your website. Did you decide to move to a trio band or will you replace him?
Jerry Martin
He has been replaced, and it wasn't hard to find a replacement. He was from South Jersey, and we just couldn't make a Southern gentleman out of him. He played way too loud and was constantly running his mouth. He has been replaced by Tony Richardson, a bass player with a more Southern feel.
What are your plans?
Jerry Martin
To write as many all-original Southern Rock anthems and reach as many people as we can until we meet The Lord
What are your favorite Southern rock albums?
Jerry Martin
Our favorite Southern Rock albums are "Pronounced Leh-Nerd Skin-Nerd", "Second Helping", "Nuthin' Fancy", and "Gimme Back My Bullets" from Lynyrd Skynyrd; "Strikes", and "Tomcattin'" from Blackfoot.
Thanks.