Steve Grisham
Ghost Riders - Outlaws
Interview by Luc Brunot.
Original version of the interview published in Bands Of Dixie #93 (July - August 2013)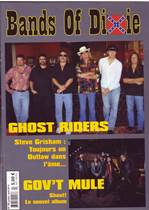 Here at Bands of Dixie, we closely follow Ghost Riders' career, one of the most talented contemporary Southern bands. We we've been waiting for their new album for quite a while... It's been entitled "V". We took the opportunity to talk once again with Steve Grisham.
Hello Steve,
It's been a long time since we had a talk with you at Bands Of Dixie. It was for the "Back To The Rock" release. More precisely, about this record, it seems to be a bit special in your discography, with a more aggressive approach than on the other albums. Why did you make this choice and why, after, did you come back in the "Fortune Teller"'s style and its Southern rock with bluesy and country touches?
Hi Luc. Good question! Well, I was trying to cater to our audience in Germany and Europe. I knew they liked hard rock a lot, (we do too!), so we thought we would lean in that direction for the "Back To The Rock" album. On "Ghost Riders 5", we didn't take any certain direction and that's what came out.
The title of the "Back To The Rock" successor wasn't elsewhere other than "Fortune Teller 2.0"? Was it recorded before or after "Back To The Rock"?
I believe the albums are in this order first to last: (Mira Vista Records) "Fortune Teller", "Fortune Teller 2.0", (Phoenix Records)" Too Many Skeletons In Your Closet","Back To The Rock", and "Ghost Riders 5". So "Fortune Teller 2.0" was recorded before "Back To The Rock".
The CD wasn't released on your usual label and the packaging was rudimentary. What were you looking for with this CD?
It was released on my label Mira Vista Records. Yes, the packaging was very rudimentary, because I did it all myself! LOL and as you can see
I'm no graphic designer! I believe there were limited funds during that time, and I just wanted to get the album out there for the fans as we were already recording the next CD.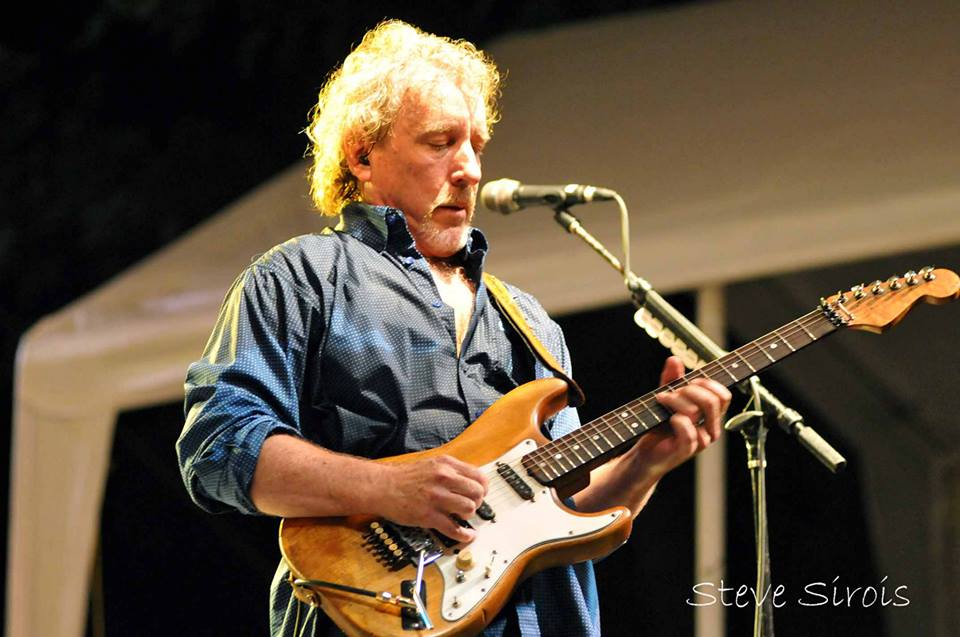 Three tracks on this album already appeared on the first album and, later, several songs from "2.0" were published again on "Too Many Skeletons In Your Closet". Why did you proceed this way?
So that people who didn't buy the previous CD's could hear some of the more popular songs.
You covered in the album "Too Many Skeletons In Your Closet", one of the summits in the Southern rock history, "Grey Ghost", created by the Henry Paul Band, which included your partner, Barry Rapp, also co-writer of the song. Did Barry want a new version?
I think both Barry and myself wanted to record the song, as we were doing it live at every show. The band was doing it so well live, we thought we should record it.
"Lady Luck" was also penned by Paul Henry. But this time, it was co-written with you for the "Soldiers Of Fortune" album recorded by the Outlaws. Why did you cover it?
Yes, Henry and I wrote the song together along with Duane Evans. We recorded the demo at Marshall Tuckers old studio near Spartanburg, SC. The demo sounded really, really good. I think as a producer, I just wanted to see how it would turn out when Ghost Riders recorded it.
You had some guests on this record such as Randall Hall, who made us drool, more than ten years ago, with a promising three songs EP but who then left us dissatisfied. He also appears in the Ghost Riders - The Legends Band line-up, on which we'll talk later. How's Randall these days? Does he have some recording projects?
Randall is doing great. We occasionally play together in the Southern Rock's Finest band. It's always a pleasure to play and hang out with Randall.
As far as I know he doesn't have any recording projects going on, maybe I should call him and see if he wants to record a CD at my studio Mira Vista. Good idea!
One year after this album, Billy Crain, another musician from the Outlaws/Henry Paul Band's family, released his first solo CD, with this same title, "Too Many Skeletons In Your Closet". Amazing coincidence, right?
Yes. It was brought to my attention. I saw Billy recently, but I didn't have time to ask him about the album. We are always on the same page when it comes to writing music. Someone said, "Curious minds converge on the same ideas frequently." Billy and I have always really been on the same page when it comes to writing. We wrote a lot when I moved to Nashville in the late '80's and early '90s. We wrote some really great songs that have never been released.
In the booklet, the credits mention the "guests" players but curiously not the Ghost Riders line-up. Was it the same one as on the previous records or was the line-up too much different from one song to another to easily mention it?
Yes, it is the same lineup as the 2nd, 3rd and 4th album, Sexton,Pug,Stokes,Rapp and myself. I was traveling a lot during that time period, and wasn't able to always have Pug, or Phill around to play on the CD. So I used some of the players that I was around at the time. I apologize if I didn't connect the players with the songs. I can tell you that Dave Challenger did a great job drumming on "Long Live Southern Rock" and "Gettin' My Love". Justin McDugle and Mark Lockhart did played drums and bass on "Money Magnet". Dave Muse played flute and sax on "Gone With The Wind" and where ever you hear flute and sax.
Bret Wadams played drums on "Gone With The Wind", "Fried Chicken Baby", and "My Sweet Papa". Charles Harrison bass on "Gone With The Wind",s). I would also like to thank Lutz Melzer, for his contributions on Ghost Riders Five. As always he was invaluable!
On "Five", if we find, as on the beginnings of the band, yourself, Barry Rapp, Phil Strokes and Pug Baker, we notice that Jimmy Bennett is no more there anymore, replaced by Jimmy Sexton. When did the change occur?
Actually, after the first CD, "Fortune Teller".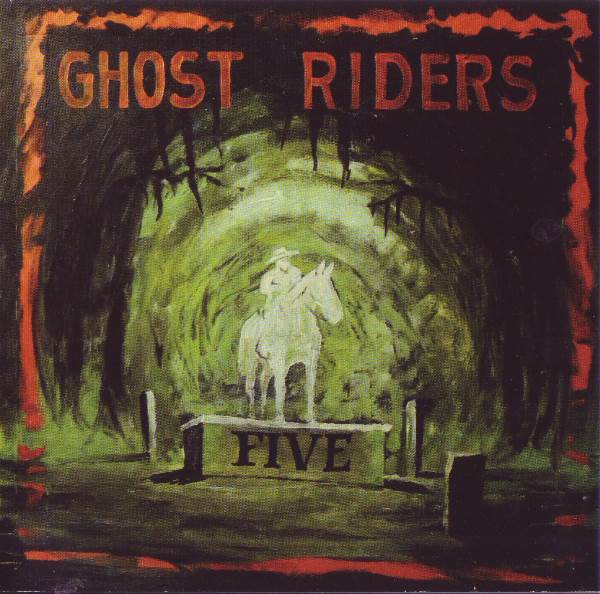 Bennett played the lap steel that doesn't seem to be the case of Sexton. Does the absence of this instrument cause a lack?
I believe it does. We appreciate everything Jimmy Sexton has brought to the band, and I do think Jimmy Sexton would agree that Jimmy Bennett's playing brought a lot to the first CD. Unfortunately, Jimmy Bennett had to move out of the Tampa area, to New Jersey. And was playing a lot with other artists after the move.
We all have a hope that we can reunite with Bennett some day! Then we will have 3 guitars in the band! And two Jimmy's!
Can you introduce us to Jimmy Sexton?
Jimmy came into the band on the second album, "Fortune Teller 2.0". He have been a great addition and a great friend and band mate! Jimmy is kind and sensible, and brings an anchoring feeling to the live band. He lives near Barry Rapp, in St. Augustine. So Barry and him get together often.
When did you record the album?
Wow. It was over quite a time period. Maybe two years or so? I'm not that great at putting things together in the time or order that they happened, because we do so much recording. 2010-2012 roughly?
The opening song, "Pray For Me", was at first recorded by Brothers Of The Southland, a project in which you were involved. Does it mean the previous version didn't please you completely to decide to rerecord this song with Ghost Riders that you co-wrote with George McCorkle?
Actually the version of "Pray For Me" on the Brothers of the Southland album was fantastic! It turned out way better than the Ghost Riders version did, I think. I believe it is the best version.
I wanted to do it live with Ghost Riders, so we went ahead and recorded it.
An other song that draws attention is "Gone With The Wind" with a great performance by Dave Muse on sax who also adds a few typical Marshall Tucker Band flute lines. How were the creation and the recording of this song; and the integration of Dave Muse's work?
Great song, written by Barry. It's about the tornado that hit his home town of Joplin, MO.
Dave Muse is mostly known for his appearances with the Marshall Tucker Band and with Firefall but that's all. What kind of man and musician is he?
Dave is a joy to work with personally and on the stage! One of the best musicians I know! A true musician through and through. And a cancer survivor.
He got cancer and just continued to PLAY and worked his way through it and beat it. One of the most amazing things I have ever seen.
Did, with "Long Live Southern Rock", Phil Strokes want to make a successor to songs such as "Gator Country" or "The South Gonna Do It", in mentioning the names of those who had a major impact the southern rock?
I'm not sure, we didn't ever really talk about it. When you write a song like that, that's usually what you're thinking. Turned out great, great job Phill!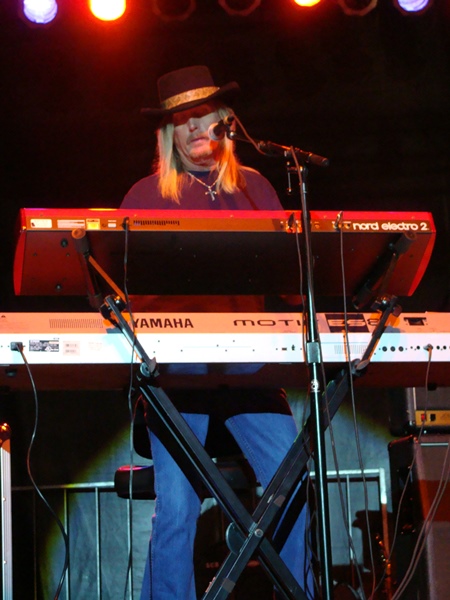 Can you tell us about "Money Magnet", whose style is somewhat different from the usual Ghost Riders songs and for which the rhythm section is unusual (Justin McDugle and Mark Lockheart)?
Justin and Mark are great musicians who I play with locally. I had an instrumental idea and they were around to help me record it.
With "I Pitty The Fool" aren't we getting closer, once in a while, to what you recorded as a solo artist or during the "Soldiers Of Fortune" adventure? This 80's style rarely emerges in the Ghost Riders music. Did you miss it?
Yes. Barry and I wrote that song. Actually I think we wrote it during or after the 1st CD, "Fortune Teller". Barry really liked the song, and wanted to put it on "5", so we did.
The album is still released by Phoenix Records. Some artists say that now, with the Internet, it's better to release an album without a label and that it's a win bet having a self-management for the release and the distribution of its music. Don't you share this point of view?
Well, we've already done so much to record the album, mastered it, find the art work, etc. that by the time we're ready to put it out it's nice to have someone
else do the rest! (laughs)
The websites devoted to Ghost Riders, which are for example listed on your Facebook page, don't work anymore or haven't been updated for quite a long time. Which sites do we have to turn on to be informed at best about Ghost Riders?
Yes, most of the old sites are down. I would say turn to the
Facebook
page. That's the best place to find out what's happening with Ghost Riders.
On the Facebook band page, there are three Ghost Riders line-ups. The first, the touring band, includes the five central musicians plus a drummer, Bret Wadams. Do you play with two drummers or does he replace Pug Baker on some dates?
We have never played with two drummers at the same time. But we have done gigs where two drummers play as guests, like Artimus Pyle or Bob Burns. When Pug can't make it Bret fills in.
The second one, Studio and Back Ups includes Bennett and Adams, Charles Harrison, Fast Fred Cole, Justin McDugle and Mark Lockhart. If I'm not wrong, they are here to replace a missing musician and give a hand in the studio. Right? Some of them are credited for "Five" but did they work on other albums?
Right. I'm pretty sure I listed the guest musicians on the past CD's. Fast Fred Cole, I know appeared on previous albums. This is Justin' and Mark's first appearance.
The third one is called Ghost Riders - The Legends Band and includes Chris Hicks, Dave Muse, Randall Hall, Johnny Neel, Billy Greer, Artimus Pyle, Gary Guzzardo and... Dan Toler. Dan left us not so long ago, would you tell us about your experience with him, about some strong memories he left you or what he represents to you?
I really miss Dan! Life is short, get out there an jam and write and perform with as many of your fellow musicians as you can.
Can you tell us some words about The Legends Band?
The Legends Band was formed for when a buyer has a bigger budget and wants to include some of the many fantastic musicians we have been fortunate to be a part of over the years.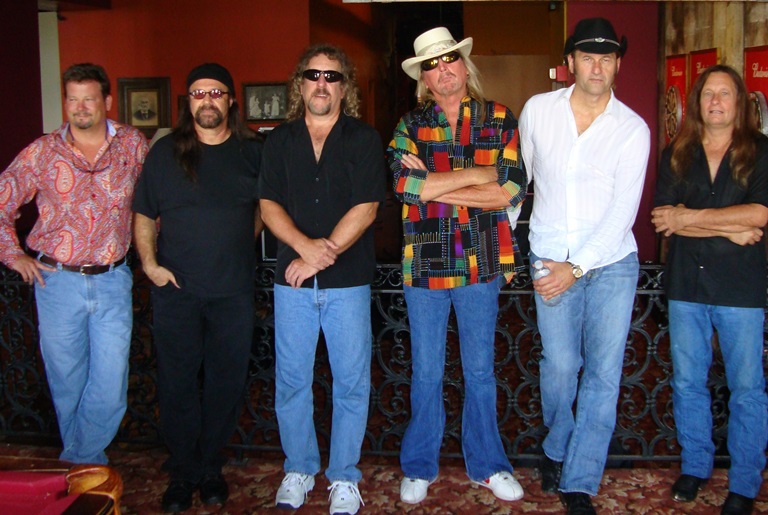 Dit this Legends Band often play?
The legends band didn't play that often, but when it did it was killer!
And the "real" Ghost Riders, how is it doing? Do you tour a lot?
We are celebrating our 10 year anniversary this year (2003-2013). We have done some shows in Florida already and hope to book many more!
After a decade with Ghost Riders but, in fact, after a much longer career, for yourself and Barry Rapp, that you spent writing songs, does it become harder to write new songs? Or, on the contrary, is it easier with the experience in that matter?
I think it has become easier. We always write a lot and try to put the best ones on CD.
Don't you intend to release a live album or even a DVD in the future?
We would love to record a live album, and have been discussing it and recording the live performances we've done so far this year. Mostly 2 track recordings, and no multi-track recordings. I would love to find someone to produce and record a live CD/DVD. So if anyone out there would like to, get in contact with me at:
stevegrisham@gmail.com
Do you work on other projects outside Ghost Riders?
Yes. Mira Vista Studios stays very busy producing outside artists. And I record full blown tracks for artists that don't have music, but have lyrics that they want to put to music. I produced Silversel, in 2012, who is booked by: Bad Boys of Rock Tour with Silversel, Southern Rock's Finest, and Ghost Riders, through T&T Management & Booking Agency at 912-925-0883 or
www.tntbooking.com
.
I didn't know Silversel. On CDBaby, the music is described as "rock, alternative, and metal all mixed together with a spoon full of Southern rock." Is it a good description? Is "Where Angels Dare" their first album?
Yes, that is a good description, Killer band and songs! Yes, "Where Angles Dare" is the first album.
Isn't Southern Rock's Finest another Legends Band ? Did you record them too?
Southern Rocks Finest is Phill Stokes band. Yes, it is another legends band. SRF has not recorded anything yet, except some live off the board stuff.
Do you have contacts with the current Outlaws band?
Yes. I just went to see Outlaws/Black Hawk and got to visit with everyone in the band quite a bit! Henry and I talked about getting together to write soon.
Everyone was playing really great!
Is it annoying to you to see the band playing and touring without Hughie Thomasson?
We will all always miss Hughie. I have seen the Outlaws band twice in the past two years. I had never seen the band before, except when I was in it with Hughie.
It was very interesting after all these years. Musically the band was VERY tight, the musicianship was excellent!
Their "It's About Pride" enthused a lot of people over here. Besides the release of "Anthology (Live &Rare) 1973-1981", we see Billy Crain, their guitarist, who is also very active as a solo artist. Now, Ghost Riders, which is bound to them by history and a certain style, also releases a new album. How do you see this radiant health of the Outlaws "family"?
I am proud to say I am and was a part of all of it. Hopefully we all will have many more years of life and write and record many more songs!
Thanks a lot Steve.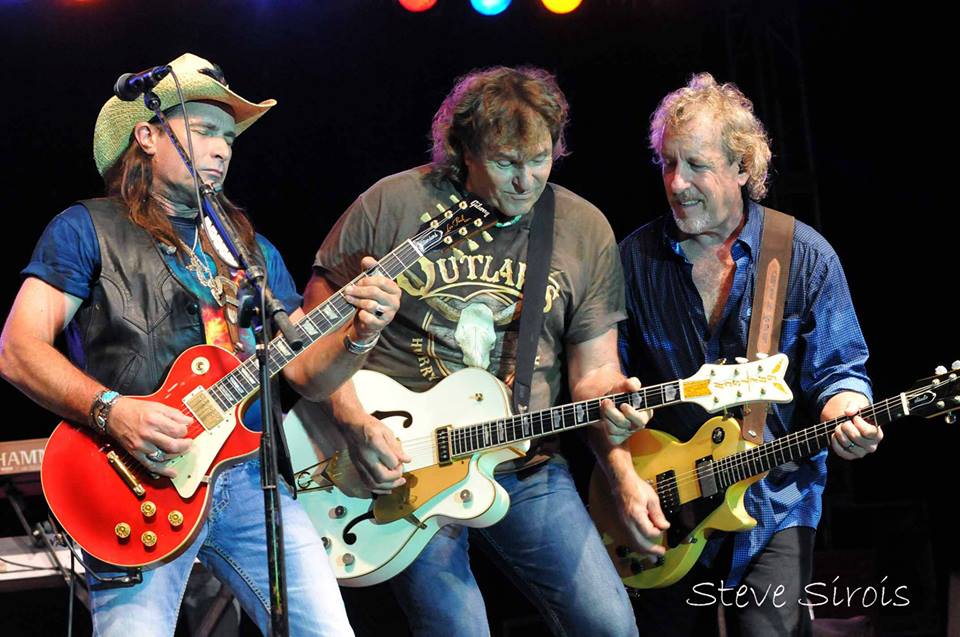 A few days after this interview, we learned the return of Steve in the Outlaws... a few more questions were required.
We just learn you come back with the Outlaws, replacing Billy Crain, for health reasons. Could you tell us some news about Billy? He stop to tour but Is he not going to continue to write songs for the band and maybe be involved in other ways?
I really just know what was put on Facebook. And I have hope and prayers for Billy's health.
How did that come you were chosen to replace Billy?
I called Henry and told him I would really like to play with the band again, and I felt the time was right. We had some talks and got together in Nashville and it felt really right.
Is it for the Outlaws and for Blackhawk too?
Yes.
You're currently, I believe, rehearsing the songs. Is it easy and how long will that take?
We took the Monday and Tuesday before the first two gigs and rehearsed at Chris Andersons studio. Me, Chris and Henry. Then we had a full band rehearsal Wednesday and left for the first two gigs Thursday night.
What will be the future of Ghost Riders with this event?
We released our 5th album in January on Phoenix Records. There are a lot of Outlaws/Blackhawk dates on the books for the summer so my time will be devoted to that right now.
Thanks a lot again Steve.