Hogjaw
Interview by Luc Brunot.
Photo credits: Kristi Kowalski
Original version of the interview published in Bands Of Dixie #105 (July - August 2015)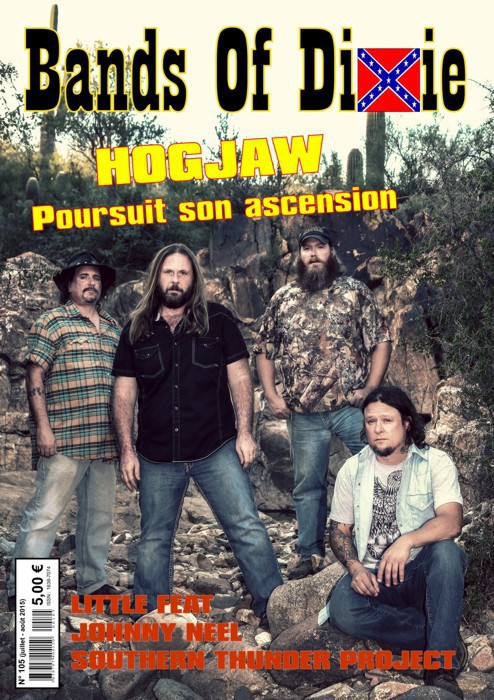 The first Hogjaw's album, that was-seven years ago... Watch what happened after seven years to the rock bands and their music, If they have lived for so long... Not the same it seems with a few exceptions. Well, Hogjaw is one of it. A new guitar player, perhaps, but no wrinkles. Hogjaw, it's the same energy and passion than the first day. On record and on stage, it gives a damn punchy rock but this energy and this passion burning them, radiate just as much this interview. Hot!
Hello Hogjaw,
Sometimes you just can't believe how quickly time goes, it's been five years since we had our first interview. Back then, you were releasing "Ironwood" and since you have since been publishing three other CDs including the latest, "Rise To The Mountains" which is brand new. On the cover, tall snow-capped mountains and dark firs. Arizona is not only desert? Is it that too? Why did you choose this title for the album?
Kwall
: Arizona is a magical state and we have almost every kind of terrain. This Mountains range would be called the "White Mountains." The title of the record came to when we wrote the song "Rise to the Mountain". It was after that we decided the whole foundation of lyrical content came to the title.
JB
: plenty of mountains to rise up to here in Arizona, and we have climbed a few of our own, it made sense to write about it, we have all seeked some alone time in the hills to figure something out.
This album is marked by a change in the band. Kreg Self, original guitar player is no longer there due to health problems. What happened to him?
Kwall
: Kreg suffered from a minor stroke and the after effect was temporary loss of his peripheral vision. Every time he played his guitar from certain angles he would get dizzy. It scared him enough to not want to travel and do band commitments.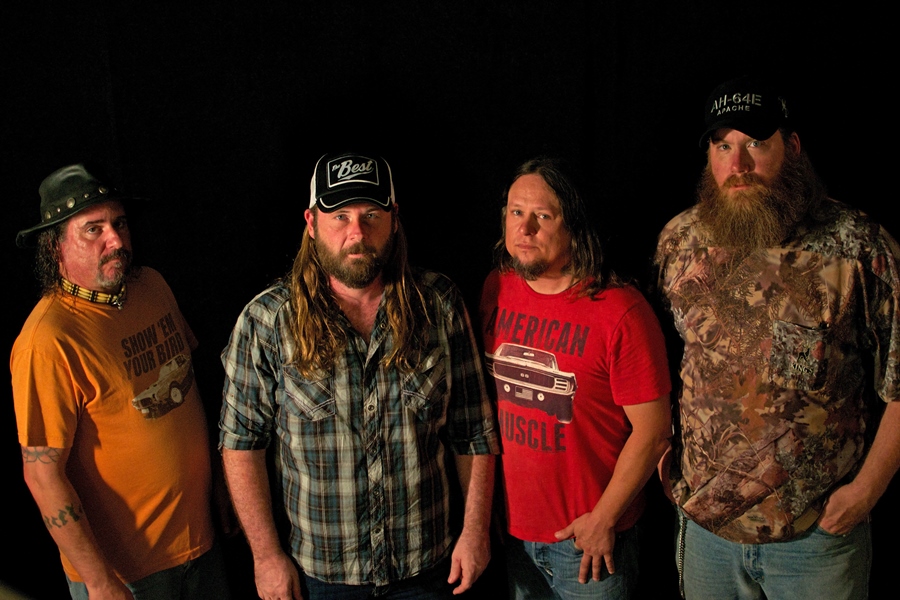 Is his departure definitive or is there a possible return if his health improves?
Kwall
: It has honestly never been discussed. However, we do have grandeur of illusions that in the future we can get him to come back and play on some new stuff to have a 3 guitar attack!!
Can you introduce Jimmy Rose, his successor?
Kwall
: Jimmy Rose has been a friend of the band for many years. He plays in a local group (Angel Mary)... along with being a touring guitarist for the - Frank Hannon band (Tesla). We were told he is "optically pleasing" hah hah hah!!!
JB
: Yes, he has been around for a while, and we have played many local shows. We are glad he is part of Hogjaw now.
How did you choose him?
Kwall
: We decided to move forward with a new lead player. I called JB and said "I know who needs to be in our band - Jimmy!!" So I called him to test the water and I think he was fairly shocked. Due to the fact he was already busy playing in a full time band; we played a few shows with him until he was comfortable enough to join up with us. No auditions, just jamming!
JB
: I agreed with Kwall on this one! Jimmy!!!
How did the change go?
Kwall
: During this time it was a little bit of a fog for us. Building a foundation with a house and then giving the keys to a new person is always an interesting journey within itself. Jimmy's Personality just fit right in and we all felt the energy. It really could not have gone any smoother.
Jimmy
: I agree with Kwall, the transition was quick and powerful with a vibe as though we had been playing together for years. We jumped into the Whitewater Rapids together and ended up going the same direction.
Was Jimmy Rose already part of the band when you started working on this new album?
Kwall
: Yes, he was. How else can you see if someone is truly the correct person for a group? Write some music together! Hogjaw has always been a band that writes together. So why would we not want him in the process. All for one!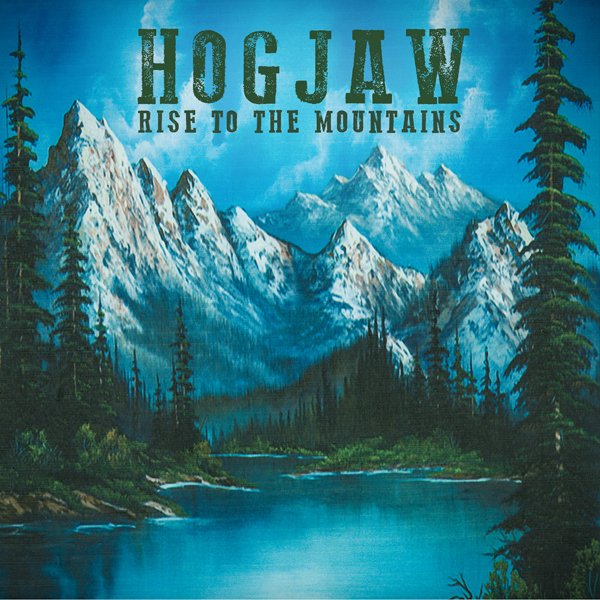 Except the guitar playing, does this musician change modify things in the way of working, the songwriting, the mood, etc.?
JB
: this was something I was wondering about early on, but it worked out very well, Jimmy is also a singer, and we learned that we enjoy sitting down with some drinks, and writing lyrics. Me, Kwall AND Jimmy! great stuff happens...
With "Devil In The Details", you have released five CDs .How has Hogjaw's music evolved between the different records until the new one? With years and experience, is Hogjaw stronger than before on some matters?
Kwall
: We have always been that band that somehow figured out what we liked to play - so the writing process has not changed. The records might not all be exactly the same. However, who wants to hear the same songs on each record! I would say on this new album we were able to explore different things due to the fact we have fresh blood pumping in the machine (the band.)
JB
: Yes, we felt very energized going into the studio for this record.
Five discs, fifty songs since 2008. Is the songwriting easy for you?
Kwall
: It does not always come easy! We hit block walls while we are in song writing mode. We have arguments about changes, try different arrangements. In a world that is not perfect sometimes you make a rough diamond shiny.
JB
: There is always a time or 6 when things get rough and a wall is hit...We just put it aside and move on. We can come back to it when ready. Other times it flows out like water in the storm drain. Most times it goes as planned, and the Jamming carries it along
All these songs are original compositions made by the band. Did you think about writing with other people?
Kwall
: We are not opposed to it but have not done it. We usually include guests players on the albums, when this occurs we let them have free reign. So, I guess it's kind of like that.
Since the CD's advent, bands often offer longer albums than the vinyl permitted. You still ten songs on your albums. Don't you want to add some more ones?
Elvis
: We write them to an hour length roughly, and then we may add 1 or take 1 away to make the album the best it can be, regardless of run time.
JB
: Ten songs is the magic number I guess, when we get 10 we like, we are there.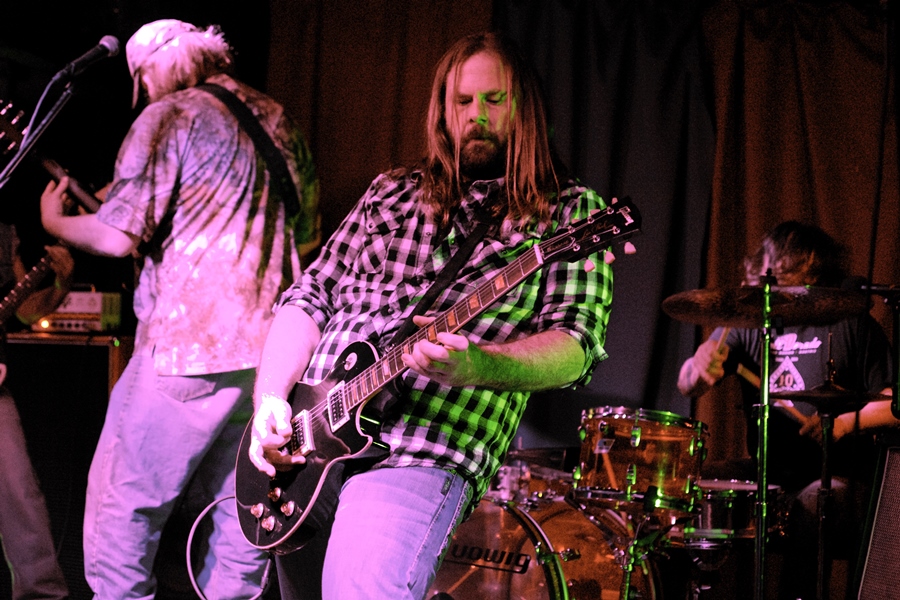 Do you write songs naturally, without questioning or are you considering some elements such as a guiding idea for an album or the will to get variety in the songs set for the CD?
JB
: Yes, 90% of the songs start as a Riff or a Jam that sounds cool, we build on it until it is something like a real song, then an idea for what the song is going to be about emerges...then lyrics, usually...
Elvis
: Everything comes from the jam. Sometimes the jam starts with something you were working on before, sometimes not. We don't write full songs and then present them to the band, everything is worked out in the jam sessions.
Jimmy
: The Jam!!!! Sometimes hour long continual jam's...which produce quite a few tasty licks and melodies. I believe it's easier to get into a musical groove by jamming together with no pre-conceived notions, then branch off from there. Once the song is beginning to come together, we start to hear its story from there...
Besides your usual hard and rough rocks, you proposed things quite different like steel guitar on "Ironwood" and, on "Sons Of The Western Skies", songs like the groovy "Everybody's Goin Fishing" with sax and some other with a more jammy personality ("Look To The Sky", "Fantasy Park"). We could not find this kind of stuff on "If It Ain't Broke...". A wish of refocusing?
Kwall
:Some of the old song we cannot play live because we do not have a 7-piece band (someday). So on "If it Ain't Broke" we just said let's not have guest players on this album. Keep it simply rock and this will give us the opportunity to play most songs live.
Elvis
: The "If it ain't broke" record was meant to focus on guitar, we stepped away from some of the fancy stuff and wanted to write a stripped down album. It worked for us at the time, but we hit the studio hungry for steel guitar and other things on "Rise to the Mountains".
"Rise To The Mountains" marks the return of John Rickard on pedal steel. As for "Ironwood", he plays on two tracks. The first is the album title that begins very rock before switching quieter on a second part? Can you tell us about this song?
Kwall
: John Rickard is one of them phenomenon's you get to work with in this industry. A true player and a kick ass dude! the first track is about a journey that's spans from leaving the city life, climbing a mountain and an once the top is reached (the second chapter of the song) you get the mind opening reality of letting the negativity expel. The moral of this record is staged in the first song. John Rickard gave us the exact feel from start to finish.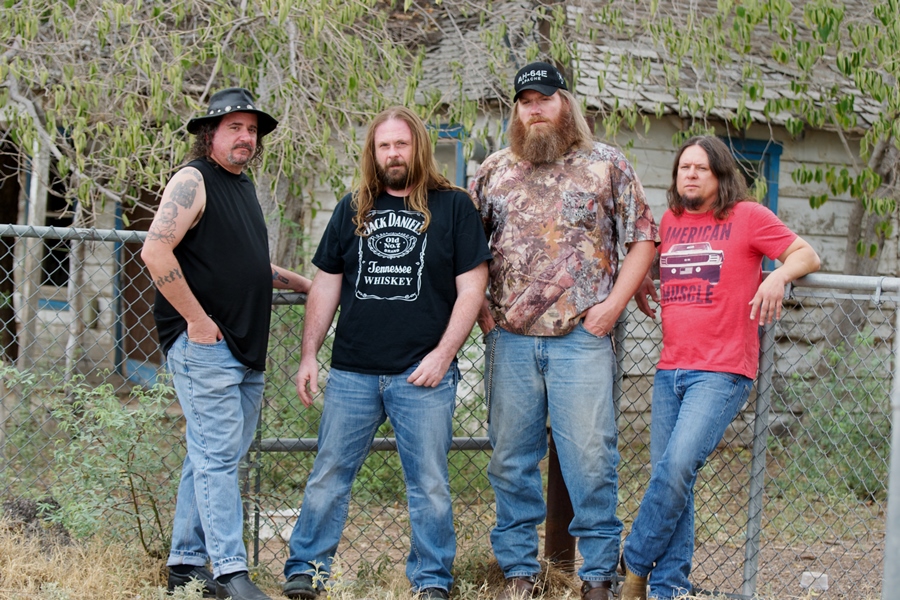 He's also featured, with mandolin player Mike Irish on the acoustical and very delicate final song "Grey Skies" which takes us away from rock to an original blend of classical guitar and steel sounds. How did that song come about?
JB
: Well, the fellas wanted to try doing an acoustic song on the record because it is new ground for us, kinda... I thought about it and suggested we use this acoustic bit I had written years ago, like 18 years or more. I can't remember actually. It was "Grey Skies". We played around with it one night, and it was set to happen. It developed into more than I had ever imagined though with the help of Jimmy, Elvis, John Rickard, and Irish Mike Hannon. What you hear is an old song I tried writing when I first got into acoustic guitars, snazzed up by some of our great musician friends of today, and I will be forever grateful that we dug this bit out from under the rocks, because I think it came out pretty well.
Apart from these songs or of the long "I Will Remain", the CD contains a lot of raw and rough rock as usual. One thing I really like in it is the rock'n'roll energy that Hogjaw exudes and transmits to the songs, giving them a vitality that always makes exciting the listening. Is this energy the heart of your music?
Elvis
: it's about the intensity, and about the interaction with the audience, if they give it back, we power it up and send it out again harder.
Jimmy
: Energy and passion. We all love what we do and it comes through each of us whether we are playing a show or just jamming at the practice studio...
Kwall sang one song on "Sons Of The Western Skies" and two on "If It Ain't Broke ...". Rising up the mountain while singing was over its forces?
Kwall
: We actually discussed this amongst the ranks and said we do not have to follow formula of past records. I have always had fun singing and I do plenty on "Rise" to keep me happy. I always really just wanted to do backups. I thank the folks who have praised me on my singing. They will continue to hear those songs we play live.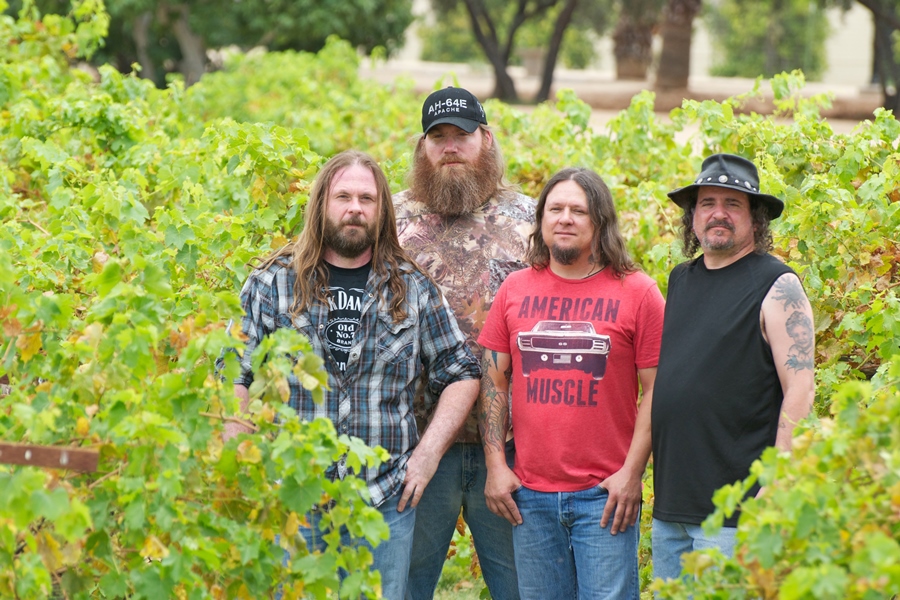 On this new album, we can read on your site that "the band believes lyrically and musically the album has the vibe of a "concept album". Of course, that is to be figured and determined by the individual listener. So, no concept? Just the vibe?
JB
: the story of life travelled, the good, bad, and food and drink. you even get to hear what the mountains think...
Elvis
: the songs tell a story, the story of a life, from boy to man and the roads he travelled to get to the mountain.
Is "Rise From The Mountain" released also on vinyl? Are the LP sales important?
Kwall
: YES! We love vinyl! This addition will be released on plastic sometime before the European tour in September. Our Good friend - Stefan @ Southern-records.de - will be in charge of things.
Your site offers the listening of eight new songs (New music). Are they from the same sessions as the album? Will they appear on an upcoming album?
Kwall
: No, I think the top 2 tracks are new and the rest are from the previous albums... I presume made for new listeners. They also change from time to time.
In your set lists, alongside the songs from the new album, what songs from the older records did you keep?
Kwall
: We still play all the classics (funny to think we could do a best of record!). I think we chose 30 songs to perform for the upcoming tour. We always make random set lists, usually a few minutes before we hit the stage.
JB
: with 50 songs behind us, we decided to keep 30 in the holster.
You'll come for a fourth tour of Europe in September for over thirty dates. Most are in Germany - which is not surprising - but there is even more concerts in Spain. How do you explain this Spanish success?
Kwall
: I guess they get us. Rock music has not been lost in Spain that is for sure. They also know how to drink and that always makes bands sound better!! Hah hahhah.
JB
: Spain actually looks like Arizona in many places that must be it!!!
A single date in France.... Really not a rock country. Disappointing, isn't it?
Kwall
: We go where our booking agency tells us to go. We definitely do get love from the French folks, and Yes, it is a shame there are not more dates. There are fans from many countries that get no shows at all it disappoints us. Our goals are just want to play music and make people happy! At the end of the day we go home to our day jobs, like everyone else.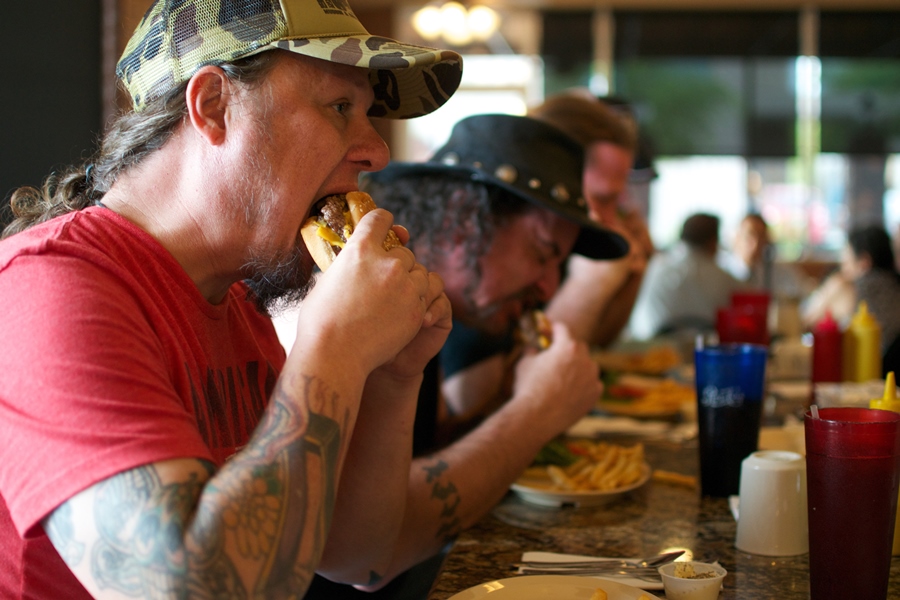 In our first interview, you thought your third album would be a live one. This is no longer scheduled?
Kwall
: We have a journalist friend that has been up our butts about a live record - Jochen, hehhehheh. Our initial plan was that for "Rise". Unfortunately, we had a set back with the group and it led us back into doing a studio record. Now that we are back strong, plans to do such things are back on the agenda.
Are you satisfied with your current fame? Some of your songs were used on TV I believe?
Kwall
: Fame? We are definitely far from that. What we are is very thankful there are some people out there that believe in our music and us as individuals. Nothing has been handed to us and all the monies we have made as a group have gone back to keep Hogjaw running. Everything we have done is all DIY, Indie, etc. I will give you one name that has changed the game for us - Teenage Head Music - You should be interviewing them because they have done so much for us as well as many other artists on their roster. T.V has not done much for us but a pat on the back and a small check to help finance; records, tours, etc.
JB
: I am a legend in my own mind...but that's as far as it gets! haha and I forget...
In a recent interview with our friend Michael Limnios, you regret the sincerity and the authenticity of the music that was done in the seventies at this time of Capricorn Records. Or in another interview - to be published in the same issue of Bands Of Dixie - John Rehmel speaking of southern rock says "I believe people are hungry for it. They want the real raw and gritty music instead of the money making machine Pop Country stuff rammed down their throats". Is Southern rock more authentic than other music?
JB
: I want there to be more southern rock music out there - the heavier, riffy, more powerful stuff, not the wimpy stuff sung with fake accents...it's hard to find. For years we have said if we can't find it, we will go ahead and try to play it...and play it as authentically as we can, our way, and nobody else. I thank the wonderful people out there who have found us, because we were looking for you too.
Kwall
: Music with Soul and essence will always prevail! I feel so sorry for people growing up with major talent and having to be told what to play. The generation we are descendants of had it all, the power of purity. You cannot take that away from any band of the 70's era (or most)... now we have pop country mash-ups because everyone is rewriting the same songs. I do not want to be identified as such. You can hear influences in our music but we did not roll over, we will just continue to ROCK N ROLL - Thanks for having us ~ Cheers
Jimmy
: I think any type of music can be authentic, but it needs to come from the artist themselves. I believe a lot of the sound nowadays is being groomed for what they want to feed the masses. We write for ourselves and fans of honest, pure unadulterated music... without the thought of what may be a "Radio" hit. I think the Capricorn area bands played true to their songs, not fame and fortune.