Larry Howard
Grinderswitch
Interview by Luc Brunot.
Original version of the interview published in Bands Of Dixie #38 (May - June 2004)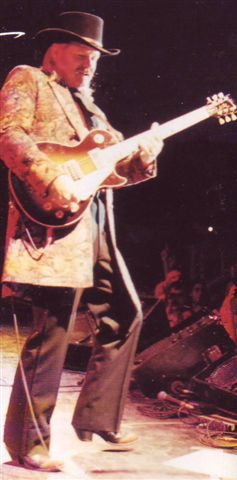 After collecting Dru Lombar's impressions in a previous issue of Bands Of Dixie, it seemed that it would be interesting to get the view of Grinderswitch's history through the prism of Larry Howard, second guitarist of the band. Although opinions differ on some points, it appears that a strong link still unites the various members of this legendary band of the seventies. A quite rare event to be emphasized and it's more than notable to see that a musical friendship can endure through the ups and downs of the road life. A fine example to follow...
Hello Larry, I have read somewhere on the Internet that you have some health troubles. What happened to you and how are you now?
For the past two years I've had serious back problems. Over the years I've had numerous motorcycle and auto accidents. Some of these accidents left me with various broken bones but most of these injuries were repaired. Unfortunately my back was never repaired and just got worse through the years. In September of 2003 I was in so much pain I could no longer be on my feet for very long. After extensive testing I was found to have a pinched spinal cord, a ruptured disc in two places and bone spurs on several vertebrae. On October 8, 2003 I had surgery in Macon, Georgia to repair my back. The surgeons placed titanium rods in my back and fused one section and removed some bone from several vertebrae. I spent six weeks on my back in bed and now I'm walking again but I'm in a back brace for at least two more months. The total recovery time is 12 months. I should recover completely. I have now been off the road for the longest period of time since I began playing professionally in 1965. It has not been easy but I have people who care about me and they have all been by my side to help. It's humbling to not be able to dress yourself or get out of bed by yourself but it confirms to me there are more important things in life than money and fame. The most important things to me are faith, family, and friends. These are the things that make life worth living.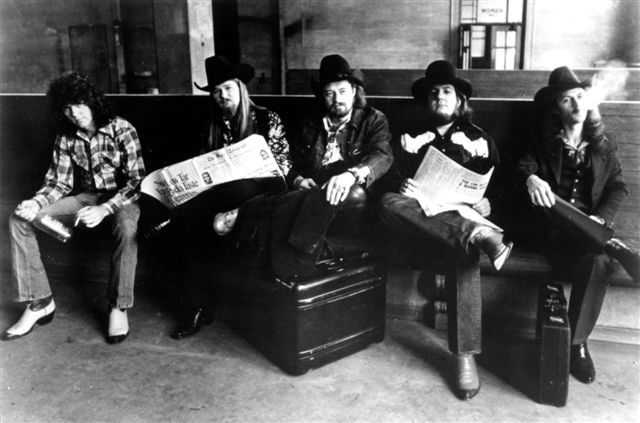 How did you know the others members of Grinderswitch and how was formed the band?
I was one of the three founding members of Grinderswitch. Those three members were Joe Dan Petty, Rick Burnett, and myself. The three of us later ask Dru Lombar, who I met in a bar in Macon, Georgia, to join us and then later we invited Steven Miller to join us as piano and B3 player. Rick Burnett and I started playing music together in 1964 and played together until I left Grinderswitch in 1979. We met Joe Dan Petty through Les Dudek who played guitar with Dickey Betts on "Elizabeth Reed" and "Ramblin Man." Les, Rick, and myself played together in a band in the late sixties and early seventies. The name of the band was "Blue Truth."
Did "Blue Truth" record?
Yes, we did record in Nashville at Quad Studios. The album was produced by Dean Mathis from "The New Beats" if your music history is up to date you'll remember the New Beats had a huge hit in the 60's called "I like Bread and Butter" unfortunately it was never released nationally
What was the musical kind of this band?
The musical Kind of this band was all original rock of a kind that later became known as "Southern Rock." It was a combination of blues and rock. Two guitars, bass, drums and a frontman-lead singer. We later added a B-3 organ player. Twin guitar solos and all.
What is doing Rick Burnett now?
Rick Burnett works for a distribution company that sells auto parts and plays drums on the weekends.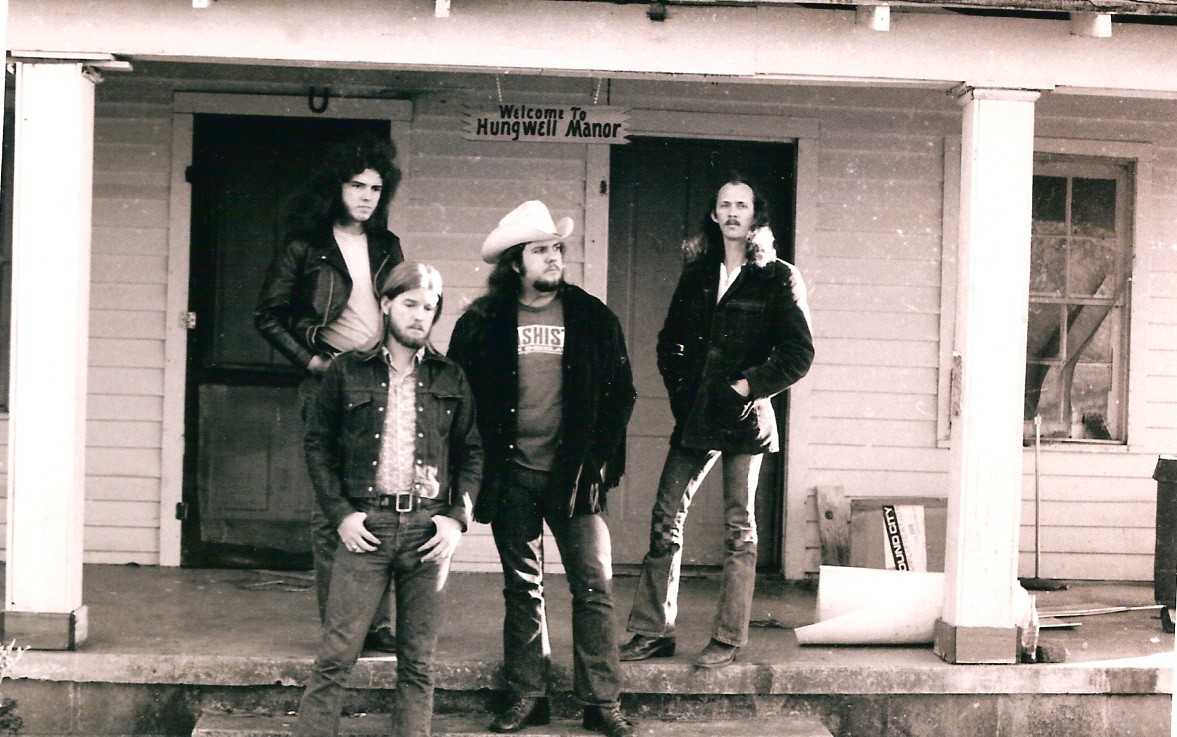 Paul Hornsby, that I just interviewed last week, wrote to me about Grinderswitch: "Grinderswitch, as I remember, were a side project for Dicky Betts". Is it true and could you tell to us a little more about this?
Paul Hornsby and I had a talk, which we do often, we are very good friends. Paul was mistaken about Grinderswitch being a project band for Dickie Betts. Dickie Betts project band was a band called "Solo." When Dickie decided to stay with the Alman Bros. after Barry's death they ask him to put the "Solo" project on the back burner. Dickie didn't want to break up the band so he hired Les Dudek to take his place on guitar. This was how Les ended up playing on "Brothers and Sisters" Dickie also hired Blue Truth's organ player Peter Selest, So, Blue Truth broke up and two of it's menders went with Dickie's band "Solo" and Rick Brunett and my self met Joe Dan Petty and Started Grinderswitch. We met Joe through Les Dudek when he came to Macon, GA to play with Dickie. Paul Hornsby heard Grinderswitch and began playing keyboards with us and producing us and we signed with Capricorn Records. Paul played keyboards on the first two Grinderswitch albums and played many live dates with us, including the early Charlie Daniels Volunteer Jam recordings. Luc there is so much to the history I could keep connecting it together for hours.
What are your best memories with Grinderswitch?
My best memories of Grinderswitch were first the personal way we cared for each other and secondly the music we played together. We had our differences and each one of us was stubborn but when we walked on stage it was like magic. At the risk of sounding weird we had a sixth since between us when it came to music. I knew what Dru was going to play way before he ever got there, it was the same with all of us. There was never a Grinderswitch album that revealed what we were really all about. That's probably the reason we never had the commercial success some other bands achieved. We were always off in some world of our own during a concert. We really didn't sound like the same band live as we did on albums. I had never played in a band as tight as we were musically and I've never played in a band that tight since. Most people never realized the music they were hearing from us at a live concert was being totally made up on the spot. I've heard bands go on stage night after night and play the exact same thing. Solos and everything. I'd rather eat a dead frog than start a guitar solo that I already know how it is going to end. I've worked with producers and they would say that was a great solo can you play it again? I'd say play what again? The solo you just played! I'd say to them "I have no idea what I just played" They would say "how can you play something you don't know" and I'd answer "what I just played was from my heart not from my head." That sums up what Grinderswitch was all about. We were a "heart band" We were also a band of outlaws on the run all over the world, in that way we were like all the other Southern Rock bands. People have tried to tell the southern rock story in all kinds of ways but I can tell you the real story will never be told. All the southern rockers are taking the true story to the grave with them one at a time and that's the way it should be because we are and were a rare breed for better or worse.
With Dru Lombar, you were two guitarists in the band. What were the roles of each one? Did each one play equally the chorus?
Dru became the primary lead guitar then we played together on the chorus I also played some solos' too. We did a lot of twin leads and when we played live we did what ever we wanted to do. We didn't have many rules, everybody played what felt good to them. It wasn't unusual for someone to leave the stage and not come back for a while so the remaining members reconfigured and kept on rockin'.
Blues is a major influence in the music of Grinderswitch. Were the Allman Brothers your models or was it black blues artists?
I don't think anyone was heavily influenced by another artist. Not even blues. I never learned licks from any guitar players. The five of us were too busy creating music to be learning something by other people. Certainly there was blues and country but The Allman's music wasn't a part of my life until after I moved to Macon, Georgia. Our first album was all written and put together on our farm in Centerville Georgia. No one can do a totally new concept, we only have 12 notes to pick from so all Western music is related in that way.
What's the best song you wrote for the band?
The best songs I wrote for Grinderswitch was probably "How The West Was Won"," Mail Train Blues" and "I wish the World was my guitar." It's hard for me to choose , you choose!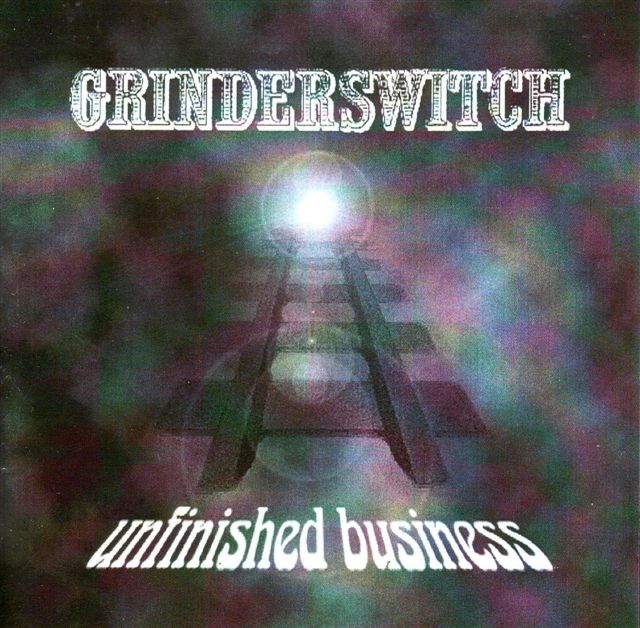 One of your songs is titled "Dr Hectors Traveling Show" (that appear on "Unfinished Business"). Was is this Dr Hector that gave the name of the band created by Dru Lombar after Grinderswitch?
On the song' Dr. Hector's Traveling Show" This is a long story but I'll give you the short version. Stephen Miller and I use to room together for a number of years. When we would get high and need something to do to kill the boredom so we would make up characters. Sometimes we'd slip into these characters for days at a time. One of the characters Steve invented was "Dr. Hector" Dr. Hector was a showman and a bluesman and had away with the ladies. Steve was in that character many nights when we went on stage, it was an alter ego for him. I wrote the song "Dr. Hectors Traveling Show" as a tribute to Steve's alter ego. Then unbelievably Dru stole Stephen Millers's alter ego. No one was happy about it but that's what happened. Let me remind you, the guys in the band could say what ever they wanted about each other but anyone outside the band should beware. We were all family and loved and still love each other, so if I make a remark about somebody in Grinderswitch it's a family thing. We've lost Joe Dan Petty and Steven Miller but the three of us that are left will fight you if you say something against any one of us "Dead or Alive" Having said that, Dru is not Dr. Hector, Steve Miller was Dr. Hector, Dru is not Grinderswitch, He was not in the beginning and he is not in the end. All I can say is I love him and believe he would be better off being Dru Lombar. After all that's who he really is. I'm Larry Howard that's all. God has taken care off me because I have committed my self to Him and to just being me.
You played on the three Capricorn albums and on "Redwing" and this "Unfinished Business" recorded after "Redwing" but that was released later. Why did you leave the band?
I left the band because I was a drug addict and was becoming a liability. Also I was tired of the whole life style that went along with it. I took music seriously when I started but all the politics and plain BS was stealing the very thing I loved. I'm over joyed to tell you, now in 2004, I play when I want to, where I want to. I play in prisons, play for free in Russia and surrounding former Soviet Block countries. I've played all over Europe and Scandinavia for years. Played in the jungles of Venezuela, Haiti, and The Dominican Republic. The best thing for me to do was leave the band, it was heartbreaking, but it was the best thing. I'm sorry to say nothing ever happened with the two albums Grinderswitch did after I left. It wasn't because I left it was because "the circle had been broken." What ever it was after I left , it wasn't Grinderswitch . Too bad!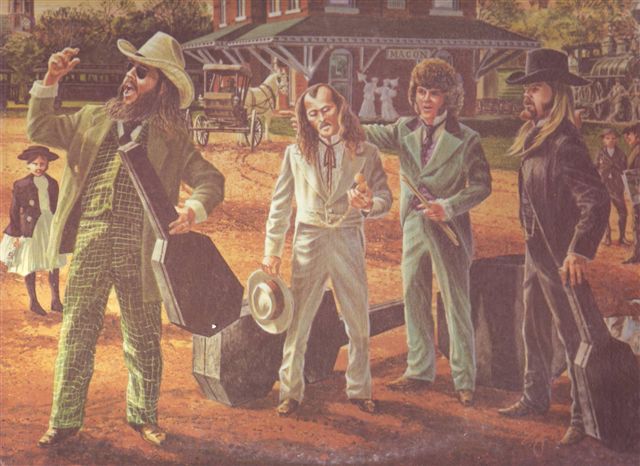 Did you come to France and do you have projects for you to come in our country?
I have been in France several times. Some of the live album "Straight Southern Rock On Tour" was recorded in Paris if my memory is correct. I have been coming to Europe for many years and hope to return when my back is healed. Bruce Brookshire and I have talked about coming to Europe together after the release of "Wood and Steel"
Recently, Dru Lombar decided to reform Grinderswitch. Did he contact you to come back in the band?
When Dru put together the illegal band he has now called Grinderswitch it was for his own gain. His band Dr. Hector wasn't doing well and he thought if he could sell Dr. Hector as Grinderswitch it might relieve his current situation. I really don't think it has helped him at all other than to maybe to buy some beans. He didn't ask anyone what we thought he just did it. His comment to me was " I had to do what I had to do." That kind of loyalty is not very well received in the south. I have a Grinderswitch web site that will be online soon.
www.grinderswitch.net
It will be a tribute site to Joe Dan and Steve and we have a lot of memorabilia to view and you will be able to add you own collection on the site to share with others. We are really looking forward to doing a NON-COMERCIAL site about something we all loved so much.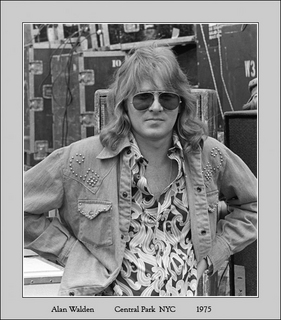 What did you do after Grinderswitch and when did you begin to record as a solo artist?
After I left Grinderswitch in 1979 I started doing solo projects under my own name. I currently have 10 or twelve solo projects available and several others I've done with other artist. I started to record as a solo artist in 1982 and still am recording today. In fact I was in the studio today working on my next CD called "Wood and Steel" which will be finished early this spring. It features myself, Chuck Level, Paul Hornsby, Jack Gavin, Charlie Hayward, Bonnie Bramlett, Bruce Brookshire, and others. I hope everyone likes it and will play it for someone they care about. If you go to
www.larryhoward.com
you can see some of my other CD's for sale and read more about what I've been up to. Yes you can get these disk mailed to Europe at no extra charge.
Allen Walden (former manager for LYNYRD SKYNYRD) was the first to help me get started again after I left Grinderswitch. I wrote for his publishing company and cut demos for him way before anyone else would give me a chance because I had become a Christian. Some other blues labels asked me to do something's for them but said being a Christian was OK as long as I didn't sing about it on their label. I turned them down. Allen loved what I was doing and found it very interesting. We spent a lot of long hours together cutting sessions. He uses to laugh and say "For the first time since I've known you, you aren't in a cast or have stitches in you somewhere." We've known each other many years! Allen and his wife Toshia have remained close friends for many years. It's really a great thing because we cared for each other way back when and still remain close today. I'd like to publicly thank Allen Walden for believing in me when every one else thought I had lost my mind! By the way Allen was inducted into the Georgia Music Hall Of Fame this year, a well deserved honor. He's a real visionary. Thanks Allen for all the years of trust and friendship.
Could you give to us the name of your discs as a solo artist, when they were recorded or released (and, maybe, describe a little each disc)?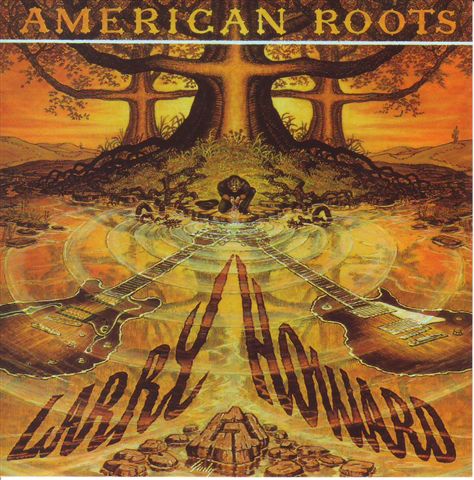 Latest CD -
Wood and Steel
. Release date: July of 2004.
1997 -
American Roots
(Active Arts)
. Appearances by Dru Lumbar and Joe Dan Petty of Grinderswitch, Charlie Daniels, Jimmy Nalls of Sea Level. Americana roots style, also the last know recording of Joe Dan Petty. No Horns, just great electric guitars and acoustics, and B-3 organ.
1995 -
Songs of Larry Norman
(Forefront)
. Artists covering all Larry Norman songs, I'm doing "The Rock That Doesn't Roll".
1995 -
Live Tracks - Grinderswitch
(One Way)
(With Special Guest-Toy Caldwell and Paul Riddle). Live WLIR in New York City. Recorded in Long Island New York.
1995 -
Into The Night
(Grrr/Rex)
. Live recording. High energy live great recording.
1994 -
Bright Side of the Blues
(Forefront)
. I think one of my best. Blues and Rock with horn arrangements and background vocals arrangements by Tom Tom Washington of Earth, Wind and Fire and Phil Collins.
1994 -
The Blues Night
(Forefront)
. Live Recording in Holland. With Glen Kaiser, Darrell Mansfield and Trace Balin.
1992 -
Larry Howard's Blues Jam
(Forefront)
. Live Recording with friends: live with about 18 of my friends including Mark Farner from Grand Funk Railroad.
1991 -
Redeemed
(Forefront)
. Contemporary blues and R&B, Clapton's "Journey Man" and Winwood's "Roll With It" etc.
1989 -
Into the Light
(Spark Music)
. Europe release only. More blues rock.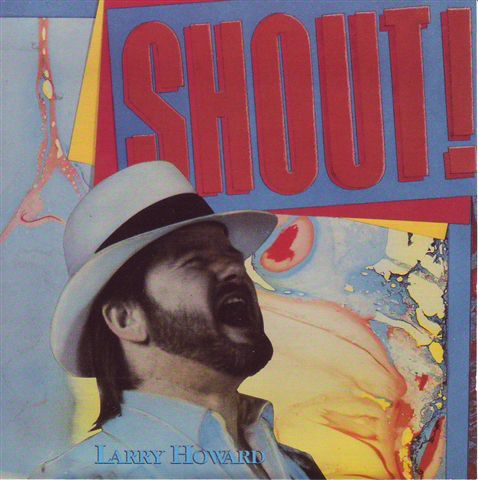 1988 -
Shout
(Refuge)
. Big band style rock and blues with horns and background vocals.
1987 -
Sanctified Blues
(Refuge)
. Blues with horns and female background vocals.
1979 -
Charlie Daniels Volunteer Jam VI
(Epic)
. Various Artists.
1977 -
Redwing
(Atlantic/Atco)
. Grinderswitch.
1977 -
Straight Southern Rock
. Recorded live in Europe
(Capricorn)
with Grinderswitch, Marshall Tucker and Bonnie Bramlett.
1977 -
Rock your Socks Off
(Capricorn)
. Bobby Whitlock.
1976 -
Hotels, Motels, and Roadshows
(Capricorn)
. Various Artists.
1976 -
Charlie Daniels Volunteer Jam IV
(Epic)
. Various Artists.
1976 -
Pulling Together
(Capricorn)
. Grinderswitch.
1975 -
Macon Tracks
(Capricorn)
. Grinderswitch (With Special guest: Charlie Daniels).
1974 -
Honest to Goodness
(Capricorn)
. Grinderswitch (With Special guest: Dickey Betts).
Videos
1992 -
Larry Howard's Cornerstone Blues Jam
. Live Recording, one hour.
1991 -
Calling on Love
. Cut off "Redeemed".
1990 -
There's Something About That Name
. On Forefront.
1987 -
Live Concert
. Holland, 45 minnutes.
1987 -
Lost Ship
. Cut off "Sanctified Blues".
These projects are all blues and Southern Rock based. If you like Grinderswitch, Almans, Eric Clapton, swing and blues you'll like any of my solo projects. All of my solo CD's can be found at
www.larryhoward.com
.
About "Straight Southern Rock - Recorded live in Europe" [Capricorn] What is this disc? I never heard about it. Is the same thing as "Hotels, Motels and Roadshows"?
"Straight Southern Rock" on tour was Marshall Tucker, Grinderswitch, and Bonnie Bramlett. It was recorded in five countries (I think) in Europe. It was released in 1976 I think. It is not the same as Hotels, Motels, and Road Shows. (1)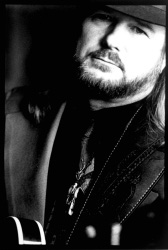 The two discs of you I own are a mixture of Christian music and blues. Are all the other ones in the same vein?
The style of music I do now and have always done is Blues and Southern Rock. I've been doing what you are referring to as Christian music for along time. I don't consider what I do as Christian music, it's blues mostly with southern rock mixed in. I do talk about my faith in the lyrics but I also express my views about a lot of things in my lyrics. When I used to be a drug addict and a hell raiser I wrote a lot about being high and radical and about being on the wrong side of the law, so it's not unusual I write about my faith in some of my current songs. Understand, I'm just as radical as I've ever been I just try and use my energy on things that I believe make a difference. The only thing being an addict ever made a difference in was how bad I felt the next day. Some of my songs deal with spiritual themes. I am a Christian and I'm opened about that. I counsel people about marriage and counsel men on death row in prisons in the United States, visit people in hospitals. I've seen a lot of pain and hurt in my life and it would be wrong not to share what I know about my beliefs if I thought it might help someone. I'm not a Theologian but I've learned enough I can at least help someone when they are down and out. Charlie Daniels and Bruce Brookshire are two of my closest friends. They aren't perfect either and they will be the first to tell you that but they are faithful Christians and share their faith openly. They are very special people to me. When Charley found out what I was going through he got in touch before I even went in the hospital and has prayed for me through this tuff time. Bruce was at the hospital at 6AM in the morning and prayed with me before I went to surgery and was still there praying hours later when I came back from recovery. When I couldn't get out of bed he came and served me Communion at home. Many of us guys and girls who use to be hell raisers in the sixties and seventies don't have any problem calling each other and asking for prayer for our selves or the ones we love. I guess many of us found what we were looking for all the time, "A real SOUTHERN ROCK FAMILY, one that has it's roots in a real RELATIONSHIP with a REAL GOD and SAVIOR. It doesn't get any better than this LUC. When we are living out our last few fleeting years there is nothing more rewarding than to look back at our lives knowing we have accepted the "Gospel of Jesus Christ" and that we are standing firmly on solid ground, the true "Rock Of Ages" who is Jesus himself." (The initial answer from Larry, more poetic but untranslatable (for us!), was : When we reach the waning years of life there is nothing more rewarding than to look at the landscape of the past knowing our feet are covered with the preparation of the Gospel and we are standing firmly on the true "Rock of Ages.")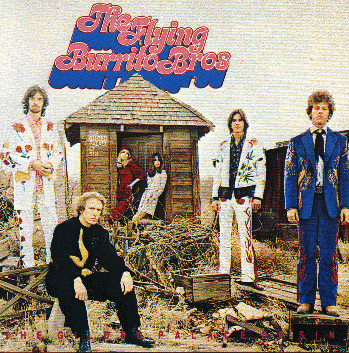 Last question: I would like to know your favorites Southern rock albums.
My favorite southern rock album probably would not be considered a southern rock album but I think it goes back to some of the early roots where country and rock began to merge. Although they were not a super star band I think the International Submarine Band and The Flying Burrito Brothers were group's that had a lot of influence on my thinking more than on my music. The first and only International Submarine Band album was "Safe at Home" and the first Burrito album was "The Gilded Palace of Sin" (A&M SP 4175 - février 1969 - US #164). A great album and Graham Parson was another Florida boy. Also one of my long time friends, Jon Corneal, was playing drums with The International Submarine Band so I was there when it was al being put together. Jon was and is from my home town in Florida, Auburndale. Of course all this evolved into the Byrds.
Many thanks Larry.
(1) Bands Of Dixie, intrigued and enticed by this live that no one's ever heard of , has been hunting and was able to get a copy of this LP. Actually, it's a studio songs compilation of the Marshall Tucker Band, Grinderswitch and Bonnie Bramlett, already on various LP of these artists. No one track never released off course, but nevertheless we note the interesting sleeve notes introducing the different artists. This LP (Capricorn Sampler 2476 128) has probably been released only in Europe (the disc was out in Britain) to present to the European public the Capricorn'tour to come ... Hence the Larry Howard's mistake.