Jeb Shelton
Hurry Sundown
Interview by Luc Brunot.
Original version of the interview published in Bands Of Dixie #42 (July - August 2005)
Hurry Sundown bring back the Southern country rock with current tastes, (even if this label or music genre's name in not controlled, as many other ones) as it was practiced by the Outlaws back in the seventies. Broadly speaking, take a dose of Eagles, a good pinch of Poco, sprinkle with truly Southern guitars in the Outlaws style and you'll get Hurry Sundown. Well, OK, it is a shortcut a little bit simplistic, but after all not that so far from the truth. Today the band releases an album, confirming their potential and that goes even further than his predecessor. No doubt, we'll have these new outlaws to reckon with... So much the better, with the return of the Outlaws, we will not be bored in the French ranchs and saloons...
Hello,
You seem, all the band members, to be very young. How old are you?
We're all between the ages of 21 and 33.
Could you introduce to us the musicians: which instrument? From where are they? Their musical influences? Their musical life before Hurry Sundown? Etc.
Scott Casteel - lead vocals, lead guitar - Springfield, Missouri - influences: Outlaws, Gram Parsons, Eagles.
Jeb Shelton - bass guitar, harmony vocals - Knoxville, Tennessee - influences: Pat Travers, Tommy Bolin.
Ryan Reichard - drums, harmony vocals - Pawnee Rock, Kansas - influences: Rush, The Allman Brothers, Yes.
Jeremy Miller - lead guitar, harmony vocals, - Forsyth, Missouri - influences: Jimi Hendrix, Led Zeppelin.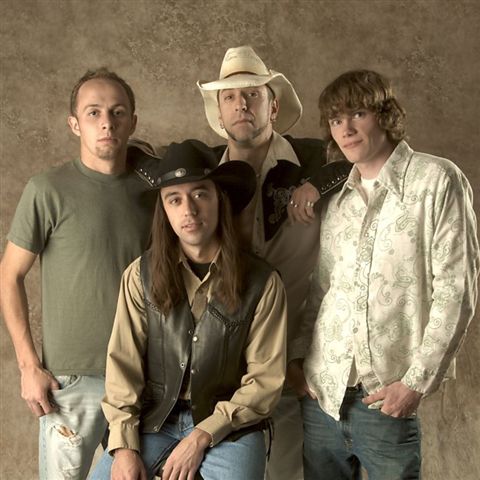 What did you do, each one, musically, before Hurry Sundown?
I worked on a farm. Scott worked for Willie's Stump Removal, Jeremy for Burger King, and Ryan was a plumber.
How old is the band?
4 years.
How was it born?
I met Scott through an ad, and Jeremy and Ryan went to school together. We met Ryan at an open jam.
Why did you choose the name of "Hurry Sundown"?
We thought it was a cool name for the band. We got it from The Outlaws.
Why especially "Hurry Sundown"?
Is it your favorite song or album from the Outlaws?
No, it just sounded like a cool name for a band. I know that's kind of brief answer, but it really was as simple as that.
What is the musical style of Hurry Sundown?
We always say call it what you want. It's been called country, country rock, rock, southern rock, americana, roots rock, you name it...
Is it the same since the beginning or is there an evolution?
I think it's always been the same kind of stuff really. We don't get too far out on a limb.
Your music seems close to the music of the Outlaws? Is this band the main influence of your group?
Maybe so, I guess there are some similarities. We don't set out to sound like anyone in particular. We do enjoy the Outlaws. They've made some great music, but honestly we feel like our music is more a reflection of ourselves than anyone else.
The music of the band seems to me to be far to some of the musicians influences that you mention like Pat Travers, Led Zeppelin, Hendrix, etc. Is it your opinion?
It's hard to say. I love the music I play, but I also love music that's not similar to ours in any way. I just love music. Pat Travers' band doesn't really sound like the band I'm in, but he rocks, ya' know?
Thus, is it Scott Casteel that gives the musical direction of the band?
We all contribute to the music. We all work out our own parts, and then bring them together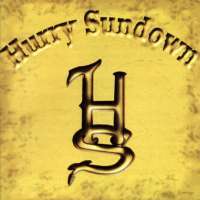 When and where was recorded your first album?
Our first album was recorded in Scott's house. I did the engineering, and we did the production ourselves.
When was it recorded?
Late summer 2002.
Was it easy to record it?
It wasn't extremely difficult, but it can be tedious.
Were all the songs penned by the band? No covers?
All originals.
Did it sold well?
Yes, considering it wasn't distributed through a label.
How many?
A couple thousand or so.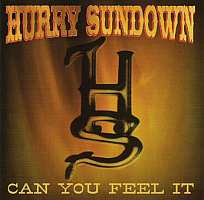 John Tiefry, who was the guitarist on this first disc, is no more with the band for the new CD and he is replaced by Jeremy Miller. When and why this replacement?
John left the band in June '04 after long consideration. He felt the lifestyle just wasn't suiting him well any longer (constant travel, etc.). It wasn't a bitter departure. In fact, he spent time with Jeremy during the transition to offer him input and advice. We're still on good terms and still talk to him.
What are the differences between your two discs?
I think the major differences are in the fact that it was done on quality gear with and experienced producer. The sound quality is far better then the first disc, and having a producer helped the whole disc as far as just being more cohesive.
How did you meet Steve Grisham, who produces, with the band, the CD?
We were introduced through a mutual friend.
Does Hurry Sundown share sometimes the stage with Steve Grisham's band, Ghost Riders?
We've never performed together.
Which was the contribution of Steve Grisham in the making of "Can You Feel It"?
He was the engineer and producer.
Concretely, as a producer, what did he do?
He would say, "can you do that one again" or "it sounds like maybe if you...", and it really helped - to have someone who wasn't already familiar with the songs to offer input - just to have someone with his experience. We really trust him. There weren't any huge groundbreaking moments or anything. It was just his approach throughout the process - it really made a difference.
Two songs of this disc were also on the self titled album. Didn't you have enough new songs?
Yes we did. We actually have many, many songs that haven't been recorded. We are always writing. We just felt that those two songs never really materialized as initially envisioned on the first disc. We wanted to hear them with better production. It turned out better we thought - we're quite pleased with the way they turned out on the second try.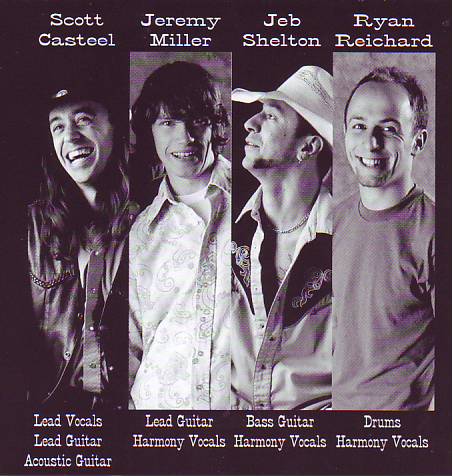 What are the differences of the versions of these songs between the discs?
Mainly additional harmony vocal parts.
What inspires the writing of the songs?
We write about our lives. Nothing is fictional.
Is the disc played by radios?
We've been fortunate to receive some airplay - you'd always like to see more, but it's difficult to get stations to play unsigned bands.
How is it possible to get the disc in Europe?
There are several internet distributors carrying our stuff, and it's always available at
www.hurrysundown.net
.
Do you sell CD mainly at the shows or mainly on the web?
Mainly at shows, but some on the web as well
Do you sell mainly around Missouri or also farther? To foreign countries?
Our shows lead us all over the U.S., and the web has helped us abroad - particularly in Europe.
How are shared the guitar parts between Scott and Jeremy?
They're pretty evenly divided. The guys work it out together.
What do you play on stage: only your songs? covers?
It depends on the show. We prefer to play our own stuff and we do that as often as possible. But covers are a lot of fun, and we mix those in some as well.
What are the covers you play?
We do a lot of Skynyrd - "That Smell", "Saturday Night Special", etc., Some Eagles, Marshall Tucker, Hatchet, Outlaws - "Green Grass", "Waterhole"... really just a lot of the stuff we dig.
How many shows in a year?
We average about 200 shows per year - all over the U.S.
What kind of room?
All types of venues - every kind of bar, club you could imagine.
With what bands did you play?
Molly Hatchet, Black Oak Arkansas, Rick Derringer, Artimus Pyle, Foghat.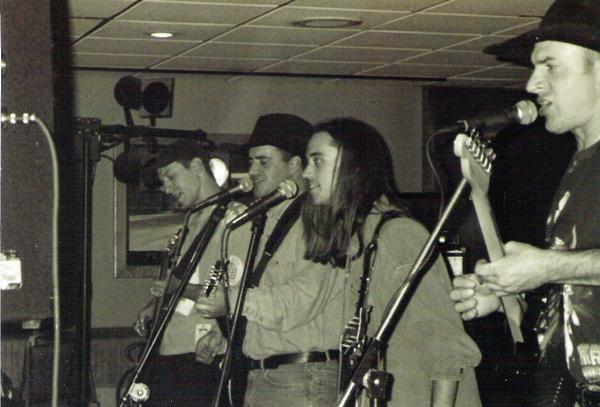 Is it important, for you to progress, to share the stage with others bands?
I think so.
Do you play only around the Missouri or everywhere in the USA?
We've played in 20 states. But we do play a lot in Missouri.
Some shows outside the USA?
It's a dream of ours to play Europe. We would love to, but we haven't made it there yet. We hope to very soon.
What mean "very soon"? Just a wish or did you begin to prepare an European tour?
Just a wish, but we tend to get things done.
Are you full time musicians?
Yes.
Southern rock was principally alive in the seventies. How young musicians like you discovered this style and wanted to play it?
Scott is the one that turned me on to this kind of stuff. He's always been a southern rock guy. I guess it's just kind of become our identity - as being southern rock. The bands our age are normally doing other stuff. It feels kind of cool doing something others aren't doing.
Your band is located in Missouri, do you know these old bands from Missouri like Missouri and Mama's Pride?
Oh yeah. Missouri was great. Don't forget the Ozark Mountain Daredevils too.
I don't forget Ozark Mountain Daredevils! Do you have contacts with the musicians of these three bands?
No we really haven't heard from any of those guys. I shoot billiards occasionally with a nephew of one of the Daredevils. They're sort of retired (in their own words), but I hear some of them are still around in this area. What a great band! I love that stuff!!!
What is the future of Hurry Sundown?
We hope to take this band as far as it can go. We're all very ambitious.
More concretely and precisely, what are your projects in the next months and years? Touring? Recording CD? DVD?
Well, we're always touring. That's likely to continue. We're just looking for that big break I guess... like everyone. We'd like to get some management behind us, a record deal, whatever... just help in general. We just try to keep ourselves fresh in the scene. Play as often as possible, in front of as many as possible. We're always writing songs as well - just being musicians. Smile along the way!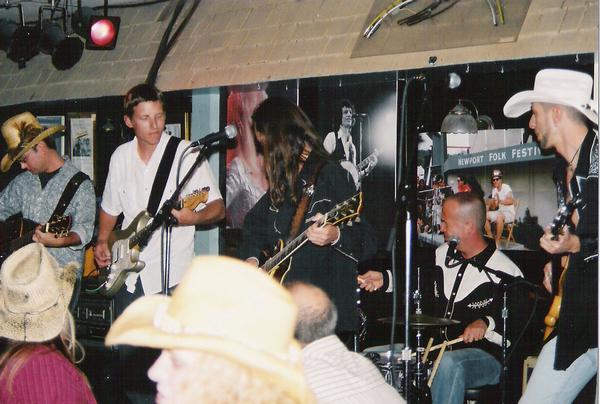 Could you indicate us some others interesting and unknown Southern rock bands?
Hurricane Mason from Tulsa, OK is really good. I don't know if you'd call it southern rock, but it's kind of in that same vein.
In the same vein of your band?
Kind of in that Southern Rock vein - blisterin' guitars, good 'n' loud!
Do they have a web site?
What are your five favorite Southern rock albums?
5. Eat A Peach - Allman Bros.
4. Fire On The Mountain - Charlie Daniels
3. Keep The Faith - Black Oak Arkansas
2. The Outlaws - The Outlaws
1. Street Survivors - Lynyrd Skynyrd
Many thanks and good luck!
Thank you as well - and thank you to our listeners in Europe. We love you.