Wayne Bruce
Hydra
Interview by Luc Brunot.
Original version of the interview published in Bands Of Dixie #49 (March - April 2006)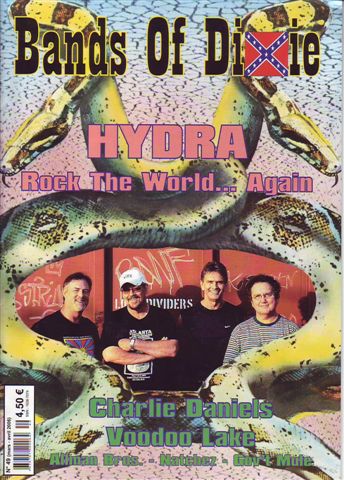 Hydra is one of these bands, such as Point Blank or Stillwater, who didn't get the real success they deserve. After three albums released in the seventies, for which the collectors and the fans almost fight to get them, the band is back on the scene and talks about the recording of a live album is often heard. For sure, this album would almost be a cult one... BOD could not pass beside this return which, we hope, will give to Hydra its letters of nobility...
Hello, what a great surprise to see a new Hydra's album... after all these years. In addition of the pleasure to hear you again and to listen to a real good disc, it's the occasion for us to ask you the story, not well known here, of Hydra. What was the story of the members before Hydra?
We had all been playing in other bands for a number of years. Spencer actually was in a band that opened for the Beatles in 1965 (at Atlanta Fulton County Stadium). The band was called The Atlanta Vibrations. That is when I first heard of him. By 1968 Steve and Spencer were playing together in Strange Brew. Shortly after, I (Wayne) was asked to join up with them. The first band was called Noah Mayflower, then we became Osmosis in 1969. We finally became Hydra in I believe, in 1971. Orville came along around 1972.
What were the influences of the musicians?
A little bit of everything. I came from a family that listened to Dixieland Jazz, Country, Rhythm and Blues and early Rock n' Roll. Then of course, the British invasion was a big influence.
What kind of music played these pre-Hydra bands? The same as Hydra? If yes, why this change of name?
We were a rock band from the get go, but the music matured as we did. I still have a live recording of Osmosis from 1969 that still sounds good. My voice was much higher because I was only 20, but you can hear on that recording where we were headed. The name change wasn't for any particular reason. Steve always came up with the name, he named all of the bands we had. I think he told us about the name Hydra and we just liked it. It also represented power, and our sound had become more powerful by then. It just fit better, the Greek mythology thing, mini headed serpent and all. Plus I remember that Steve and I had enjoyed the old movie Jason And The Argonauts. The Ray Harryhausen thing. Of course the movie wasn't that old then.
What was your set list at this era of the beginning, before recording?
Beatles, Moody Blues, Yardbirds, Tom Jones, Hendrix, Clapton (w/bluesbreakers), and we had some of our own material as well. Really just a real mix of things. For instance, we would do a Ventures medley, and it would evolve in to a Hendrix medley that would last for 45 minutes. Fun times.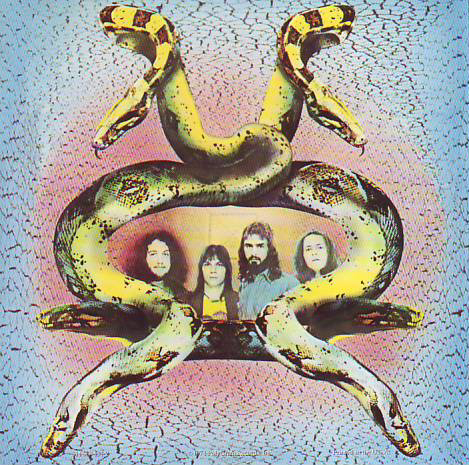 How and when was formed Hydra?
Steve, Spencer and I joined up, and went through a succession of bass players. Finally, we all knew Orville from other bands around Atlanta, and asked him to join up, and that was it. And of course now, Tommy Vickery is the man.
What did Hydra do before to sign with Capricorn records?
We stayed on the road, and built up a following through our live shows. We had a reputation as one of the best unrecorded bands from the south. We had interest form Windfall Records (Mountain's label), Epic records, and we had the first offer from Al Kooper's Sounds Of The South label. The label Lynyrd Skynyrd first recorded for. Our manager had a relationship with Phil Walden, so that is how Capricorn got involved. Also, we were creating quite a stir in the south at that time. We did many shows with big name acts at the time, and we were getting a lot of attention.
Who were these big acts?
Mountain, Procol Harum, Deep Purple, Bachman Turner Overdrive, Bob Seger, Kiss, Kansas, Allman Brothers, Freddie King, ZZ Top, Trapeze, Marc Bolan and T Rex, Savoy Brown, UFO, Lynyrd Skynyrd, Roy Buchanan, Thad Jones & Mel Lewis, Grand Funk Railroad, Three Dog Night, Billy Preston, Styx, Earl Scruggs Review, John Kay of Steppenwolf, Iggy Pop and The Stooges, Slade, Gary Wright, Robert Palmer, The Baby's, Chuck Berry, REO Speedwagon, Johnny Winter, Edgar Winter Blue Oyster Cult, Aerosmith, Elvin Bishop, Joe Cocker, The Beach Boys, Sly and the Family Stone, and Golden Earring just to name a few.
Did you record something before the Capricorn era?
Yeah, we recorded some stuff, but not for release. We had all done some recording before we met up, but like any young musician, you just wanted to get in the studio to see what you could do.
How can you describe the music of Hydra?
Although we are a southern rock band, it is not just three chord music. We did some of that of course, but our music just had more movement than some of our contemporaries. A lot of that is due Spencer's sense of melody with a guitar, and Steve's creative drumming.
Hydra signed a contract with Capricorn in 1973 and the first disc was recorded during the winter of '73-'74 and released in August 1974. Was it difficult to record and to finish it?
Yeah, we weren't real happy at the time, because they were trying to put us in the same mold as other groups on the label. In retrospect, I enjoy that album more now than I did then. I did have to cut short a vacation to redo several vocals that had been accidentally erased. I wasn't very pleased about that.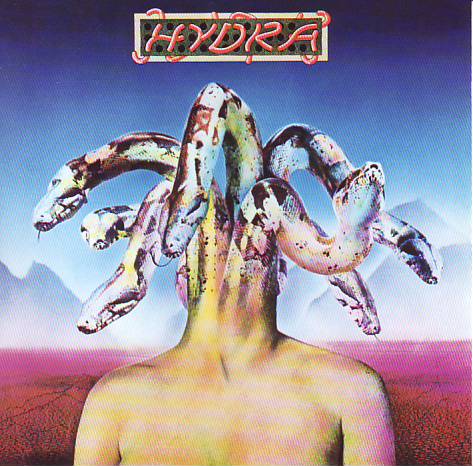 What would this album have been without the pressure of the label?
Our live shows at that time were very high energy, so I think if the record had been more like our live sound, it would have been more raw. More of a hard rock sound. Some of our fans were actually disappointed in that first album. They were so used to hearing us live, and the record was more subdued. Keeping in mind, that we were all in our early twenties, and full of piss and vinegar.
Who is Dan Turbeville who produced the disc? Who chose him?
He had done some work with Roy Buchanan, and I think B.B. King. It was a long time ago and I don't remember much about Danny. I think he came through Capricorn.
Was it Dan Turbeville who decided to add some horns?
Yes!
What did you think of this idea?
We hated it! It was done while we were on holiday, and we were never asked. We just walked in to the studio when we returned, and boom! We're the Memphis Horns! Now, 33 years later, they (the horns) have become part of that album. People have heard it for so long now, that you expect to hear them. They don't really bother me anymore for the same reason. In fact, I bet some people who had that first album, but never saw us live, will hear the new live album and be disappointed when there are no horns on "Glitter Queen". I actually suggested to Spencer before the Jake's show, that for that song we have a keyboard player play those parts on "Glitter Queen". He just chuckled nervously, and didn't really respond. Although secretly, I am certain, he thought I had lost my mind!
How were the relations with the label? Were you free to do what do you wanted to?
They kept trying to make us sound more like everyone else.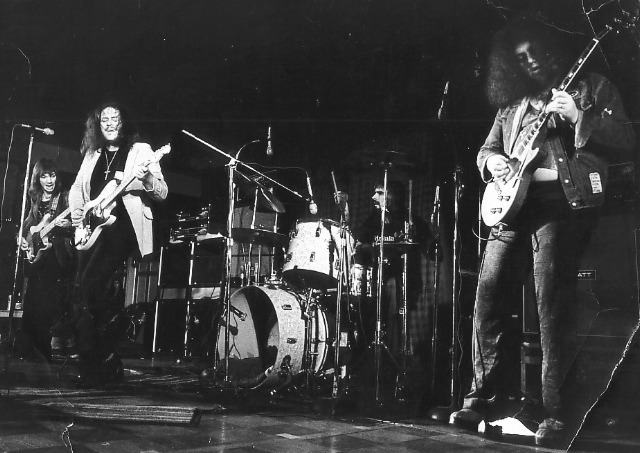 Most of the lyrics were penned by Wayne and the music created by Spencer. How did you work to create the songs?
There was no certain formula. Sometimes I put music to Steve's lyrics, sometimes I put Steve's lyrics to Spencer's music, sometimes it was a combination of all that. Spencer was great with riff ideas and coming up with great chord structures. He was also great for me. If I had a song with verse's and chorus, but it needed something else, he could always come up a great part in the middle, or end. A good example of this would be "Land Of Money" on the second album. Although he did that quite often. Spencer is just so musical.
Could you explain us a little bit more this example of "Land Of Money"?
It was my song. The music to the verse and chorus, and lyrics of course. When it gets to the middle, the tempo goes in to this machine gun guitar riff. The guitar solo, and the Primal Glee Club shouts, are played, and shouted over this riff. That is Spencer's. It just needed to go somewhere else, and I was stuck, so Spencer came up with that part which made it complete. Also, the vamp on the end; where it has all those lovely guitar parts playing over the chord structure. That is a good example of the melodic guitar playing I spoke of earlier. He just plays things that no other guitarist would think to play. Most guitarists would play some wailing single note solo there, which would not be what the song needed. Melody comes natural to him, and you can hear in some his solo's, how he incorporates chordal things with single note bends.
Why did you record two covers? "Going Down" from Don Nix is well known but I don't know "Feel A Pain" from Will Boulware, who played organ on the second LP, where he is credited for another song too. Was he one of your friends? How did choose this two songs?
I was a big Freddie King fan, and we had been doing it for sometime. It was well associated with us, and therefore a natural for the album. And yes, Will was a friend of ours, and we loved the song. Again, it was well associated with us from our live shows.
In fact, the material wasn't penned during the recording sessions but was played before on the road?
Yes. We had been playing that material on the road. There wasn't a huge budget for that first album, so there was no time for writing in the studio. The songs however, did get changed around a good bit. Some got rearranged, and don't forget those horns! The Allmans were the only ones with the clout to write in the studio at that time.
Did the record sell well?
It didn't do all that well, although I still to this day don't know how many it sold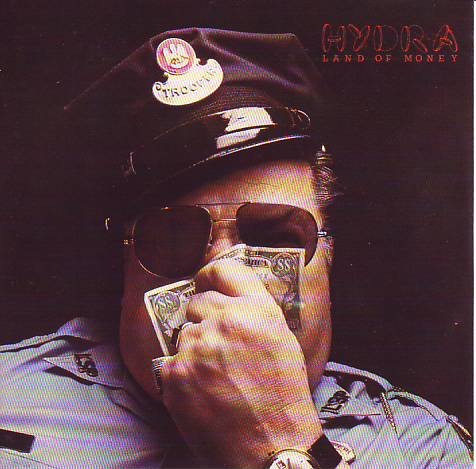 "Land Of Money" was your second album, in 1975. What were the major events of the Hydra's life between the two discs?
In between disc it was just doing shows, and writing more songs. It was before MTV and videos could help get your record off the ground.
Johnny Sandlin produced this second LP. Why did you change the producer?
We weren't happy with Dan's mix of the first album, so Sandlin, who was the staff producer for Capricorn, was brought in to remix the first album. When it was time for the second album, we already had a friendship with Johnny. He is a nice fellow.
Could you tell us how you recorded this album?
A lot of it was done during the day, because the Allman Brothers were recording at night, and Johnny Sandlin was working on it too. Sometimes vocals were done in the wee hours of the morning.
Did you exchange a little bit with the Allman?
Not much. A hello here and there when passing in the hall or whatever. The first time we saw The Allman Bros. was at Piedmont Park (in Atlanta) in 1969. There used to be free concerts there for all the hippies, and we did one with The Allmans. We were still Osmosis then. We of course did more shows together later on. I do remember a gig in Tuscaloosa Alabama. We went to a party someone had invited us to out in the country. Most the Allmans were there. I remember Dickie Betts played poker, and drank whiskey the whole time. He was very stand offish. The other guys were pleasant though. I remember having a good time. You have to remember that in those days, getting high all the time was a normal part of life. So, it is hard to recall everything. And it was hard to get a true reading of someone's personality.
What did you mean about them and inversely?
They were a great live band then. Of course Duane Allman and Berry Oakley were still alive. What they were doing, and what we were doing, was really very different. I did see Duane and Spencer jam once at a club in Atlanta. I think Dickie and Will Boulware were also involved.
On the liner notes of your new CD, I read that "Land Of Money" was a more representative release. Why?
I was never happy with the original vocal. I just think it is a better version. It is just a personal thing for me as a singer. I never liked the vocal on the song "Land Of Money" from the album "Land Of Money". The music track was wonderful. I think most singers are rarely completely happy with their work. You always think you could have done it better. The version on the new live album is just great! Musically, and vocally. Plus it is live 30 years later, and I sing the song better now, than I did in 1975.
In fact, my original question was about the LP "Land Of Money". It is said in the liner notes that the LP "Land Of Money" was a more representative release. And I wondered why you had this assessment?
The band never said that. That was actually Big Ed Brimer. He was, and is; our friend, our roadie, sound man, and as I said earlier, a big part of this new project. He is the one that wrote the liner notes for the new album. I think that is his opinion. I think the second album did move away from the first album in some ways. I personally think the first album was more adventurous. Only because we had a bit more freedom musically. However, "Land Of Money became more popular". Of course when "Rock The World" was released, everyone said. Not as good as "Land Of Money"! Now, those same people say, Rock The World is without a doubt the best!! To confirm this once and for all!! After talking to Steve, Spencer, and speaking for myself. The three of us that played on all three. "Rock The World" is our favorite. (To this point. Excluding the new live album. Only talking about our previous studio recordings.)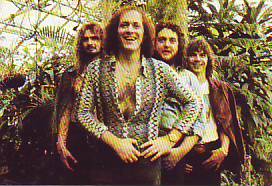 How were the recording sessions of "Land of Money"? Was it more satisfactory?
Yeah, a little more comfortable. Not much. The fact that Johnny Sandlin was again working with us was a comfort. Also, I don't think we have mentioned the engineer Sam Whiteside. Sam was a wonderful guy. The same mood every time you saw him. I saw him more than once under pressure that really didn't involve HYDRA, and he never wavered. He made those sessions (at least for me) easier. Some of your readers or listeners may recall Sam from the cover of "The Hampton Grease Band" album, 1973, on Columbia Records. It was a double album which was unheard of at the time (it was a debut album), and for some time held the distinction of being the worst selling album on CBS. Of course it has become a collector's item. Great album! We shared the same manager, and booking agent. Bruce Hampton, and those guys are still going strong. Bruce and Spencer were old high school buddies. I think we would have been better off with someone other than Capricorn. I can not, and would not, try to speak for the other guys, but I think they would agree. We should have signed with Al Kooper in 1973. Al was a musician and understood what we were doing. He came to see us several times in the early 70's, he even set in with us on a couple of occasions. In other words, he had played music with us live, we had talked, had drinks, and we had a musician's relationship. Al Kooper should have produced our first album.
Just before, I interviewed Bryan Cole, who produced the first's album of Mose Jones. He think that he didn't make all the best choices ("Some of the parts were quite good but some others (mellotrons, stacking up background vocals) were things that we thought made the record sound awash and more pop than we liked."). In fact, about the same problem you got, no?
A little I guess. If you listen to Mose Jones, and listen to Hydra; You will find a very different animal. Those guys were friends from way back. I remember them when they were called Stonehenge. As far as Al Kooper goes, remember, he produced Skynyrd's first album and as they say. The rest is history. I think he may have not been right for Mose Jones. But, I think he would have been right for Hydra. Also, keeping in mind, we got the first offer from Sounds Of The South. Al's label.
The art covers of the two Capricorn's discs are very originals. How were this covers chosen?
They were done by Hipgnosis who had done covers for Pink Floyd, Bad Co. and many others. We just liked their work. We were the first American band to ask them to do a cover.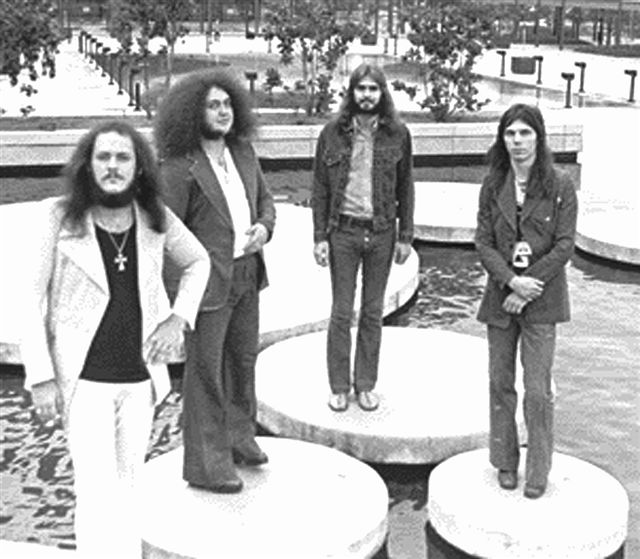 About the concerts, what was your life like? Always on the road?
Yes, we worked very hard in that band. Not on the road constantly, but we did our share.
How many shows a year?
It varied, but the more you become known, the harder it gets. We were jumping all over the country most of the time. As the old saying goes, the booking agency booked us as if they were throwing darts at a map. From Buffalo N.Y. to Seattle Washington would be a good example
Did you play only in Georgia, or all around the South or everywhere in the USA?
We played all over the country.
Did you play outside the USA?
Nope. Never got to do that.
Did you play mostly in bars, clubs?
We did both. In the early 70's there were a lot of big clubs that actually were concert venues. Probably influenced by Bill Grahams Fillmore East and Fillmore West. We did some of those, and as our reputation grew we started doing bigger shows. The largest indoor place I remember, was a show we did with Kiss in (I think Springfield Mass.) I may be wrong about the location, but it was a hockey arena that held 22,000 people, and it was sold out. What I remember most was looking out at the audience from the stage, and seeing all these people with little cat faces painted on. It was great! I think there was about a foot of snow on the ground that night
What were your most "important" concerts?
We did quite a few, but I think the show we did with Skynyrd in Atlanta (our home town) in 1975, stands out. It was at The Omni which held 15,000 people, it was sold out, and it was the first really big show we had done in front of our home crowd. We did two encores, and everyone had lit matches or lighters so it was a wonderful feeling. It was obvious that they were proud of their home town boys. We also did a large festival on Chuck Berry's farm. I mostly remember that one because we never got paid. Ol' Chuck stiffed a bunch of bands that day.
What were your best memories on the road?
Women!!!!! Being young, and traveling with a rock band in the 70's. The closest thing to it would be traveling with a circus
Where you in relation with the others bands of Capricorn records: the Allman Bros. Marshall Tucker Band, Stillwater, Two Guns, etc.?
Basically, just a working relationship. Got to be pretty good friends with Wet Willie. We just didn't fit in there that well.
Did you share the stage with others Southern rock bands such as Lynyrd Skynyrd, Mose Jones, etc.?
Many times.
What occurred after "Land Of Money": Orville Davis, the bass player, left the band; you moved to Polydor record and changed the management... Why?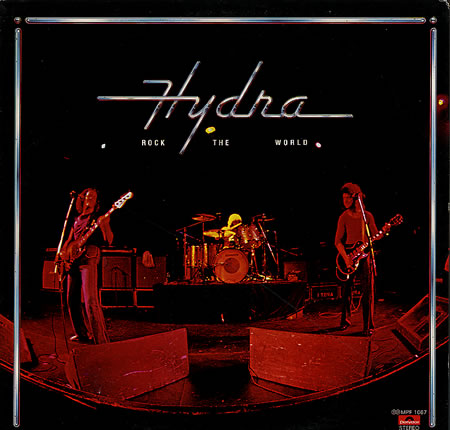 It was just time for a change.
What did Orville Davis do after Hydra?
He is doing well as a country singer in New York City.
Hydra continued as a trio. Didn't you search for another bassist?
No, the job fell to me.
How did you get a contract with Polydor?
Through Joel Katz (our lawyer) and Michael Stewart the producer.
Was it only for one record?
We broke up before we had a chance to do another. I don't remember the terms.
How were the recording sessions for "Rock The World" (November 1976)?
We had fun on that record. We had more control, and more experience.
Hydra disbanded by the end of 1977. What happened?
Time had taken its toll. As well as management problems.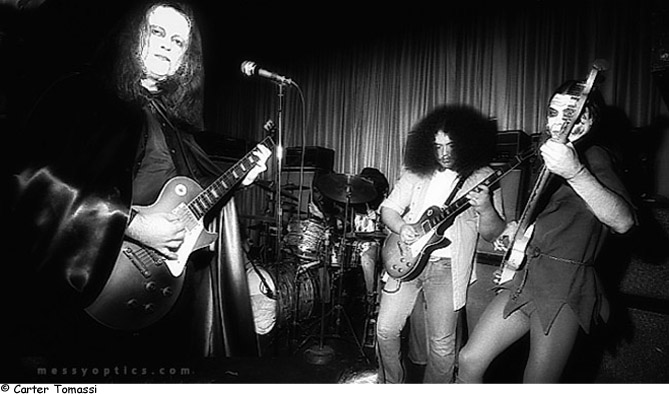 The Capricorn's albums were released on CD, not "Rock The World"?
Hopefully, someday.
Do you like your discs? Which is do you prefer?
For the most part. I like Rock The World, and of course the new one.
What was the story of Hydra's members after the end of the band?
We all kept playing. I had The Wayne Bruce Band for 23 years. Steve played with me a good bit. He also played with Whitford St. Holmes, and Krokus. Spencer played with lots of people. He is always in demand.
What kind of music did Wayne Bruce band play?
I went back to my roots for a while, and did a lot of country music. The Urban Cowboy thing hit about 1980, and that was what people wanted in the clubs. Country bars popped up everywhere. We always played some rock too. The later W.B.B. did a lot of Blues, Soul, and Rhythm and Blues which are all close to my heart. I am really just a Rhythm and Blues singer that ended up in a rock band.
Did this band record something?
I have some good live stuff, but we never recorded for commercial release. I was enjoying not having to travel. We were the house band at one place for 13 years.
In the liner notes, we can read that in 1997, Hydra played two nights a week for twelve weeks. Could you tell us more about this event?
I only did 4 or 5 weeks, because I was working 4 nights with my band. It got to be too much. That was when we were told that Orville had passed away. We found out later of course, that it wasn't true. Thank God!
Did you meet him again?
Oh yeah. I got a call from him one day, and talk about a surprise! It was like a voice from the grave. Of course I heard a rumor later, that I had been killed in L.A. California in 1980. Apparently, I had been beaten to death with chains in some parking lot. Ouch!
On this event, when you weren't with Hydra, what was the composition of the band? who sang?
After I left, Spencer and Steve decided that it wasn't right to call it Hydra, so they used another name. At that point guitarist Jody Worrell was added, and the bassist, Tommy Vickery, did most of the vocals. I gave him some of my lyric sheets before I left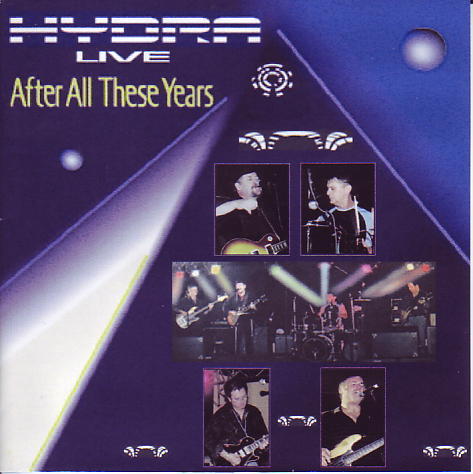 And now in 2005, a new disc. When did this new reunion of Hydra begin?
Spencer, pretty much was responsible for that. We did The Atlanta International Guitar Show in May, and it was recorded. I suggested we do one more show and use the best of both shows. Which is what we did. Steve Hawkins and Charlotte Hannon at Emphasis Records did a great job with it. It crackles along pretty good.
How did you decide to record this live album?
Actually, the only one that knew the first show was being recorded was Spencer. It sounded good, so we went for it. The second show was at Jakes Toad House in Atlanta in July 2005.
Are you satisfied with the artistic result?
Yes. For a band that broke up almost 30 years ago, I would say it proves we can still rock. And for people who never heard the band live, it should fill that void.
You play your old stuff but, also, two Peter Green's covers. Why?
They were both songs that we played in our club days. We decided to do them because some old fans wanted to hear them again. Plus, Spencer and I are big Peter Green fans from way back. Also, "Rattlesnake Shake" gives Steve a good vehicle for his drum solo. It is the first time his solo is documented on record which was always popular in our live shows.
Does Hydra still have many fans?
Many more than I would have thought. The turn out for our last shows and the traffic to our website have been great.
Does Hydra play often now?
No. It wasn't ever meant to be like in the old days. We all have other commitments. Also, there is no novelty in it, if you can see us any old time. We will do some more things though. We just pick and choose them carefully now.
How are the sales of the CD?
It has done o.k. We think once it is marketed internationally, it will do well.
Is it true that you're planning to record a new disc?
Yes, we have talked about a new studio album. It is only at the talking stage at this point. For now, the concentration is on the live CD, and of course we all have other projects.
What will be the future of Hydra?
I am afraid that is hard one to answer. XM-Radio (Deep Tracks) and Earle Baily have been giving us a good bit of air play, and have invited us up to Washington D.C. to record a program, and interview for them. That is the topic being thrown around for now. It is not as easy to hit the road these days.
When will you play in Europe?
I don't know, but it is something we would all enjoy. We missed out on that the first time around.
These last months, several old Southern rock bands reunited. Is there a new interest in this kind of music?
I think because of the state music is in right now, people long for something more real. More organic. Therefore, I think many people are seeking out the older stuff. Once again, XM-Radio has been a big help with that.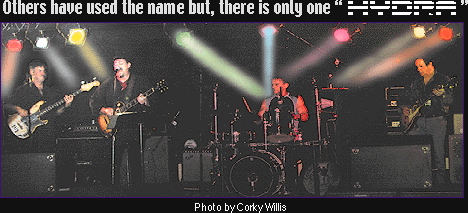 A last and traditional question for Bands of Dixie: who are you favorite's Southern rock albums?
I don't really have a favorite. That first Allman Brothers album is a good one. They aren't southern, but I really liked Little Feat with Lowell George.
After all, I have another question. In your answers, It seems to me that you are not very interested with other Southern rock bands. Am I wrong? What do you mean about the music of Lynyrd Skynyrd, Marshall Tucker Band, Atlanta Rhythm Section, Molly Hatchet? After all, do you consider that Hydra played and play Southern rock?
I am not what you would call a Southern Rock fan. I liked some of it, and hated some of it. I liked the early Allman stuff, The Atlanta Rhythm Section is old friends of ours, and they did some good stuff. Marshall Tucker just wasn't my cup of tea, but I did like Skynyrd o.k. Molly Hatchet came along a little after us so I never really listened to them. Don't get me wrong. They are all good groups. I was more into Freddie, Albert, and B.B. King. Eric Clapton, Jeff Beck and soul music. These groups you asked about were our contemporaries, and I think we were just too busy working to pay a whole lot of attention. Just as I am sure they didn't pay that much attention to us. Being from the south, I don't think the novelty was the same as the rest of the world. We were just all guys playing music. Hydra is absolutely a southern band. We just don't think of it that way.
Many thanks.