Volker Dörfler
Lizard
Interview by Luc Brunot.
Original version of the interview published in Bands Of Dixie #87 (July - August 2012)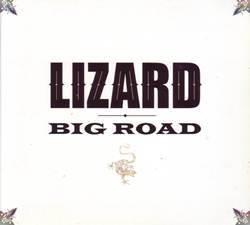 Lizard is back! An event when we know how the German band has left its mark on the scene and the history of the European Southern rock. But what is this new Lizard like when you know Georg Bayer, its former leader, died three years ago and when you know a new singer is taking his role? So, to know it, we asked some questions to Volker Dörfler, who took the opportunity to give us one of the best Southern rock definitions...
Hello,
We are very pleased to see that Lizard, who wrote and still writes one of the most beautiful pages of the German and European Southern rock, is still alive and well three years after the death of its founder Georg Bayer. For most of you, you played more than ten years in his company. What man was he and what are the memories you have of him?
For me, Georg became friend. Although I knew him, since I was about 14 and he was about 28 at that time. I saw him on stage with his former Band 'Wolkowoj' - a lineup with brass kind of early 'Chicago'. But that is another story...
For Georg Lizard was not only a band, it was a mission. He was not only the singer of Lizard, he was also manager with a great talent for networking. I guess he knew almost everyone who was in any way in Southern Rock.
For those unfamiliar with the Lizard of Georg Bayer, which band album would you advise him?
Hm...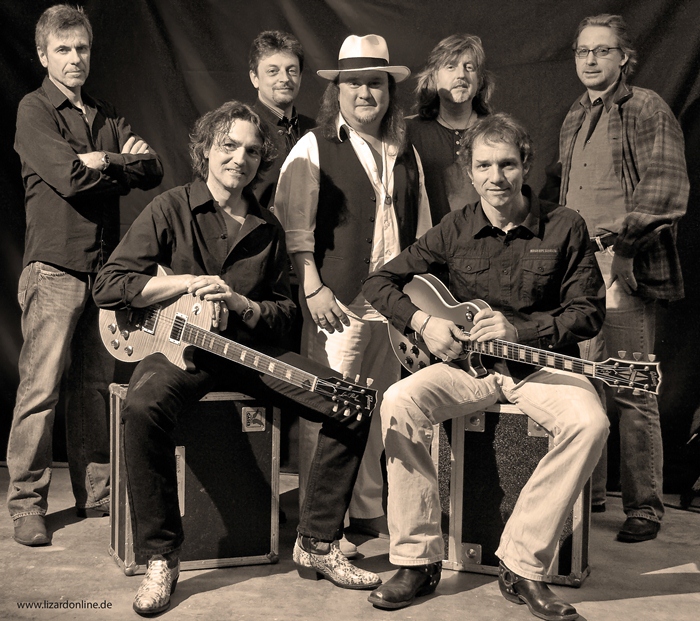 After a first album, "Rock'n'Roll Refugees" in 1991, Lizard had released "Riding On A Train" in 1996 with your team. Can you tell us about this reformation period of Lizard? When did it happen? How everyone came in Lizard?
It began with a telephone call in late 1994. He said: "I just heard your latest record with 'Sinner' ("Respect"). Good work. At the moment I'm about to re-form Lizard. Klaus (Brosowski) is on board, also Andy (Kemmer) and Rainer (Kunert) - both former members of Lizard. The only thing I need is two 'guitareros' (Georg's word for guitar player!)." I said "O.K" and we both thought about who could be the other guitar player. I said: "There's a guy at the music store I'm working at once a week. His name is Christoph Berner". We first met altogether at January 5th in 1995. We played our first gig at February 8th four weeks later. In July Helmut joined the band, because Rainer already had an engagement in a Variete in Stuttgart.
In Lizard, you were five surrounding Georg Bayer. What is the musical history of each one?
Most of the time we were five! My musical history: Several Cover Bands, one of them with Ruben (Killian) in the early 90s. The Band was called 'Magic Mama's Midnite Ramblers'. We played together for about three or four years. I also had a Hard rock-project called 'Seven Crimes'. After that, in 1993 I joined 'Sinner' for a short time. And then came Lizard...
From which area are you in Germany?
South West: Stuttgart, Heilbronn, Esslingen, Göppingen.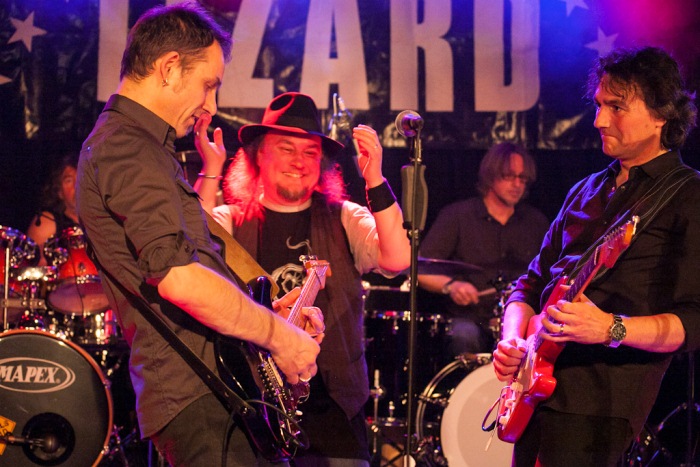 Since "Riding On A Train," the band line-up has not too much changed. What causes this stability?
The ability of everyone, not to feel and behave like 'the most important member of the band'. And to respect the musical qualities of everyone in the band.
The combination of coolness and musical quality of everyone just means a lot of fun for each of us!
What happened after Georg Bayer's death? The band continued anyway?
In the first moment everyone was shocked. We met a few days after Georg's funeral to talk about, what we should do. After five minutes of talking we knew, Lizard has to be continued! There was no other possibility.
You have in the person of Ruben Killian a new singer. Who is he?
He is a guy I know for more than 25 years now. We lived in the same area, each of us both played in his own band. One fine day we played together in a band...
Later we met sometimes at Jam Sessions etc.
How did he become Lizard's singer?
We checked out different singers. They were not bad, but in every case something was missing. We had a rehearsal-evening and in a break someone said: "And what about Ruben?" We rang him up, asked him if he would like to and fixed a date. After the first song at the first rehearsal Helmut said: "It sounds like we played together for ages!"
"Big Road", the new CD, was recorded between June 2011 and January 2012 but when did you really start the project?
In 2009 a lot of songs were already written. Ruben joined the band in 2010 and the first step was to get Lizard back on stage. After that we re-composed some of the old material and wrote a few new songs.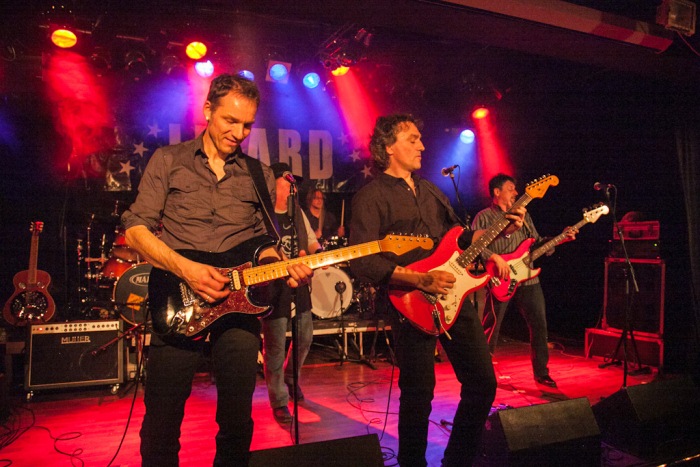 Does the recording of the disc differ from those you made with Georg Bayer?
Yes, definitely! The former CDs were recorded within one week! "Big Road" was recorded in Ralf's studio, so we had as much time as we needed. Has the Lizard style evolved from having another singer with a history, a personality and a voice different?
Yes, sure. We never expected Ruben to sing like Georg. Ruben is not just a substitute for Georg. He is the singer of Lizard, he is a personality of his own and therefore Lizard sounds different. And that's O.K. the way it is.
How do you define Southern rock?
I'm thinking about this question since I play with Lizard!
Two songs are co-penned by Georg Bayer, some others are by Ruben Killian. So, there are old songs and some others all new?
Yes, exactly.
"Walking" is dedicated to Georg Bayer. Is it because he was a singer that the song is instrumental?
Christoph came up with the idea a long time ago. Georg said: "This is a good song, but it doesn't need any vocals." At that time this song had the working-title 'walking' and was still supposed to be finished with vocals later on. So we went ahead with working on other songs. Last year Christoph asked us:" Do you remember 'walking'? What do think about making an instrumental in memory of Georg?" Everyone was fine with it and so it came on the CD.
Bruce Brookshire took part in the writing of three songs. Are-you still so close?
Yes, he is our brother.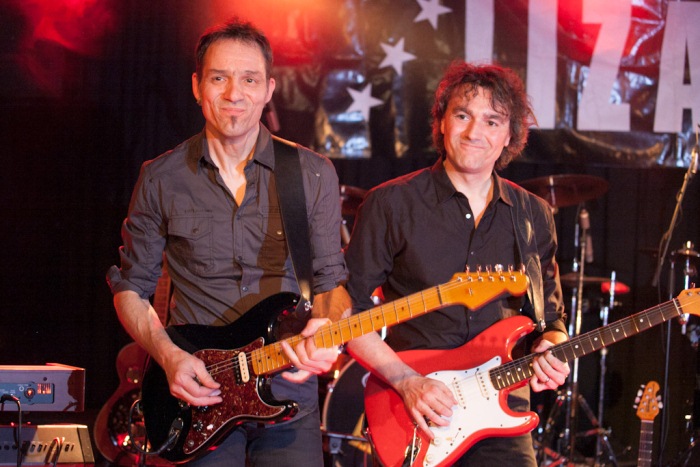 How do you write songs with him? By meeting? By Internet?
By Internet. It makes no difference if you sit in the next room or at the other side of the globe! Crazy world...
Does Lizard play today as many gigs as in the past?
No, but we would like to.
What does the Southern rock scene look line in Germany nowadays?
Georg Bayer's death was definitely a big impact for the Southern Rock scene in Germany. Georg was one of the engines that kept the thing running.
There are French Southern rock bands singing in English, some others in French; there are Czech bands singing in English, some in Czech; etc. I don't think I have heard of German bands singing in their language. Can it be found?
No idea!
Don't you sometimes wanna have one or two songs in German?
No! I believe that Italian fits best for Operas, German best for Wagner and English best for Rock Music. Sorry for that!
Do you sometimes play outside of Germany?
Yes, we played several times in Switzerland, Austria, Sweden, Belgium, Czech Republic.
Lizard is known in France. Do you sell albums in other countries, particularly in the U.S.?
Yes, we do. But not really much, to be honest.
What are your favorite Southern rock records?
What is Southern Rock? ;-)
What is the future of Lizard?
Playing gigs, making records, drinking beer and turning up the amplifiers! Yes!
Thank you.?
You're welcome!