Lou Kaplan
Mad Jack - Savoy Brown - Kaplan/Shaw - Last Train Out - Lonesome Crow
Interview by Luc Brunot with the Jacques Dersigny's complicity.
Photo credits: photographers unknown except if mentionned.
Photos provided by Lou Kaplan).
Original version of the interview published in Bands Of Dixie #107 (November December 2015)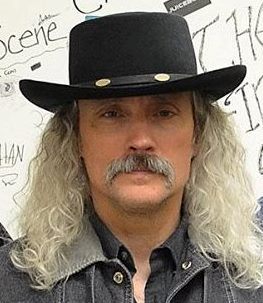 "I've spent my whole career bucking the trends, trying to keep the heart and soul of music alive. If that's limited my business opportunities, so be it. I'd rather be an outlaw than a sellout!". That's what says Lou Kaplan, the Lonesome Crow singer. We talked with this outlaw whose one of the first mentors was Ronnie James Dio, this outlaw who was part of Savoy Brown, this outlaw who was leading Mad Jack.
Hello Lou, Youíre located in Syracuse, NY. Are you originated from here?
My hometown is Cortland, New York. That's where Ronnie James Dio and his band Elf were from. My friends and I all grew up idolizing these guys, and when we got a little older they became our friends and mentors.
Mad Jack was created in 1983. How was it born?
I was living in Los Angeles in '82 - '83. The whole hair metal genre was starting to materialize, but it wasn't my thing. I imagined a roots oriented band along the lines of Lynyrd Skynyrd, but I had to move back home to make it happen.
Was it your first band?
I'd say it was my first band worth mentioning. Before that I'd been in garage bands when I was in high school just leaning my craft.
What were the main influences of the band?
Skynyrd, Allman Brothers, ZZ Top, Outlaws. All the Southern rock bands really, although we also loved Willie Nelson, Neil Young, the Eagles, and a host of other country rock artists.
Elf also?
Absolutely! If you go back and listen to the three Elf albums, they were almost a Southern rock band in their approach. On a personal note, I was profoundly influenced by bassist Craig Gruber and drummer Gary Driscoll, who were wonderful friends and mentors to me.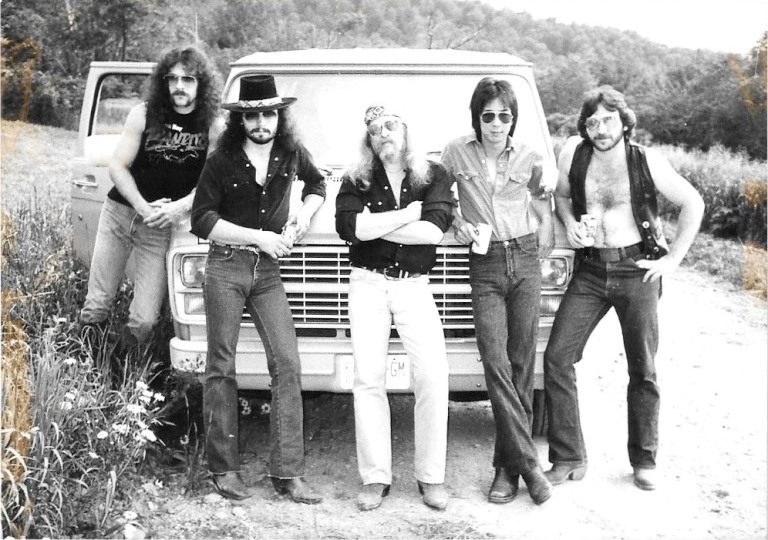 "Straight Up" was released the next year (1984). What memories are you keeping from the recording sessions?
"Straight Up" was produced by Dave Porter, who used to be in a band called 805. Bill Scranton was the engineer. As for the band, we were very young and were partying like there was no tomorrow. We were drinking Jack Daniel's like water. Consequently, Straight Up is a very drunken, reckless, rock 'n' roll party album that remains a favorite for a lot of people to this day.
You don't love this record too much?
Of course I do! It's a great document of where we were at the time... face down in the gutter! I might add that some of my favorite bands (Neil Young and Crazy Horse, the Rolling Stones, Creedence Clearwater Revival, etc.) were more concerned with the overall vibe than technical proficiency.
Could you introduce the players of this Mad Jack line-up?
Nick Nicholas sang and played keyboards, Paul Mendillo played drums, Dan Austin played lead guitar, Mark Young played bass, and I sand and played lead guitar also.
You said you had to come back from Los Angeles to set Mad Jack up. Does it mean that all of these guys were from the Syracuse/Cortland area?
Yes, they were. These were small town, blue collar guys as opposed to the show biz types I encountered in L.A. I wanted Mad Jack to be the antithesis of the glam metal thing.
Why Nick Nicholas, Dan Austin, and Mark Young left the band? Did some of these guys continue after to be active in the rock business?
What I can tell you is when you travel as much and work as hard as we did, people naturally burn out. I think if we'd secured a major record deal and the money was there, the original lineup might have stayed intact. I'm happy to report that we all stayed friends through the years. Sadly, we lost Nick a few years back. Dan has a successful tool and dye business and recorded a great CD with Rick Schell from Pure Prairie League, and Mark became a lawyer and plays in Philadelphia area bar bands.
"Down The Road" in 1986 had five songs. Why to record an EP and not a whole album?
Economics. All of the Mad Jack records were self-funded, as we didn't fit the sound or image record labels were looking for in the 1980s.
You toured the eastern seaboard opening for Blackfoot, Marshall Tucker Band, The Outlaws, Molly Hatchet, etc., could you talk about that?
Well, it was an honor to share the stage with our musical heroes. An added bonus was the fact that they were, to a man, great people who were very friendly towards and supportive of an up and coming band like us!
In 1989, you were hired by Savoy Brown with drummer Pete Mendillo and keyboard player Rick Jewett. Was also Rick a member of Mad Jack at this time?
Yes, we'd been playing with Rick since '87.
How were you hired by Kim Simmonds?
I got an audition through my friend Andrew "Duck" MacDonald, who was a member of Blue Cheer and who had played in the Kim Simmonds Band a few years earlier.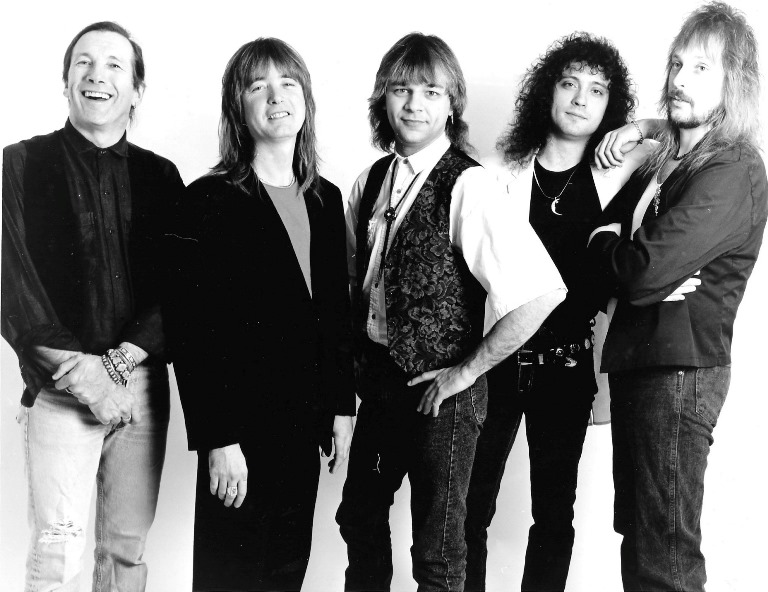 Did you record another album with Savoy Brown than "Live And Kickin'"?
No. I left out of frustration. I was a songwriter in a band where my songs weren't needed. This is in no way a criticism of Kim. He needs my help like a stag needs a hat rack!
You were on bass guitar while you were credited as lead guitarist for the Mad Jack records. Why thus change?
I was originally a bass player. I had to play guitar to get Mad Jack off the ground because it was a roots band in an era when every guitar player was trying to play in the Eddie Van Halen "tapping" style.
Mendillo stayed with the band until 91 and Jewett until 92 but you left more quickly, in 1990. Why didnít you stay more longer with Savoy Brown and what memories do you keep of these Savoy Brown days?
I loved playing all those classic Savoy Brown songs, and I especially loved being in a band with Dave Walker, who is probably the funniest and most talented person I know. We traveled a lot and played with countless classic rock and blues legends, and I'm grateful for the experience. I only left so I could be free to contribute more on a creative level.
Dave Walker: what a singer! Kim Simmonds and Savoy Brown just release "The Devil To Pay" and I see it was recorded in Syracuse. Are you still in touch with him?
I've only had limited contact with Kim, but I do speak with Dave on a fairly regular basis.
Mad Jack reunited in 1992 and a new CD came in 1994 with "On The Run". Line-up was you, Rick Jewett, drummer Frank Neubert and guitarist Mike " Smokey " Brown. Some words about this CD?
"On the Run" is probably my favorite Mad Jack record. Great vibe. It was originally a demo, but a fan gave us the money to press CDs so we went ahead. I must also tell you that my years working with Kim Simmonds dramatically improved my songwriting by this time.
The last Mad Jack album is from 2005 and is self-titled. On drums is another ex Savoy Brown musician, Al Macomber when you, Jewett and also Brown were still in featured. Could you introduce Mike " Smokey " Brown?
We met Mike back in '84. He used to come to Mad Jack shows and tell me "You need me in your band." I thought he was being rude until I actually heard him play and realized he was right! A sweet guy and a musician's musician.
2005 is also the year of the band split definitively if Iím not wrong. What occurred? And could you tell us the story of these years from 1992 to 2005?
To be honest, this was a difficult time. Some of the band members has quit or moderated their bad habits, while others were still hell bent on self-destruction. We limped along like that for years before deciding to call it a day.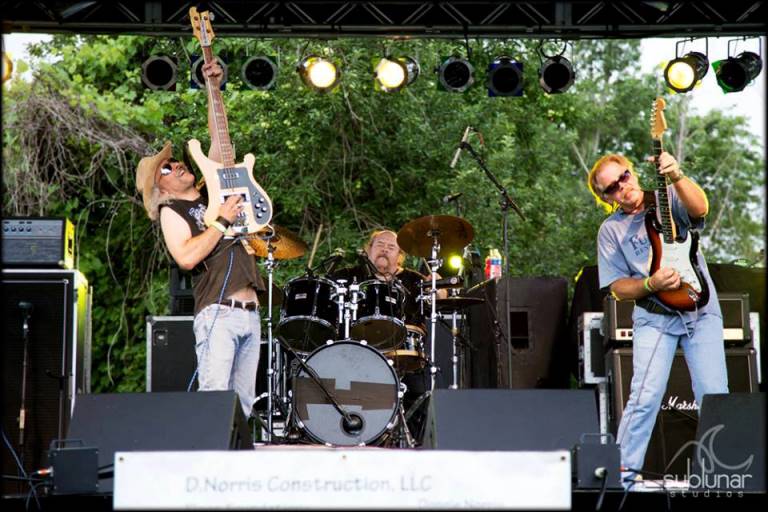 could Mad Jack be back in the future?
Never say never! If the stars align and everybody is on the same page musically, anything's possible!
After came, for you, a band named Kaplan-Shaw with guitar player Mike Shaw. Iíve read he played with, among other artists, the Outlaws, the Atlanta Rhythm Section, the Marshall Tucker Band and Grinderswitch. Could you tell about him and about the years playing with Kaplan-Shaw?
Mike Shaw is an old friend and a brilliant musician. We got together with Al Macomber on drums and formed Kaplan-Shaw. It was an acoustic blues band that was more or less inspired by the Eric Clapton "Unplugged" record. We put two CDs out; "No Stranger to the Blues" and "Mojo Cafť".
Another project was Last Train Out with a debut album in 1992. It was a trio with Al McComber. Is the band still active?
Last Train Out was me on bass and vocals, Bob Bachta on guitar, and Al Macomber on drums. We thought the band was great, but despite putting out a strong CD we were struggling to find a market. We gave it about 3 years before mutually deciding to take a hiatus.
Are available all the Mad Jack stuff, Kaplan-Shaw and Last Train Out albums? And how?
"The Best of Mad Jack" (1985-2005) and "Last Train Out" are available on CD Baby, iTunes, Amazon, etc. I'm considering making my tracks from the two Kaplan-Shaw CDs available also.
Your new band is Lonesome Crow. I write new but I read " Lonesome Crown since 2008 ". How was it born and what did you do from 2008 to 2015?
Rick Jewett started Lonesome Crow. They had a great singer named Keith Ford who decided to leave right around the time Last Train Out was falling apart. Rick asked me to come in and sing, write, and play rhythm so I did.
Rick didn't want to be the main singer? I like very much his voice on the two tracks he sings.
You'd have to ask Rick! I think he wanted multiple singers who could also sing harmony.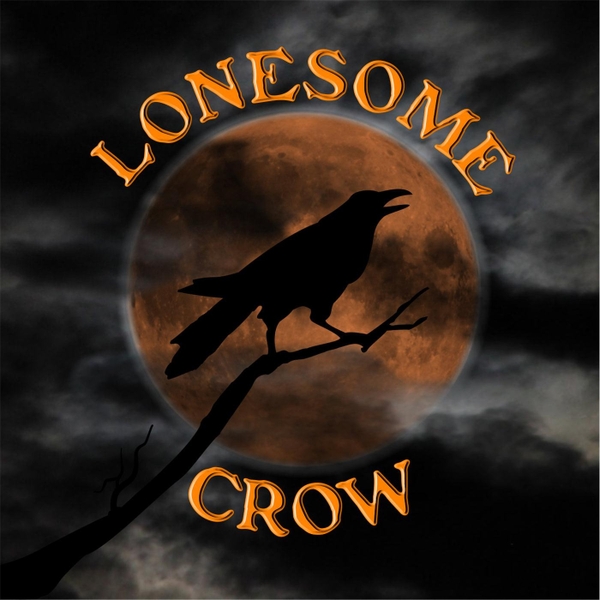 This time, you have switched to rhythm guitar (and like in Mad Jack, youíre the main lead singer). Why?
Lonesome Crow already had a great bass player in George Lamb.
Rick Jewett excels with his piano on the CD. Could you talk a little more on your longtime partner?
Rick is amazing. He just burns up the keys every night. Plus, he's a Harley ridin' bad ass. We've been through so much together for almost 30 years that we're more like brothers than bandmates.
Who are George Lamb (bass), Barry Westfall (drums) and Slaus Brown-Paul?
George's claim to fame is that he played with the Mac Brothers, which was a regional outlaw country / Southern rock band. Barry has previously played with J.P. Shaggy, and Slaus has played with Fully Loaded. Three more Harley ricin' bad asses!
Have All these bands recorded?
The Mac Brother put a few records out but I don't think they're commercially available anymore. J.P. Shaggy has a great new CD out under his real name Jason Krueger. I don't think Fully Loaded has recorded an album yet, although they may in the future.
This band is more country rock oriented than your former projects. Do your tastes evolve?
As I said, Lonesome Crow was going before I joined, and had more or less established their direction. My country leanings tend to be more of the outlaw variety... Willie, Waylon, Haggard, etc. I'm also very influenced by the '70s country rock thing... Eagles, Poco, Jackson Brown, Neil Young, etc. And of course, the Southern rock roots are always present!
The flavors of "Take My Drunk Ass Home" remind me "The Ballad Of Curtis Loew". Did you have this song in mind when you wrote yours?
Actually, Rick wrote the music and I contributed the lyrics. If there is a similarity to "Curtis Loew", I don't think it was intentional. It's probably just a good example of our influences bubbling up to the surface!
Why to have include two songs before recorded with Mad Jack?
I didn't care for the original production on these songs, and they fit with the new stuff we're writing.
Some words on the sessions? How was it?
We recorded at Conan Fioramonti's studio the Ghetto in Syracuse, N.Y. I felt that Conan understood the spirit of the project, and having someone simpatico behind the board was a big plus.
The sound quality is great with a subtle balance between the instruments and it's especially a great pleasure to hear the keyboard so present and clear in the sound.
Credit where credit's due. Conan Fioramonti engineered, Bill Aldrich, Rick Jewett, and Slaus Brown Paul mixed, and Scott Patnode mastered. Nice job fellas!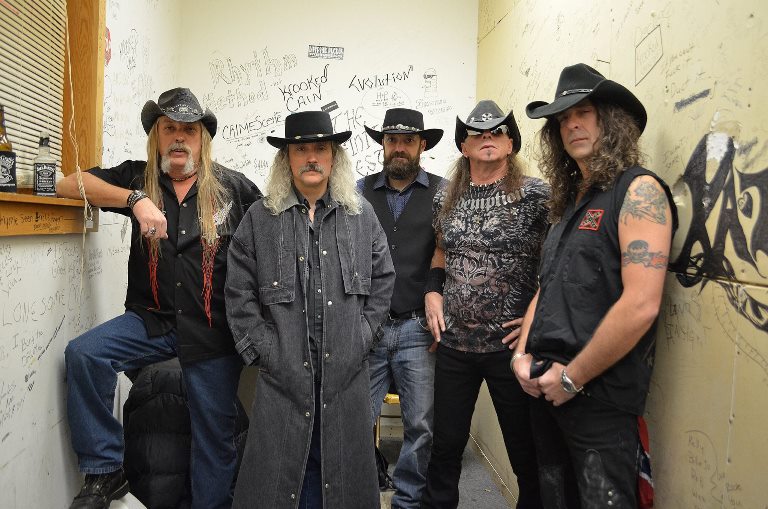 How is received the disc?
Very well. It's getting some regional airplay and great press. Many thanks to Dave Frisina at 105.9 the Rebel out of Syracuse, N.Y., Greg Jackson of NYS Music, Kathy Patterson of Kat Pat Radio and Luc Brunot of Bands of Dixie!
Do you sell mainly in the Syracuse area or do you have also a lot of buyers from all over the USA and the world?
We hawk 'em off the stage at shows and they're available at CD Baby. The digital downloads are also available at Amazon, iTunes, etc.
What are your projects?
My future plans are to keep writing songs and to improve at my craft.
The country rock flavors of Lonesome Crow were also present on another album coming from Syracuse, " On The Rise " It was released in 1982 by Kentucky Moon. Did you know the band members?
I remember the band but no, I don't know them personally.
Do/did you play sometimes with bands like the Ozone Rangers Band from Buffalo that made " Long Way To Rock And Roll " (1983) and is mostly now a ZZ Top cover band? Or from Utica, the Justice McBride Band? Or Fountainhead (Connecticut)?
No. We typically headlined our own shows unless we were opening for bands like the Outlaws, Marshall Tucker, Blackfoot, and Molly Hatchet.
The rock, the Southern rock, the recording process, the ways people listen to the music and a lot of other things have changed since the 70ís. What is your feeling about these changes? Are you nostalgic of the old time? Or do you think itís better today?
Now you're going to get me into trouble! In my opinion, the best rock 'n' roll with very few exceptions happened in the '60s and '70s. I think the bands were allowed to be idiosyncratic, and I think their music and lyrics were sincere, as opposed to trying to formalize a marketing scheme. For better or for worse, I've spent my whole career bucking the trends, trying to keep the heart and soul of music alive. If that's limited my business opportunities, so be it. I'd rather be an outlaw than a sellout!
Thank you Lou
Thank you Luc!
Lou Kaplan's discography:
Mad Jack - Straight Up (1985)
Mad Jack - Down the Road (1986)
Savoy Brown -Live and Kickin' (1990)
Savoy Brown - the Savoy Brown Collection (1993)
Mad Jack - On the Run (1994)
Mad Jack - Mad Jack (2005)
Kaplan/Shaw - No Stranger to the Blues (2007)
Kaplan/Shaw - Mojo Cafe (2008)
Last Train Out - Last Train Out (2012)
Mad Jack - The Best of Mad Jack (2013)
Lonesome Crow - Lonesome Crow (2015).