Simon Savage
MelonHeadMan
Interview by Luc Brunot.
Original version of the interview published in Bands Of Dixie #77 (November - December 2010)

Except the British stay of George Hatcher in the seventies, we can not say that England had been talkative regarding Southern rock. It was time for MelonHeadMan to come, a band full of a freshness talent!
Hello Simon.
Hello Luc.
How old are you?
I'm the grand old age 44.
What was your musical itinerary before MelonHeadMan?
I was in many different bands over the years: Hybrazil (rock, 1988-1994); Inki Mahoah (rock, 1994-1995); Dr Tilt (a funk band, 1991-1992); Narcotic (death metal, 1996); The Brainflowers (psychedelic rock, 1995-1996 and 2001-2002) and finally MelonHeadMan 2002 until present.
What are your influences as a singer and a guitar player?
My main influences for singing are Alice Cooper, Jim Dandy, Ronnie Van Zant, Dave Lee Roth, Ian Hunter from Mott the Hoople. As a Guitar player I'd say, Gary Rossington, Jimmy Page, Frank Zappa, Duane Allman, Ed King, The Cult as a band I've always liked, to name but a few.
England doesn't have many southern rock bands. Were there some ones?
Southern Rock in England has what you would call a cult following, so we're fairly unique in the fact that we play Southern Rock and write our own songs, and that's what people like about us. There are bands doing Southern Rock but they do all covers, such as Lynyrd Skynyrd, which we adore, but we like to stand on our own two feet.
Were there still some interesting bands in the English Southern rock history?
To my knowledge I don't know of any notable English Southern Rock Bands. Apart from us of course! (Ha ha)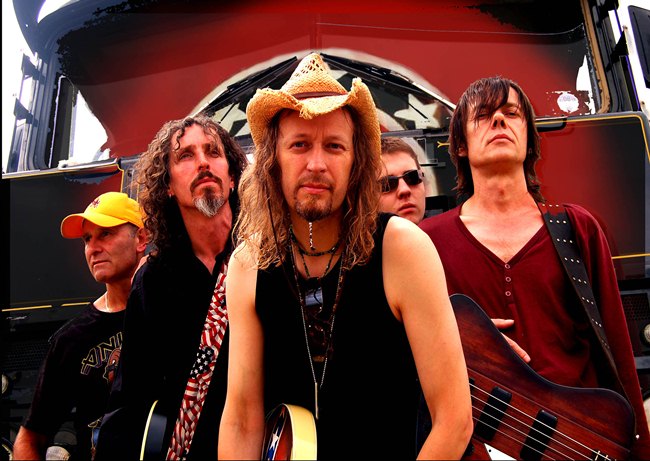 How was MelonHeadMan set up in 2002?
I'd had enough of being in the previous band, so I left, took the drummer with me and I decided to form a band to play the music I grew up listening to. If people liked it then good, if they didn't, they can go and listen to some karaoke.
How many musicians were in the band at that time?
There were four of us, myself, Jem Humberstone on guitar, Rick Longley on drums, and Jon on bass.
The band name is strange. Could you explain it to us?
MelonHeadMan from a song I had written in Called MelonHeadMan. The words just fitted with the chorus that's how I came up with the line. When it came to forming the new band we decided to call it after that song. We didn't know at the time it had repercussions with an American myth.
You have released an album in 2004. What was its title and can we still find it?
The album was just called "MelonHeadMan", we released it ourselves, printed and burnt our own CD's and took it around all the local record shops. If anyone would like a copy I can still print and burn one off. I don't know how many are still floating about out there though.
Was it recorded by the four founding members?
Yes it was. We recorded the drums at a local studio and recorded the rest on a G4 Mac using Cubase VST.
Could you tell us about this first record? The music seems to be close near from to the music of the new album, doesn't it?
The music is near or similar, I haven't really changed the way I write songs, I think about vocals and backing vocals more now, and there is more of a country edge to some of the newer songs. At the time of the first album the other guitarist was very influenced by Rhandy Rhodes from Ozzy Osbourne's band so there's a bit of metal/hard rock influence from Jem and more Southern rock and pop from me.
And can you tell us something of your 2006 EP, "Crowman"?
The "Crowman" EP was a four track CD comprising of the tracks "Crowman", "Boogie City", "Medicine Man" and "Melonheadman". We used to sell them at gigs and I know that the song "Crowman" was played on radio stations. A promoter we know emailed me to say he found it being sold at a recent big festival, he said it was brilliant. So that was nice.
Were these songs from the first CD or new recordings?
The first recorded batch was all songs from the first album, and then we did some afterwards with extra new songs. They were demos, rough recordings. One called "Bitchin' In The Kitching" was played on radio. We're going to do a new recording of that song soon.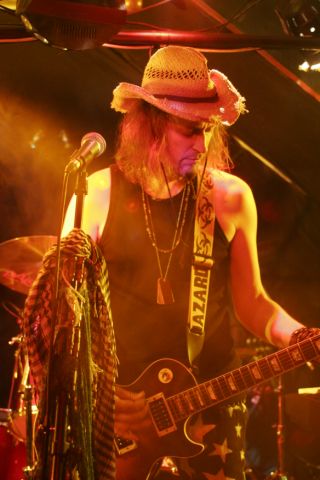 What was the MelonHeadMan story from 2004 until the new CD?
MelonHeadMan story from 2004 until now is a bit convoluted. There was a lot of differences of musical opinion in the first line up combined with people's personal lives getting in the way of gigs. The drummer took a liking to playing Golf, so I replaced him, then I got my old band mate Tim, who's the current bass player in on guitar, then the original guitarist left, then the replacement drummer left, so I got in my friend PJ who was the drummer for the English Punk band The Anti Nowhere League, he stayed with us until 2008. Then Ted from my brother's band joined us on guitar. Also by this time the original bass player had left and no one knows what happened to him. So that kinda brings us up to recent times.
Thank you for introduce us the current players and / or those who are on "The Good & The Bad" album.?
The players on "The Good & The Bad" are Simon Savage, guitars and vocals, Tim Farmer, bass, Ted Rogers, guitar, Melody Savage, backing vocals, Sam Woods, keyboards, backing Vocals, Rob Landau, drums, backing Vocals and Peter Dommett, acoustic guitar. Peter left to concentrate on his business and Melody left because she didn't like the endless hanging around before playing.
You have three guitar players. How do you share the parts?
Having three guitar players requires a lot of orchestration. I write the songs anyway so I usually work out each player's part. So I would play rhythm, Ted plays a melody part then either him or I will play the solo. Sam the keyboard player now plays the third guitar parts, which are counterpoint guitar solos or little incidental bits to give a bit of icing. We can all play slide guitar but I tend to play most of these. A bit of discipline is also needed to stop going off on long drawn out guitar solos.
I don't understand if Sam transcribes on keyboard the third guitar part or if he takes a guitar?
Sam is primarily the keyboard player. If Ted can't make a gig, Sam plays the guitar. When we record, Sam plays keyboards and adds the third guitar part.
Why do you limit the guitar solos?
To stop songs going on for too long. A few songs with extended guitar solos is fun, but from an audience point of view, doing 12 songs that all last 10 minutes can get boring.
Lynyrd Skynyrd released "God & Guns" in 2009 and you release "The Food & The Bad" with, on the cover, a cross and a cartridge. Is it a wink?
Yes it was a nod in their direction. I wanted to have something that made you think of westerns, also The Good, which is the cross and The Bad, which is the gun and bullets. All very Southern Rock.
Who wrote the songs?
I've written all the songs up until now, including all the songs on the album and the band members put their own ideas and suggestions on things. Recently though Ted has written two songs which we are now playing live.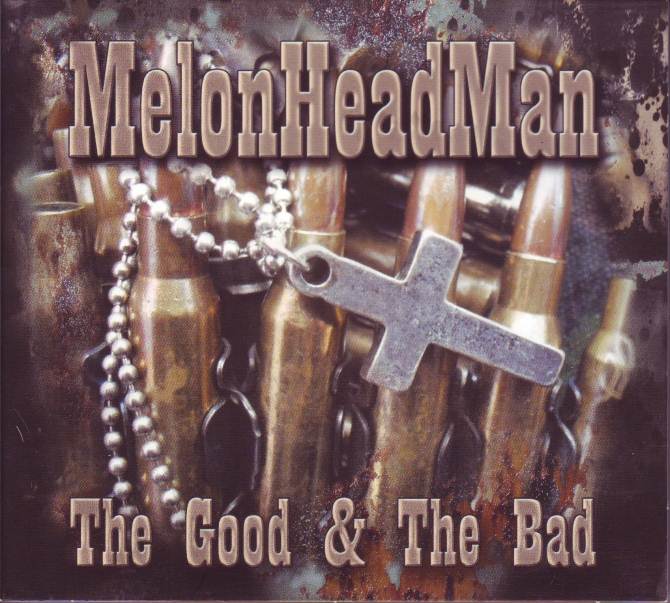 On MySpace, we can read that songs are about bad doctors, medicine men, and wild-hearted women. Could you tell us a little more? Everyone seems to have a nickname and your's is Dr. Decimus Crow. Is it related to these bad doctors stories and where does that nickname come from?
They're all song titles actually, relating to the stories and travels of one Dr Decimus Crow. In Ohio in America there is a myth surrounding the stories of a Dr Crow and his experiments on the patients of his mental hospital (The Melonheads) who killed him after years of abuse and now live wild in the surrounding woods. We had no idea that this story existed back in 1994 when I wrote the song "MelonHeadMan", but what a strange coincidence or is it a God given chance. Anyway I took the idea and changed it so the Doctor didn't die and used as a platform to tell stories through our music, the name Decimus I came up with, I don't know the real first name. As for the rest of the nicknames we thought that would be a bit of fun, but we don't use them live anymore because no one else can remember who they are.
What is your definition of Southern rock?
My definition of Southern Rock, music you can rock, dance and sing along to.
Your music, refreshing, has some Southern rock typical features but, too, contains other influences that may be more typically English. Could pop music (your melodies) and punk music (your energy) have influenced you?
Pop music is definitely an influence, I like melodies and harmonies. A lot of English Rock bands from the seventies have influenced me from Jethro Tull, Rolling Stones, Mott The Hoople, Bad Company. Punk music is also in there, my early bands were very energetic also really like Iggy Pop and some Goth stuff too.
We can read your main influences, in add on these you just mentioned, are Black Oak Arkansas, Lynyrd Skynyrd, Aerosmith, the Black Crowes, Alice Cooper, Mott The Hoople, Blackfoot, Molly Hatchet, Black Sabbath, Raging Slab, The Allman Brothers, ZZ Top. That's Right? Are some names lacking there? Which ones are the mains main ones?
Main influence has to be Black Oak Arkansas, as a kid I loved that band. It all seemed so much more exotic than our bands that come from the North of England. After that Lynyrd Skynyrd, more recently Raging Slab and Black Stone Cherry. The other band members such as Rob likes the Eagles, Tim likes Raging Slab. Ted loves ZZ Top. I think Sam likes all forms of Rock music.
I don't know too many bands that refer to Black Oak Arkansas. You, you seem to be particularly attached to this band, since the song that is, on your disc, the most similar to the music of your models is "Devil's Daughter (for Jim Dandy)". Why this song?
As I said I grew up listening to this band, they influenced me on many levels. Attitude, guitar styles, the Rock 'n' Roll way of life. "Devils Daughter" is a homage to them and their music. Don't listen to the Black Oak albums from 1978 though, they're truly horrible.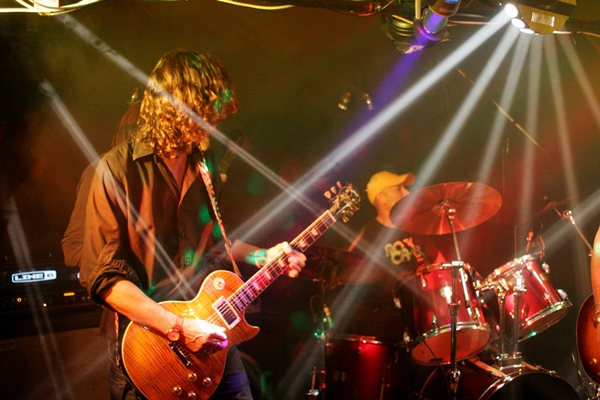 "The Wild Bunch" is not so bad though?
Sorry, I mean just that year (1978). The album is called "I'd rather be Sailing" In my opinion it's not a very good album. I think "The Wild Bunch" is not so bad.
Judge Parker came in Europe some months ago. Their musicians, as they told us, played a lot in Black Oak Arkansas. Do you have met them?
I'm afraid I haven't met judge Parker. Always time though.
What can you say else about this record?
The album was and is meant to be a throwback to time when rock music ruled.
What has been the reception of this disc?
We've had some great reviews from press, radio and promoters alike, it's not going to be everyone's cup of tea, but we're not trying to come up with some new ground breaking musical genre, we just love what we do and want everyone who enjoys our music to be part of it. We are stuck in a Dropped D 1975 parallel universe. Please feel free to join us.
Do you play many gigs?
We do play a lot of gigs. We go up and down the country.
What is your set list?
All My Troubles
Saturday Night Special
Hey Baby
Dr Crow
This Life
The Good & The Bad
Voodoo Lover
Hunting Crows
Devils Daughter
Don't Dog Me
Heart Of A Crow
Working For MCA?
Senor De la Fuga
Mutants Of The Monster
Firewater
Boogie City
Mrs Banker
Ramblin' Gamblin' Man
13th Floor / Painted Lady
Crowman
Rolling Home
MelonHeadMan
All The Way From Memphis
Low Down & Dirty
Sweet Home Alabama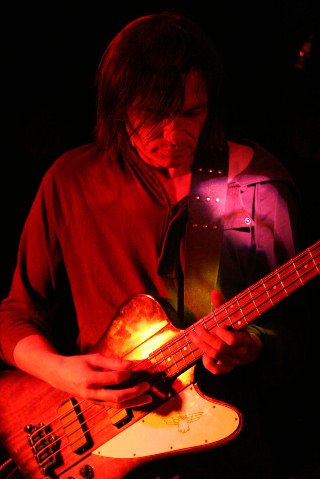 Is the set list always the same?
No it varies depending on the venue. We also change the songs about, I have a lot of songs and sometimes we do a few more covers. If we're playing a club in London the set will be shorter. 40 minutes or 45 minutes, sometimes 30 minutes.
Do you only play in England or did you already come on the continent? If it is not the case, do you intend?
We have only played in England, but would Love to play the Continent and we do intend on coming to Europe. It's one of our goals. Look out France.
Do you know other European Southern rock bands?
We don't know any European rock bands personally but there are a few on our friends on MySpace, Some from Italy, Germany and one from France.
Hellsingland Underground who is from Sweden just released their second CD. Their music is of course different from your's, but their freshness, their love of melody and the dynamism of their music reminds me of MelonHeadMan. Do you know them?
I have just listened to their music and I like it very much, I hadn't heard of them until you asked me the question. So thank you for that. I can hear similar influences in their music. The Allman Brothers maybe.
What are the MelonHeadMan plans?
We are in the process of recording new songs and specifically targeting radio stations with songs like "Hunting Crows" off our first album. In December our PR Company (Manilla PR) will be targeting festivals for 2011, of which I'm going to also ask them to specify European festivals as well. In a nutshell, new album, more gigs, go to Europe, play festivals. Convert the World to Southern rock.
What are your favourites Southern rock records?
Favourite Southern rock albums are:
Raunch and Roll Live (Black Oak Arkansas)
Ain't Life Grand (Black Oak Arkansas)
Raging Slab (Raging Slab)
Pronounced Leh-Nerd Skin-Nerd (Lynyrd Skynyrd)
One More From The Road (Lynyrd Skynyrd)
Gimme Back My Bullets (Lynyrd Skynyrd)
Flirtin' With Disaster (Molly Hatchet)
Marauder (Blackfoot)
Folklore And Superstition (Black Stone Cherry)
Warpaint (Black Crowes)
Keep The Faith (Black Oak Arkansas)
Thanks.?
Thanks Luc for the opportunity to be interviewed.