Sam Morrison
The Sam Morrison Band
Interview by Luc Brunot.
Original version of the interview published in Bands Of Dixie #82 (September - October 2011)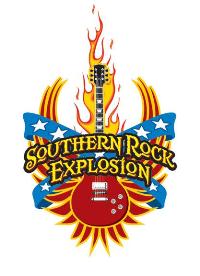 It's been quite a long time since we hear from Sam Morrison. It was time for us to know him better and that Bands Of Dixie meets this Charlie Daniels's fan to talk about his Southern rock and the tribute he pays to Bob Seger.
Hello Sam,
You're living in California, were you born there?
I'm originally from Middletown Ohio. It's just a little north of Cincinnati
How did you come to music?
Music is all. I've ever really wanted to do. As a kid I remember watching the Monkees on TV and thought that it was the coolest thing ever. Living at the beach with your friends, playing music...the good life! My uncle was a guitar player in a country band. I was always excited to go visit him because he had all this band equipment at his house... weird how impressive a microphone stand can be you when you're 8 years old.
What are your musical influences; the artists, bands, singers and guitarists who did influence you?
Well, the Monkees of course! I learned how to play guitar by listening to Lynyrd Skynyrd, Molly Hatchet, Allman Brothers... everything Southern. Dickey Betts, Duane Allman, Gary Rossington, Dave Hlubeck... they've all influenced the way I play. However, the one artist that has been the biggest influence on me, not only musically but in every aspect of my life is Charlie Daniels. Not only is he an amazing Singer/Songwriter/Musician, he is my perception of what a real man should be. His belief in God, family and country is something that isn't seen much today. Charlie is a man of character; he says what he feels and means it. I really respect that.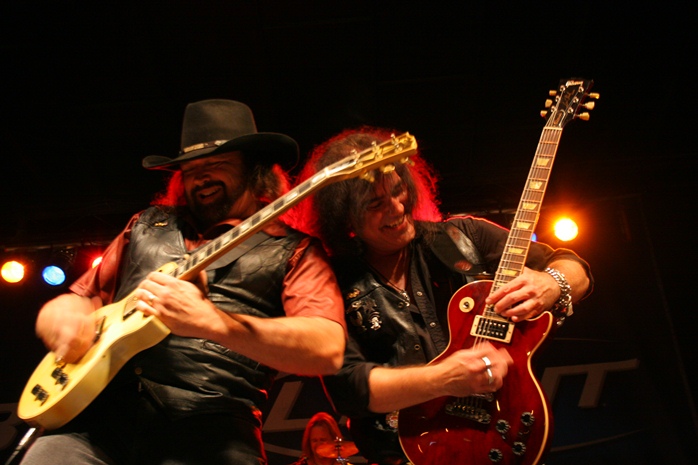 What did you do before the Sam Morrison Band adventure?
The Sam Morrison Band adventure has always been on going for me but before I was able to pursue it full time, I had a job working for the city in the Maintenance Dept.
When did you leave your job for the City and have you devoted yourself to music full time?
It was in April 2005. I called my wife from work, complaining about how much I hated my job. She demanded right then that I walk in and tell my boss I quit. We only get one life and we need to follow our dreams she said. So ...I quit. I've been doing music full time ever since. My wife is the most amazing person I have ever met!
Except the Sam Morrison Band, have you never been in other bands?
Oh yes, I've been in bands my whole life. I was in several country bands before I started the Sam Morrison Band. None of them ever recorded or did anything beyond playing locally.
When did the Sam Morrison Band set up and how?
Originally, the Sam Morrison Band started as a country band back in 1995. We played all over Southern California when country music was booming. Then Garth Brooks retired and the whole bottom fell out of the live country music scene here in CA. All but a few of the clubs closed down and all the bands were fighting to play there. I couldn't make a living playing once every 5 weeks so I changed formats. In 2000, I picked up new band members and went back to my roots playing Southern Rock and that's the band I have now. They've been with me 11 years now.
Could you talk to us about the recording of your self-titled album in 2002?
We had found a home playing for the biker crowd and spent the first 2 years of the band playing for every Run, Rally, and BBQ we could get into. During that time we played mostly southern cover songs but began writing as well. Our guitarist Steve Cenker picked up a Yamaha digital recorder and learned how to use it. We went to work recording the CD and pretty much figured everything out as we went. We did a lot of experimenting. Parts of the CD were recorded in a church, parts in our rehearsal studio and some in our Bass player's bathroom! It was our introduction to the "Do It Yourself" mindset and we've taken that approach with everything since then.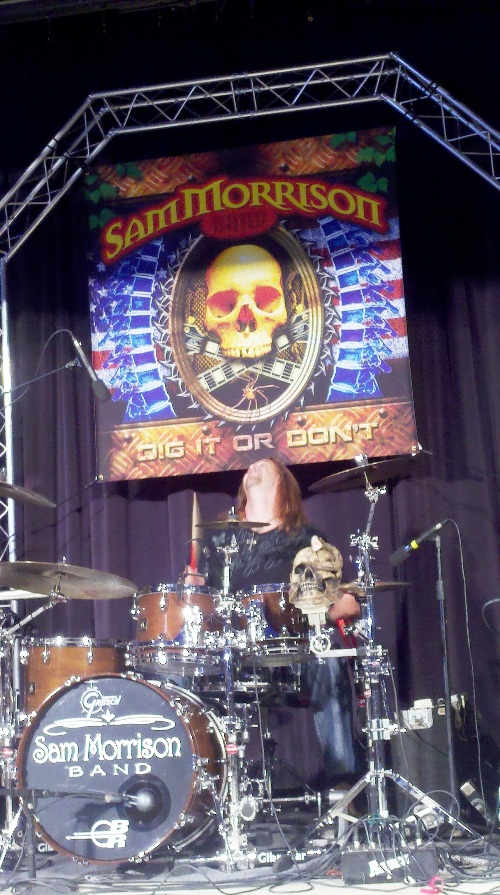 Why did you do a cover and why the choice of "Can't You See", while the general style of the record is strong enough?
Our version of "Can't You See" is a lot longer and has a little harder edge than the original Marshall Tucker version. We always seem to get a huge response when we play it live; so since we added our own style to it, we thought it would be good to include it. It turns out that a lot of people actually found out about us because of "Can't You See". When they looked for the original on iTunes, ours came up as well in the search and it made them aware of us.
Why didn't you choose a Charlie Daniels cover seeing that he has an important place for you?
Mostly because I'm not a very good fiddle player! We do cover Charlie's version of "Amazing Grace" on our new CD. Whenever we do a cover in our shows, we try to put our own sound to it the way we did with "Can't You See". Charlie's songs are so perfect the way they are. If you listen to our song "Say Your Prayers" on the "Dig It Or Don't" CD I think you'll hear a really strong Charlie Daniels influence.
The credits of « Dig It Or Don't », your new record, say that "I Gotta Ride" and "Peacekeepers", two titles appearing on the first CD, were previously released. Are they the same versions as the ones on the first album?
The versions of "I Gotta Ride" and "Peacekeepers" are newly recorded versions. Since the first CD in 2002, we began working with renowned producer Michael Vail Blum. His credits include Madonna, Pink Floyd, Kelly Clarkson, etc. We had the opportunity to have "I Gotta Ride" be included in the "Rock Band" video game and Michael re-recorded it for us so that it would sound more modern and fit the gaming format. It is now available on the "Rock Band Network"
www.rockband.com/songs/artists/Sam+Morrison+Band
. We liked the new version so much that we decided to include it on the new CD.
We re-recorded "Peacekeepers" for another amazing opportunity. Thru our connections with Michael, we were introduced to Jerry Greenburg. Jerry is a legend in the business and as President of Atlantic Records he has worked with everyone from ABBA to Led Zeppelin. Jerry is putting together a compilation CD honoring the US Military. Michael felt that "Peacekeepers" was a perfect match for the project and so again we re-recorded the song to bring it up to the sonic quality of the rest of the project. We have been included on the compilation CD along with songs by Charlie Daniels, Big and Rich, Gretchen Wilson, Tim McGraw, and a lot more artists I know you've heard of. I'm not sure yet what the release date will be but I am very excited and honored to be included. We've also made a video of "Peacekeepers". You can check it out here:
www.youtube.com/watch?v=-pjwhqEP8Zk
.
Why did you use these two songs on "Dig It Or Don't" and did not include two new songs? Is it difficult for you to write songs?
We've got a lot more songs. We just felt that with the opportunities that we were presented with that it would be a good idea to re-release the songs now. If someone is playing the "Rock Band" game and really likes "I Gotta Ride" from the game, I wanted to make sure they could get it on iTunes and not be disappointed if it was a different version than the one they knew.
On this record, the recovery is "Amazing Grace" and still slice with the rest of the material. Why did you insert it?
The version of "Amazing Grace" we recorded is actually an arrangement that Charlie Daniels does in his live shows but he never recorded it. It is one of my favorite songs of all time and I have sung it at the funerals of both my father and sister. It is kind of a tribute to them as well as a reminder to me that it is God's grace that allows me the life and the blessings I have.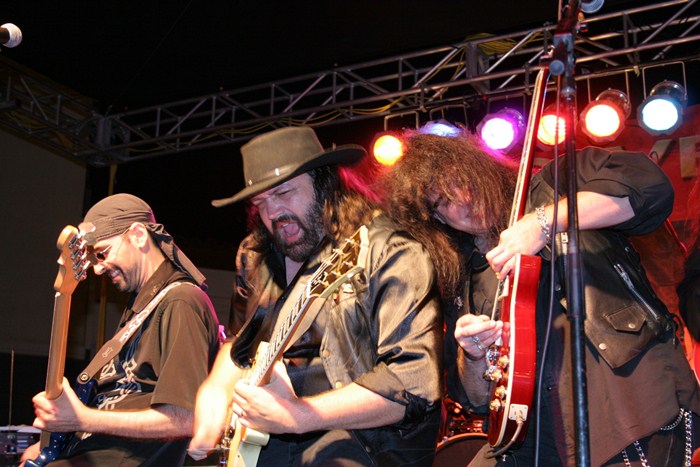 Could you introduce us the Sam Morrison Band members?
The band is Bart Robley on Drums, Greg Kasparian on Bass, Steve Cenker on Guitar, David Kurtz on Guitar and Keyboards, Doreen Novotny and Mandy Burke on vocals and percussion, Karl Sanger on Sax and myself on vocals and guitar.
Could you give us more detail about their musical influences, their background?
Sure, Bart Robley is an AMAZING drummer! He's building quite a reputation now as a drum teacher as well. He has written several drum instruction books for Hal Leonard Publishing: "Bart Robley's School of Hard Rocks", "Drummer's Survival Guide", etc. as well as a series of instructional DVD's. You can check out
www.BartRobley.com
for more info on his products. He also is a writer for "Classic Drummer" Magazine. I know Bart's a big John Bonham fan.
Greg Kasparian and Steve Cenker are also amazing musicians. Along with Bart and myself they make up the core of the Sam Morrison Band. They all came from Heavy Metal backgrounds playing in bands such as War Crime, and Knightstrike. When we started the band, I used to say that they turned down a little from Heavy Metal and I turned up a little from Country Western and we met at Southern Rock!
I've known David Kurtz since he was 11 years old. He is actually my son's best friend. I remember when he was a kid, he'd come to the house and get me to show him stuff on guitar...now he's WAY better than me and I get him to show me things! He's also a great piano/keyboard player. His influences are everything! One day he'll be listening to Bach and Beethoven, the next day Mahalia Jackson then he'll switch over to Willie Nelson and Waylon Jennings. I think his variety in musical tastes is what makes him such a good player.
I met Doreen Novotny at a church I was attending here in California. She was the worship leader and I knew the first time I heard her sing that we had to work together. I joined the worship band and she joined my band! She has also recorded numerous songs for film and TV. One that She and I both sang on was a cover of Hank William's Jr's song "Between Heaven and Hell". It appeared as the Title Track to the movie "Between Heaven and Hell".
Mandy Burke is actually a trained Opera Singer! She is also very into RnB and Funk music. One of her all-time favorites is Stevie Wonder. Besides singing with the Sam Morrison Band she has her own band, Wheelhouse, and she teaches singing and music theory.
Karl Sanger actually is a booking agent I worked with back when I played country music. It wasn't till later that I discovered how great he was on Sax. When we started the Bob Seger project he was a perfect fit!
I don't hear a sax on your new record but Karl Sanger is credited as sax player. Why?
We have another show that we do called "Turn The Page - A Tribute To Bob Seger". It is the same band but we perform only Bob Seger material. It has become a very popular show for us.
That's how we got hooked up with Michael Vail Blum. He had us come in and record a CD of Bob Seger's Greatest Hits for his new label, Titan Tribute Media. The reason he wanted us to record Bob Seger's songs is that Bob is not on iTunes. So....whenever someone is looking for Bob Seger on iTunes, they get us! We now have almost 200,000 downloads worldwide.
Anyway, to fully do the Bob Seger show, we needed to add a Sax player and we found Karl. He has since joined the original project as well but we had the CD recorded already. We included him in the picture because he is part of the band and you'll be hearing him on the next CD.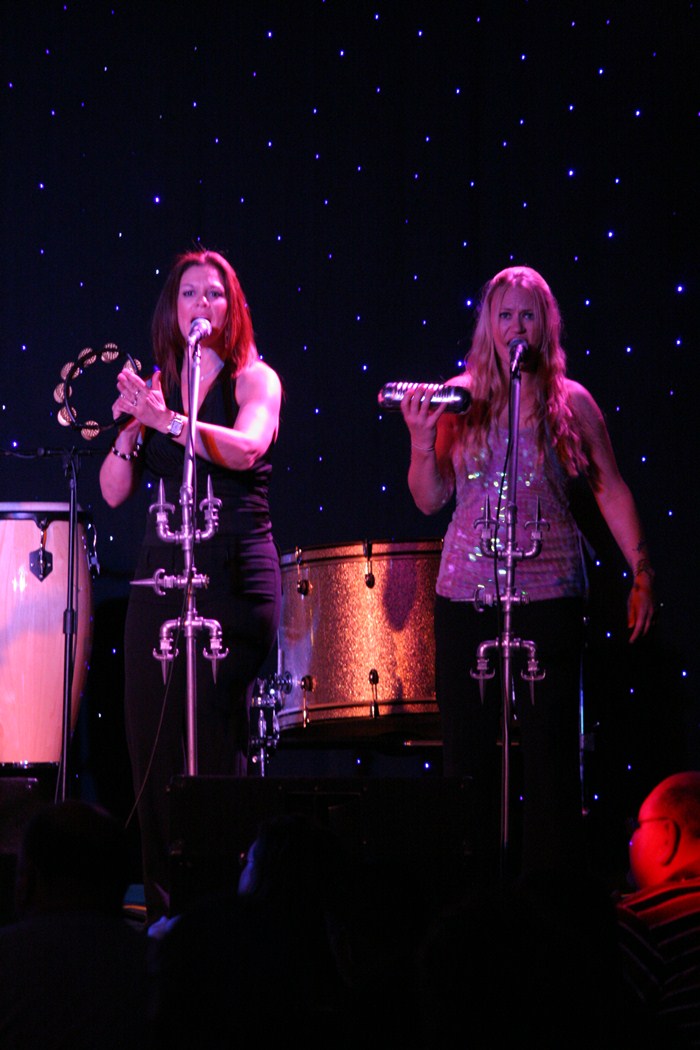 If I understand, the CD was recorded some time ago, no? When?
Yes the CD was actually recorded twice! We had it ready to go in 2007 before we met Michael Blum. We thought it sounded pretty good and were ready to release it until we worked with Michael and found out how to REALLY record a CD. We learned so much from making the "Turn The Page" CD that we no longer felt comfortable with the first "version" of "Dig It Or Don't". At that point the tribute show kind of took over, we recorded two more Seger Tribute CD's and toured all over the US. Michael and I also started working together at his studio on other projects. He began to teach me all about recording. It was a GREAT experience. He also helped me build the studio in my home. And then with all that behind me I knew it was time to finally finish "Dig It or Don't". We recorded it both at my studio and Michael's and he mixed it. It is SO much better than our first version! And now that I have my studio, I promise the next CD won't take years to finish!
The project devoted to Bob Seger seems quite distinct from the rest of your work. Thus, why did you do it using the name of the Sam Morrison Band?
There are a lot of tribute bands that "dress up" and actually pretend to be the artist they are tributing and I guess that makes sense but I was never comfortable "pretending" to be Bob Seger and acting like him on stage. With our show, as with Seger's show, it's all about the music. We take it very seriously and we play it as note for note perfect to the original as you're going to find. Seger's fans are incredibly loyal. I've had many instances where people have come to see us solely to let me know that no one should cover Bob Seger's songs but Bob Seger. After seeing our show, they see that I'm just like them, I'm a fan and they never go away unhappy. By doing the "Turn The Page" show as Sam Morrison I get to be myself and yet pay respects to one of the greatest rock and rollers of all time. It also allows us to present our original music to people who may never have heard of us otherwise.
Do you play some of your own songs in the Bob Seger tribute shows?
It depends on where we're playing. Some of the venues, like Casinos hire us to play only the Bob Seger show and that's what we do. When we play for Biker or Harley events, they like to have a mixture. It really depends on what the buyer wants.
You mention two other Bob Seger tribute CDs in addition to "Turn The Page". Have they been released and can you present it to us?
Yes, the first CD as mentioned is titled "Turn The Page" and has 15 of Seger's greatest hits. The Second CD is called "Turn The Page Again" which has 15 more greatest hits....he's had a lot of hits! The third CD is called "Turn The Page - Unplugged" and is really interesting. On the first 2 CD's we painstakingly recreated every note and nuance of the original recordings. For the unplugged CD we got really creative and recorded everything acoustically with no drums. We used congas, shakers, all kinds of percussion it was a LOT of fun. It also shows what a great songwriter Bob Seger is. When you strip away all the production and take it down to acoustic guitar and vocal, these songs are still GREAT!
So you've recorded two versions of "Dig It Or Do not." How do you work? How long did it last to do the final version?
It's different with each song. Some of the songs are co-written with Steve and myself and we bring them to the band to work out the parts. Some of the songs that I write kind of come to me in a whole piece so I bring them to the band and show them what I want. The final version of "Dig It Or Don't" took about 6 months to record once we got into it.
Are you satisfied with sales?
Sales are going well with both the CDs and downloads. We were really excited to see how fast it started taking off when we released it. It had been so long since our first CD I was a little worried that we would be starting over but what I found was that we had a lot of fans that were anxiously waiting for it!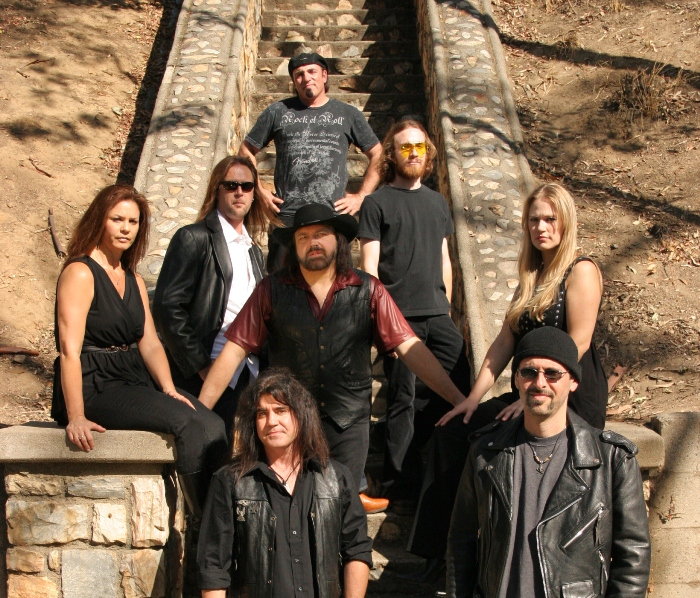 How the sales are geographically distributed?
Believe it or not we are selling more in Germany than anywhere in the world. France and Sweden are also doing pretty well. The sales here in the states are slower than I'd hoped for but they are picking up. Guess that means I need to get over to Europe pretty soon!
Between CDs and downloads?
I sell a lot more physical CD's in Europe than the States. A lot of the record stores have shut down and most sales here come from downloads from ITunes or CDbaby.
How do you define Southern rock?
It's a little too rock to be country but a little too country to be rock and it holds the secret that makes them both great! Country music is songs about truth and real people, about things that matter. Southern rock has that but with a lot more crunch and of course a lot more guitars! It's also music with a lot of pride and attitude.
There were several Southern rock CDs coming out to us from California. Could you tell us about the Southern rock scene in California?
It's weird, everyone LOVES Southern Rock but there are not a lot of places that play it. When they do, the people go crazy... I really don't understand it sometimes.
There are a few bands that play Southern Rock but it's mostly cover songs. I think that for Southern Rock to grow and evolve we need more bands writing great songs and getting them out there rather than relying on the standards. We've actually started a new movement here that we're calling the "Southern Rock Explosion" (SRE). It's going to be a series of concerts in which we find the best Southern Rock bands in an area and make a targeted push to help revitalize the scene. Our first "Southern Rock Explosion" show is going to be in Santa Ana CA in Sept. It's going to be a full night of 100 proof Southern Rock. Our goal is to start going state to state and find the Best Southern Rock bands there and do these SRE concerts everywhere!
These "Southern Rock Explosion" shows, are you going to do them through all the United States?
That is our plan! After the Santa Ana show we're looking at maybe Phoenix AZ. I know that Hogjaw is based out of there. I think it would be an AWESOME lineup. From there go to Texas maybe and next thing you know....Southern Rock Explosion in FRANCE! We'll have to see how it goes.
What are the bands scheduled in Santa Anna?
The Santa Ana show will be featuring One More From The Road - Tribute to Lynyrd Skynyrd, Judge Jackson, and the SMB. This is actually the same band line up that played for the Laughlin River Run in Laughlin Nevada back in 2009. We played 12 shows in 3 days with these guys. It was an incredible experience.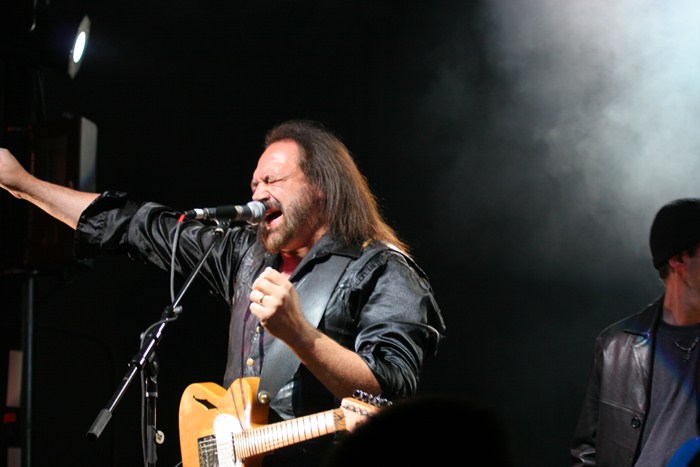 One of the Californians bands we knew the best were the Regulators. Did you know them?
I wish I did, I have their CD's but I think the band moved to Texas.
How many shows do you play every year?
It really varies, our Seger tribute show has us going all over the country and it has been our main focus for a while but now that our new CD is finished we're starting to put more effort into that and the Southern Rock Explosion concept.
What were the most important and most significant concerts?
We've got to play with most of our heroes; we've opened for Skynyrd, 38 Special, Marshall Tucker, The Outlaws, and Molly Hatchet. The one show I haven't done but REALLY want to is the Charlie Daniels Volunteer Jam....maybe someday!
Did you already meet Charlie Daniels?
I have met Charlie Daniels but not in a "professional" setting. I was able to go backstage before a show with other members of his fan club. He signed a couple of albums for me. I was so nervous...what do you say to someone that's been your hero for so long... I don't think I made much of an impression!
What can we find in your set lists (apart from the Bob Seger tours)? Your own material of course, but some covers too? Some of Bob Seger's songs?
When we're playing our original shows, the only Bob Seger song we play is "Turn The Page". Just like "Can't You See", we put a lot of our own style into it to make it traditional and yet ours. We've also been known to cover "Train Train", "One Way Out" and of course what southern band doesn't cover "Free Bird"!
What are you listening?
My playlist is got a lot of different stuff... lots of what you'd expect, a lot of country, Willie, Waylon, Travis Tritt and some stuff you wouldn't expect... Pink, Miranda Lambert, Loving Spoonful.
Which are your favorite Southern rock albums?
I like it all but if I had to pick top 5:
One More from the Road - Skynyrd
Brothers And Sisters - Allman Brothers
Night Rider - Charlie Daniels
Flirtin' With Disaster - Molly Hatchet
Greatest Hits - Marshall Tucker Band
What is the future of the Sam Morrison Band?
Thanks.