Bryan Cole
Mose Jones
Interview by Luc Brunot.
Original version of the interview published in Bands Of Dixie #76 (September - October 2010)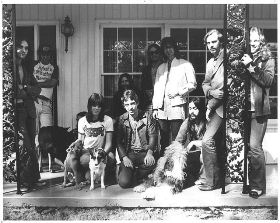 After three albums between 1973 and 1978, the two first ones on the Sounds of the South label, which also launched Lynyrd Skynyrd, Mose Jones disappeared. Today, the Atlanta band doesn't really comes back from the ashes but remembers our good memories, with a CD recorded live in 1974 and, that is an opportunity to realize that Mose Jones on stage was not quite the same as on the one on records. Bryan Cole talks about it.
Hello Bryan,
Nice surprise to see a "new" Mose Jones! Why did you choose to release "Live At Richard's - Atlanta, Ga 1974" in 2010?
Well, it's just the way things happen. I was aware that there was a 2 track stereo tape in existence. Jimmy's son Martin and his wife Susan were overwhelmed by the number of tapes Jimmy had. He recorded everything. Another of Jimmy's son's -Ken Mauldan- took the 2 track to Sean O'Rourke and Rick Hinkle, two dear friends and incredible musicians. They actually baked the tape in a convection oven to get the oxide to adhere to the backing. Then they dumped the tape onto pro-tools. When they played us what they had done, Steve McRay and I felt like it was almost destiny. Like we had to put this out as a tribute to Jimmy and Randy Lewis and the legacy of our band and the incredible music scene in Atlanta at that time. We also wanted to show that we could play. A live record was perfect for our needs. At the end of preparation, Mr. Rodney Mills (our long time friend and engineer on "Mose Knows") expressed a desire to master the disc. His work brought out some of that magic we were hoping for. We're grateful for all the hard work and love our friends put into this.
On the Mose Jones MySpace page, we can find a program of Richard's with Mose Jones who is presents May 28 and June 2. Is it one of those concerts that we find on the CD?
I know that it was June of 1974 but I don't know the specific date.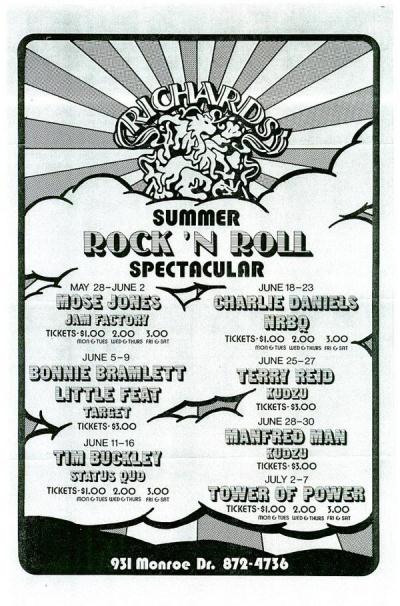 Can you tell us about this venue and describe it?
Richard's was an amazing place. Opening Night was Elephant's Memory- straight from their stint with John Lennon (RIP) - and us! The club had every and I mean everybody play there. Rory Gallagher, 10cc, Hall and Oats, Iggy Pop, The New York Dolls, Marshall Tucker, Lynyrd Skynyrd, Tower Of Power, Bonnie Raitt, Little Feat, Bob Seeger- anyway you get my point. The club was set back off Monroe Drive here in Midtown Atlanta. It had a low ceiling, a decent sound system for the time, and both the owners (Richard Floyd and Rich Bryan) were well connected to the music business so a lot of stars would come in and jam. It held about 300 people and was always packed.
In Atlanta, were there many places like that for shows?
Yes. There were about 10 cool places, Funochios (were we met Skynyrd), Hot'lanta, I can't remember all their names.
The set was broadcasted on radio (WRAS). Did it have happen to you often?
Yes, when MCA was behind us, they were wonderful about lining up radio interviews and performances. WLIR in New York, one in San Diego (don't know the call letters.) Many in the southeastern U.S.
A quick word about the first set by Jam Factory?
There were from upstate New York. Their drummer was a guy named Joe English, who went on to play with Paul McCartney [Editor's note: He'll be too part of Sea Level], their trombone player, Earl Ford has remained a life long friend and we have toured the world together with various artists [Editor's note: we can listen to him on several Capricorn records]. Jam Factory played a great brand of funk maybe a little like War, if I had to say, but they really had their own style.
In addition to Randy Lewis, Jimmy O'Neill, Steve McRay and you, we can find Davis Causey (Sea Level, Gregg Allman, etc.) on guitar. He is credited as "special guest" while in the previous interview in 2007, you mentioned that this Mose Jones version included Davis Causey. Was he actually in or out the band?
He was in. We just wanted to highlight him.
Is the whole concert on the CD?
No. Some of it was good, we just felt that this was the best.
The CD lasts sixty five minutes. How long were your sets?
This particular set lasted almost 2 hours. Things were a lot looser then and we were much younger,ha-ha.
Did your set list change a lot a concert in another?
Yes, we tried to get the feel of the crowd as to whether we would open up strong or mellow. I think my favorite song is "Julia's Beautiful Friend" which recalls both the Beatles and the Allman Brothers. Isn't it one of Mose Jones' songs that best sums up the band's music?
Yes, I think you're right. It's one of the first ones we ever did as Mose Jones. I hadn't thought of it but that's a very good observation.
On the program, seven songs that were on your two first LPs and a cover of who was partly at the name band origin, Mose Allison. Did you cover often "If You're Going To The City"?
Yes. It was a fun song and the way we did it left plenty of room to jam.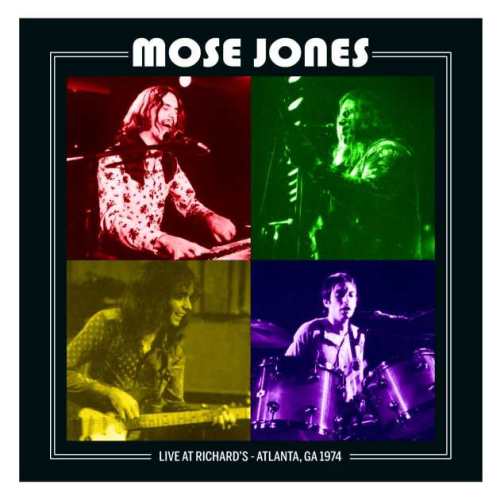 The song degenerates into jam for a twenty seven minutes length. Did you often go into these long jams?
Depends on the song. For instance, "Barroom Sweeper" doesn't present opportunities like "Goin' To The City" does. The end of "Julia's Beautiful Friend" is more like the jams we did at concerts. At clubs you can turn it loose.
Do you keep memories of the set?
Yes, I do. Those were great times. We were playing mostly our own music and it was going over. We played all over the country at some legendary venues, Whisky A Go-Go in Hollywood, Max's Kansas City in New York City, Caines' Ballroom in Tulsa Oklahoma, and others. Great times!
What is the reception about the release of this live?
It has been amazing! Most surprising is the response from Europe and Japan - we never toured those places as Mose Jones. Locally, we have had very good response via the web. We have some press and a possible concert lined up to really push people's awareness of the disc. Thank God for the Internet so far. CD Baby has sold out of the first four shipments!
Do you plan to release others concerts on CD?
We're looking through everything to see what we have and in what condition all this stuff is.
Is there some material for a DVD?
If we do a concert we could have what we need for a DVD. Steve has some ideas for extras and such, but it should be based around something bigger like a show.
Do you have an idea of the musicians who could be in the Mose Jones lineup for these shows?
Just a thought but if I were putting it together, Steve McRay, keys and key bass ; Marvin Taylor and Davis Causey, guitars ; Sean O'Rourke on drums and myself on second drums/percussion. We might add a sax-vocalist and of course this is hypothetical. It would be very interesting to interpret these songs 36 years later. We could also draw from the other 2 Mose records ("Blackbird" and the un-released one). I'll let you know if this materializes.
You told us that an album had been recorded after "Blackbird", is there a chance it will be released now? Or others unreleased stuff?
We're looking at "Blackbird" for possible re-release, maybe as a download only. We're trying to find out about the rights and everything. Steve McRay has started his own label called Big Coffee Records (www.bigcoffeerecords.com) and if you check that out you can see what the plan is. We have so many potential projects, some like the live album, from the past. Others like Steve's upcoming release and "Mercy Road" from the present. We just have to do a lot of work going through these recordings before I can tell you, for sure, what we'll release. But Luc, you'll be one of the first to know.
You told us in 2007, that you were in contact with a company for a release on CD of your three LPs. Has this project progressed?
I'm afraid not. But soon we hope Big Coffee, with the help of regional distributors, will be able to get our music to the people who want it. If this does well maybe we can license the original records.
Thank you for the Jimmy O'Neill's 45s ("Popular Car" / "Music City") and the "Mercy Road" CD by Cole/Taylor [Editor's note: Marvin Taylor was the Mose Jones guitar player on "Blackbird"] you sent me with the live. Have there been other releases under their name by Mose Jones musicians?
Marvin Taylor, from the second Mose Jones band has a disc "How I Spent My Summer Vacation", it's sort of an instrumental fusion style, very good. That's the only one. Jimmy and I had a cassette only thing in the eighties -Musical Fun with Lucky Pierre.
How would you present the music that is on this 45s from 1984 and on this CD from 2008?
The 45 was done as part of a finished EP Glass and Steel. Mark Penskie was, at the time, Frank Zappa's engineer. We wanted to use the new synclavier keyboard system. Mark, an old friend, was very familiar with it. He came and co-produced the A side - Popular Car - which Billboard liked and called it- A Dead Ringer For Steely Dan. The other record, "Mercy Road", started out as a collection of songs that Marvin and I wrote either together or separately. After my severe health problems of 2001, I had taught myself to play guitar and mandolin. Just strumming chords, you know. So we did almost all the instruments ourselves, Marvin producing and playing most of the stuff. Rodney mastered this one and I must say I'm proud of it. It's real mellow, but that's where we were at the time.
On the 45s, the musicians are the Mose Jones players and you have even co-produced the disc and co-wrote the songs. Why didn't you use the Mose Jones name?
At that time we weren't functioning as a band. I was trying to establish myself as a producer, Jimmy as a solo artist, Randy and Steve were playing the odd show together planning something new. We were always friends but sometimes it was good to operate outside the band, although most regional reviews referred to Mose Jones in their text. So you can't really go too far from home.
Regarding "Mercy Road", how can people get it and do you plan a continuation?
I believe it's available through Big Coffee Records, CD Baby and www.five feathers.com. Yes there will be more songwriter focused discs. I'm working on one with my friend Chick Cusick- of songs we wrote, and I'm producing Louisiana grown songwriter Steve Murrell.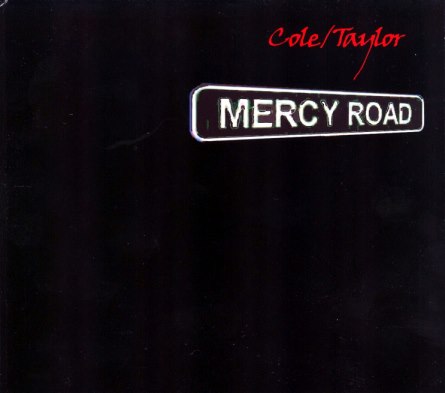 How is it that you are not playing drums on this album?
That relates to my health issues. I was in a coma in 2001 for a while. I don't want to say too much about that, thanks.
Many bands from the seventies re-form more or less regularly? Is it the case sometimes with Mose Jones?
I doubt it. I will never tour again but I would like to do 2 or 3 gigs here in Atlanta.
Three years ago, you thought the Internet was an opportunity for new bands. What is the influence of illegal downloading for you who is a producer, a songwriter and a session musician?
I think it's more of a problem for the people with huge hits that get posted on every site or whatever because there's more opportunities. I work on mainly obscure or niche recordings. The fan base we have are aware that nobody's rich around here and they do the right thing and buy it to support the artists.
What are your current affairs right now and your projects?
Well, I'm writing always, helping Steve McRay with Big Coffee, and just started work on the Steve Murrell record.
Thanks Bryan.
Thank you, Luc and thanks of course to your