Alan Crist
Mozely Rose
Interview by Luc Brunot.
Original version of the interview published in Bands Of Dixie #61 (March - April 2008)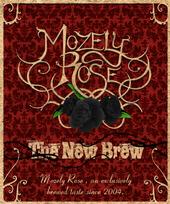 With Mozely Rose, here's a new hope coming to light for our favorite music. I daren't talk too much about Southern rock because you will see that, as in the past for other artists, the label, too simplistic and too connoted, is not appropriate for Alan, the band's guitarist. Nevertheless, Mozely Rose appears as a very promising band which should conquer the Bands of Dixie readers. We offer you to discover a little bit better this group from Virginia, waiting it confirms very quickly all the hopes that this band desserves.
Hello Alan,
What means the name "Mozely Rose" and what did you choose it?
We used to be called Wilde Turkey but our lawyer said we would run into legal problems because of the bourbon! HAHA One day I came to practice and the guys had decided on Mozely Rose. "Moseley" is a county here in Virginia where Matt lives and it is near to all our homes. The "Rose" part comes from a joke we had that it is our old bass player's favorite flower! HAHA For the first 3 weeks I thought the name was Mozely Road and I was calling us Mozely Road on the microphone. One night, Seth yells at me on stage, "Alan, the name is ROSE, not ROAD." And I replied, "ROSE? Like the flower? Why'd yall name us after a flower??"
When was created Mozely Rose?
2000 in Farmville, VA.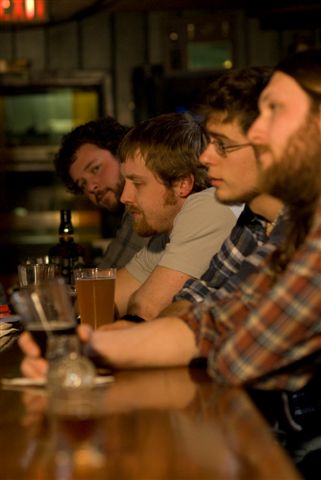 The band is you (Alan Crist) and Matt Nicholls on guitar and vocals, Seth Pennick (drums) and Robert Kealy (bass) who replaces Neal Townsend, who was with you on the last record. Did you have many changes in the line-up since the creation of the band?
Yes, we have shifted a bit with our bass players. Neal had a scholarship for college that expired when he turned 25 so he went back to college. Robert was fired because he wasn't a very good friend and was more or less filling in for us until we found a better bass player. He wasn't a very good bass player, either. Currently, we have Andrew Hanson, a very good friend of ours, playing bass. Basically, we feel that to be apart of the band, one must be able to perform on stage as well as off-stage. We spend a lot of time working together off-stage and personal feelings off-stage can make there way on-stage. It's all about chemistry.
How old are the musicians?
I am the oldest at age 26, Matt only a month younger than I. Seth is 25 and Andrew is 22.
Could you tell us the musical itinerary of each member before Mozely Rose?
For Seth, Matt and I, this current lineup is pretty much the only band we have ever had. Of course we had some fun little gigs in high school, but nothing really astounding. Andrew has been in a few bands in high school as well, but he and us three have only been playing together for a few months.
What are the musical influences of each one?
Matt and I became friends in middle school playing in the band. We both quit band in tenth grade high school because we hated our high school band teacher. We both listen to country and classic rock which is where we get our roots. Matt likes the folk-style, older style country and I like blues and funk. Seth is more of a powerhouse, pocket drummer influenced by Keith Moon and John Bonham. He really keeps our music driving and is the backbone of our rhythm. Andrew tends to be more influenced by punk, rock, and reggae music.
Was "Low Down & Dirty" your first record?
It was our first "real" released album. We made one self titled album that was supposed to be a demo to get gigs, but we ended up selling 1000 of them in a year's time while I was finishing college.
When was it?
"Low Down" was completed and released in the spring of 2005.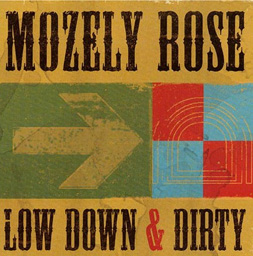 You said me that you don't like this record. Why?
Long story short, we we're suckered in to signing with a low-budget, yet kind and very enthusiastic record label. We were young and naive. We finished all of the recording and tracking of the album in less than five days! Only two or three takes of each song were done and we didn't spend much time on solos or vocals. To us, we don't think the quality of the mixing or playing was where it should've been. Of course, it was done when we were not as tight as we are now, but one will always be tougher on himself than any other soul in the world.
However, it still appears on your website. Is it still possible to buy it?
We are liquidating all of the hard copies. Eventually it will be available through downloading digitals only.
You are often described as a Southern rock band but, reading at your MySpace page or at your CD Baby page, you don't describe your music as Southern rock but as "funky-country" outlaw rock Why don't to use the Southern rock label?
Here in America, the term is so closely related to only a few bands like Lynyrd Skynyrd and Molly Hatchet, CDB or The Allmans. I think that labels kinda suck. Like Skynyrd, we are a rock n roll band from the south. That means we listened to country and blues growing up and we write songs that southerners often relate to. Sometimes people assume too much or too little with the label "Southern Rock" and we just don't feel that it is a viable term. We write country songs, blues songs, funk songs, and ballads occasionally, and we don't want to feel limited by a label. First in foremost, we are a rock band, but we also do a lot of country. That's just my opinion.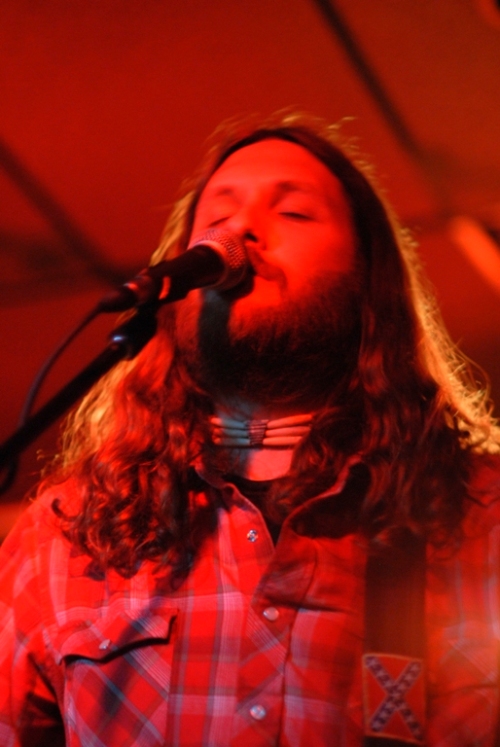 I understand you don't want this Southern rock label but what is the importance of the Southern rock in your influences?
Well, I guess a label can be seen as good and seen as bad. Labels are good because initially it gives the listener a chance to relate and determine if they would like that type of music. Just because a classical composer doesn't like punk rock doesn't mean a punk rock band isn't talented or sound good. On the other hand, labels can be restrictive. I know a lot of Lynyrd Skynyrd fans that would choke on their beer and tobacco if they heard Ronnie Van Zant singing a slow jazz song or a big band song. A lot of people don't realize how many different styles of music actually influence one album or song. I play in a "Southern Rock" band, but I listen to classical compositions and I listen to funk. Weird!!
When was recorded "The New Brew"?
We recorded it at The Sound of Music studio A in January and February of 2006. Our engineer, John Morrand, is one of the best engineers we have ever heard, and certainly the best we have worked with.
How long were the sessions?
We moved into the studio and lived there for a week. We would work for 12 hours a day and break for 12. It was a lot of fun. The studio is very accommodating. I believe they have a studio in Amsterdam. Visit
www.soundofmusic.org
The compositions are very good. Who write the songs in the band?
Matt and I write the songs. A lot are done individually, but we also co-wrote some of the tunes.
You and Matt Nicholls are credited on guitar and vocals but Matt sings the most part of the lead vocals on the disc and you're more on the background vocals. Why isn't Matt credited as "the" singer? Do you sing more usually?
Matt is the lead singer. I sing lead on "Funk Off" and on the chorus of "The Pure Station." It's a label thing, I guess. We feel our songs have a lot of emphasis on the vocals and he and I added third and fourth part harmonies over ourselves on the album. While I am usually deemed as the lead guitarist because I take most of the solos and do all the slide work, he also plays lead solos. It's just a label thing. We both take our vocal parts seriously as well as the guitar work.
About that, on guitar, how are shared the lead and rhythm parts?
We both switch off on solos. The whole "dueling guitar" theme. I do the slide guitar parts.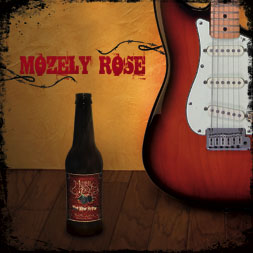 Who are the guitarists who are influencing you and Matt?
Matt and I grew up together for a lot of our older childhood and we listen to a lot of the same people. Of course, the infamous Clapton, Hendrix, and Stevie Ray Vaughan were big influences. For me, I really got into Gary Rossington from Skynyrd, and for my slide influences, Duane Allman from the Allman Bros and Derek Trucks. I really have been getting into Brad Paisley, though. I play the Telecaster and he can do some wicked good licks on that Tele. Matt enjoys the older style of chicken-pick'n. At least that's what we call it!! haha
Are you satisfied artistically by the disc? Are you unsatisfied by some points?
We are very happy with the sound quality and the overall experience of the album. We worked with great people at the studio and felt comfortable while recording. I would be lying if I said I played as well as I would have liked to because I don't think anyone should ever be completely satisfied with his or her performance because then you get fat and happy and less driven. I always want to be better and I always keep working. It's like athletics: If an athlete is satisfied with his time in a race or the amount of points he has scored, then he won't ever try to do better and achieve more.
Commercially, how are the sales?
CD sales are going very well for us. We have been selling nationally here in the states, and have been doing very well over in Germany, Italy, France, and Belgium. Our album, "The New Brew", has orders on backorder at this time.
Do you want to add something about this disc?
We all think it rocks. It captured who we're at that moment we recorded the songs. We're as hungry as a band can be and we think we've got something really tasty here. Our next albums won't be as diverse as this one, stylistically. It will be more centered.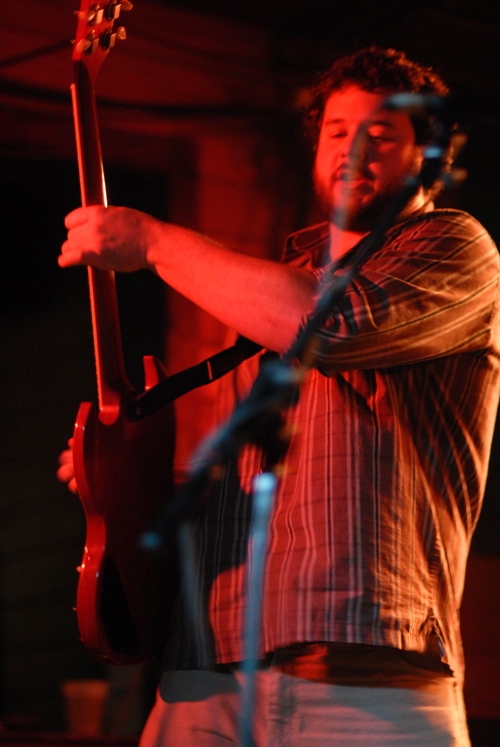 December 22nd, you were with Molly Hatchet in Springfield, Va. Do you often share the stage with bands like it?
We have played with many great bands, and look forward to playing with more. It seems to be the quickest way to gain mass exposure. We have played with The New Riders of the Purple Sage, Pat Green, Emerson Drive, Leon Russel, Devon Allman's Honey Tribe, and Tishamingo. The boys in Tishamingo are good buddies of ours. We've played a few shows with them. Now that I think about it, we should get something rolling over in your country together!!
Seriously?
Ha-ha... Well, I'm just saying I think Germans and Europeans a like would enjoy young, authentic Southern Rockers. So hell yeah, I'd go if we could arrange it.
Which bands would you dream of to play with?
Allman Brothers, The Beatles, Dixie Chicks (haha), The Eagles, Aerosmith, Skynyrd, Cream, and....well, I could go on but I think I'll stop there.
How was it to play with Molly Hatchet?
They are THE LOUDEST band I have ever worked with...hahaha. But a solid, staple-band in the Southern Rock category. It was an honor not just to see the show but to be apart of.
What is your set-list? I suppose you don't play only your compositions? What are the covers?
We play some Allman tunes, Gov't Mule, Skynyrd, and some modern country tunes by Dierks Bently, Shooter Jennings, and sometimes even some Red Hot Chili Peppers.
Do you play even so your compositions or a lot of covers?
It all depends on the venue. Sometimes you play at a small bar or hole in the wall that will pay you a good sum of money, but they want cover songs because people at the bar are there to drink and socialize, primarily, not listen to new music. Probably 95% of the venues we play, the clubs and concert halls, we do our own show of original music...which by the way we have done for a three-hour long non-stop show.
Is Mozely Rose your only project? Don't you play too as acoustic duo with Matt? Now, what are your projects?
Matt and I play acoustic duos from time to time. It's a good way to reach new audiences. Plus, it gives us a chance to play more singer/songwriter material. He and I don't do many guitar solos and it is very vocal oriented.
Now, what are your projects? When for the next record?
Not sure. "The New Brew" is doing well and we're focusing on other priorities right now. We have material for a new album, but we're busy, busy, busy. I don't want to say too much. (smile)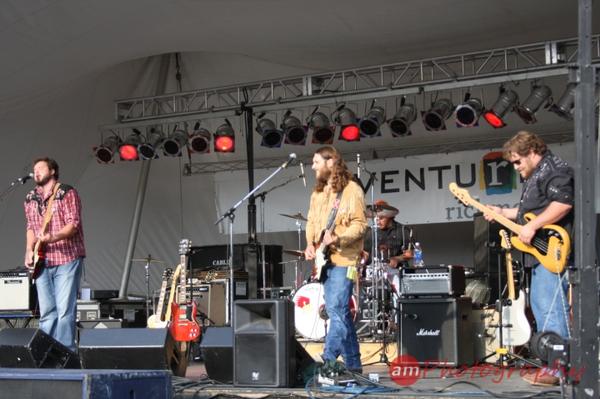 What are your favorite Southern rock albums?
"Street Survivors" (Skynyrd), "Eat a Peach" (Allmans), and any live album.
Do you have any groups you would want to talk to us to find out them to us?
We like meeting anyone, and we will talk to anyone and become the best of friends with anyone. We are particular with who we work with, though. Hard working, good ethics, and quality of their task or job they do is what it boils down to. If 1% of everything that was promised to us had happened, Mozely Rose would be a household name by now. Unfortunately, good morals and ethics seem to be hard to find. But by any means, we use myspace a lot to talk to foreign bands and get to know your music scene a bit more. I really like Europe's music scene as a whole. People seem to know what they're looking for rather than in America all music is thrown at you by marketing and advertising.