Ronnie Riddle
Preacher Stone
Interview by Luc Brunot.
Original version of the interview published in Bands Of Dixie #78 (January - February 2011)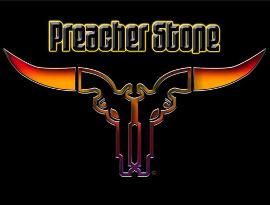 If South Carolina is well known by Southern rock fans through some talented bands, with, of course, at the first place the Marshall Tucker Band, North Carolina is more discreet. But now, here comes Preacher Stone. We wanted to know a little bit more about them and we dragged some information out of them.
Hello Ronnie,
Preacher Stone was born in 2008. What was the musical path of its founders?
We are all veteran musicians who have recorded and toured with other bands.
How and why Preacher Stone was set up?
Marty wanted to form a real ass-kicking southern rock band. His brother suggested that he calls me. We knew each other but had never worked together. The first time we met, we wrote "Not Today." We haven't slowed down or looked back since.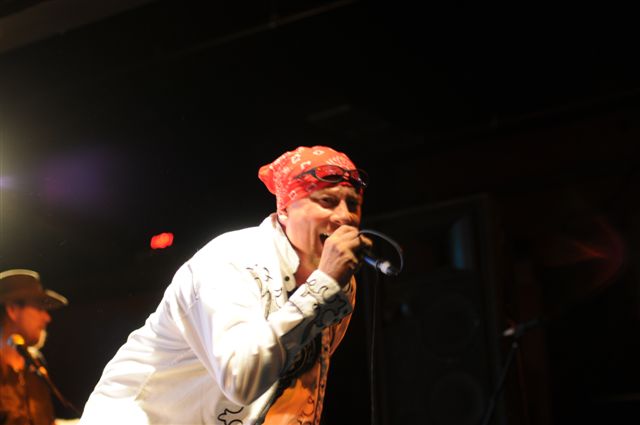 How did you choose this name?
Names are hard to come by, but when Marty suggested Preacher Stone, we all agreed that it was the right name.
Could you introduce to us the current line-up?
Marty Hill: guitar, dobro;
Josh Sanders: Bass, vocals;
Brent Enman: drums, vocals;
Ronnie Riddle: Lead vocals, guitar, harmonica;

What are the musicians influences?
Lynyrd Skynyrd, Molly Hatchet, The Allman Brothers, Free, Bad Company, Blackfoot, Led Zeppelin, and everyone else we ever listened to.
On your site, I read that the band date started by the end of 2008 while the first album was released in June 2009. How did you succeed to start a band and to record so fast?
We recorded our first CD before we ever played live. Marty produced it, so we would sound the way we wanted to sound as opposed to someone else's vision of our sound. Then we began to play regionally.
Can you tell us about the recording sessions for this album?
"Uncle Buck's Vittles" was recorded at GAT3 studios in Charlotte, NC. It was produced and engineered by Glenn Tabor who engineered our first CD. The comfort level was fantastic and we went in the studio able to be ourselves.
How was the disc received?
The press and the reviews have been extremely positive. People in the press
Why did you change the rhythm section between your two CDs?
The music business is tough. It's a long way from starting a band to making it commercially viable. Everybody has to share the same vision. Adding Josh and Brent to the lineup not only unified our vision, but gave us a monster rhythm section.
According to the credits, the guitarist Benny Huntt is also no longer in the band but he appears on five songs. Does this mean that he left during the recording?
Benny Huntt is a very talented guitarist. We wish him all the success in the world.
What were the respective roles of the two guitar players?
Marty's playing is the cornerstone of our sound. The second guitar complements Marty's playing.
Do you plan the hiring of a new guitarist?
It's a possibility. We're always looking to make Preacher Stone better.
Do you see any changes in your music between the two CDs?
We matured as a unit and we expanded our sound to incorporate more of the classic rock sound.
Have the "Uncle Buck's Vittles" sessions been different from the first disc?
Not really. We were more prepared thanks to playing live and having more time to write the songs for the second CD.
For most of the songs, the music is composed by Marty Hill and the lyrics are written by you. What is the songwriting process?
Marty comes up with the musical ideas, the band arranges them and I try to pull a story out of the arrangements. Everyone is free to be themselves and contribute. It is a very organic process and it works well for us.
What are your favorite songs regarding your two albums?
"Come On In", "Hand On The Bible", "Early Mornin' Rise" and "Can't Keep A Good Man Down".
Your bassist, Josh Sanders, wrote and sings a song. Preacher Stone seems to be a little bit different. What do you think about that?
I think it's great! It gives him a chance to shine. He's a very talented guy.
Why did you cover the Beatles "Come Together"?
Because they're the Beatles! Great song! Marty had the idea to "Smother it in flour and deep fry it," and it works!
What would you like to add on "Uncle Buck's Vittles"?
Just that we made a record for the people who are into our music, and we want them to know that we are grateful for their love and support!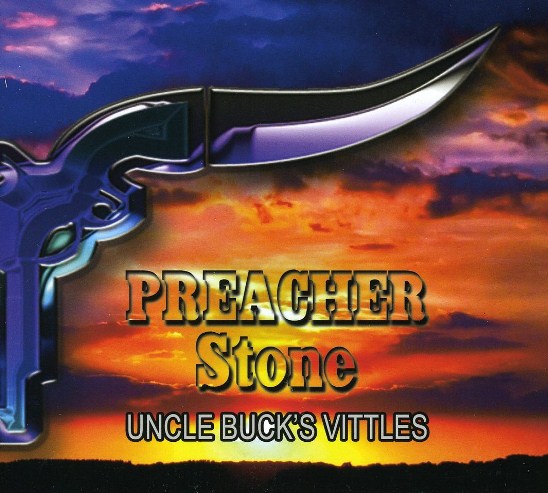 How are the sales, first, between CDs and download, and second, by continent?
The sales of "Uncle Buck's Vittles" have exceeded those of the first CD in just under a month. A lot of people have discovered Preacher Stone through "Uncle Buck's Vittles" and have then purchased our first CD.
Several artists, more or less in relation with the Southern rock, came or came from North Carolina: Neil Carswell and Coperhead, Cry Of Love, Warren Haynes, Nantucket, George Hatcher, Ray Pittman, SwampDaSwamp Watts Left, Heartwood, Cottonmouth to name a few and if I make no mistake. Do you know some of them and did they have some influences on you?
Yes, definitely.
How is the rock scene in North Carolina?
The NC scene is like any music scene anywhere. If you want a scene, you have to make a scene.
Do you play many gigs?
Yes.
Do you go out North Carolina to play?
Yes. We tour regionally and our looking toward touring Europe and the UK in the not-too-distant future.
What is your set list?
Our set consists of songs from both CD's plus a classic or two that we enjoy playing.
With whom do you share the stage?
We have performed with Jackyl, Artimus Pyle, The DB Bryant Band, and we will play with Lynyrd Skynyrd, Molly Hatchet, 38 Special, Blackberry Smoke, and Black Stone Cherry in 2011.
Are there bands that you feel close, musically and humanly?
Musically, all the southern rock and classic rock bands. Personally, we have friends in too many bands to name.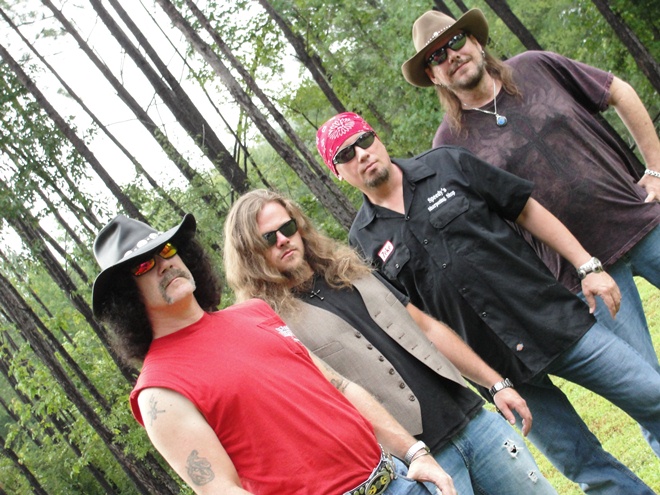 Would you have some unknown bands to recommend to the French Southern rock fans?
The DB Bryant Band, Hogjaw, Automag, and Rebel Son.
What is your definition of Southern rock?
Guitar-driven, blues-based, rock with soul.
What are your plans?
To write, record, tour, and meet as many people as we can and turn them on to Preacher Stone.
What are your favorites Southern rock records?
The first 7 Skynyrd albums, Blackfoot "Strikes", the first 3 Molly Hatchet albums, the Allman Brother's "Live At The Filmore", Black Stone Cherry's "Folklore and Superstition", ZZ Top's "Fandango" and "Tres Hombres".
Thanks.
Thank You!