Jeff Prine
Interview by Luc Brunot.
Original version of the interview published in Bands Of Dixie #77 (November - December 2010)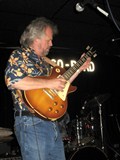 Jeff Prine sounds like Dickey Betts though his main influence is Peter Green. Even if he already has gray hair, he hasn't recorded that much. But the quality of its "Currents", partly recorded at the famous Criteria Studios, and his style, gave us a great desire to meet him. Jeff Prine, the one who is almost doing some Dickey Betts without knowing it.
Hello Jeff,
You were born in Brooklyn, New York, in 1954 into a family of musicians. Two of your brothers have become musicians and your father was an orchestra leader. What kind of music did he do?
Society music, similar to Glenn Miller. A twenty four pcs dance band.
You saw Fleetwood Mac on stage, in 1971, I believe. Was it a shock?
After seeing Peter Green perform at the Fillmore in NYC in 1970, it was a revelation! I knew this is what I wanted to do! His sound touch feel vocals! No one influenced me like he did! I have spoke to many players over the years and they expressed the same feeling!
You were often at the Fillmore East. Have you seen the Allman Brothers there and is it from here that you were influenced by Dickey Betts?
I did see the Allman Brothers Band at the Fillmore and loved the band but at that time I was still into the blues thing and it did not affect me the same way as Peter. It wasn't until later on in 1974 that I started to listen to them more and when I started writing songs for myself they sounded more like the Allman Brothers Band types of songs.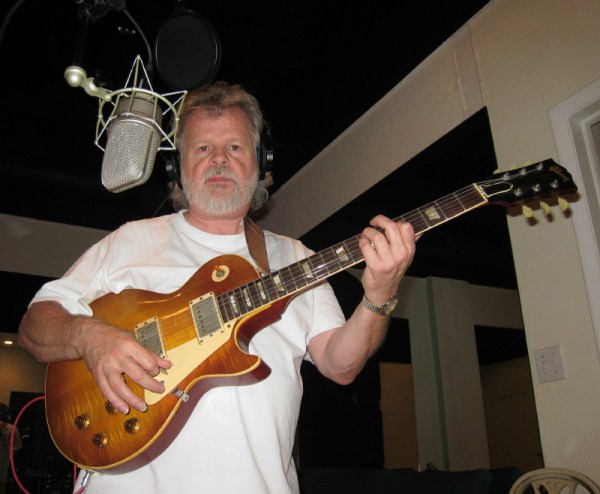 Who are you others influences?
Mike Bloomfield, BB King, Freddie King, Albert King.
Influences only as guitarists or also as singers, composers, performers?
Mike Bloomfield: guitar playing; BB King: guitar playing and singing; Albert King: guitar playing and singing; Freddie King: guitar playing and singing; Peter Green: guitar playing, singing and composing; Dicky Betts: guitar playing, singing and composing.
When did you set up your first band? Was it already under the "Jeff Prine Group" name?
My first band back home in NYC was called Wheat. We are actually talking about a reunion and we are getting together in NYC on November 22nd to play and discuss the possibility of performing together again. The lineup is myself on guitar and vocals, my brother Dan on bass (www.danielprine.com), Tommy Lippis on keyboards, Richie Greenberg on drums and vocals, and last Steve Mungeer on the second set of drums. I will send you a recording of that band. Well rehearsed and kickin'!
What was the musical style?
Fleetwood Mac, Allman Brothers Band stuff, the blues stuff as well!
You recorded a demo for Roulette Records back in 1979 with four songs. Was it released?
No but I have it and I can share it with you if you like.
You shared the stage with artists such as Dickey Betts, Johnny Winter, Robin Trower, the Outlaws, Cyndi Lauper and more. Can you tell us about it and what were your best memories?
A show we did in 1980 at a club on Long Island called My Fathers Place! We opened for the band Stuff and we knocked the walls down! Lol! We had a huge following and we played like it was our last show together!
You moved to Florida in 1988. Why?
The music scene changed in NYC and no record deal came about and I had a family and my economic situation wasn't good and South Florida offered me a secure income and affordable housing for my family and a five night a week gig. So that's it we moved!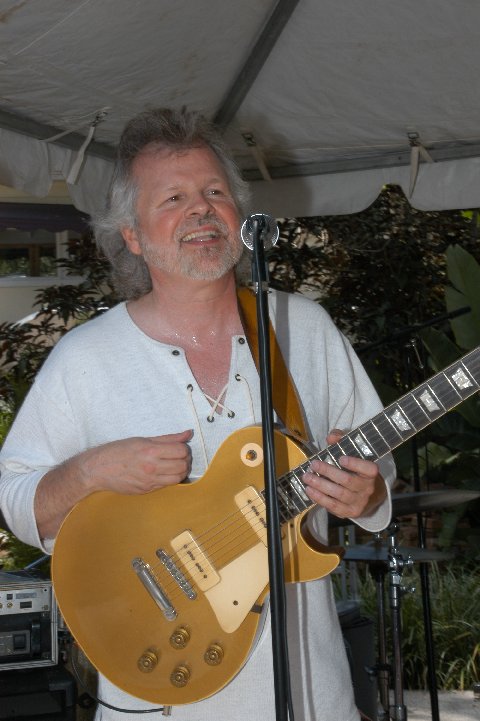 If I understand, you had set up a backing band then to backup some artists in a club called Cheers in Fort Lauderdale, where you've played with some people like Albert Collins, Coco Montoya, Buddy Miles, Kim Simmonds, Dave Mason, Rick Derringer and Steve Morse. It's right?
Yes, a great time for music in South Florida. All the touring bands that ended their tour in South Florida played at a club called The Musicians Exchange and when they finished their two shows, they would come over and sit in with us since we played till 3 am in the morning! What a great time! We use to play along side Derek Trucks when he was thirteen and he would sit in with my band and we sounded like the Allman Brothers Band!
When did you set up the Jeff Prine Trio?
As things started to wind down in the South Florida scene. Many of the club owners did not have the budget for four musicians so we tried the B-3 trio with the B-3 player kicking bass like Jimmy Smith and it worked for awhile and we played like this on and off through 2007.
In 1992, you recorded an album. Was it with this same band?
Yes plus some others players. Me on guitar and vocals, my brother Dan on bass, Jack Ciano on drums (currently with Juan Secada), Bobby Freeman on B-3 and vocals, John Russ on piano and vocals, Billy Burns on harmonica. I have a copy of this on CD as well.
This is a live album recorded in Miami. What is its title and can we still find it?
It will be available on my website: JeffPrineGroup.com as well as the Wheat CD.
Could you tell us about it?
The CD was recorded live at the famous Tobacco Road Nite Club in downtown Miami, Florida. We recorded two nights, Friday and Saturday January 22nd and 23rd 1993. There are some great moments on the CD.
Your second CD was released in 2002. What is its title and can we still find it?
"The Jeff Prine group featuring Juanita Dixon". It's not available anymore but if anyone would like to purchase one, they can contact me on my website and request one. You can see Juanita and the Trio perform some of the songs that appear on the CD by goin' to YouTube and search "Jeff Prine 299 live at BB Kings". There's some good footage. I believe eight tunes in all.
Thus, the record was made with blueswoman Juanita Dixon. Can you introduce her?
Juanita is no stranger to the South Florida blues scene. Formerly part of the famous house band from the now defunct Oharas Nite Club in Fort Lauderdale on Las Olas boulevard were she appeared for ten years with the famous B-3 player Dr. Lonnie Smith and the great Danny Burger (drums) and tenor man Jesse Jones Jr. When her gig ended I hired her to work with me at a club on the beach in Fort Lauderdale called Evangeline's five nights a week and put together a blues review show. This lasted for five years and she also appeared many times in Finland with the Oiling Boiling Blues Band. She still appears with us regularly in and around Florida.
She sang all the songs?
Yes, she sang all the tunes.
I guess you still play a lot of gigs?
Yes, I still do play a lot of gigs. Please check my website jeffprinegroup.com and click on live and you will see a schedule of my gigs.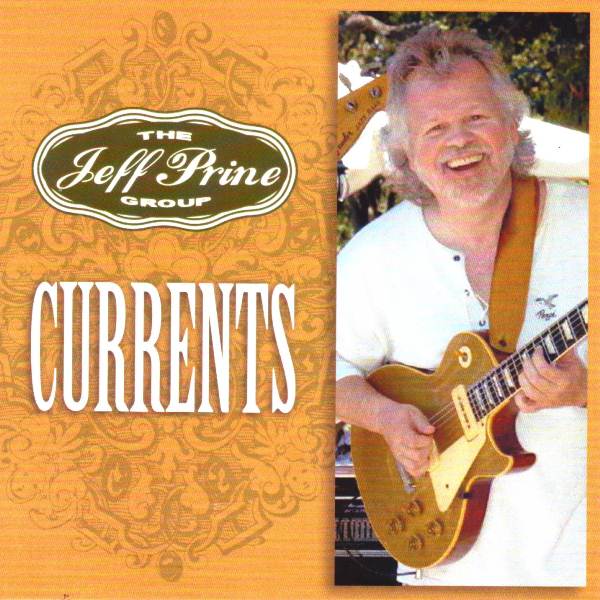 What's there in the set list: songs from "Currents", other songs witted by you, some covers?
There are two covers on my CD. "Woke Up This Morning" (BB King) and "No More Doggin'" that I heard Otis Spann sing with Fleetwood Mac on the "Biggest Thing Since Colossus" album.
When did you record "Currents"?
The rhythm tracks were recorded at the famous Criteria studio "A" in North Miami Beach and the overdubs were done at Atlantic studio in Fort Lauderdale, Florida with the engineer Orly Pinata.
Your website indicates that "Currents" is an EP. There are seven tracks nevertheless and 37 minutes, more than on other records. Why did you call it an EP?
There were supposed to be twelve original compositions but we ran into some complications and will complete those others tunes early 2011.
Among the musicians, there is a bass player (Daniel Prine), a drummer (Jack Ciano), an organ player (Mitch Goldstein) and a pianist (Mike Orta) Is this your regular band?
No with the exception of Mitch Goldstein who is local (we still work a lot together). The other players are out of state.
Can you tell us about this CD?
My agent asked for a studio copy of my live performance of my original compositions and some of the tunes I play live so that what I came up with.
Your guitar sound and a laid back aspect remind me of Dickey Betts, especially his two Arista LPs during the Great Southern era. Is it intentional?
No not at all but when you look at the instrument and amplifier/speaker combination that I employed, this is what you get. It surprised me as well. The guitar is an original 1960 Sunburst Les Paul plugged directly into a 1972 100 watt Marshall Super Lead into a 1972 Marshall 4x12 loaded with two JBL D-120 speakers. The speaker cabs were both 8 ohms so I put the ohms setting on the Head at 4 ohms and that's the sound I got. The slide guitar was a 1961 SG Les Paul tuned to open E tuning. The volume on the Amp was ¾ of the way up and that's the sound we got! Not intentional. Two SM-57 mics were used on the amp. One was close to the speaker cabs and the other was a room mike and we mixed the sound between both and go that sweet sound!
Has "In Memory Of Elizabeth Reed" influenced the writing of "Next Stop Fulton Street?
No not really. The song "Whipping Post" was in 6/8 time and I always loved this time signature, while the tune was written based on a melody I heard somewhere along the way and stuck with me. It's about my train ride to NYC that I took every day from my home in Brooklyn and the stop I got off in downtown Manhattan was Fulton Street.
Can we find the CD only on your website?
Yes, JeffPrineGroup.com.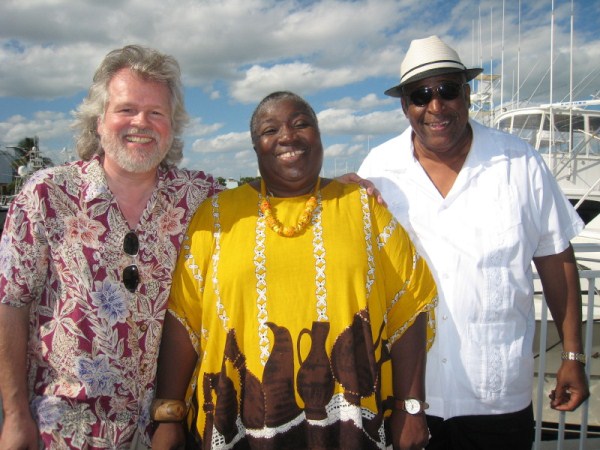 Do you sell it throughout the United States? Also abroad?
My CDs may be purchased directly from my website and yes they are sold in North America and abroad.
Except the Dickey Betts style, do you enjoy others Southern rock styles, such as those proposed by Lynyrd Skynyrd, Molly Hatchet, the Marshall Tucker Band, etc.?
Yes I do but the Allman Brothers Band made an impact on me that stuck with me through the years that I identified with.
What are your favorites Southern rock records?
Hmm!
You have a DVD in the pipeline, can you tell us about?
Yes, I'm working on that as we speak and should be available in early 2011 on my website JeffPrineGroup.com. Last I want to thank you for taking such an interest in my music as well as your listeners and I do hope to meet you one day either there in Europe or here in the U.S. Thank you sincerely. Jeff Prine (not related to John Prine). LOL!!!
Thanks.