Tom Spittle
Rebel Pride
Interview by Luc Brunot.
Original version of the interview published in Bands Of Dixie #47 (November - december 2005)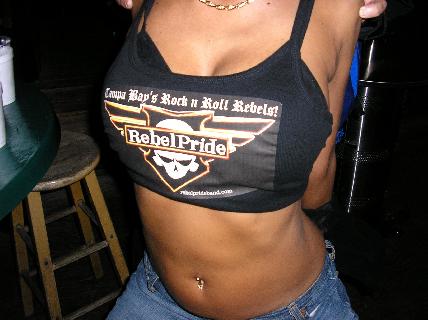 It should be well acknowledged, Southern rock doesn't often give us the occasion to be rapturous on new talents. However, from time to time, a band appears which is worthy of its famous predecessors. It was the case with Eat A Peach, then with Ghost Riders in a recent past. Today Rebel Pride, in a more aggressive niche, positions itself already as one of the leaders of a certain revival of this musical genre. We couldn't resist for Rebel Pride (we are obviously not the only ones) and we had a duty to present to you this "rebellious pride".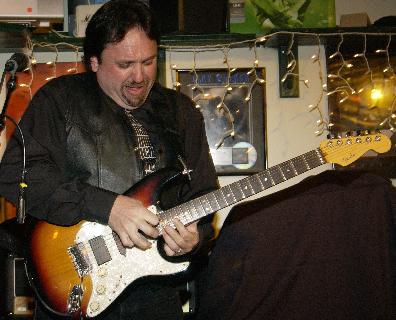 Hello Tom,
l Where does Rebel Pride comes from?
The Tampa Bay Region of Florida USA
When was it born?
The band in its present configuration has been around for two years but Brian, Dave and Tom joined in 1996.
Could you tell us the story of Rebel Pride?
Rebel Pride was originally a country band that played some Southern Rock. In 2000 we became a Southern Rock band that rarely plays country.
Did Rebel Pride record as a country band?
Yes, two CDs. A debut self titled CD and a CD called "Rock Stars and Cowboys". Neither is good representations of the present band and features a singer that betrayed his bandmates in 2001.
Why did you change the kind of music from country to Southern rock?
Brian Dave and Tom were always Southern Rockers. Pat and Sonny too. Brian and Dave were in a Skynyrd tribute band called Second Helping. We only played country to back up a country singer. The style changed to better reflect the influences and tastes of the present band members.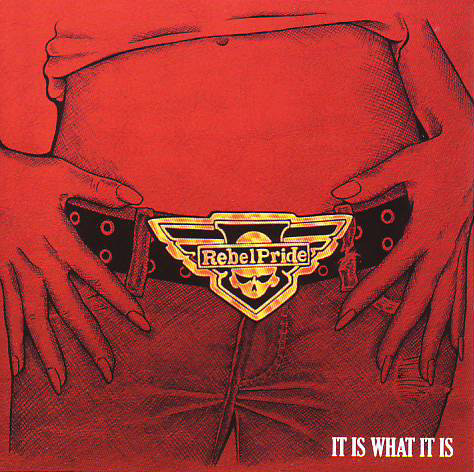 What are the main influences of the band?
Lynyrd Skynyrd, Molly Hatchet, The Outlaws, Stevie Ray Vaughan, The Allman Bros., Marshall Tucker and ZZ Top. Each individual member has additional influences that cover many genres.
Some ingredients of your songs remind me of artists like Johnny Winter, Dickey Betts or the Good Rats. Are they others influences for you?
Who are the Good Rats? I knew of Doc Holiday from allsouthernrock.com and they used to play around here. Dickey Betts is a major influence. I have had the privilege of jamming with him years ago.
How did you discover Southern rock?
Personally, I first heard The Allman Brothers and Charlie Daniels then Marshall Tucker on radio.
A long time ago?
This will prove my age... I heard them when they first hit radio.
How old are you?
Old enough to know better
Could you tell some words of each musician: his age, his influences, his musical past, etc.?
Perhaps each member could answer these questions personally in a follow up interview in the future.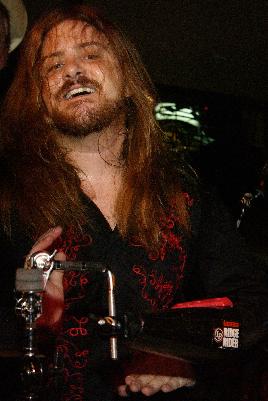 Ok but yours?
I have been studying, performing, teaching and living music my entire life. Many styles Rock, Blues, Jazz, Classical, Folk, Country, Gospel, and more influence me. My ipod holds a lot of rock from AC/DC to ZZ Top but takes many twists and turns along the way. Stevie Ray Vaughn had a profound impact on my guitar playing in the Eighties.
Good Rats, the band I talked above, did a great jazzy hard rock album in 1974 ("Tasty") and this jazzy elements as like as the jazz we can hear sometimes in the music of Dickey Betts remind me some guitar solos of your discs. Maybe it is because of your jazz influences, no?
Could be. I would be very interested in hearing Good Rats.
I see on a photo of the website that you play flute. Was it only at the era of the country band or do you play it still now?
I still play it now on Marshall Tuckers Can't You See and I throw a little Tull into a Chris Ledoux medley we do from our very first country CD called "Eight Second Medley". This tune is a show stopper because it contains two Chris Ledoux songs, "8 Second Ride" and "Long Haired Outlaw" plus references to Bo Diddleys "Hand Jive", Jethro Tull's "Locomotive Breath", "Ghost Riders In the Sky", and Jimi Hendrix "Third Stone from the Sun".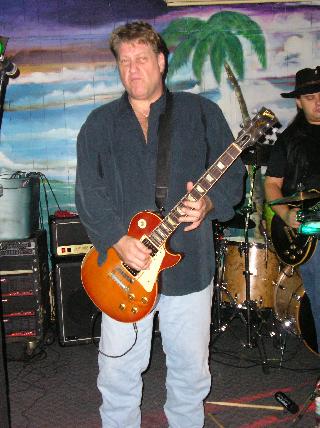 Do the musicians play full time with Rebel Pride or are they doing others things?
Rebel pride is our number one project but the members are involved in other musical and work related ventures.
In other styles?
Blues, a Horn Rock Band and a Christian Rock band for me, plus I teach guitar and drums
The calendar of the concerts on your website show only two dates before September, why?
The Web site is new as of September. We have been steady gigging 50 weeks out of each year for nine years.
Do you share the stages sometimes with others bands?
Yes in the past we have opened for Molly Hatchet four times, backed up Charlie Daniels (one of our favorite weekends), Montgomery Gentry, and have opened for The Dixie Chicks, Kenny Chesney, plus many other country stars in our earlier days playing country music.
Charlie Daniels wasn't with his regular band?
No. for the Charlie Daniels Angelus concert held in the Tampa Bay Area every year we were his band. We also backed Montgomery Gentry, Tommy Cash, Jeff Carlson and more and we played our own show that weekend. It's an awesome benefit show put on by Charlie and raises allot of money to help people with Cerebral Palsy at The Angelus House. That weekend was a real highlight in my musical life.
What is your set list?
We offer a 90 minute concert performance of all original material. For our cover shows, we play hours of our favorite Southern and Classic Rock heroes.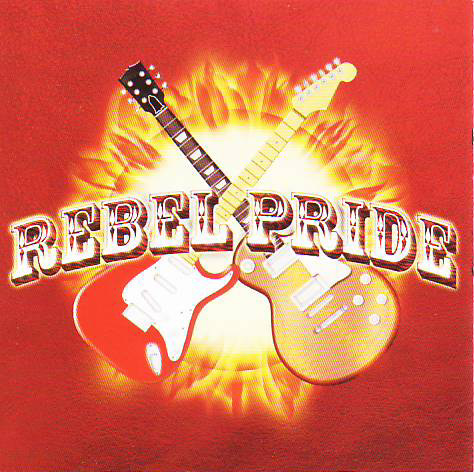 Some examples of covers?
We prefer to do our original show but when we do cover a dozen or so Skynyrd songs including "Freebird". We do "Green Grass", "3 Steps", "Train Train", "Pride and Joy", "Gator Country", "Flirtin' with Disaster", "One Way Out", "Whippin' Post" and more Southern Rock dance favorites.
Do you play two different types of shows? What are these cover shows?
Yes. The cover shows are for clubs. Original shows are for concerts, festivals, and benefits.
When did you record you this first disc?
The "It Is What It Is" disc was recorded during a few nights of May 2005
Could you tell us how it was recorded? Was it easy?
It was recorded live in Zen Studios St. Petersburg, Florida by Steve Connelly. A few overdubs were added later. Yes, it came very easy after having road tested the new songs over a six-month period.
The credits tell that the eight songs are written by Rebel Pride. Do you work all together?
The Publishing arranging is done by all five members and the individual song writing credits are as follows:
1. Stomp Yer Foots - Pat Buffo, Brian Jeffries
2. GITITON - Pat Buffo, Brian Jeffries
3. Tampa Bay Worksong - Brian Jeffries
4. Getting' Closer - Pat Buffo, Brian Jeffries
5. Slippin'Away - Pat Buffo, Brian Jeffries
6. The Hard Way - Sonny Harlan
7. Drop The Ball - Tom Spittle, Pat Buffo
8. Survive - Pat Buffo, Brian Jeffries, Tom Spittle, Dave Stevenson, Sonny Harlan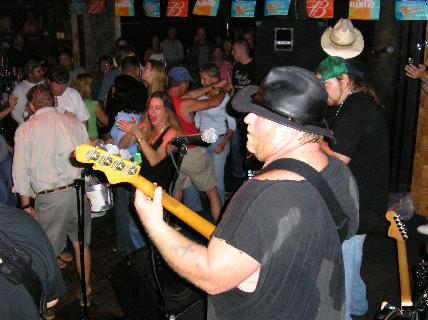 Why is "GITITON" write this way, all in capital letters, without space?
Just a fun play on words.
How do you share the guitar works between guitarists?
I sometimes take the first solos and Brian plays the second we both share rhythm chords and Pat adds a third part when needed. Sonny plays great guitar also but only pulls it out to show us songs he writes.
Does Pat play some solos?
Not on the new disc but at the shows he takes a lead on Stevie Ray's "Leave My Girl Alone".
The construction of "Survive" reminds us Southern rock anthems like ""Freebird", "Highway Song" or "Lonesome Guitar". Were these songs in your mind when you wrote yours?
Yes for the music we wanted our own Southern Rock Anthem like "Green Grass" or "Freebird" or "Highway Song". The words (and most are conceived by Pat) are about Florida's depleting natural resources and urban sprawl. I've never heard "Lonesome Guitar". Send me a link.
It is curious because the second part of "Survive" with this long guitars part remind me more "Lonesome Guitar" from Doc Holliday than "Green Grass" or "Free Bird".
I am definitely gonna ask allsouthernrock.com to play me that one now.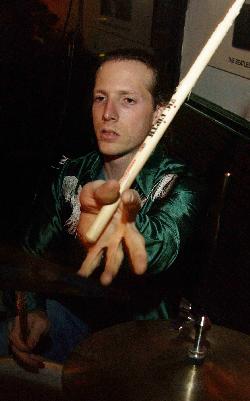 I suppose that you end your show with this song?
That is true. When we do more than one set we end the set with either "Freebird", "Green Grass" or "Survive" off our CD.
Are you satisfied by the quality of this first CD?
It was some thing we needed to get off our chests and into the hands of our fans immediately. Quality and polish or lack of contributed to the naming of the disc.
Your album is available since October 1. Has it sold well?
We have sold well and have placed another order for more CDs from the manufacturer.
Is it sold only through the web?
No. We also sell at our shows.
Do you sell only in Florida, or in the South or everywhere in the USA?
We sell worldwide.
I know that your disc is available in Germany. It's soon but does it work well in this country and in Europe?
The disc has received awesome response in Europe. It has far exceeded our expectations.
Finally, do you sell more in Europe than in the States?
At the present time yes more CDs seem to headed towards Europe but not by much.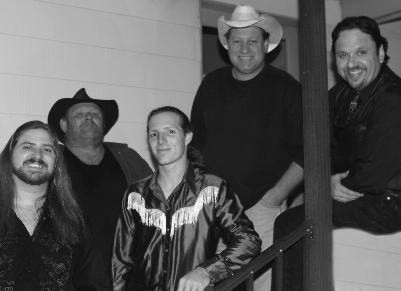 Do you have you some airplays?
Yes. In Europe and in the States. Allsouthernrock.com has been one of our strongest supporters.
Is this disc a turning point for you? With it, do you have opportunities to play more?
This disc is the first release of all original material written by the band members exclusively. We hope to support its release with many shows.
Are you searching for a label or a distribution all over the USA?
Yes, and in Europe. We have enjoyed doing it all ourselves but would like wider distribution.
For me, your record is the best hard Southern rock album maybe since Molly Hatchet's "No Guts... No Glory" in 1983. Are you conscious you have made a big CD of Southern rock?
Thanks Luc that's a great compliment. Can we quote that for our website?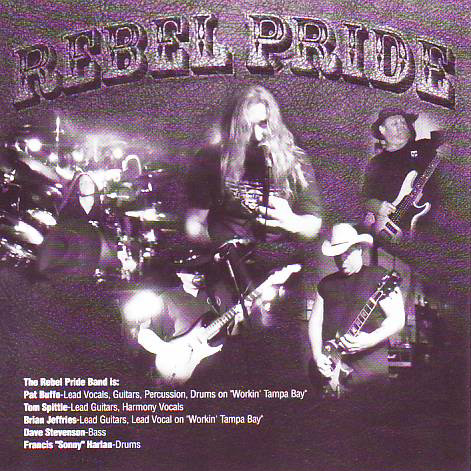 Will you record again soon?
We have five new songs being road tested for our next release and will record those and more in the spring of 2006.
What are your ambitions?
A world tour, platinum CD sales, airplay, fans by the millions and rewards for our years of hard work. We like to dream big and then chip away one day at a time.
Do you know other new good Southern Rock bands like you?
New? There's not a lot of new southern rock showing up on our radar screens. We do our best to keep the flame burning, we hope there are more. Check out Allsouthernrock.com they expose new Southern Rock talent.
Tom, what are your favorites Southern rock albums?
My personal favorites are Stevie Ray Vaughn, The Dixie Dregs, Allman Bros. (only box set I own) and Eric Johnson recordings.
Many thanks.