Christopher Satterfield
Interview by Luc Brunot.
Original version of the interview published in Bands Of Dixie #93 (July - August 2013)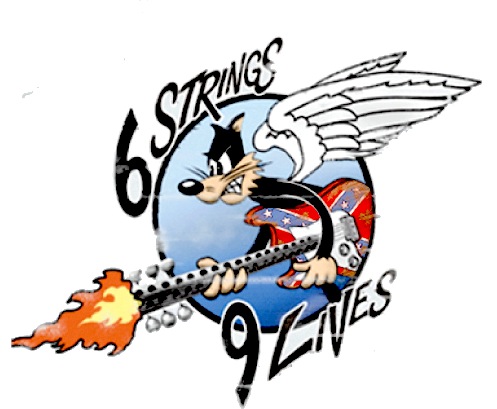 Christopher Satterfield's career is pretty amazing as it took off in France as the musical director for Carole Fredericks before a period of intense touring as a power trio. After a difficult period and a return to his native Florida, he relaunches his career with "6 Strings 9 Lives", where he finds a balance between the power trio and the Southern rock.
Hello Christopher,
you have a unique past for us because you lived here in France for a time. What did you do musically before you came to France? Did you play in some bands? What kinds of music did you play?
Before I moved to France, I was playing guitar full time, because I decided early on that is what I wanted to do. I'd play, or try to play just about anything from Rock, Southern Rock, Country, Blues, and Funk. These were mostly cover bands and we'd play all over the state of Florida. I also did some sessions, and taught guitar.
From when to when did you live in France?
I came to France in 1990 and stayed until the end of 2003.
Carole Fredericks was already living in France when you came. Although she was Taj Mahal's sister, she was more known in France for the reason she recorded with Jean Jacques Goldman and Michael Jones. You worked with her four years. Could you tell about that period?
I met Carole while doing session work at studio Davout in Paris. I actually played guitar behind quite a few French pop groups at that time. Carole and I hit it off right away. We did sessions together and became quite close. I didn't know she was Taj Mahal's sister until much later.
One day out of the blue, Carole contacted me explaining she had a solo project in the works, and offered me the job as her musical director/ guitarist. This was a huge turning point in my career because I was really struggling at the time.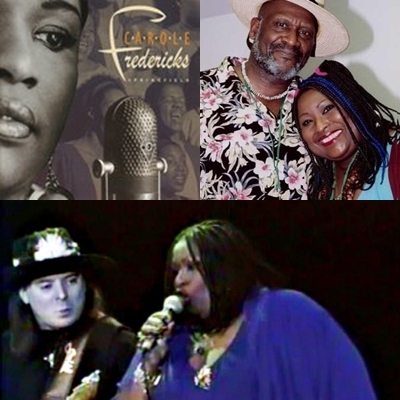 We actually toured before Carole had an album out, we called ourselves "Carole Fredericks and the Dragons", had a horn section, played soul, R&B even Stevie Ray's "Couldn't Stand the Weather". The shows were incredible, Carole was fantastic live; she poured her heart and soul into every note, absolutely one of the great voices of all time. Before that the biggest thing I ever played was a bar and now I was head lining with Carole Fredericks in front of thousands and I was leading the band! It was unbelievable, really.
When we recorded "Springfield", it was like a dream come true. I was working with all these amazing players and producers, Jean Jacques and Robert Goldman, Eric Benzi, Taj Mahal, and all the people from BMG/ Sony.
Carole and I had co written "No Rain". I remember recording it just after Taj and Carole's song, "You Had It Coming". Again, I have to say Carole was fantastic in the studio, I mean a real pro. She really never did more than one take, and did all these amazing background harmonies. I really gave my all on that record and everyone treated me fantastically. Again, I had gone from cheap 8 track studios, broken mics and gear to a world-class recording studio, state of the art studio gear and working with the biggest names in the business.
After that my life changed completely and shortly there after I signed a solo deal with Night and Day Records.
Almost everything I learned in the music business I learned from Carole Fredericks, things I still apply to this very day, even as recently as my "6 Strings 9 lives" album. From writing songs, touring to dealing with promoters and record labels.
Carole was a kind and generous person, my best friend, and a big time artist. I learned so much from her and am eternally grateful and blessed to have had the chance to know her. I really miss her and still think of her often.
What did you do after the Carole Fredericks days up until the time you decided to record your new CD?
After Carole, I signed my solo deal with Night And Day Records. I recorded a solo record called "Drivin" in about two days. I had originally recorded all the tracks for this Bass player I found, who had this fantastic voice. Then, at the last minute, the management told me I had to do all the lead vocals! Although the songs were written in another key! So the album was very uneven and disappointing. However, we toured all over France, Switzerland and Germany and did quite well actually. I had a fantastic power trio band with Manu Ducloux, on bass, and Amaury Blanchard on drums. We were playing songs for the album and did a lot of Stevie Ray and Hendrix stuff, plus doing the guitar show thing.
After the "Drivin" album, I changed management completely. Started touring like mad, changed our line up had Frank Bardé' on drums and Manu Ducloux still on bass, which was basically the rhythm section for Manau. Later we brought in Thierry Legall on drums, who was just amazing.
Then we went to Germany to record a new album. We had a super hot band by that point, and most of our shows sold out, but we had terrible management, we even got contacted to open for BB King, and Johnny Winter and the management said yea we'll get back to you. I got hospitalized in Switzerland due to exhaustion; the new record got tied up due to legal issues. Carole had just died and the whole thing just fell off the rails.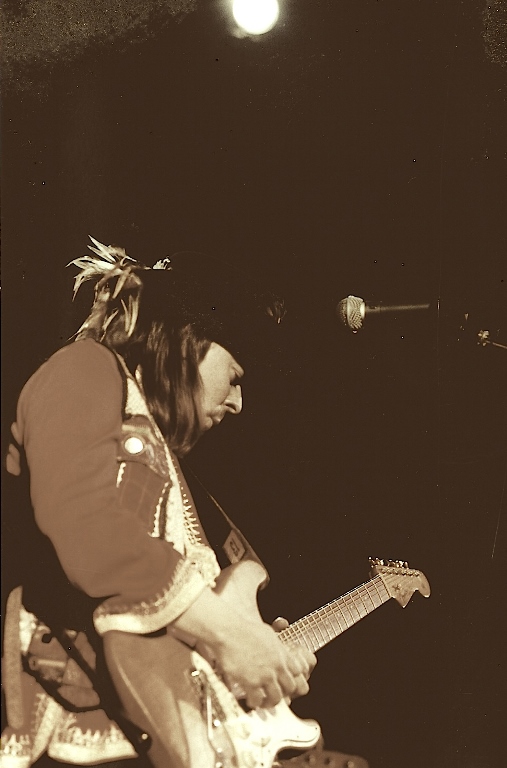 I was pretty lost at that point, but I did sign a new contract with Publiprod to do a more commercial Blues Rock/Southern Rock album. The record was quite good actually so we shopped it around to all the major labels, but things were starting to change in the industry at that time, and although we had some smaller offers, my manager at that time Charles was not interested. Those tapes have since come back to me and I hope to rerelease it this year sometime.
At that point, I was pretty fed up with it all, my contract ended, and I started having a lot of personal problems as well as some health issues, so I just said the hell with it. I'm going back to Florida, which I did.
So for the first couple of years back in the United States I was just trying to put my life back together, and things had changed so much I actually felt like a stranger in my own country because I had lived in Europe so long, plus I really missed France but a nasty divorce kept me from returning. And I became very depressed. I hardly even touched a guitar or thought about music for a time.
Eventually a friend of mine Skip Frye, Larry Howard's guitar player, called and asked if I would be interested in teaching for Guitar Center, he was managing the place at the time. I agreed and that really helped me get back into playing guitar again. For that, I am very grateful to Skip, he helped me get back on my feet. The teaching gig got my chops back and I was able to help others at the same time. This made me realize what a true gift music really is.
That next summer, my son Robin who lives in Paris was visiting me and said "papa you should make a record again" and that people still asked about me. So I thought OK my life is good right now I really worked out a lot of issues, I felt like a better person, I was happy for the first time in a long time. My playing was back on track. I knew I still had something to say on guitar and stories to tell and I was longing to record and play again.
From when to when did you record "6 Strings 9 Lives"?
"6 Strings 9 lives" was written and recorded between January and July of 2012. I wrote everything, did all the arrangements even the bass parts. I composed pretty much a song every week until I had nothing left to say either musically or lyrically. Each song telling a story that happened in my life up until now, what I've been doing, what I've done, seen or experienced. I think there is only one song I didn't use. .
Did you have a band at that time? Or did you hire players for the recording project? Could you give us few words about Larry Albritton (vocals) and Ian Goodman (drums)?
I knew that the vocal arrangements were out of my range so I auditioned singers, eventually settling on Larry (Albritton). I was very fortunate to find him, and the songs just really seemed to click. He sang like he wrote them and did an amazing job.
Larry has a perfect Southern Rock voice and styling, a natural singer, but more than that a super nice humble guy and now a good friend. He's a pretty big boy though and I wouldn't want to tangle with him, he's about as southern as you can get, Bartow Florida, can't get any more red neck than that!
Ian Goodman was a session guy who grew up in Jacksonville who came in and did a fantastic job as well, so it was basically just Larry and I who really worked the most closely together, sort of a two-man band!
Our touring line up will include a new bassist and drummer. However, I have been in contact with my former bassist Manu Ducloux, who is working with Keith B. Brown at the moment.
I've read that the album is not in a typical Southern Rock format and yes, often, the structure of your songs is quite different from the usual traditional Southern rock songs. How do you define and built your songs structures?
But at the end, it sounds really like Southern rock. Is it due to the guitars you play sometimes maybe in a Lynyrd Skynyrd vein (slide) or with a harmony approach? Do you have others recipes to obtain this result? It seems the guitar made from time to time some nods in the direction of some historic Southern rock bands. Was it your intention?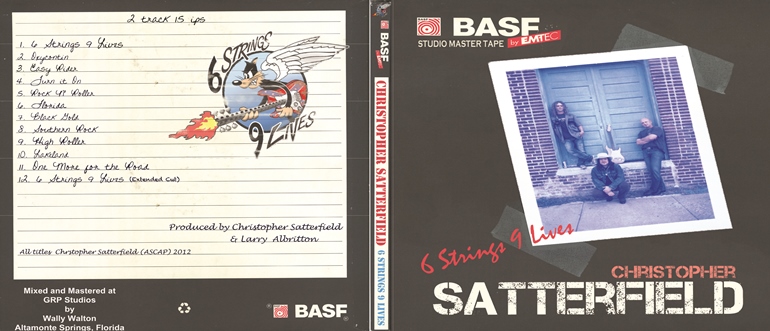 This is a great question, shows you really know your southern rock Luc. You see, perhaps those who saw me play a while back heard me play a lot of power trio blues-rock guitar, and songs with, of course a bit of southern influence. At that time I was still finding my way, searching because I loved Power trio Blues and Southern Rock and Roll and couldn't reconcile the two styles.
So later I thought well, if God ever blesses me with a chance to record another album, that is what I'd like to do, a power trio based southern rock record, just bass, drums and guitar. I had the idea in my head for quite sometime. I mean playing other peoples music is great and all that, and you hope people enjoy it. But you just can't go out and just copy Lynyrd Skynyrd or Stevie Ray Vaughn, and have much to say because those bands had to find there own voice, to express themselves. However our musical environment influences all of us.
So hopefully I found sort of' my own wavelength to communicate on, or canvas to paint on albeit expressing in the genre of Southern Rock. I feel one of the biggest battles is not to sound like someone else. So instead of three guitars, I used only one, just rock drums and bass. I tried to stay within a power trio format and structure, with the exception of some harmony guitar parts.
Wally Walton and Greg Rike Studios who recorded the Outlaws and Molly Hatchet among many others asked me basically the same thing. And of course this is just my opinion:
I just believe that those bands were just playing rock and roll riffs, licks and solos of the rock that was popular at that time: British blues, Hendrix, Clapton, Free, Led Zeppelin, etc., but in their unique way stemming from their environment, which was the Southern part of the United States, which is a melting pot of Rock and Roll, Blues, Jazz, Country, Bluegrass, and Rockabilly.
Now you take those same rock riffs and licks and place them in that environment, and there you go Southern Rock! That was how they expressed themselves in rock and roll at that time, and that is why they didn't like being called "Southern Rock". They just thought of themselves as a rock band, which happened to be from the south.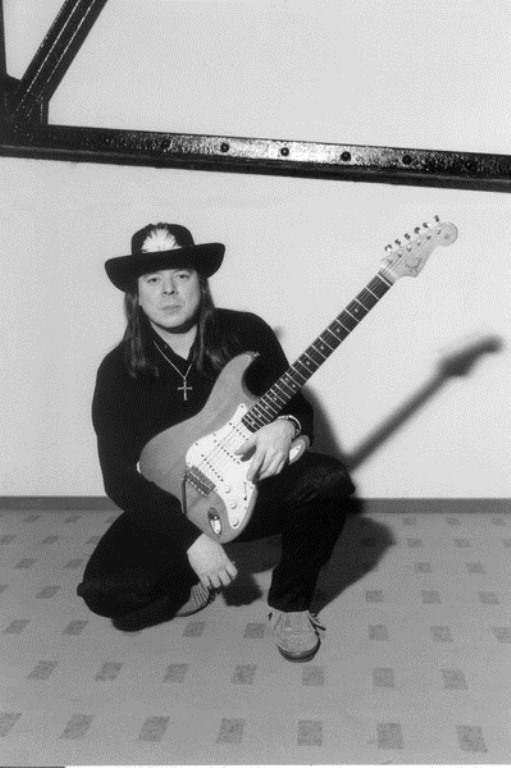 So although some of my songs lean in a more traditional Southern Rock direction, or do have that sound, it was very unintentional. I was basically just playing rock and roll blues stuff with a bottleneck slide guitar, in the southern environment where I now live and where I grew up and was influenced. So to answer your question:
I am using a blues-rock song structure, and riffs with some bottleneck slide guitar, rock guitar solos, drums and bass with a very southern sounding lead vocal.
That's the recipe!
Les Dudek is playing on the two versions of the title song. How did that come about?
Les Dudek and I came in contact through a common friend of ours, Tom, who is also a guitarist. Tom had heard some of the songs from "6 Strings 9 Lives", and thought Les might be interested in playing on the project since it was Southern Rock. The next thing I know there's Les Dudek showing up on his huge Harley Davidson.
So we listened to a few songs, and decided on the title track. So then Dudek plugs into this cranked 5o watt Marshall Jubilee and just starts ripping it was really exciting. Well, the funny thing is my wife who is Asian had just made this plate of egg rolls and Les just loved em. So he would play these amazing takes then stop, drink a beer eat a egg roll, pick the guitar back up and then play these killer guitar licks! And this went on all afternoon. And we put down some exceptional guitar work. Then he just rode off on his Harley into the night. Les is a very intense guy.
At that point, there was all this great guitar work that I didn't want to go to waste, and the first version of "6 Strings 9 Lives" was pretty much complete. So I decided to record a separate extended version where Les played all the solos and fills and I just played rhythm guitar. So he could be featured. My favorite solo of his was the slide second solo. It is so authentic and sounds so much like Duane it gave me chills.
For me having Les Dudek play on my record was a real highlight of my career. He is really a musician's musician, and a true pioneer of Southern Rock, and one of the great guitarists alive today. A prince of a guy who helped me out in so many ways, I learned a great deal from him, just being around him. Les is a true rock legend; a heavyweight cat. I am blessed to have had the chance to work with him, get to know him and proud that he played on my record.
On "Lakeland", Jon Corneal, who played for Gram Parsons and the Byrds, is on drums. Why do you call him the "first drummer of southern rock"?
Again, Jon came to us through a friend! I guess when you're recording Southern Rock in the south especially around here in Florida, word gets out pretty quickly. I really had no idea who he was so I went home and looked him up, and wow! I couldn't believe what this guy had accomplished! Believe it or not he is listed historically down to a virtual certainty as the first drummer of country rock.
Well, all of the drum tracks were completed by then but I had one more song left, "Lakeland" which was all acoustic at the time so I just thought OK let's see if this guy can play on this.
So Jon shows up, just this quiet little guy holding his bag of sticks, so we chat for a moment, he listens to the song and, I kid you not, says "Yea this is like a Warren Zevon song I recorded once". So we roll the tape and he just sits there and we are waiting and nothing happens, and this goes on for about two maybe three passes, and the he says OK, we roll the song! One pass bam! A perfect take! I mean talk about a pro. Wow! we all just stood around smiling and laughing, amazed. One take three minutes and the song was complete. Jon is really what made "Lakeland" sound so much better and authentic.
Jon Corneal is a very kind and humble human being, and was there at the start of it all, he really has a lot of interesting to say and is still a fantastic drummer, he actually told me about playing on the first Country / Southern Rock recording ever with Gram Parsons. So for me this was like getting back to the source of it all. Again I am blessed and honored to have had the chance to work with him. And proud he played on our record.
What are your plans now? Will you tour in the US and in Europe?
Yes, I do plan to tour in both the US and Europe. Starting with Europe, we are working out the contract details, as we speak for dates in France, Germany and Switzerland, this summer beginning in July, to introduce the new album, "6 Strings 9 Lives".
I'd just like to say thanks Luc for giving us the chance to be heard, and what an honor it is for me to be included on your radio show, and interviewed for Bands of Dixie! You are a true friend of Southern Rock!