Rick Cash
Silver Travis
Interview by Luc Brunot.
Original version of the interview published in Bands Of Dixie #68 (May - June 2009)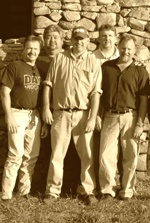 « From Spartanburg, South Carolina... the Silver Travis Band! »
A strange name, an unusual history of a band from the early eighties, that comes back again more than twenty years later, to release his first two albums and above all, a great deal of talent... Here is a band to watch closely. To know about Silver Travis, Bands of Dixie met his singer, Rick Cash.
Hello Rick
Could you introduce us the Silver Travis musicians? Who are they? What are their musical histories, their influences?
I would love to introduce my brothers of the road to you. On lead guitar is Randall Calvert, on bass is Joey Parrish, on drums we have Mike Satterfield, on acoustic and electric guitars we have our rhythm man John Gillie, and myself on vocals. Each of us was highly influenced by Southern Rock powerhouses such as Marshall Tucker, Allman Brothers, Lynyrd Skynyrd, Doobie Brothers and Charlie Daniels.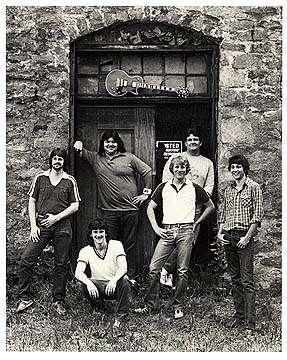 Silver Travis is born in 1981. Was the band line-up the same?
We actually had another guitarist and writer by the name of Steve "Guitar" Harvey. The rest of the band was the same with me, Randall, Joey and Mike rounding out the five.
Why this Silver Travis name?
Funny story of how the name came about. The band wanted to honor Civil War General Robert E. Lee and decided on the name "Travis" because we thought that was the name of Lee's horse. Well the color "Silver" was thrown in there to make it stand out a bit more. Later it was discovered that General Lee's horse was actually named "Traveller" but it was too late because the band had t-shirt already printed. So Silver Travis it was!!
How was the band created?
The Silver Travis Band was originally formed by Randall and Mike. They had played together while at Dorman High School. Joey was playing with a local Beach music band when he was recruited for The Silver Travis Band. Steve Harvey was added as second guitarist. I joined the band in December of 1980.
What were and are your links with the Marshall Tucker Band?
Marshall Tucker is from our hometown of Spartanburg, South Carolina. We grew up listening to and idolizing these guys and their music. Later on thru the years we got to know some of them by hanging around and playing in the local music scene. We all have a touch of MTB influences in our musical styles.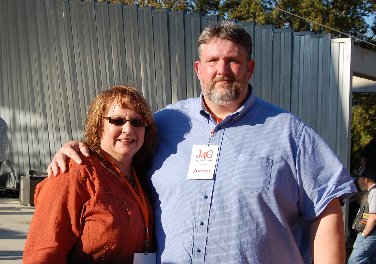 Southern rock and Marshall Tucker Band fans have in their mind the band introduction from the live part of "Where We All Belong": « From Spartanburg, South Carolina, Capricorn recording artist, the Marshall Tucker Band...». Spartanburg is also the Silver Travis hometown but the town is unknown in Europe. Could you tell us about it? How many people? What is the economic activity?
Spartanburg is located in the foothills (Northwestern part) of South Carolina and has a population of around 295,000 people. The town of Spartanburg was incorporated in 1831 and later as a city in 1880 by the 13 Original States and Tennessee. The textile industry has long been a staple of the town's economic success.
The band broke up in the eighties. When was it?
In December of 1983 the band played a string of gigs up the East coast and our tour bus gave out. The engine blew and we really didn't have the money to have it repaired. A few weeks away from playing turned into a few months and before we knew it each of us had other interests arise in our lives. Most of the guys had gotten full time jobs and were going to college and I ended up getting engaged to be married.
What was the Silver Travis history during this era, until 1983?
In the early 1980's music was our life, it was our career at that time. Silver Travis stayed busy playing clubs up and down the East coast and also as an opening act for bands like 38 Special, George Hatcher etc.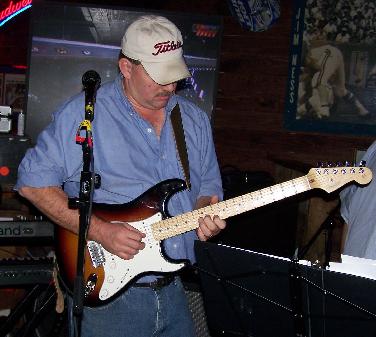 On your web site (
www.silvertravis.com
), it's possible to listen to the 45 record you released in 1982. Could you tell us about it?
We recorded the record at Creative Arts studio owned by the Marshall Tucker Band. Randy Merriman who is now engineering in Nashville ran the studio for MTB. We had recorded a few demo tapes there and Randy told us we should record a 45. The A-Side of the record was a ballad written by myself and Steve Harvey called "Baby It's True" and the B-Side was a rocker written by Harvey called "Web Of Love". "Baby It's True" got quite a bit of air play along the East coast.
Which look do you have on it after more than a quarter of century?
WOW, a quarter of a century? Seems like it was just yesterday! We have as much fun playing now as we did back then. Only differences are we're just a few years older, a little more gray in the hair and a few pounds heavier... Ok, ok maybe some of us are more than a few pounds heavier but we love it all just the same.
Why didn't you record a LP?
Funds were tight in 1982 so we decided to just go with the 45 instead of recording a full album.
What did the band play at this time?
We played a lot of Marshall Tucker, Allman Brothers, Skynyrd, Molly Hatchet, Outlaws, and Atlanta Rhythm Section just to name a few. We also had our own catalog of original material that we mixed in with our show.
I also see on your site that you shared the stage with 38 Special and George Hatcher. It's funny, we just interviewed him. Could you talk a couple of words on the memories you have on him?
In 1982 we opened a show with The George Hatcher Band at Spartanburg Memorial Auditorium. We were all fans of Hatcher's music and that was a highlight of our early years for sure. To this day "Coming Home" is one of my all-time favorite tunes. It was exciting for us to see George and some of his band members actually enjoying our set from side stage.
The band reunited again in 2005. Why?
The band reunion was by pure chance. In 2004 a few of the guys had run into each other and started talking about old times. Next thing you know we were all talking to each other on the phone and before you know it we were getting together on Sunday afternoons to pass some time playing some of the old songs. Well one thing led to another and here we are two CD's later. We now say that as long as the crowds enjoy the music, we'll continue playing.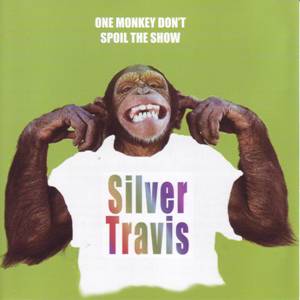 What did you do during this period when Silver Travis didn't exist no more?
I played with a few bands thru the 1980's and 90's. One of the groups I played with in my post/pre Silver Travis days was called Double Shot that employed Stuart Swanlund of MTB on guitar and my old buddy Mark Burrell from The Toy Caldwell Band on drums. I played in a number of bands with Burrell and our bass man Joey in the 90's. Randall also played in a couple of those groups. Randall played in the 90's with a group called "The Regulators". Mike played some around town in a few club bands with his uncle Don.
In 2005, "One Monkey Don't Spoil The Show" was your first CD. Were these twelve songs old songs of the band?
A few of the songs from our first CD were written in the earlier years but we had never performed or recorded them with the early Silver Travis Band.
You produced the disc by yourself. How did it work? Did you have an experience in this field before?
We all had quite a bit of input into the production of both of our CD's. We welcome ideas from each band member as well as outside influences such as Tim and Rusty at Mill Street Recording in coming up with our final product.
Was the disc successful?
To us "One Monkey" was very successful. We sold a few thousand copies here locally and at our shows and close to another 1000 in Europe.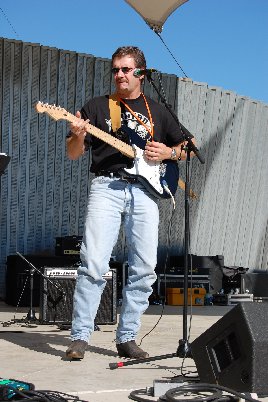 You were the backing band of Bonnie Bramlett. How did it happen?
Our good friend and publicist Michael "Buffalo" Smith was having a benefit concert called "Gritz Fest" that included Bonnie Bramlett, Tommy Crain (formerly of Charlie Daniels Band) new blues band The Allstars, Mark Burrell and Tony Heatherly of the Toy Caldwell Band and many others. Bonnie's regular backing band wasn't able to make it so The Silver Travis Band stepped in and played a set with her. It was a highlight for all of us.
When was it and how long lasted it?
The concert was in 2005 and I think the set was around 40 minutes or so.
What are your other great memories on stage? Your best moments with others artists?
Two memorable moments for me happened at Buffaloes "Gritz Fest" back in 2005. I was fortunate enough to sing Toy Caldwell's "This Old Cowboy" with a group that consisted of Mark (drums) and Tony (bass) from Toy's band, Tommy Crain, Mark Emerick from "Commander Cody" and a few others. Another highlight from the same evening was when Bonnie Bramlett came on stage and sang harmony with me. Performing at "Gritz Fest" with such a great line-up was a memorable night for all of us.
In which area do you mostly tour?
These days we stay as close to home as possible and usually play gigs in North and South Carolina. We usually take winter months off with our families so our playing season usually runs from Spring to November. We mostly play outdoor Festivals and college gigs and are always willing to lend our time and effort for benefit concerts.
Is your set list very different from the eighties' one?
We still play some of the same old standards like "Sweet Home Alabama", "Can't You See", "This Old Cowboy", "Stormy Monday" and "Southbound" and a few others because they are crowd favorites. I would say around 40% of our show is cover material and the rest is our originals.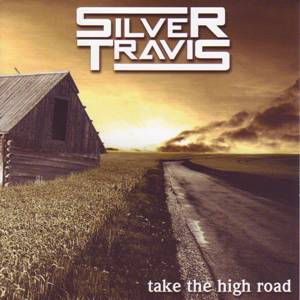 John Gillie replaces today Danny Siegfrield. Why this change?
Danny had a pretty gruesome schedule with work and his family and just didn't have the time to devote to the band. When we found John Gillie to step in on rhythm we never missed a beat. He's one of the family, it's like he's always been a part of The Silver Travis Band.
He's credited only on rhythm and acoustic guitar. He never takes a solo?
He is content to hold down the rhythm section while Calvert takes the leads. Not only is he one of the best songwriters I've ever known, John is a jack of all trades. He even jumps on the drums every now and then at rehearsal to show us a beat or two for a new original he may be working on.
Tim Lawter and Rusty Milner, who were part of the Marshall Tucker Band, took part in the making of your new disc. What was their role?
It was truly a pleasure working with these guys at their "Mill Street Recording" studio in Inman, S.C. Tim did all of the mixing as well as some producing for the project. Rusty mastered the final product.
The sound of this disc is different, less quiet, more rock. Is it due to them?
Southern Rock is our roots but we have a wide variety of musical interests and don't want the band to be categorized in a single genre. We tried to give our fans a wide variety on this CD.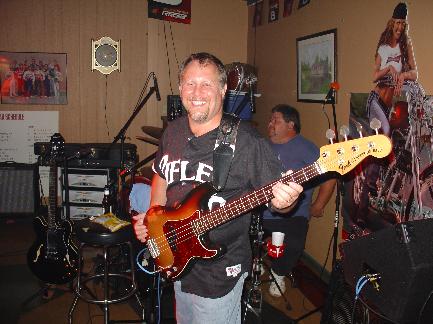 Paul Riddle and Jerry Eubanks appear on "El Segundo". Is Jerry playing both flute and sax?
We were very excited to have these two play on our CD. Jerry does play both the flute and sax and Paul plays the drums.
For this disc, you've only worked with former members of the Marshall Tucker Band. Why not with present members?
We've been fortunate and blessed to have the opportunity to work with members of MTB. The present band stays very busy and doesn't have much time off. If time permits in the future, it would be a pleasure to work with them.
What were the differences between the recordings of your two CD's?
We recorded our first CD at a very small studio just outside of Spartanburg and it simply was not the state of the art facility that Tim and Rusty have. We're very proud of our first CD but the quality of the recording just wasn't the same as our new release "Take The High Road".
Do you like to be in studio to record?
The Silver Travis Band always feels right at home in the studio. It's a time to get away from the everyday grind and be able to concentrate on nothing but the music we love playing. We have most of the material ready for a third CD and hope to be back in the studio with Tim and Rusty within the next few months.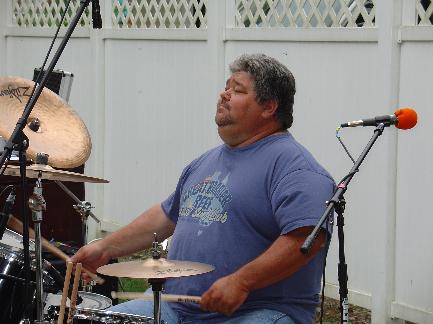 Randall Calvert is the lead guitarist but also the main writer. And he writes very beautiful tunes. He's really gifted, no?
Randall is one of the most gifted musicians to come from this area. You can hear a taste of Toy Caldwell in his playing but he has his own style as well. To fully appreciate this guy's talent you have to see him perform live!! He always leaves the audience wanting more.
What is the future of Silver Travis? What are the future projects?
It's almost Spring and The Silver Travis Band is gearing up for a big 2009. We're going to be promoting our new CD with a few release parties throughout the Southeast as well as playing at all of our favorite Festivals. Be on the lookout for a third CD in 2010. You can also keep up with the bands projects by visiting our website www.silvertravis.com.
Will you again try to change the musical style with the third release?
We've never really changed our musical styles. We incorporate our diverse musical interests into our music. In the end our Southern Rock roots always seem to shine thru especially live.
Is a DVD conceivable? We'd like to see, in Europe, the Silver Travis Band!
We have one DVD from show in 2008 called Whipfest. We have it for our on personal use and have never really thought about putting it out there for others to see. Maybe that's something we should consider. As for traveling to Europe, that would be a dream come true for Silver Travis
How could you define Southern rock?
Southern Rock is music for the soul. It can get your heart thumping with some blazing guitar riffs and it can fill the soul with beautiful melodies like Skynyrd's "Tuesday's Gone".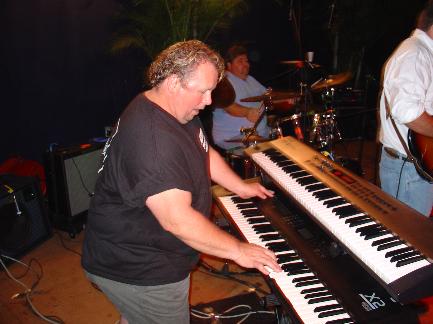 Do you know young bands playing this style?
Southern Rock is again very popular in this area. In the past few years Southern Rock has seen resurgence all over the world. You can hear Southern Rock influences in many different genres these days including Rock and Country. Just shows you the power of good music.
What are your favorite Southern rock albums?
Man there has been so many great albums through the years. I'll try to narrow it down to a few of my favorites that I still listen to frequently.
"Eat A Peach" - Allman Brothers
"Where We All Belong" - Marshall Tucker
"A New Life" - Marshall Tucker
"Carolina Dreams" - Marshall Tucker
"One More From The Road" - Lynyrd Skynyrd
"Street Survivors" - Lynyrd Skynyrd
"Wild Eyed Southern Boy" - 38 Special
Thanks.