John Rehmel
Southern Thunder Project
Original version of the interview published in Bands Of Dixie #105 (July - August 2015)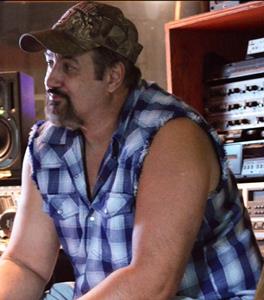 Southern rock is traditionally a matter of bands and, this, maybe even more than elsewhere. By the way, the "Band" term is frequently used in Southern rock group names, and browse the issue #50 of your favorite magazine and you'll see that all the fifty best releases have been made by bands. But now is appearing an other form of creative organization, still collective, but more punctual and bringing together musicians from different origins. First were Brothers Of The Southland, then Dixie Tabernacle and - to some extent - Dusty King James and now comes the Southern Thunder Project. John Rehmel tells us about this project.
Hello John,
Who are you? I know you're a songwriter but could you introduce yourself. Where are you from? What is your musical history?
My name is John Rehmel and I'm from Hymera, Indiana. I have been writing songs for a long time, and just recently decided to put out an album of my songs with some great musicians that make up the Southern Thunder Project that is Southern Rock and Blues.
Are you a full time songwriter?
Yes, I am a full time songwriter. I'm hoping the new album helps get the word out to people and get some songs out on other musician's albums.
I've read I believe you wrote before this project more in a Country vein?
I have written some country songs but no... this album is pure southern rock and blues rock.
Are you also a musician?
I am a guitar strummer. Not a super player but, good enough to write songs. I'm playing a lot more to get better. Would love to get skilled enough to play live with some bands. Until then I'll just keep on writing songs and practicing.
I've read that the idea was suggested by Greg Martin of the Kent. Headhunters, no?
Yes, Greg Martin the great guitarist of the Kentucky Headhunters influenced me to do the album project. I was having a tough time trying to get other artists to record songs of mine on their albums so he said «Why don't you just do your own album of your songs?» So I got ahold of some top musicians and we started rocking in the studio.
This kind of project is not very usual but I notice that another member of the Kentucky Headhunters, Doug Phelps is part of a similar project, Dixie Tabernacle of Larry Goad. Do you know it?
Yes, Doug plays with Dixie Tabernacle when not doing shows with the Kentucky Headhunters. Larry Goad is great as is Jimmy Hall. I think Ed King of Lynyrd Skynyrd fame did a couple of shows with them. Also Greg Martin has his band Greg Martin group when he is not rockin' the stage for the Headhunters.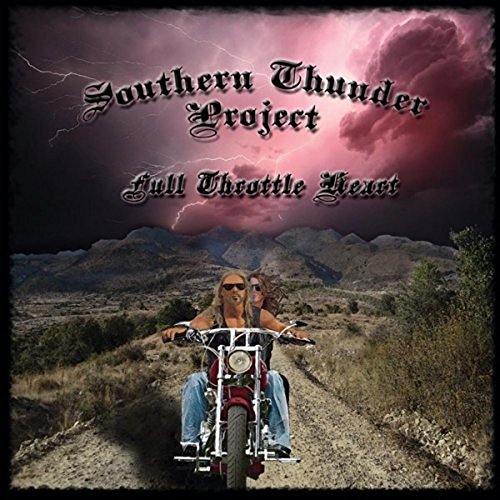 Did you know Otis before the project?
Yes, Greg Martin was producing their debut album. Greg and Jimmy Hall both played on it, and it's a really great album. I think it's one of the best out there. I went to Kentucky and saw OTIS perform...they are amazing and their future looks bright. They are young and hungry. I'm very happy they are all over the Southern Thunder Project.
How did you convince them?
It wasn't so much convincing them to do the project. They loved the songs I showed them as Boone Froggett and Steve Jewell Jr. split co-writing duties with me on the album. Boone co-wrote 6 songs with me and Steve co-wrote 6 songs also.
Do you write all the lyrics? Some music?
I wrote the lyrics, and had musical direction on how the songs would go. Boone, and Steve did an awesome job with the music they created, and sometimes tweaked a word or two to fit the phrasing and music that happens when writing songs. The songs were written very quickly. We're very happy on the way the songs came out.
You called also Gary Jeffries. How did you know him?
Gary and I had been talking about songs for a while on Facebook. He is also from Indiana, and we felt a connection immediately. Gary jumped on board and did 7 songs on Southern Thunder Project while Boone sang the other 6 ones.
He didn't write anything? Some of the songs he sings remind me his own CD or Alligator Stew. He seems he has added his personality on the songs. Is my feeling wrong?
Gary wrote the chorus on «Full Throttle Heart», the title track. But yes he made those songs his own as I knew he would, like his own Middle Class Man and great Alligator Stew albums. He's a great writer, and knows how to craft and perform a song.
He came with his rhythm section and except on one song or two, you used the same nucleus of players with Fletcher, Trent and Jewell. Was it to keep the unity of the album?
Yes, we had Gary's great drummer Randy Trent, and just as talented Bass player Steve Fletcher to form that tight foundation. They know each other well, and did a super job along with Boone, and Steve Jewell Jr. OTIS drummer Andrew Gilpin also played on 2 songs. We tried to have the tight feeling as they've been playing with each other all along.
Could you introduce Larry Velez?
Larry Velez was born and raised in Dallas, Texas and now lives in Indiana...He is a great guitar player as all on this album are. Larry can play it all from Stevie Ray Vaughan and Eric Johnson to Santana to the Southern rock and country heroes. He played on 3 songs and I'm honored that he did. I'm hoping people will hear more of Larry in the future.
And who is Chris Walker?
Chris Walker is my longtime Facebook friend from England. Another top Pro guitarist. Chris played on 4 songs and reminds me of Stevie Ray Vaughan and Rory Gallagher. He has his own Chris Walker Band going on, and is working on new music as well is Gary Jeffries and OTIS. They all have great music for the fans coming in the near future.
How did you decide who would play on each song?
I picked Boone Froggett on the songs we co-wrote knowing those 6 would be more bluesy, and more blues rock. The 7 songs Gary Jeffries sang I knew suited him better in the southern rock feel. The rest just fell in place as all the guys were pretty much involved with all.
How many time did you need to prepare everything before the sessions?
Believe it or not none of the guys had met before. They all had rough demos of how the songs went but, in reality they just met, and had this amazing connection. The first thing they did was play a song they all knew, and that was the Allman Brothers «Whipping Post». It was awesome! They jammed liked they've known each other for years. But, it was a jam as you go approach which took very few days.
Did you record it?
We didn't record Whipping Post but, the entire album was recorded by Curt Hall at Chief Lemon Head Studio in Indiana.
Why did you choose him?
I've known Curt Hall since we were kids. He grew up just a few miles from me, and Curt has been involved in music for over 30 years. So, I knew his experience would capture the sound we wanted.
You did two sessions I believe?
Yes, we did the first session in August with Boone Froggett, Steve Jewell Jr., Randy Trent and Steve Fletcher. The 2nd session was in October with Gary Jeffries, and Andrew Gilpin with the same guys. Chris Walker and Larry Velez added their guitar solos after the 2 sessions.
Was the 1st one more for rehearsals?
I should say this was recorded in 2014. No they just did a take or two and we recorded which I think makes it more real, raw and gritty. Boone and Gary did go back and redid their vocals. There were some instrumental parts fixed but very few. The guys were amazing. They were really tight, and that's rare because they all had never met before.
How many hours in studio?
The first sessions were for 3 days straight, and first day was a 12 hour day that they pretty much wrapped up all 6 songs that Boone sang on. Next 2 days were around 10 hour days. The 2nd sessions in October with Gary were almost the same.
Did you maybe learn a lot of things with this project? Did it change something in your songwriting process?
It hasn't changed my writing style so much for the words but It has inspired me to be much better at knowing how the music weaves with the words. I learn so much from all of the musicians on Southern Thunder Project. You have to be opened minded of other people's idea's to grow as a writer. I think I'm getting better and better.
The packaging is also very good. Some words on it?
Thank you Luc. The art cover was done by Abbie Trent the wife of drummer Randy Trent. She did amazing as we were going for a 1970's classic rock vinyl record look. She did the front and back and everything inside. I'm so proud of her.
How will you sell this CD?
The CD has only been out for sale just a couple of months. It's been like a roller coaster up and down and starting to go back up again. I know in today's World money is tight. It's hard to get it out there for $11.99 plus $2.95 for shipping and handling but, I think with your help and other writers in Magazines and radio play the word will get out and people will see this is a very good album.
Do you sell it only through your website?
For the most part it is largely sold through the website as CD Baby, ITunes, and Amazon also are places to get the album. Just have it in a couple local stores here in the States. And, Gary Jeffries Band is getting ready to tour and do some shows so people will be able to buy them there soon. I would like to pick up a couple Distributors in France, Germany, and maybe Sweden to get the album out in those places and more. I'm still working every day to get the album out to the fans who are not aware of it.
Are there some songs recorded that aren't on the CD?
No. We recorded 13 songs, and that was it. However, I did have more I wanted to do. I had enough for double album but, I think 13 songs is good for the fans.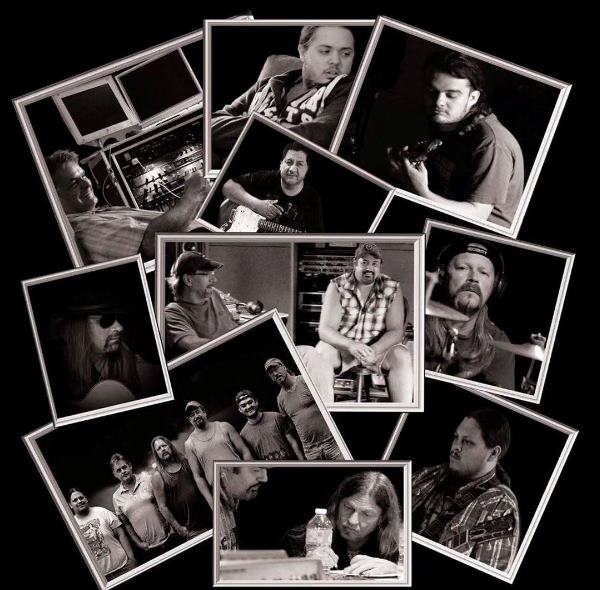 Do you think you'll record a second volume?
If the album sells good, and fans are really wanting more then yes, very good possibility. But, the timing has to be right as OTIS is touring a lot these days and Gary Jeffries Band is getting ready to hit the road also. Chris Walker Band is also getting ready to rock the road. It sure would be great to have them all back in the studio again sometime and build from what we've learned.
Will these songs be played live by a Southern Thunder Project Band or maybe by Otis, Gary, etc. with their own bands?
Yes, Gary Jeffries Band will play the songs of Southern Thunder Project live with his own songs. And, I believe OTIS will do some soon as they do a show with Gary Jeffries in July. Both of those bands have great songs for the fans, and I hope the fans will check them out. I think as more shows get booked for them, they will start adding the Southern Thunder Project songs to their song sets.
About Gary, do you know when he plans to finish his new record?
Gary was hoping to have his new one finished in July for his hometown Monticello, Indiana show but, he knows not to rush it. he's a Pro and will take a little more time to get it perfect for the fans. It's going to be a good one!! I'm going to guess, and say I think it will be out in August 2015 or early September.
Do you get some feedback on the CD from some rock, country, blues, etc. artists? And how is it received by the media?
Yes, I have gotten great support from all of the Kentucky Headhunters on the CD. Randall Hall formally of Lynyrd Skynyrd told me it was great. I've gotten a lot of great attention from the media in Southern Fried Magazine and RarasFarm Magazine. Also have had the album played on various radio station and have been interviewed on the air too. I think more and more people are finding that the CD is out there.
You will be focused I guess for some times on the Southern Thunder Project but do you have other projects?
I'm still writing songs and hooking up with some great singer-songwriters like Justin McCorkle, Ryan King, Brett Mullins, and more. We're gonna get some more great songs out there soon.
A lot of historical Southern rock artists died these last months. Do you believe in the future of Southern rock? And what's about Southern rock in Indiana except Gary and your beautiful project?
Good question! There's still some great southern rock out there in Blackberry Smoke, Preacher Stone, Black Stone Cherry and OTIS although Black Stone Cherry is harder rock but southern roots and OTIS is blues rock but with southern roots... and there's The Curt Towne Band. The legends are still out there as Charlie Daniels Band, Skynyrd, The Outlaws, 38 Special, and Marshall Tucker Band... I think it's still alive and well, and I believe people are hungry for it. They want the real raw and gritty music instead of the money making machine Pop Country stuff rammed down their throats. Indiana doesn't have much going on for southern rock. I'm trying to do my part and bring that to people around my home state as well as everywhere. To answer your question...Yes I believe in the future of southern rock... there's also the Georgia Satellites, Homemade Sin, Molly Hatchet... I think some younger southern rock bands will arise in the future.
The Kentucky Headhunters too.
Do you think it's possible to define what Southern rock is or is it something vague?
I think if you take all country, blues, and rock and combine them, you get southern rock. Southern rock I believe is the voice to the hard working men and women. That's why I think it's so popular, and will rock on forever. Ronnie Van Zant's Lynyrd Skynyrd songs are just as or more popular than ever after 30 some years. He wrote about the common man, and fans relate to them as they did with the Allman Brothers Band.
Is the Southern rock from the 70's the same as the current Southern rock played by Blackberry Smoke and other new bands?
I think Blackberry Smoke is the one that's right there with the 70's southern rock legends. I think Preacher Stone brings that same vibe. Not many bands can come along and capture that natural raw gritty music of the 70's. Even bands like Government Mule with the great Warren Haynes, Dickey Betts with Great Southern are still rockin' it. Two Wolf is a new band I love also.
Well, thank you John for this Project. If you want to add something...
Thank you so much Luc for helping me get the Southern Thunder Project out there. I also want to thank all the fans who have supported us, and hope they will continue to spread the word and who knows maybe the boys will be rockin' your town someday soon.
It would be cool!