Bobby Golden
Stillwater
Interview by Luc Brunot.
Original version of the interview published in Bands Of Dixie #31 (March - April 2003)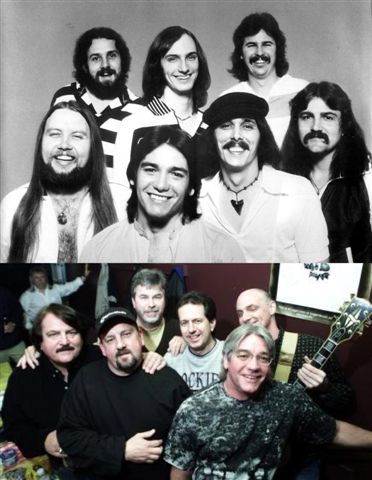 There are some bands which will remain forever cult groups; musicians whose discs are collected by the initiates, without never being able to reach the fame they really deserve. In Southern rock music, we know a few bands who never got to the top : Point Blank, Hydra, Two Guns and especially Stillwater which the two albums released on Capricorn give the joy of the collectors of the good old black vinyl, as it's never been released on CD. It's true that with his "Out One A Limb", "Mind Bender" and "Sam' S Jam", the band had struck real strong for its first recording. Then, when finally an opportunity was offered to us to got an interview Bobby Golden, one of the founders of the band, we just jumped on the occasion... A moment in Southern rock's history...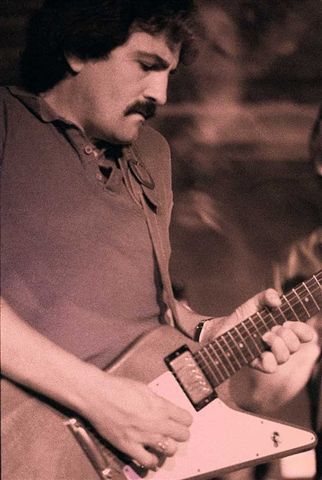 Where and when were you born?
Robert William Golden (Bobby) born in Detroit, Michigan July 24, 1952. I moved to Macon, Georgia when I was about three years old. I grew up outside of Macon and went to school in Perry, Georgia.
What kind of music did you listened at home when you were a child?
I group up listening to AM radio (late nights listening to WLS from Chicago). All the hits - Beatles, Stones, Beach Boys!
Living in the South I was heavily influenced by the Soul and R&B music of Otis Redding, Sam Cooke...
When did you begin to play music?
I started to play music at about age 8 or 9 at school. I started with the trumpet.
In Middle School (age 12) I asked my dad to teach me a song on the guitar to play in a talent show. I learned the song quickly and it seemed so natural. My father had played with his friends/family in a Country/Western band when he was a boy.
When did you begin to play with a band?
When I started playing guitar my older brother already was playing some. I soon passed him and brother learned to play bass and we were soon playing every weekend for friends and family at our home. Our first outside gig came in 1967(age 14) playing for some Airmen at the USO club.
Was it Coldwater Army?
The band started as the Golden Boys, then changed to the Golden Arcade. I believe that Coldwater Army was formed about 1969.
What kind of music did you play?
The Golden Boys, with my brothers, played whatever was popular on the radio - from the Bee Gees to the Doors. The Golden Arcade was more of a Soul Review featuring two black singers. We played fraternity parties all over the South. This carried over into the first version of Coldwater Army. We played a lot of Chicago type songs (horn section). This is the group that recorded "Peace" when I was 17. The album never took off but we got a lot of studio time at one of the studios in Macon. The second version of Coldwater Army did a more rock oriented album (no horns) but it was never released. I will try to get you a CD that was made from an old tape.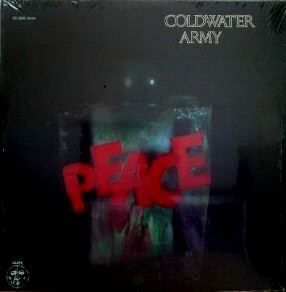 Was "Peace" (Agape, 1971) a good LP?
At the time, I thought that it was pretty good but it sounds very dated now. The bands of the late 60s can be heard on the songs. Chicago, Creedence...
When was Coldwater Army disbanded?
The first Coldwater group broke up shortly after the release of "Peace". Some of the guys were serious about the College and moved away to stay in school.
After Coldwater Army, you and Bob Spearman played with Stillwater. How did you met the others musicians? When and how was formed the band?
I met Bob Spearman (who sadly passed away in 2002 from cancer) before Coldwater Army. He was airmen at Warner Robins Air Force Base. This was during the Vietnam war and there were a lot of clubs to play on bases. I grew up with the other members of Stillwater around Warner Robins. They all grew up, like myself, playing in local bands. We used to go see each other play when we had the chance. I didn't know them at the time but was really impressed with there playing and singing. We formed at the beginning of 1973 when we met in college and decided to give the music a full time shot.
How did you get signed with Capricorn records?
We signed with Capricorn records the same day they found out that Atlantic Records wanted the band. We were being managed by Phil Walden & Associates along with my father (Duke Golden) at the time. Actually, we had been hanging around the offices a lot and some of the staff and producers talked them into signing us.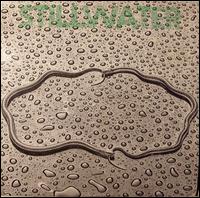 Your first and excellent album was released in 1977, was it easy to record it?
The album was fairly easy to record because much of the music had been written and played on the road.
Was it a commercial success and did you got hits?
The hit song from the album "Mindbender" was written while we were recording the album with much of it done in the studio after our producer Buddy Buie (Atlanta Rhythm Section producer/writer) had penned the lyrics.
About "Mindbender", how came the idea of the talking guitar?
While recording the first album, Rob Walker and Mike Causey went to a lake in Alabama with our producer Buddy Buie (Atlanta Rhythm Section) to do some fine tuning on some of the songs. Rob had a riff and Buddy had the idea for the lyrics. We recorded it the next night in the studio and it ended up being our single.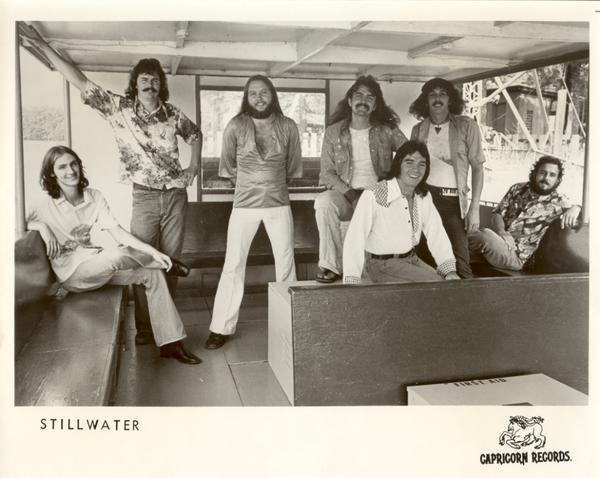 What did you between 1973 and 1977?
Stillwater played clubs all over the South. We were playing a mixture of cover songs and song that we had written.
Did you have relations with other Southern rock bands?
We toured a lot with The Charlie Daniels Band and Atlanta Rhythm Section. We played shows with most every southern rock band from Blackfoot to the Allman Bros. band.
I see that you're from Warner Robins. It seems to me that Bruce Brookshire and Doc Holliday are from Warner Robbins. Have you relation with him? Did you play together?
Doc Holliday and Stillwater are from the same town. We enjoyed watching each other's bands play. Rob Walker (Stillwater) did some recording with them. Over the years we have seen each other countless times around town playing at different bars. We are good friends today
Live versions of "Mind Bender" and "Out On A Limb" appear on the Capricorn live anthology "Hotels, Motels and Roadshows" (and also on the "alive Down South" CD). I believe it was recorded at the Rebel Jam in 1978. What was this event? Could you relate it?
The Rebel Jam was a special night in Atlanta with Stillwater, The Dixie Dregs, and Sea Leavel being recorded at the Fox Theatre. Sold out show and ended up being one of our best memories. The late Capricorn engineer Sam Whiteside did a good job of recording it.
Did you tour in Europe?
No European dates but we played in Nova Scotia, Canada a few times.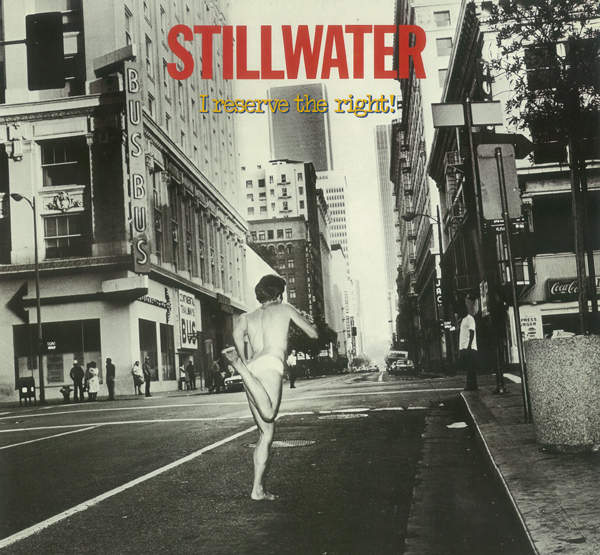 After your second LP "I Reserve The Right", Stillwater disappeared. What happened?
Capricorn records went bankrupt after our second album. We turned a record offer hoping to get signed with a new label on the west coast which fell through. We played and continued recording until the end of 1983. I left the group to go back to college. The band quit playing shortly after.
What did you do after? Are you still a professional musician?
I am an engineer now. My degree is in electrical engineering but I have been doing software engineering for military aircraft for the last 15 years. Working on F-15 and the new F-22 fighter and a couple of years in Italy working on the Eurofighter aircraft.
What are doing the others musicians of Stillwater? Some are still in the musical business?
Rob Walker (guitar) is playing guitar for the US Air Force. What a gig!!!! He is living in Japan now. Hope he doesn't have to play in North Korea anytime soon (ha!).
Mike Causey (guitar) is in radio advertising sales in Macon, Georgia. He plays a lot with different bands around town. Actually, Mike, Sebie and Al have a small combo along with Eddie Stone and play special parties and events. Sebie Lacey (lead vocals & drums) owns a clothing store in town and plays with Mike.
Al Scarborough (bass & vocals) works for the US Post Office but plays in a band on weekends "The Wall" and plays with Mike and Sebie.
Jimmy Hall (vocals) works at a box factory around town. He comes to the Stillwater reunions and sings a few songs. Bobby Golden (guitar) I am a software engineer living in Atlanta but used to play with Al in "The Wall" until I moved to Italy. After moving back to Atlanta from Italy, I have only been playing the Stillwater shows and sometimes sitting in "The Wall".
Bob Spearman (keyboards) Passed away in October of 2002.
David Heck (drums) works in finance and lives in Colorado. He plays quite a bit around the mountains of Colorado and always makes it back to Macon for the Stillwater show at Christmas.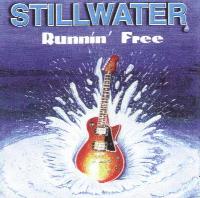 In 1998, we had the good surprise to find a new record from Stillwater: "Runnin' Free" with in the band five of the seven original musicians. Why did you record after this long time since "I Reserve The Right"?
This album was a work of love to complete the album that we were working on in 1983 when we disbanded. We went into the studio with producer Rodney Mills (38 Special) and recorded about half the album with songs that had not been completed in 1983 and finished the album by remixing the 1983 tapes. We remained close friends after 1983 playing Reunion Concerts in Macon at Christmas time every year (we still do).
"Runnin' Free" is very hard to find in Europe. Do you know where it is possible to get it?
The CD was never picked up by a label and is available locally at the Georgia Music Hall of Fame I believe.
Have you project to record again?
No project to record is planned but we have all agreed that we want to do another record.
Is there a possibility to see you release a live album of Stillwater using old tapes of the 70's or 80's, or using the annual Christmas shows?
We discussed of a live album but we don't have time (we're living in various parts of the United States and of the world) to repeat properly and coordinate a professional recording live. I hope we'll do it one day. We agree that we want to release another studio album. I hope it will occur!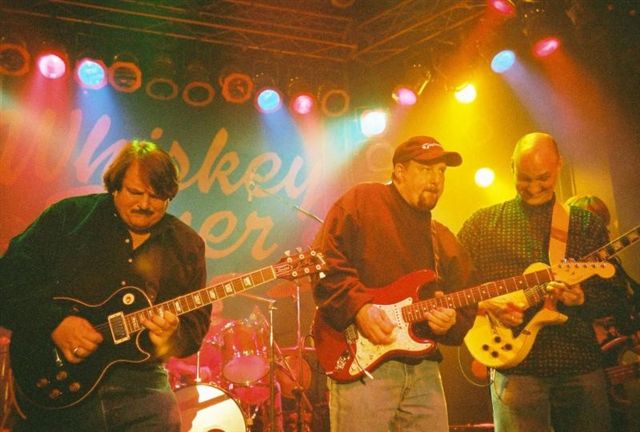 Do you play often together?
Stillwater plays annually in Macon at Christmas time with a host of friends including Jimmy Hall (Wet Willie) and Ronnie Hammond (Atlanta Rhythm Section)
Unfortunately, it seems to me that the Capricorn's albums were never released on CD. Do you know if it will be?
Capricorn's albums were being released by Universal on CD but a falling out stopped further releases.
Did you record songs that were not released on the Capricorn albums and have you recorded an album that finally was not released?
The songs that were recorded and not released on Capricorn were released on "Runnin' Free".
What is your favorite song in the repertoire of Stillwater?
This is a little selfish but my favorite is "Women" off of the second album "I Reserve The Right". Technically, it is one of the best recorded tunes and I really enjoyed playing the solo on this song.
What are you listening now?
Kid Rock, Avril Lavigne (great young rock), Christina Aguilera (she so "dirty"), Shania Twain, Tim McGraw, John Mayer, 3 Doors Down, Alan Jackson.
What is for your Southern rock?
Really, I guess that I think of the great "old" Southern Rock bands like Lynyrd Skynyrd (my favorite) and of course the Allman Bros and ZZ Top.
What do you think about the new Southern rock bands?
Southern Rock is alive with a new twist. I really like Collective Soul, Matchbox Twenty and The Black Crowes.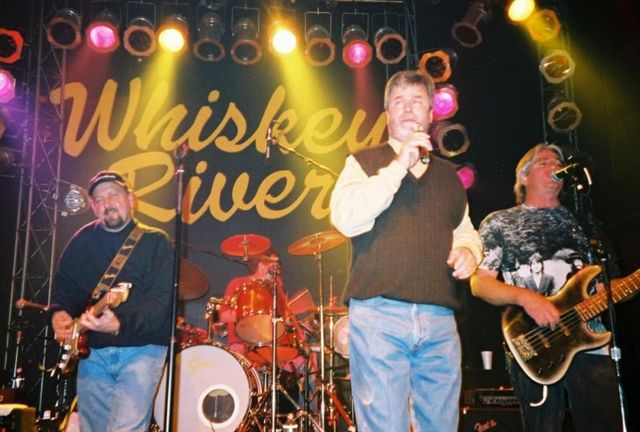 I have listened tapes from a 1997's show where you played tunes from ZZ Top, Derek & The Dominos, Toto, The Eagles, the Allman Bros. Only two songs are from Stillwater. Usually, do you play more Stillwater's songs? If not, why?
During the annual Stillwater show in Macon Ga. at Christmas, we usually only play Stillwater songs. Don't know which tape that you saw. We have done "Layla" as an encore and a medley of "Little Richard" tunes. Of course we have special guests sitting in with us. This last years was Jimmy Hall from Wet Willie, and Ronnie Hammond from Atlanta Rhythm Section.
This show was given to me as Margaritaville, March 27, 1997. No memories of that show?
Margaritaville is a small club in Warner Robins, Ga. The Margaritaville show from 1997 was with the band "The Wall" which included myself, Bob Spearman (keyboards), and Al Scarborough from Stillwater along with Steve Bloodworth (guitar), Mark Johnson (drums), Dave Rickerson (vocals).
If any other Stillwater guys were there they were just jammin'. The Wall is an extremely good weekend band that plays cover songs from The Beatles to the Allman Brothers. They have not recorded. I was playing with them before I move to Italy. Even though I am not a current member, I still sit in with them. Al is the only original Stillwater playing with them now.
Stillwater plays their annual show in Macon at a huge nightclub "Whiskey River" that can hold up to 2000 people. The last show drew about 1700.
One last question. You certainly know that Cameron Crowe, in his movie "Almost Famous" gave the name of Stillwater to the rock band which is the center of the film. Did he contact you and sign an agreement and are there facts referring to the real Stillwater's life style? The director is a fan of Southern rock and did he made many allusions to the Allman Brothers and Lynyrd Skynyrd, all through all the movie.
I lived and worked in Italy when I received a part of the rights paid by Dreamworks to Stillwater to have used the name of Stillwater in the film "Almost Famous". After having called at house to know why I touched these rights, I discovered that the company of Steven Spielberg, Dreamworks, had contacted Sebie Lacey, our singer to establish a deal concerning the use of the name. The young Cameron had seen us in the seventies, in Macon, Georgia, at the time of a concert organized by Capricorn Records, whereas he wrote in Rolling Stones. Even if the film is not devoted to us, it remember me some good memories of our ten years of tours and recordings when we were. almost famous.