Sweet Pain
Interview by Luc Brunot.
Photo credits: photographers unknown except if mentionned. Photos provided by the band.

Original version of the interview published in Bands Of Dixie #101 (November - December 2014)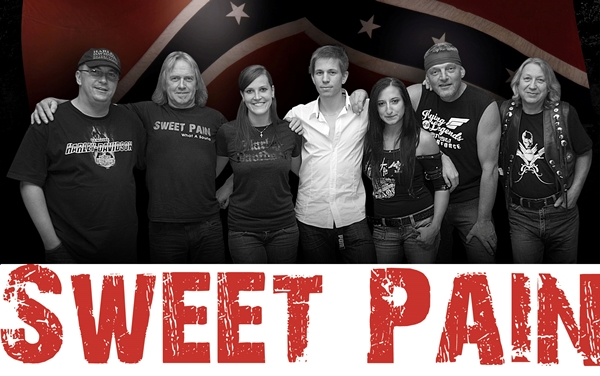 As every ten years, it is, this year (2014), the Czech Music Year. If traditional music, jazz or rock aren't forgotten, first and foremost are celebrated the classical composers. And Southern rock? Apparently nobody thinks about it while the Czech Republic is perhaps the land outside the United States where the Southern rock is the more active. No, the czech rather celebrate Antonín Dvorák, the most famous of the national composers, with his Symphony of the New World ... a work that notably results from the dazzle of Dvorák by the black music in the South. This same music was also fundamental in the birth of the rock through the blues. And it was one of the roots of the specificity of the cultural Southern soil in which the Southern rock owes its special feeling. This feeling, this atmosphere are what mainly attract Sweet Pain in the Southern rock and guide the band to define its own musical way. It's one thing that emerges from this interview done while the band celebrates his ten years career. The quality of their albums, especially the new one, "I Believe In Your Lovin'", one of the best album of the European Southern rock, ranks Sweet Pain among the most interesting bands of our continent. It was time to get to know better Sweet Pain. Zvonicek Michal, Petr Smutný and Jirka Cástka explain everything.
Hello Sweet Pain!
Hello Petr, hello Michal, hello Jiri,
Congratulation for your great "I Believe In Your Lovin'". Before to talk about it, I'd like to know the band history. The band was born 2004. Michal, you were before in a band called Druhej Dech and you, Petr, in Ohniva Voda/Fire Water? Could you please talk about these bands and your other musical experiences before Sweet Pain?
Petr:
Thank you! I've been playing guitar since my age of 15 (I'm 49 now...). I had couple of bands before, mostly Czech-rock style, kind of "Celtic rock". My first Southern rock band was Fire Water, you know the album made in 2001. It was a great band but after first album there was not much going on. That's why I joined Sweet Pain in 2004.
I love this album. Great music that just would deserved to have a production as good as for the Sweet Pain albums. What happened to the other players? Still playing in one of these Czech band playing more or less Southern rock?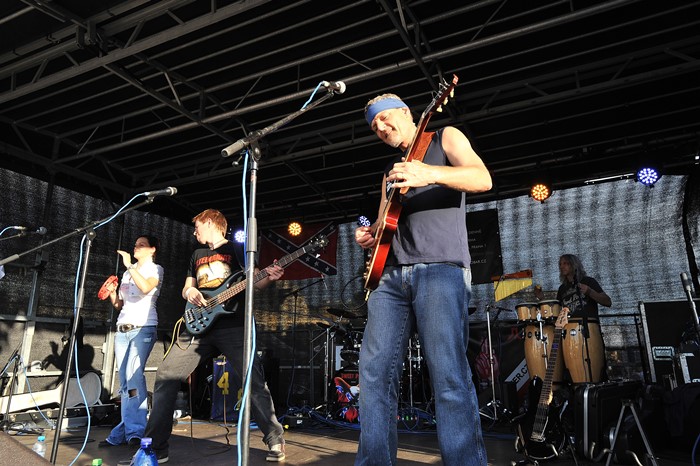 Petr:
As to production, you are absolutely right. Surprisingly, for Sweet Pain album we paid not even a 1/3 of the price we spent on Fire Water album. I think it's about the experience we got in the meantime. We can do it in more efficient way, better and at lower costs now.
All my ex friend ex Fire Water keep doing music, but not Southern rock, maybe except of bassist.
Michal:
I've been singing since my very early childhood, some years I preferred French singers – Gilbert Becaud, Charles Aznavour. I've started to play guitar since my age of 14 (now 50). Next years I mixed rock, dance music and jazz (more groups, also jazz big band) - guitar and singing. Later I played regrettably more and more dance music. It led to the 5 years lasting music break, after which I've started to play only jazz, blues and rock, later on less jazz and more blues.
My first group after this break was Druhej Dech (drums, bassguitar, 2 guitars, girl singer), which recorded one 4-song CD and then started to change musicians.
Amazing! Do you speak some French?
Michal:
No, I'm sorry, only some basic words. My aunt studied French and also my grand-mother spoke French, she was in Belgium some years between the wars. That's why French was quite popular in our family.
What Was the musical kind of Druhej Dech playing?
Michal:
It was some kind of Czech sounding rock before my on-coming. They named it Blues Rock and that's why I interested about their advertisement. But it wasn't Blues Rock, yes, maybe some blues was there but much more some strange harmonic progresses. And that's also why I tried to compose more and more my music, which is much more influenced by American blues and blues rock.
How was born Sweet Pain?
Michal:
We stayed alone with drummer of Druhej Dech and tried to find suitable bass-guitar player and guitar player. Finally we found Robert and Peter and new name Sweet Pain. We started to play gigs and prepare new songs. Later on we tried girl backing vocals, first my daughter Sylva and later some other keep on moving girl-vocalists. Finally we found Aja – keybord and vocal.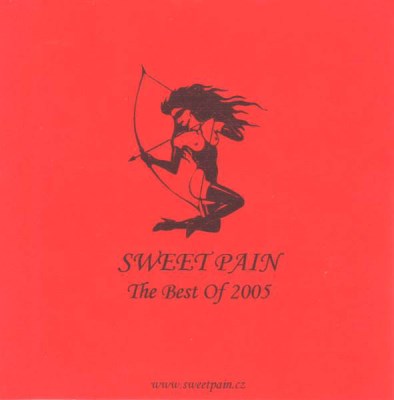 You published first a four songs CD "The Best Of 2005". Was the purpose of this short CD to have a demo to search gigs? "The Best Of" let understand that you had other songs. Why didn't include it on the CD?
Petr:
You are right about the purpose of demo. Demo was even played on the local radios. Actually we had about 10 songs that time but we have selected only 4 best. This was also for budget reasons. We recorded demo in two days
We did not include the songs in our first regular album as we had so many other new ones.
Your first album came only in 2011. Why did it take six years before this new release?
Petr:
We were planning to do recording since 2007 but we were busy with searching for the new drummer (Vlasta joined us in 2007) and bassist (Raduz joined in 2009). It took some time to match together. Never mind, at least we've got some experience in the meantime and our music aged like whisky.
What were the main events for the band during this period?
Petr:
We played on many gigs like motorcycle events (I'm proud owner and fanatic rider of Harley-Davidson Dyna Wide Glide), Prague rock clubs, Southern-rock festivals. At the same time we were working on new songs as Michal is very productive song-writer. He brings new riffs and ideas all the time.
On this album, "What A Sound", the line-up - except Jiri - was the same as on your new CD. One first thing not so usual is the presence of a drummer plus a percussionist. Why this choice?
Petr:
We are open to any fun. No limits, no cages. You might hear from our albums our music is not 100% Southern-rock cliché. There is something specific. We love to do things the way we want, not the way we are expected to do. Percussion guy Milan was our friend and we simply took him on board. There is never enough rhythm in the music. I was on Santana open air concert in Prague in 2004. He had in his band, except of drummer, two other percussion players. It was fantastic, absolutely amazing. Ten thousand people were dancing since the first note till the end of the last bonus-song. No one could stay moveless. You just need to know how to work with it, not to overlap these instruments too much.
If you do the things the way you want, your music in the same time has solid roots, especially in blues and Southern rock. What are the main influences on the Sweet Pain style?
Michal:
I prepare not only Southern rock songs, sometimes it's more soul, more blues, more jazz, more reggae then it's possible to use for Sweet Pain. So we have some first filter – if it's possible to do a Southern rock song from the first version of the song. Some interesting thing is that for example the song Country Roll was prepared by me before years during the first Sweet Pain configuration (Pepa, Peter, Robert) and it was refused by other members on that time, because it was too sweet and country. Later on it was accepted very good. And after the first filter we try to arrange song so it will like us and also so it will sound Southern. The main influence during this step comes from Peter.
Petr:
Michal is more style-free and versatile, but he has strong blues feeling. I am more Southern rock orientated. My top Southern rock bands which influenced me: Lynyrd Skynyrd, Molly Hatchet, ABB, Charlie Daniels band, Van Zants (all of them), Gov't Mule, ARS and recently Hogjaw.
And, Michal and Petr, for the guitar players?
Petr:
In addition to above mentioned bands's guitarists those were Angus Young, Gary Moore, David Gilmour, Mark Knopfler, Ritchie Blackmore, Edie van Halen, Slash, B.B. King, Carlos Santana and many others.
Michal:
I like many guitar players – Steve Morse, Zakk Wilde, Wes Montgomery, George Benson, Mike Stern, Robben Ford, Steve Lukather, Pat Matheny, Django Reinhardt, Stochelo Rosenberg, Eric Clapton, Robert Cray, Roman Pokorny (Czech jazz player), Tommy Bolin, Holmes Brothers, John Scofield, Daug Aldrich, Mark Knopfler, Jeff Back, Joe Bonamassa, Warren Haynes, Derek Trucks...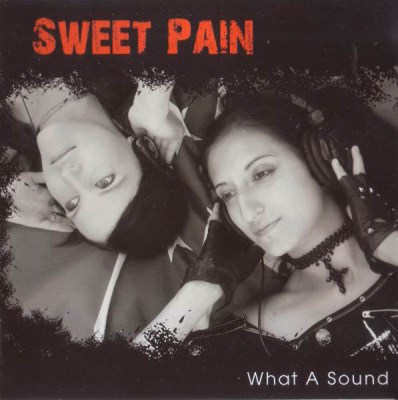 You have (or had) also two ladies in the band and they are not only here for the backing vocals. They are doing some lead singing. I notice also that there are women and no men on every CD sleeve. Could talk about this importance of the girls in Sweet Pain? And why did you choose to have on the "What A Sound" cover only the ladies heads and not the other members?
Petr:
It's very simple: young girls are more attractive than old farts. Furthermore, by promoting our girls we gamble with the band's name Sweet Pain to irritate a bit.
As your new CD, "What A Sound" was very well produced (what a sound!) and packaged. Are you especially attentive on these aspects?
Petr:
As to sound, we made a record in very good studio with very good and nice two men Zdenek Sikyr and David Pavlik of Studio Hostivar in Prague. We paid special attention to the sound. As to CD cover, not really. That's the way we do the things. We like it. It's a passion and fun for us.
How was received the CD?
Petr:
Excellent. It's not main-stream style music, of course (and we are proud of it) but among blues, rock and Southern-rock fans CD had a huge success. On top of that we were promoted by our friend and local Southern-rock guru Dalibor "Dalis" Mierva in radio and on some festivals, for which we would like to say THANK YOU to him.
Jiri, how did you come in Sweet Pain and what are your influences? You're younger than a lot of the other players. What did you know before about all these Czech bands labialized as Southern rock?
Jiri:
I knew Vlasta (our drummer) for number of years, he helped me a lot to get me through my first musical experiences. After several years of playing bass in other bands, Vlasta asked me to join him and Michal in one b-side project they wanted to start to keep their fingers and voices in good shape when Sweet Pain has not so many gigs booked. It was so great for me because I got chance to play with such talented musicians and nice guys and I also began to sing not only a backing vocals. And I really loved Sweet Pain stuff so it was very easy step for me when they offered me later to join the band.
Sure I knew the greatest southern rock bands plus the Czech ones: Sweet Pain of course, The Cell, MBA Band... but to be honest I wasn't a hardcore southern rock fan, I was more into other stuff, but I fell in love with it instantly! It's so much fun for us to play all those great guitar lines, great melodies, vocals, blues styled solos and solid rhythmic – you can't get enough of it! And I'm very fortunate to share this "chemistry" with such a great friend in our band.
And as for influences – there are so many great musicians out there! It would be a shame not to mention some of them. But among many others I'd like to name just one guy who had the biggest influence on my playing and singing. It's Geddy Lee from Rush.
You are not only the bass player but you're the lead singer on three songs of the new CD and you wrote or co-wrote also three. Thus, your contribution to Sweet Pain is quite important. Has your arrival led to an evolution of the Sweet Pain music or is it you who has been changed?
Jiri:
I feel like it wasn't only a great step forward for me but at the same time it was a new fresh air for guys. The band consists of six members and suddenly you've got one sixth of brand new feeling, ideas and techniques. I'm sure it's not about the age or your musical CV, it's about a passion for this genre and about the joy of playing music with your bandmates. I think you can clearly hear it on our new record. By the way we meet more and more young musicians playing southern rock and that's good news for everybody interested!
What is the importance of the Southern rock label for Sweet Pain?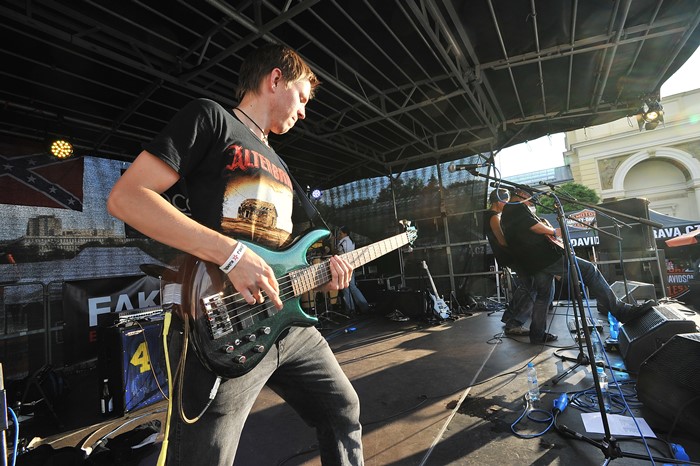 Petr:
It's important. Not because of label as such but because of we feel it that way. We like mix of rock, country and blues. We like atmosphere and freedom of Southern rock.
"What A Sound" was in 2011. When came the idea to record again and how did you organize the preparation of "I believe In Your Lovin'"?
Petr:
In 2013 when new bassist Jiri joined us. It was huge contribution to Sweet Pain. He is excellent bass player, singer, he can write music and lyrics and he is great friend and team-worker. We felt we had to go to studio.
The Sweet Pain's Steve Gaines?
Petr told that you, Michal, are a very productive song-writer. could you talk about how do you create songs?
Michal:
I use two ways:
1. I take guitar, play chords and sing with some nonsense but good sounding English words – the whole song is born in a few minutes, mostly it's the first idea, no though control, it works very well after some music break
2. I play guitar, find some interesting riff and then I complete the song with more parts and sing. It's more work and trying what is better and so on.
Songs, which were born using the 1st way, are more melodic, 2nd way creates more rocking or more interesting instrumental songs.
What is the role of the other players after you have proposed a new song?
Petr:
Michal either sends the new song-idea by e-mail to all of us or brings it to the band. On reheresal we play it together and we immediately hear whether it works or not. Then we start to arrange it and we record it on mobile or zoom recorder. Until the next reheresal he writes lyrics and we finish it. As simple as that. What I love is that he never feels offended when we reject some of his ideas. He brings new one next time and that's it. For me as a guitarist and music-arranger he is kind of "dream" song-writer. He always has a 2-3 ideas in his pocket... Since our last album (June 2014) we have already 3 new songs for next one.
How many time is there usually between the song idea and the moment you use it on stage? But do you test the song live before to record?
Michal:
As I remember the minimal but not exceptional time could be about month from the first idea to the stage. When we create a new song we play it live as soon as it's possible. So the most of recorded songs were tested live.
Sweet Pain, that's seven players. Is it easy to get all the players together each time the band has something to do (rehearsals, concerts)?
Michal:
We are 6 now and we arrange rehearsal in case the drums+bass+2gitars will take part. The other members are a little bit variable. And also some concerts are played with not complete group but as I remember only girls were missing sometimes; one or both...
You're one of the few Czech Southern rock bands singing in English. Would it be possible one day that you record some songs in Czech?
Michal:
I'm not used to sing Czech...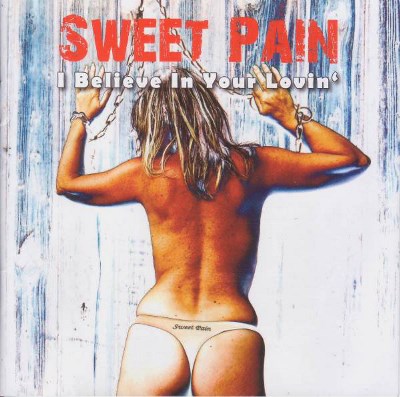 In France, at least for the blues, there is an opposition between artists singing in English because traditionally the blues was in English and because the French language is not adapted to the rock and blues rhythms and artists singing in French because the story is important and needs to be understood by everyone. Is there the same fight in your country?
Michal:
Yes, the same fight is also here. I feel it so that I'm more music writer and I want to create music with sing. But I don't have anything special to say in words. I prepare my lyrics so I have something to sing and so it'll be in some harmony with the music. English is ideal for that purpose. I love to compose music but I sometimes hate to prepare lyrics; I do it because I want to sing it not because I want to write some words. My lyrics are written only for the songs accepted by the whole group; I don't prepare more lyrics than I will use. I can imagine that I prepare music for other singer but I can't imagine that I will write lyrics for other singer. Generally I'm as a listener interesting much more in music then in lyrics. Also for example my relation to French chanson – I felt in love in this music when I was child and I didn't know that it was musicalized poetry and I didn't understand what they sang. I love some chanson music because of the way of singing and very nice backing music composed by big writers. Gilbert Becaud and Charles Aznavour are great musicians, composers and singers but no poets. I understand them very well despite of the fact I don't understand French. I feel the strength of this music. I know the story of about 2 chansons but I like tens of them and I didn't care about the stories of them. On the other hand I'm not interesting about Czech chansons at all, I don't understand them... Maybe the "story liking people" will not be my fans – that's life...
You have recorded only original music. Did you thought nevertheless to the possibility to include a cover (of a song penned by another artist)?
Petr:
We have so many our own songs that we do not consider that. But on gigs we play covers. We have on our present play-list "Down From The Mountain", "Come Hell Or High Water", "Look In Your Eyes" (of Molly Hatchet), "Edge Of Forever" (Lynyrd Skynyrd), "Jessica" (ABB), "Stormy Monday Blues", etc.
Mostly Skynyrd and Hatchet covers from the current line up but no old stuff from the 70's and 80's. Why?
Petr:
The reason is that old songs are played by other bands.
How long did you need to record?
Petr:
Recording took 7-8 days plus 3-4 days for mixing.
How did you record? All together?
Michal:
All together only for the first take where only drums was used for the final record. Drums were in the record room and other members were in the mix room. Then each instrument was recorded alone.
Jiri:
The advantage of recording separately is that only one of us is recording while the rest of us supports him with a glass of Becherovka liqueur. Keeps a good team spirit ?
Engineer Zdenek Sikyr did the mix. Do you let him an important freedom to do it or do you keep a big control on the choices?
Michal:
I think that our control was big but sometimes we accept the meanings of Zdenek in case he clarified us that some of our requirements could abort the whole sound.
Jiri:
There's one more special thing about this record and Zdenek. Thanks to him we had a chance to use a real Hammond organ with Leslie speaker. You can't imagine it until you hear it live. Goose bumps.
What in the mood during the recording sessions? A lot of fun or a lot of stress?
Petr:
A lots and lots of fun, no stress. On recording first album in 2011 we had one stressing day, as far as I remember, but that's all. Recording 2014 album was nothing but endless fun. See our photos and video from studio on our website
www.sweetpain.cz
.
Jiri:
Lot of fun! We were very productive and focused and very relaxed at the same time. And sound engineers Zdenek with David were very nice to us (as they always do). The atmosphere was just amazing. The video speaks for itself!
About guitars, each of you one has his style, Petr more with a fat and contemporary sound and Michal with a more country sound. Could you talk about how are shared the guitar parts between you?
Petr:
We split the guitar job as it comes. We already know for which part Michael has better feeling and which is my beer.
Michal:
Peter is right, I only add that I don't want to play more difficult parts together with singing.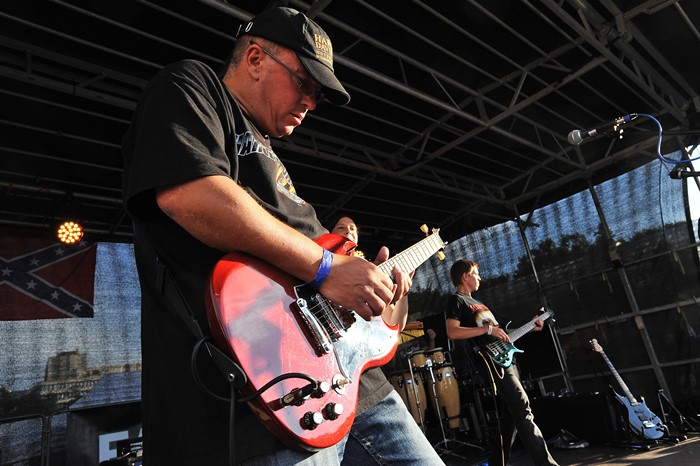 As you said, you like to play Southern rock in your own way. More than "exhibition" soli, you prefer to develop "southern feeling and atmospheres" as Petr said in an email. Could you speak more about that?
Petr:
When I was young, I was convinced the faster and longer I played the better. Now I play less, but hopefully, nicer. I listen to the whole band and music and I am filling just those spots where the guitar solo or short melody makes sense. Look at Mark Knopfler or B.B.King, they play 3-4 tones back-and-force but in the right way and in the right moment. It's a question of long term skill And experience.
In concert, do you play the songs close from the CD version? What is the importance of improvisation on stage?
Michal:
Our concert version is quite close to the CD version because the CD version is close to our concert version, which was the first. Most of our instrumental solos are more of less improvised.
Jiri:
Exactly. As a listener I like to see my favourite bands playing their stuff live just the way they have recorded it. On stage I try to do it the very same way.
About the lyrics, the subjects of the songs, has Sweet Pain also his originality?
Michal:
I don't think so, love is not an original theme. But I like it and I write what I have in my mind – love and women.
Jiri:
I don't even know about any our lyrics not related with love and women. But is there any better theme then that? ?
How is available the CD? In stores?
Petr:
No, it's not. It's too complicated and expensive in our country. Costs would eat up the price. We rather sell it on gigs. We also send it by post or in mp3.
Is it also a success?
Petr:
Among our fans and Southern rock community – YES!
Do you sell outside the Czech Republic and how is known the band outside?
Petr:
We are promoted by Dalibor "Dalis" Mierva and also by local Dixie community president, whom you know, Pavel Hartl, in Poland and Hungary a little bit. Biggest promotion we have in France, thanks to you (big THANKS to all named).
Sweet Pain, if I have understood, has a fan club and the relations between it and Sweet Pain seems dynamics. For example, the album cover is the fruit of a contest. Do you have many fans? Some words about your relations?
Michal:
Southern rock is not a mainstream music in Czech Republic so our number of fans corresponds to this fact. Number of fans is growing but considerable part of them are Southern rock fans. Interesting fact is that our music is accepted much better by regular foreigner then by regular Czech, for which this music is not IN.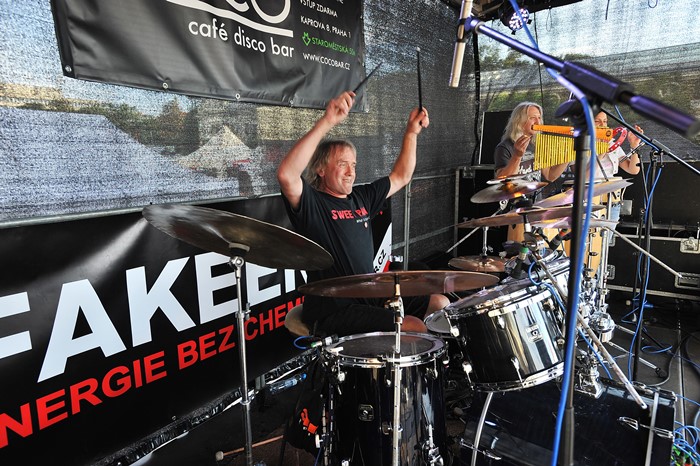 Is it easy to find dates to play? How many concert each year?
Petr:
Not really, It's not a big problem to find the dates. We play 15-20 gigs every year.
Do you play sometimes outside the Czech Republic?
Do you have shared the bill with some American Southern rock acts?
Petr:
Unfortunately, not.
Are some Czech (or not!) bands especially close from Sweet Pain?
Petr:
We are one big Southern rock family here. We have many friends, but let me say, two bands are closest to us: The Blackies and Full House. We share the gigs with them on regular basis.
What are playing The Blackies and Full House? Southern rock also? They have recorded something?
Petr:
Both groups are coming from former group MBA Band which was an icon of Czech Southern rock scene for many years. They split for some reasons and founded two new bands. Both play Southern rock. Blackies play they own songs plus some covers and they recorded very good CD recently. Full House play only covers and they are not recording that much.
Andrea Tousova has now left the band for her own project. Do you plan to replace her?
Michal:
No, the working atmosphere in our group is fantastic now. We are missing other harmonic instrument (guitar or keyboard) only in some moments where we want to play two voice guitar solo and the only harmony comes from bass. We are persuading Sylva to play some keys or guitar.
What are the plans and dreams?
Michal:
Enjoy our music together and also with the growing crowd of fans. Next CD of course, we have already some material for it.
Jiri:
I think we're quite happy with the way things are going now. Sure we want to make the next CD even better and to see more fans on our shows. But the most important element is to preserve the joy of playing music we love together as friends. The rest will come.
Petr:
Keep Southern rockin' another 10 years (at least) ;-))
Is a next album already planned for Sweet Pain?
Petr:
Yes, we plan it in 1-2 years. We already have a lots of new songs.