Gary Renshaw
Tribal Tongue
Interview by Luc Brunot.
Original version of the interview published in Bands Of Dixie #52 (September - October 2006)
These last few months, we've been pretty lucky with the discographic appearance of two promising bands. While Rebel Pride seems to come from nowhere, Tribal Tongue is composed of experienced musicians who accompanied some Southern rock legends within bands such as Blackfoot, Hlubeck & Friends or The Southern Rock Legends. Obviously, Bands Of Dixie wanted to know more and Gary Renshaw, the bass player, has kindly answered on behalf of Tribal Tongue.
Hello,
It was a real good surprise to discover your band. We like your disc and we would like to know you better. where are you from?
Tag Graves (editor's note: guitar) is from Louisiana. Bryce Barnes (editor's note: bass, rhythm guitar and vocals) is from Ohio. Joey Monroe (editor's note: also bass, rhythm guitar and vocals) is from Vermont. Gary Renshaw (editor's note: drums) is from Maryland.
How old is Tribal Tongue?
Tribal Tongue is just a baby. The band was born October 2005. We have a birthday coming up.
Every musician seems to be experimented. Could you tell us your careers before Tribal Tongue?
Tag Graves played with his brothers, in a band called Grave Yard in the 80's, as well as another band called Real Posse that was signed to Polygram record. It was from there that he was discovered by Leon Russel, and asked to join his band. Through his playing with Leon, Tag was able to perform with members of The Rod Stewart Band, Charlie Daniels Band and The Southern Rock Legends (that's where he met Gary the Drummer of Tribal Tongue). The Southern Rock Legends were: Dave Hlubeck (Molly Hatchet), Mike Estes (Lynyrd Skynyrd), Garr Nutt (Tangier / Laid-Law), & Gary Renshaw (Hlubeck & Friends).
After the Southern Rock Legends, Tag was asked to join Bryce Barnes (Edwin Dare / Blackfoot), Stet Howlin (Blackfoot/ Wasp) and Joey Monroe (Engine Joe) in Fort Myers Beach to perform locally.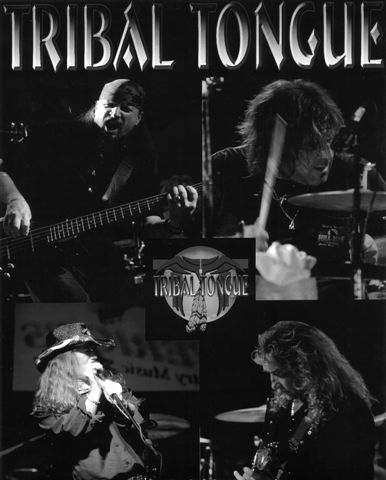 That's where Gary comes into the picture: Gary has been playing professionally since the early 80's in Baltimore/ Washington D.C. area. He has opened for recording artist Kixx and Shooting Star. He moved to Florida in 1989, that's where he met Dave Hlubeck (Molly Hatchet), who had just quit Hatchet, and we formed Hlubeck & Friends. We could not perform as Molly Hatchet but we played all of the Hatchet songs and more. From there the Southern Rock Legends were formed. Dave Hlubeck (Molly Hatchet), Mike Estes (Lynyrd Skynyrd), Garry Nutt (Laid-Law) and Tag Graves were brought in to fill up the line-up. The band broke up within 2 years because Dave decided to mend fences with his old band and re-join the band that made him famous, Molly Hatchet.
As luck would have it, Stet Howlin, the drummer Tag had been playing with in Fort Myers Beach, decided to re-join his old band of 13 years, Wasp. I got the call and the rest is Tribal History, we went into the studio 6 months later and have never looked back.
Bryce Barnes played professionally in the 80's on the East Coast, with a band called Edwin Dare. His vocal ability has been compared to Jeff Tate and Rob Halford, and his playing style mimics the greats of that time. After Edwin Dare broke up in the late 80's he was approached by Rickey Medlocke and long time manager Al Nalli about joining Blackfoot. Even thou Bryce had been the lead singer of the band Edwin Dare, Rickey saw that Bryce was the man for the bass job. So with Stet Howlin, Bryce Barnes, and John Housley, Rickey continued to crank out the Blackfoot hits worldwide. Just like with Dave & me, Bryce would have to deal with Rickey re-joining the band he was first played in, Lynyrd Skynyrd. He had been living in beautiful Fort Myers Beach, so it was an easy choice to stay there and play with his fallen Blackfoot members. That's where he has been till now!!
Joey Monroe also had been playing professionally on the East Coast since the 80's with recording artist Engine Joe. The band was signed to a record contract, but due to the changing market and musical taste of the times, the project was put on the back shelf and finally the band was released. So with out a solid line-up to promote, Joey ventured South and found a himself in Sunny Fort Myers Beach, Florida where he was immediately hired by Bryce to front his new band, The Howlin Dogs. Before last year, Joey, Bryce Stet and Tag played on Fort Myers Beach amazing the crowds with their musical ability.
What are the influences, the heroes of each of you?
Elvis Presley, Chet Atkins, Lynyrd Skynyd, Molly Hatchet, Blackfoot, The Eagles, Boston, Kansas, and anything with a good harmony always works. We all agree that our families are greatest friends and heroes, and we thank them all for their support and understanding while we follow our dream.
How did you form Tribal Tongue?
I (Gary), had been playing with Dave Hlubeck (Hatchet), Mike Estes (Skynyrd) , Garry Nutt, (Tangier / Laid-Law) in a touring band called the Southern Rock Legends. That's where I met Tag Graves when he was hired as the 3rd guitar player. I also had been playing locally in West Palm with Dave & Garry Nutt for 3 years as Hlubeck and Friends. After Danny Joe Brown & Jackson Spires passed away, I think Dave started to question his own mortality, so he mended fences with Bobby Ingram, and he rejoined Hatchet. Since Mike Estes also had his Brave New South Band, the Legends band disbanded before it really got started. Tag got a call from former Blackfoot members, Bryce Barnes and Stet Howlin to move to Fort Myers Beach and play with their Band, The Howlin Dogs, so for about a year, I played locally in West Palm with different players. Luckily for me, Stet got the call to go back on the road with Wasp, he called me and asked me if I could take over with the Dogs, so I did. We decided to change the name so it would be new and original, we wrote some good songs and decided to record at Rickey Medlocke & Al Nalli's studio in Fort Myers.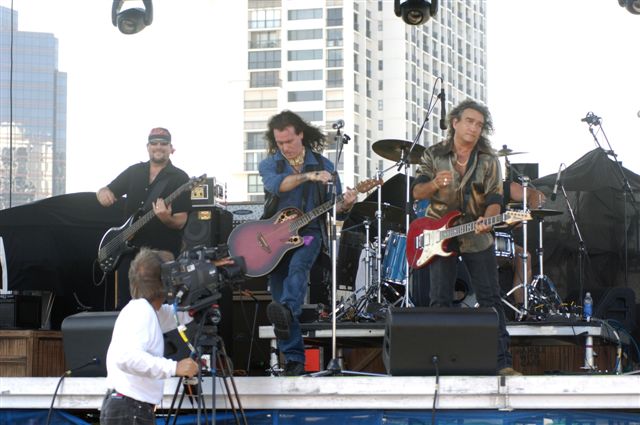 Did The Howlin Dogs play the same kind of music?
No, they didn't play any Southern Rock.
Is "One More Shot" your first album?
This is our first album (CD. You must be old like me)
No one of you never recorded something before, with Hlubeck and friends, Southern Rock Legends or others bands?
We started to write with Dave Hlubeck in the Legends but when he went back to Molly Hatchet in 2005, the project was stopped.
When was it recorded?
The CD was recorded thru the Hurricane Season of 2005. Katrina made sure she blew the power out for 3 weeks, so it took longer then expected. Started end of October 05 and finished in January 06
How do you create the songs?
We start with the basic structure, then add the bridge and chorus. The funny thing is whoever seems to come up with the basic structure of the song seems to have some words and the hook of the song already in their head. The rest of the guys polish, re-write, add solo's, take out solo's, from the other guys song, till it sounds like Tribal Tongue. I think that since we all have such different musical backgrounds, it makes the songs sound like 4 different bands you might have heard before.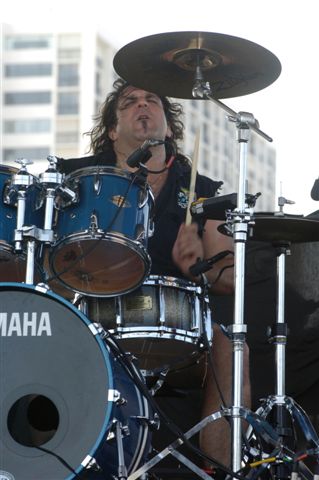 You Say "...till it sounds like Tribal Tongue", what is the Tribal Tongue sound? How could you define your musical style?
The style is a blend of all our different backgrounds, we each bring a different feeling which shapes the band and its sound.
What is so different in your 4 backgrounds?
Tag is the old school guitar player, groomed by some of our greatest players. Bryce is a vocalist by trade, starting his career with the heavy metal band Edwin Dare, (where he was compared to Rob Halford of Judas Priest) then switching to bass to play with Rickey in Blackfoot. Joey was also a singer in the band Engine Joe, (compared to Brad Delp of Boston) then he moved to Fort Myers and found Stet & Bryce. Gary has played everything from Lynyrd Skynyrd to Iron Maiden and after he joined Dave Hlubeck from Molly Hatchet in the 90's, he found that his Southern Style was his best. So you have old country Tag, Judas Priest Bryce, Boston Joey and Southern Rock Gary. That's Tribal Tongue.
Do you mean that your songs are very traditional Southern rock music songs or do you mean they are maybe more innovative?
I think they are both. They are traditional in the sense that the songs make you want to dance and sing along, but I think the merging of the different style creates a sound that is new and fresh.
The disc is very short: only 29' and 7 songs. Why no more stuff?
We wanted to give the world a taste of what we have to offer and that's all the money we had. We are going to put 12 on the next CD, they are all written, just need to be polished. We go into the studio 2007.
Why didn't you add some covers maybe?
Time and money, we wish we had more of both.
Two lead singers are credited. How are shared the songs between them?
We listen to the songs and we know who will sing what as soon as we hear the idea. Bryce will have more songs on the next CD. Probably 6 for each with a duet between both (Like "Beer Drinker" - ZZ Top)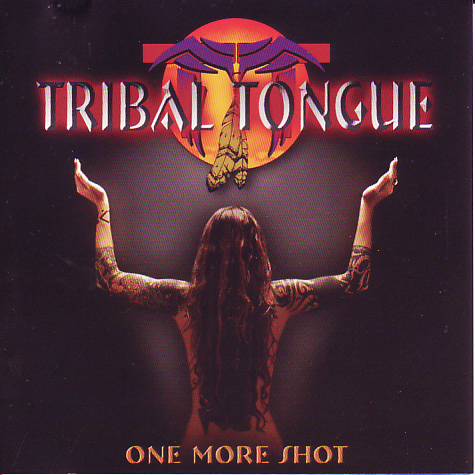 Is the disc a commercial success for you?
So far, we have sold about 1000 CD' at our shows, on-line and overseas since Feb. 2006. It's only been 4 months. Looks good so far. That's why we love magazines like yours who help get the word out and help our careers. We salute you!!
Is Tribal Tongue your only project or do you do others things, professionally?
We will play acoustic sets locally in South Florida under the name "The Electric Oysters". Could be one member,2, 3, or all 4, and sometimes Blackfoot Guitar player, John Housley will sit in, then we turn it up.
What kind of music will play The Electric Oysters"?
Acoustic Rock: Eagles, Doobie Brothers, Crosby, Stills, Nash & Young, etc. (We play whatever the crowd on the Beach wants)
Usually, Southern rock bands have 2 or 3 guitarists. Why only one in your band?
We always have two guitars, most of the time Joey is playing the acoustic, but Bryce will play the electric thru the night, with Joey on bass. (We started out with John Housley (Blackfoot) on guitar with Tag, but his busy schedule makes him available for only select gigs.)
Is it easy to play Southern rock today?
It's getting better with the new generation of country artist coming out today, it seems their style is more rock then country. You have to figure, the new generation of country musicians listened to: Skynyrd, Hatchet, Blackfoot, Outlaws, Allman Bros, the Eagles, etc. They were listening to Hank Williams Jr., not Sr. So I think the new songs of today reflect the energy that Southern Rock brings to the table, and energy sells.
Very interesting analyze. How could you define the Southern rock?
Southern Rock is a country song with attitude that makes you want to sing and dance, drink beer, ride a motorcycle, chase women, etc. For the most part Southern Rock songs tell a story that a lot of people can relate to or rally behind.
How many shows do you play?
At least 4 times a week, if we can. If we are not touring or off that day, we will pick up local gigs in small towns. That's more fun sometimes then playing the big gigs.
What were your big audiences?
Well since the CD came out in 2006 we have played with a lot of different acts, but the biggest was at Sun-Fest in West Palm Beach Florida with Lynyrd Skynyrd & Train. We have a bigger festival in Oct.06 with the Doobie Brothers, Black Crowes, Cheap Trick, Gov't Mule in Lake Havasu, Arizona
(www.havasurockfest.com)
.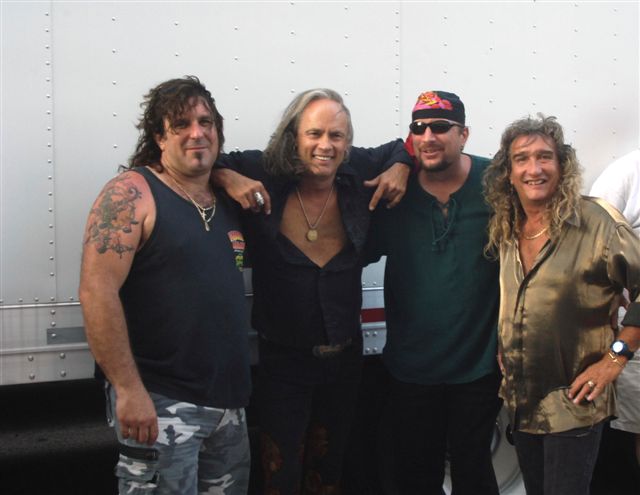 Do you play only in the South or elsewhere?
Yes, nationwide. We start our next tour in August with Molly Hatchet in Texas, then to Las Vegas and Lake Havasu, Arizona for a weekend with 38 Special and the Doobie Brothers, Headline a handful shows on the East Coast and Mid-West. Then back to Florida in October for Biketoberfest in Daytona Beach.
What is your set-list?
1) Until I Get to Heaven
2) I got Love
3) Hear Me
4) Instrumental / with Band Introductions
5) Led Zeppelin Medley (Out of Tags introduction into Joey's)
6) I Feel
7) Nothin Stay's the Same
8) Hey Good Lookin' (Tag's Graves father, Red Graves played Guitar with Hank Williams Sr.)
9) Aint Gona tell you know more
10) Train Train or Call me the Breeze
11) Mississippi Queen
12) Flirtin with Disaster or Sweet Home Alabama
Do you often play with bands such as Lynyrd Skynyrd, Blackfoot, Molly Hatchet or the Marshall Tucker Band?
Our paths cross at least 2 times a year if not more.
What are your projects?
We just finished playing with Skynyrd in May, Molly Hatchet next in August in Texas, then 38 Special & Doobie Brothers in October.
Ok, but what are your plans on a more long term? You said you're working on a new CD but did you plan other things (DVD, an overseas tour, etc.)?
We are about to release a live DVD from Sun-Fest this May and are in talks right now for an overseas tour.
In Europe? When?
We should be overseas next year. There is talk of a tour with Skinny Molly. I will keep you posted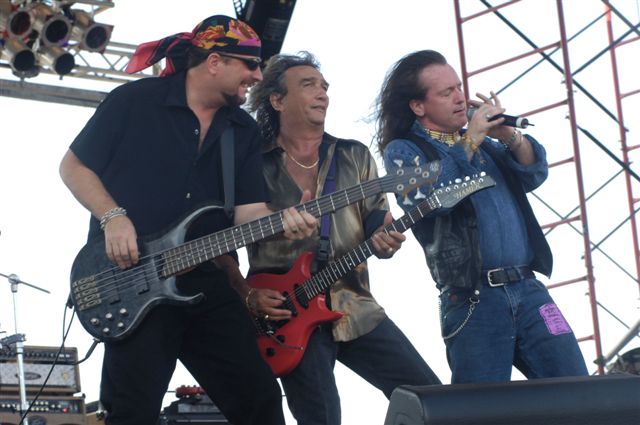 What are you favorite Southern rock albums?
One More from the Road / Street Survivors (Skynyd)
Strikes (Blackfoot)
Hotel California / Long Run (Eagles)
Flirtin with Disaster/Bounty Hunter (Molly Hatchet)
Eat a Peach / Live at the Fillmore (Allman Brothers)
I know they are not southern but we love anything from Led Zeppelin!! Good Music is Good Music.
In the last few months, we have discovered two new talented Southern rock bands: Tribal Tongue and Rebel Pride. Are they others bands like you?
Not really, unless you grew up listening and playing the Southern Style, you will really never get it. There isn't a class at school that teaches Southern Rock. Southern Rock is as much about attitude and feeling as it is the musical ability of the players. Southern Rock just gave the people what they wanted, something to sing and dance to, with a little bit of attitude.