Dennis Winters
The Winters Brothers Band
Interview by Luc Brunot.
Original version of the interview published in Bands Of Dixie #42 (January - February 2005)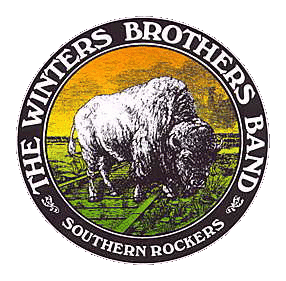 With "SouthWest Stampede", the second album since their come back, The Winters Brothers Band have maybe released their best recording to date. Even if the band doesn't have, as it seems, a musical life as continuous as some of their colleagues, it sets up gradually among the most interesting independent bands... After all, not too bad after thirty years of career. The mark of an indestructible faith in their music. A sufficient reason for us to ring their leader Dennis Winters for a second time...
Hello Dennis. Of course, I'd like to begin this interview with questions about "SouthWest Stampede". Why is your brother, Donnie, not on this disc?
Donnie wanted to do something more financially stable for his family, and had a strong desire to pursue audio engineering as a career. Donnie has gone to school for this profession and is now working full time in audio engineering. Please note that Donnie still sits in for Jamie LaRitz from time to time and joins us every year for the Southern Summer Jam. He joins us whenever his schedule permits.
You and the bass player are the only persons still in the band. What are the reasons of the changes?
Well, 'Rad' retired after the 2004 Jam. He has now been replaced with long time friend and musician Darren Brothers. You all have to remember that we have been around for over 27 years and it's almost impossible to keep the same line up in any band for that length of time. If they have been able to, without death, sickness, financial battle or life's everyday circumstances that are thrown at one, then they are very lucky and are few and far between. If you look around, you will see that there are very few bands that have all original members left today. This includes The Rolling Stones to Lynyrd Skynyrd, even The Grateful Dead.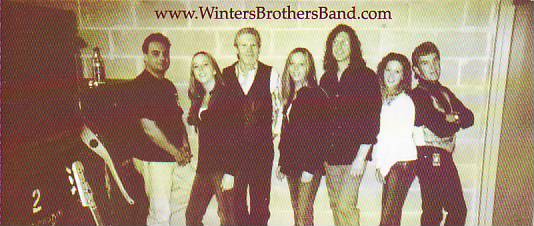 Can you tell us "who is who" on the back photo of the disc?
Left to right: Eric DiNenna (drums), Carly Winters (backup vocals), Ron 'Rad' Dunn (bass), Cody Winters (backup vocals), Jamie LaRitz (lead guitar and backup vocals), Casey Winters (backup vocals) and Myself, Dennis Winters... what do I do? Oh yeah, rhythm and lead vocals, as well as some lead work.
What is the musical itinerary of Jamie LaRitz, the new guitarist and how did he join the band?
Jamie has worked with many, many greats of all genres. One of the biggest is Bret Michaels. Bret is the lead singer of Poison and Jamie is touring with him for the month of November. Jamie has also toured with Black Oak Arkansas. Jamie has just completed Bret Michaels' new solo CD, recorded at his personal studio "Dog Ear". This is the same studio we recorded "SouthWest Stampede". Jamie and I go way back some 27 years ago. He played lead guitar with the band Great Train Robbery. They opened a lot of shows for us on the Northeast Coast. Jamie used to come out and jam with us as well as us going out and jamming with them during their sets. When Donnie decided to pursue his audio engineering career I then had to fill his spot. A mutual friend of both Jamie and myself who was playing lead guitar for Leon Russell had informed me that Jamie had moved to town and was working in a music store in Nashville. After not seeing each other in years, I decided to make a visit to the store. After Jamie and I caught up on the many years we had been apart, I asked if he would be interested in taking Donnie's slot as lead guitarist. His smile said it all. The rest is history.
What musical changes or other changes were brought by the arrival of this musician?
Jamie added a new dimension and opened us up to endless possibilities. Jamie plays several instruments and several genres of music profoundly. He also has a very unique style and has been very complimentary to the Winters Brothers' music. His creativity and song writing abilities will continue to be implemented in future projects. Jamie's production talents and engineering abilities are very much a part of the newest project, "SouthWest Stampede".
Do you play many concerts?
Our itinerary is definitely filling up. We have been relatively quiet in the past, but with the reformation of the Winters Brothers Band and new CD it hasn't taken but a couple of live shows to start bringing more and more work our way. We are alive and well and ROCKIN! We have been opening up shows for Charlie Daniels, Marshall Tucker, 38 Special, Molly Hatchet and Atlanta Rhythm Section.
Does the band exists and play permanently?
Of course every band has occasions when the line up will change up a bit for a show here or a show there. Like the Allman Brothers, Govt. Mule, Wide Spread Panic and even the Dead... It happens to us all.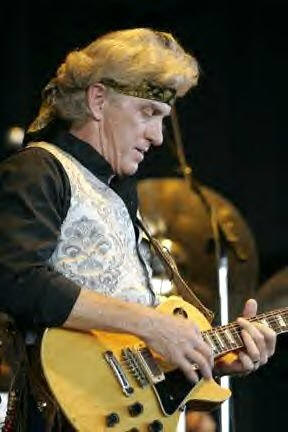 Are you a full time musician?
Yep, full time musician, but of course many know that there is a lot more to it than it sounds. Many challenges are brought to the table.
The disc contains some older versions of Winters Brothers Band tunes and some "new tunes". Were these ones written recently or a long time ago?
The majority of them were written recently, over the past few years. But of course, we're always writing new songs and hoping to collaborate with Jamie and other band members on future projects.
"Devil After My Soul" appeared on your first disc and "A Gun Don't Mind" was on "Coast To Coast". Why have you integrated these tunes on this re-mastered versions CD?
This is a total "concept" album and a project I have wanted to do for years and years. We wanted to create something for people that really love the art of music and creativity. So the whole point was to have the musical CD as a virtual movie, as we call it, visual audio. If you have knowledge of the old southwest, this CD takes you directly there; it's like watching Young Guns in musical form, something you might expect Pink Floyd to do. These songs fit the concept perfectly. Having been brought up in the country, having raised cattle for Marty Robbins and being in and around rodeo's all my life. The cowboy in me came out in many of my songs in the past. After hearing Jerry Garcia and The Grateful Dead's version of Marty Robbins's "El Paso", I knew we could do this project in a rock format... and we did. The two songs compliment the project in my opinion.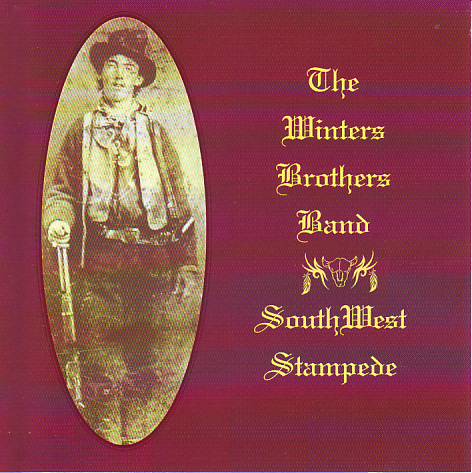 The inlay notes indicate the presence of Charlie Daniels and Toy Caldwell on these two titles. On which one is Charlie and on which one is Toy and what instruments did they play?
Charlie Daniels and Toy Caldwell both played on A Gun Don't Mind. Charlie played the acoustic lead guitar and Toy played the pedal steel guitar. It was an absolute honor to have them both play on this song.
I see that Jamie LaRitz is credited on these titles. Did you add tracks recorded during the recording of this new disc or was Jamie present at the time when the songs were initially recorded?
Jamie added his tracks to the re-mastering of these songs. He was not present during the original recording, which took place in Macon, GA at Capricorn Studios. Jamie is playing a second lead to Donnie on Devil's After My Soul and playing mandolin on A Gun Don't Mind.
Do you still have contact with Charlie Daniels?
Yes we do. We have opened up for Charlie on many occasions this year. In my opinion, Charlie sounds just as good today as he did when we opened up for him the first time.
Do you have contact with other Southern rock bands?
Yes, we work the most with the Marshall Tucker Band. We appreciate the relationship with them very much and enjoy sitting in with them during their set. We also opened shows for Molly Hatchet, who has been very good to us in letting us use equipment and sharing dressing rooms. We have also opened up for 38 Special and Atlanta Rhythm Section this year. In August, we opened the largest southern rock festival at Starwood Amphitheatre in Nashville for Charlie Daniels, Marshall Tucker and Molly Hatchet. For those that we are working with, we must say the southern rock brother and sisterhood is still alive and well!
Who are your back-up singers, your daughters?
Yes, we have the twins, Cody and Carly, and my older daughter Casey, who are better known as the Winters Brothers Band's "Southern Belles". They enjoy working with the band very much and appreciate all of the experiences they have gotten while joining us on this journey. The girls, being in their 20's, are also the newest generation of southern rockers that have learned to love the music which has given the world so much.

On tunes like "Outlaws and The Lawman" and "Caution To The Wind", there is someone singing harmony. Is she the same on the two songs and who is she?
All three girls are singing, but yes, Casey is featured on both of the tracks you are speaking of. Our live shows feature all three girls on solo songs of their own.
"Outlaws and The Lawman" continues with "Outlaws Jam" and "Stampede" that opens the disc is again in the last track with "Stampede Jam", the jam being, of course, marked with long instrumental improvisations. That pleases me, I like these jams but why did you record it this way? Why not on a single track?
The album is a non-stop recording, once it starts, there is no break. All songs track to the next. Something like Pink Floyd or The Who would do. As far as Stampede goes, these are two different versions; it helps to bring the project full circle. Jerry Garcia, of the Grateful Dead inspired this song. The first version is a studio cut and the second version is the long live jam version in which we pay homage to Jerry for the influence he has had on us. "Outlaws" and "Lawman" are done in two tracks due to the fact that after we started recording the tracks we were looking for a Pink Floyd-ish type of transition from the song to the jam. It became so long we decided to put an "i.d" in and break it up into two tracks due to there being so much information on the recording disc, it couldn't hold the entire song!!
Were the jams recorded separately or in the stride?
Stampede Jam was recorded in the stride and Outlaws Jam was recorded separately from "Outlaws" and the "Lawman".
Why "Sta
m
pede" in the title of the disc and "Sta
n
pede" in the titles of the songs?
This was a "typo" on the first CD order that came from the manufacturer.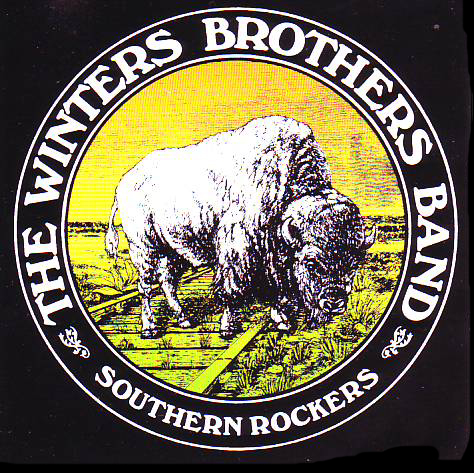 How many copies of "Southern Rockers" were sold and how many do you hope to sell of this one?
Thousands, not an exact total. Haven't made it to a million, but our fingers are still crossed! We plan to sell all we can of this one. Sales have started very well with very little promotion as this point. Sales continue to increase on both CD's as more people find out about us.
I often heard that "Coast To Coast", the second disc you recorded in 1977 for Atco never went out, is it true?
This is very true. The album was held up due to legal complications between Atlantic Records and Rabbit Records. Atlantic told us it had nothing to do with the band, it was just business between them and the sub-label.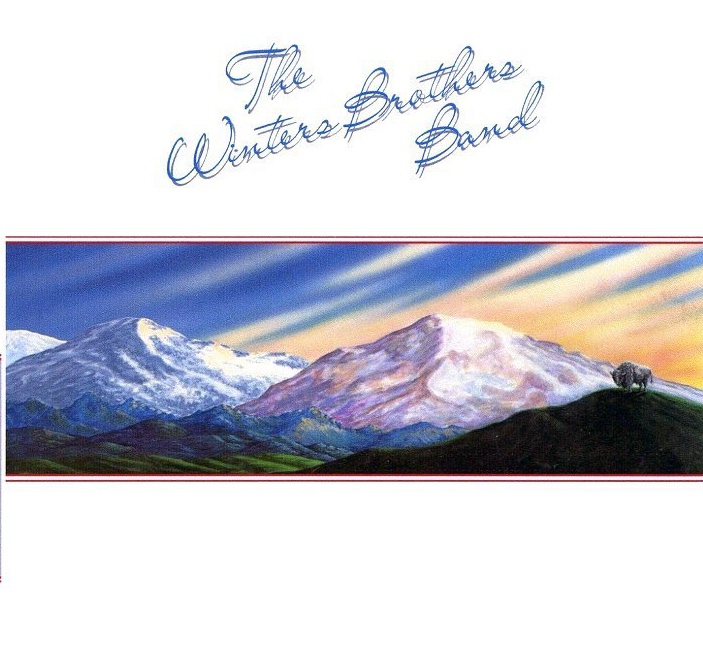 Do you plan to release "Coast To Coast" as well as your first album on CD?
Yes, we plan on releasing both on SouthStar Records sometime in 2005. They are both mastered and are waiting to be printed. We have "Stampede" out now, so we'll focus on that for a while.
Several tunes on the "Keep On Running" EP sound different from what we hear on your Atco discs, on "Southern Rockers" and on this "SouthWest Stampede". Why are they so different?
On the "Keep on Running" EP we wanted to look in different musical directions. The co-producer was Dave Perkins, we wanted his input in our music and he had a completely different musical style, we wanted to try other things. That project is heavily influenced by Dave's input.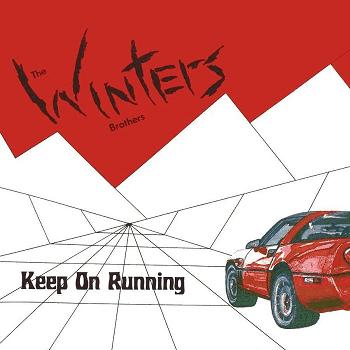 What was the composition of the band at the time of "Keep On Running"?
Gene Watson on bass, Donnie Fields on drums, now deceased, Donnie Winters on lead guitar, Don Winters, Sr. on vocals and myself on guitar and vocals. Dave Perkins brought in a keyboard player for all of the key work.
Is "Yodeling King" in the same style?
The "Yodeling King" is one that I produced for my father and is in a more traditional country roots format that features his fellow band members from the Marty Robbins band and features my father on all of the yodeling. This is an all-yodeling project, but also features my brother Donnie on Rosita and features myself on Yodel Our Way to the USA and title cut Yodeling King. We sang the songs and our father did the yodeling. Charlie Daniels and Joel "Taz" DiGregorio, Charlie's keyboard player, were also guests on this project.
Are versions of these two discs on CD foreseen?
Yes, we hope to have them out also in the near future. They are also mastered and are on hold in the can.
Who are the artists who most influenced the music of the Winters Brothers Band in the Atco era?
The artists that influenced us at that time are some of the artists who's influences are very apparent on "SouthWest Stampede": Pink Floyd, Santana, Grateful Dead, Beatles ("Sgt. Pepper's Lonely Heart's Club Band"), Jimi Hendrix, Eric Clapton, B.B. King and Led Zeppelin. More recent influences would be Dave Matthews, Phish, Guns-N-Roses ("Sweet Child of Mine"), Widespread Panic and U2, as well as Merle Haggard, Marty Robbins and Hank Williams and more.
At present, do you try to stay in the continuity of these discs (Atco's discs) or do you try to integrate into your music others elements, others styles?
The elements are constantly changing and as we grow as a band, our music grows with us. With the addition of Jamie, new bass and drum players and the added youth of the Southern Belles we have endless possibilities, but one thing to always keep in mind is that you can take us out of the south, but you can't take the south out of us!
Have you other recording projects?
Yes, the ones previously mentioned above as well as one we are really excited about, our next studio project, which will be a blues CD. This will give us a chance to feature Jamie, Casey, Carly and Cody, all on tracks of their own. We are also working on putting together a full live CD.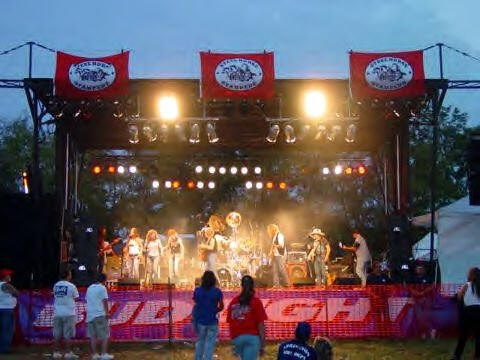 Tell us about the Southern Summer Jam.
The Southern Summer Jam is a musical event we hold every June, the day before Father's Day. It features several acoustic acts and bands. This is a family event and we have people attend from all over the world and the U.S.A. We offer a large variety of music and Ernie Greer's famous BBQ.
Who were some of the artists at this jam?
Southern Cuzenz, Ricky Campbell, Pickled Beats, Billy Hester, Kit Housley, Mountain Nelly, Michael Buffalo Smith, just to mention a few.
How many people in the audience?
Average is about a 1,000 plus. Not much advertising involved because it has gotten too big for the farm to hold!
How long is the Annual Jam?
Starts in the afternoon and goes until...sometimes lasting until about 2am. Winters Brothers Band usually play 2 hours plus jamming.
How long have you been having the Southern Summer Jam?
2005 will be the 26th Annual.
Which artists came during the years?
Ed King of Lynyrd Skynyrd, George McCorkle of the Marshall Tucker Band, Tommy Crain of the Charlie Daniels Band, Monte Yoho from the Outlaws, Johnny Rodriquez, Michael Buffalo Smith and many, many more.
What are your projects now?
To keep the writing and recording going as previously mentioned, and to work more shows in 2005.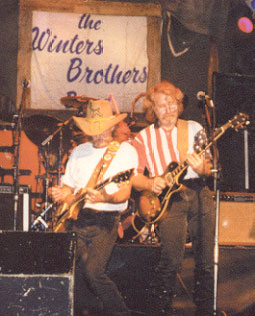 What are some of your favorite Southern rock discs?
I don't think I have a favorite disc, but all of the bands that we have worked with; Charlie Daniels, Marshall Tucker, Lynyrd Skynyrd, Outlaws, 38 Special, Molly Hatchet, Atlanta Rhythm Section, Stillwater, Grinderswitch, Allman Brothers, Dickey Betts and Bonnie Bramlett... all of these artists have music that I love to listen to. I think they are all great!
Would there be any young promising Southern rock artists whom you would like us to discover?
Southern Cuzenz, I believe, is a fast upcoming band. They have their roots and concept as we know in all southern rock bands. I'm sure there are many out there, I am just not too familiar.
I've heard people confusing with the brothers Johnny and Edgar Winter. I suppose that often occurred to you. Was that a good thing or a bad thing for the Winters Brothers Band and its business?
It happened more in the 70's, but rarely do we have it now. Edgar is the only one out there working much anymore. It never helped us, but at the same time when people heard us they never forgot the difference and always embraced us for what we do.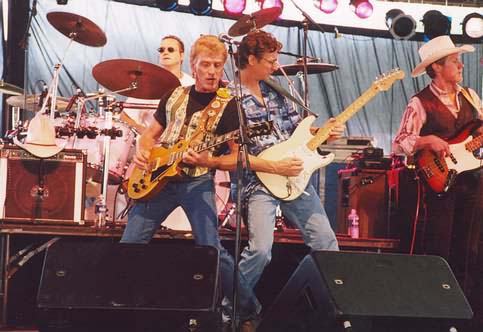 Did you ever meet Johnny or Edgar Winter?
I met both once, separately. But I don't think either would remember me. It was a brief hello many years ago.
What are your dreams for the Winters Brothers Band?
My dreams are to turn my dreams into reality. To see the Winters Brothers Band gain the recognition for the work they have done. To gain a substantial fan base, which will allow us to work more shows around the world and enable us to share our music with all people. When people hear us, they love us! The biggest part is getting the word out. We thank Bands of Dixie for giving us an opportunity to do that. Also, a good dream would be to come to France and play the first Bands of Dixie Southern Rock Fest!! What was that date again? The Winters Brothers Band WILL be there!
www.WintersBrothersBand.com