Robert Nix
Candymen
Atlanta Rhythm Section
Alison Heafner
Interview by Luc Brunot.
Original version of the interview published in Bands Of Dixie #65 (November - December 2008)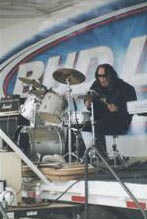 In the previous issue, Robert Nix related us his musical history with
"The Days of Love & Blood"
. We complete this text today with an interview relating his days with the Candymen, the Atlanta Rhythm Section, Alison Heafner, and so on.
Hello Robert,
How did you start the music?
I just went crazy when I was a very young kid listening to Elvis, Fats Domino, Little Richard, Sam Cooke, James Brown, Ray Charles, and later Otis Redding.
What are your influences as a drummer?
Joe Morrelo (Dave Brubeck Quartet), Hal Blaine, Cozy Cole, Buddy Rich, and all drummers playing Rock and R and B.
When did you join Roy Orbison?
1964.
Did you play before in other bands or with other artists?
Yes, I played with Jazz Cats, Black R and B Guys, Country older guys, and all kinds of young Rockers in Jacksonville, Florida growing up. It was a great place to experience all types of music.
How long did you play with Roy Orbison?
I played 5 or 6 years off and on.
Was it after that the Candymen were formed?
No. We actually formed as a back up band for Roy Orbison. Later we developed into making our own music and got a record deal with ABC Paramount Records in New York. We came very close to moving to London and signing with a company owned by Graham Nash and Ron Richards. When the Beatles were recording "Sergeant Pepper's" they took a night off and let us use their equipment and engineer at Abbey Road Studios with Graham Nash producing. Our manager and Graham didn't get along so we came back to Atlanta and Bill Lowery got us the record deal.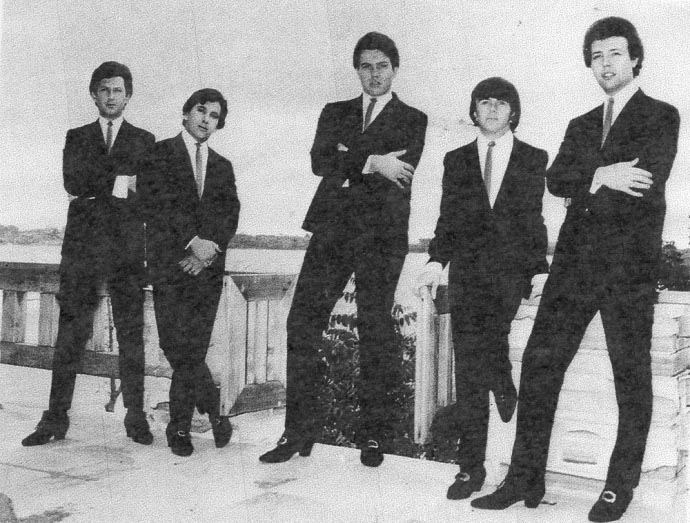 You released two albums?
Yes.
What was the style of the music?
Beatles, Dylan, and some of the southern roots we grew up on.
When and why did the band disappear?
I was the first to leave the band. I wanted to concentrate on writing, producing, and playing drums on hit records. Consequently I got my first hit record with a song I wrote with Bill Gilmore almost immediately. It was "Cherry Hill Park" by Billy Joe Royal.
How did the creation of the Atlanta Rhythm Section occur? Who has chosen to put together those musicians?
We were the studio musicians in Atlanta as a rhythm section. Buddy Buie and Bill Lowery were the catalysts behind us becoming our own group, writing our own songs for ourselves. We'd had hits by a lot of different artists and it just felt right to finally do our own thing. Bill Lowery named us the Atlanta Rhythm Section
How did you join the rhythm section?
I was doing studio work with J.R. Cobb, Dean Daughtry, Emory Gordy, and later on Barry Bailey, and Paul Goddard. Dean Daughtry and I were in Roy Orbison's Candymen before we became studio musicians. Finally, after making many records with several artists we decided to put out our own record. Buddy Buie thought that we could be a great band and he got us a deal with Decca MCA. Bill Lowery named us the Atlanta Rhythm Section. We continued to play on records for a few artists, especially Al Kooper and his many projects but eventually we just made our own records.
Did you know the others players before?
I actually graduated from high school in Jacksonville, Florida with J.R. Cobb. After Roy Orbison hired me, Dean and I played for years in the Candymen. I knew of Barry Bailey and Paul Goddard from seeing them playing with local bands in Atlanta clubs.
You were only instrumentalists, how did you find your singer, Rodney Justo?
Rodney was the original lead singer in the Candymen with Roy Orbison. He was a great lead singer and could sing like everybody from Tom Jones to the Beatles. He was really good at singing harmony with Roy. Later he became the first lead singer in the Atlanta Rhythm Section.
At the beginning, you were only sessions musicians. How and when did you transform into a true band?
We were offered a deal as a band with MCA (Decca) and so we did it.
When did you start playing concerts?
Really started out slow just playing a few dates. Ronnie Van Zant had a major impact on us really going on the road more. He would hang out with us at Studio One. Lynyrd Skynyrd would be recording all day and then we would go in at night. He would listen to us and say "shit man, ya'll got to take it to the people." A lot of our first gigs were on the road with Skynyrd.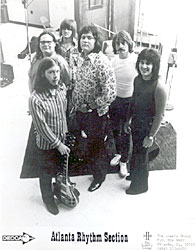 Do you remember when and where he first Atlanta Rhythm Section's concert was?
The first gig I remember with the Atlanta Rhythm Section was in Atlanta at Alex Cooley's 'Electric Ballroom'. We kill'em and after this everyone got very excited about the Atlanta Rhythm Section. The rest is history. We were very blessed with the success we received.
What was your set-list at this time?
A lot of the songs from "Back Up Against the Wall" and "Red Tape". Plus a couple of cover songs. I recall some of the Band's songs and McCartney's "Live and Let Die".
As sessions musicians, who did the Atlanta Rhythm Section back up?
Dennis Yost and the Classics IV, Billy Joe Royal, Joe South, the Tams, B.J. Thomas. Just a few I recall. I also played drums on records with Paul Davis, Ike and Tina Turner, Lynyrd Skynyrd and I played on several projects with Al Kooper.
The first disc of the Atlanta Rhythm Section was released in 1972. Did it take a long time to prepare?
Not a lot. We sort of it in between our other recording/writing commitments. We were also playing on a lot of jingle/commercials. Coke, Dr. Pepper, Kentucky Fried Chicken, and sports teams like the Atlanta Braves baseball team.
The songs of the Atlanta Rhythm Section are mostly written by several people and we often find your name. How did happen this songwriting with several people?
Buddy Buie, J.R. Cobb, Dean Daughtry, and I were the catalysts for most songs, but we wrote with everyone. I just liked to write with anyone, any place, any time. I feel real blessed to have shared credits with so many different ones.
Why did Rodney Justo leave the band after the first disc?
Rodney Justo is a great artists and I think he just really wanted to spread his wings and fly in a lot of different directions. He left to work in New York with Steve Tyrell (B.J. Thomas' manager) and artists like Stevie Marriot and Humble Pie as a tour manager.
"Back Up Against the Wall" was out in 1973, when Lynyrd Skynyrd released "Pronounced Leh-Nerd Skin-Nerd". Did you know them at that time? Have you been influenced by them then or later?
Lynyrd Skynyrd is from my hometown, Jacksonville, Florida. I remember them playing local rock clubs like the Comic Book club. They were wild-assed kids, obviously very dedicated to making it. The next time I saw them they were Lynyrd Skynyrd. Still wild-assed kids making records at Studio One with Al Kooper producing. We all knew then that Ronnie Van Zant and the boys would kick the world's ass!
Have you sometimes shared the same stages? Jammed together?
Yes. We played a lot of shows with them before we started headlining. Yes we sometimes jammed together live.
What were the relationships between the Atlanta Rhythm Section and Lynyrd Skynyrd during the seventies?
We loved and respected each other. Ronnie used to say "ol' ARS is the best". I played the drums on "Tuesday's Gone". Ronnie told that it was one of his favorite tracks. I was very honored that Ronnie Van Zant and Al Kooper asked me to play on the record.
Why you on this song and not Bob Burns, the Skynyrd drummer?
Al Kooper and Ronnie Van Zant asked me to play on "Tuesday's Gone". I think maybe this was about the time Bob Burns started having some personal problems. Anyhow I feel very blessed to have helped make that record. Ronnie Van Zant always told me it was one of his personal favorites of all the Lynyrd Skynyrd tracks.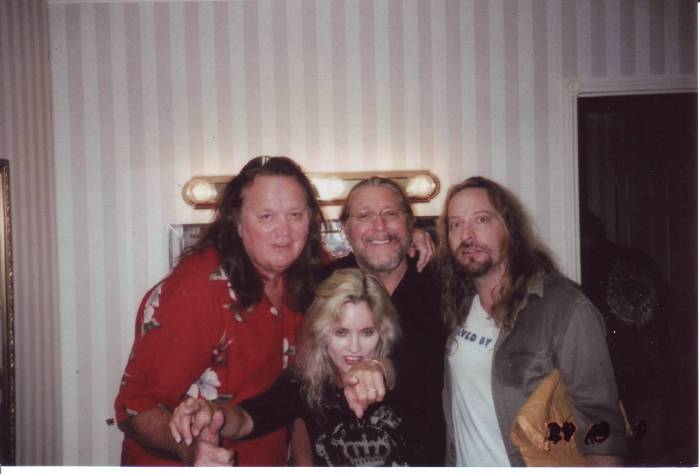 It seems the Allman Brothers music and the Atlanta Rhythm Section music are quite different but did the Allman Brothers Band nevertheless influence you?
When I was in the Candymen we would tour all over the world and come back home and play clubs all over Dixie. One group that impressed me more than any was the Allman Joys. Duane and Greg had something that you just knew would someday explode on the world. Our music (Atlanta Rhythm Section and The Allmans) may have been a little different but we both had a common thread of class and style. That's undeniable! Duane Allman has influenced every gun slinger guitar player since he picked up his first bottle neck slide. Greg Allman is the blue-eyed, blond Ray Charles!
After all, what are the main influences of the Atlanta Rhythm Section?
There are really too many to name. Everything from Jazz, Rock, R and B, even a little country and bluegrass, and some classical. It's just all over the spectrum. Me personally, Bob Dylan, the Beatles, Roy Orbison, Bacarach and David, Joe South, Johnny Cash, All the old R and B soul guys. Buddy Buie and Bill Lowery also helped me shape my songwriting in the beginning. God I wish these young writers today would, in the great words of Maya Angelu, "Don't spit on your history" and learn from it, the world would be so much more enlightened.
Have the first two discs been successful? Did you get some airplays?
Well, we got a lot of critical acclaim that seemed to set the course for everything that followed. Our first major break through radio/fanwise was the "A Rock and Roll Alternative" album. Because of the single "So Into You". Consequently the touring dollars radio airplay and everything else translated into success.
Of these two discs [Editor's note: the two firsts], it seems to me that the songs remain quite unknown. How do you see it in retrospect?
The songs led us on a path of 'getting it right" on the radio. I think my last answer pretty much covers that.
How and why the Atlanta Rhythm Section went on to Polydor?
After two albums with MCA (Decca) we just felt like we weren't getting what we needed in promotion and tour support to break through. MCA/Sounds of the South had Skynyrd and although we liked Mike Maitland, the president of MCA, we felt we would be bigger fish in a littler pond at Polydor records. We also loved Jerry Shonbaum and Arnie Geller at Polydor.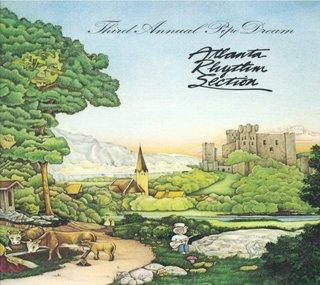 From "Third Annual Pipe Dream" (1974), you are credited as associate producer. Did you have a more important role in this field? What was it?
Actually I played a major role from the inception of the Atlanta Rhythm Section. Buddy Buie and I were 'joined at the hip' about all things to do with the Atlanta Rhythm Section. We wrote the major hits. We dreamed the album concepts together. Even the art work. We planned out every session together over many cups of black coffee and various other 'sundries'. We even called Phil Walden and Alex Hodges at Paragon late one night to see if they would book the band. They said "yes" and the rest is history. I regret that Buddy Buie and I did not continue to write/produce/ and just dream about what could be and make it happen.
Most of the Atlanta Rhythm Section LPs have incredible artwork, some of the best in the rock history. These artworks, it was your ideas or it was Mike McCarty's ideas, the man who made the pictures?
Buddy Buie and I would come up with a concept for the album covers, usually from the title of the album. We would then meet with Mike McCarty and convey our ideas. Mike is a true genius of an artist. He would then put his twist on the artwork. It always would be brilliant
Often, Barry Bailey is regarded as the lead guitarist and JR Cobb as the rhythm guitarist. Nevertheless, I guess JR Cobb took some solo. What was approximately the proportion?
Barry Bailey and J.R. Cobb are two of the greatest guitarists in the world. Barry is like a Stradivarius player and J.R. is like B.B King, Steve Cropper, Chet Atkins, or anybody he wants to be. Both have one thing in common, they were born to play the guitar and play it with heart and soul.
On the back sleeve of "Dog Days" (1975), we see the band in concert. How many dates a year did you play?
One year, I believe it was '78, we played 262 dates on the road, wrote the songs to "Champagne Jam" and recorded the album. I personally did not see my family but two of three times in the year.
Were you still recording sessions for other artists as in the beginnings?
No!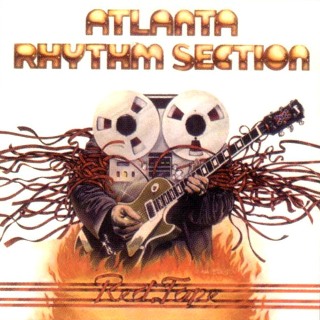 "Red Tape" (1976) is the most rock album, the Atlanta Rhythm Section's hardest music. Was it a deliberate attempt to make a more hard rock album?
It was for me personally. Buddy comes from more of a softer side of rock than me. Every time I could influence things my way I would. We actually got in a fight one time because I called him Pat Boone and told him I was more like Elvis Presley. But I think we were great together when we got it right. I was in total disagreement with the direction we went in after "Champagne Jam". A lot of things happened after that record that caused Buddy, the band and me to disagree. I was pretty much over the edge with a lot of creative depression. Drinking and drugging really entered the picture and I know I was hard to live with
Why did you add "Another Man's Woman", which already appeared on the first LP?
We just felt "Another Man's Woman" was a live vehicle and we developed it into a great bass solo for one of the greatest bass players on earth, Paul Goddard.
Oh yes, what an incredible bass player! Could you tell us about his personality, about his importance in the Atlanta Rhythm Section?
Paul Goddard was a wonderful super talented guy. I guess some would say he was a little bit quirky. I actually enjoyed this side of him. He was very important to the Atlanta Rhythm Section sound. He played the bass more like a guitar. I think Paul was way ahead of his time. A lot of modern bass players have similar techniques as Paul had back then.
In 1976, you've released a second disc, "A Rock And Roll Alternative" always with great songs. Among concerts, songwriting and recording, the life pace should have been insane?
Yes, pretty much crazy. Plus touring with Skynyrd, Marshall Tucker, Charlie Daniels, ZZ Top, Wet Willie, 38 Special, and everyone else, it was awesome. We really thought we were all supermen
Has "So Into You" been your greatest success?
"So Into You" broke us out of an opening act/regional/cult following band. Due to the major radio performances to this day, it's one of our biggest performing songs at BMI.
Did you feel that you'll get of a success like that with that song?
Yes. We had been touring and playing mostly as an opening act until the success of the hit single "So Into You". After it was a hit we became a much more in demand headliner.
The "Champagne Jam" song on the album of the same title (1978) is a little bit in the same vein. Did you try to create another "So Into You"?
Not really. "Champagne Jam" is just a kind of concept song about rockers having fun being classy instead of rotgut. "Imaginary Lover", which was a major hit, I would frame more in the vein of "So Into You". A radio friendly pop/rock hit. It's also next in line with radio airplay performances at BMI.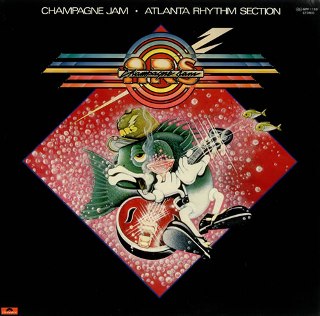 What do you think about this disc ("Champagne Jam")? There are very good songs, it has sold very well but it seems to me colder, less alive?
I think it is a great phonograph record. I believe it is a great link in the chain from "A Rock and Roll Alternative".
"Underdog" (1979) then seems more intimate, melancholy. What is the reason of this change?
"Underdog" seems to me to be where we lost our sight of where we should have been headed. I personally would have liked to have gone more rock 'aka' "Red Tape". I truly believe that record was our downfall. That's just my opinion and they are like assholes, everybody has one.]
When and why did you leave the band?
Right after "Underdog". A total creative breakdown. I just thought we should be going in another direction. I was very hard to live with and was given my 'marching orders'.
You're not credited on the double live LP "Are You Ready!" but we don't see rather the photo of Roy Yeager who replaced you. Who was on drums?
I was, but I think Buddy took Roy Yeager in the studio and 'tweaked' the tracks. After this all pictures of the band had me totally erased. I guess that was a management/band decision. What are the discs of this era that you prefer?
I love different cuts from different albums for different reasons. I would really dig putting together my own 'Atlanta Rhythm Section Greatest Hits Tracks album'.
What would be the track list of your 'Atlanta Rhythm Section Greatest Hits Tracks album'?
"Dog Days", "Oh What A Feeling" ("Red Tape" LP), "Georgia Rhythm", "So Into You", "Imaginary Lover", "I'm Not Gonna' Let It Bother Me Tonight", "Outside Woman Blues", "Spooky", "Champagne Jam", "Angel", "Doraville"...
Did you film concerts in the 70's that could give the hope to see one day a DVD released about this time?
You'll have to ask Buddy Buie. I always thought that we should have been filmed and recorded live a lot more then we were. We played some pretty serious gigs from Kebworth England (205.000 fans) to the White House, to Day On the Green, not to mention our own Champagne Jam's. I really think that's one thing Lynyrd Skynyrd's management got right. They have so much footage recorded live on film. For some reason it didn't seem to matter much for the Atlanta Rhythm Section. Something else I totally disagreed with.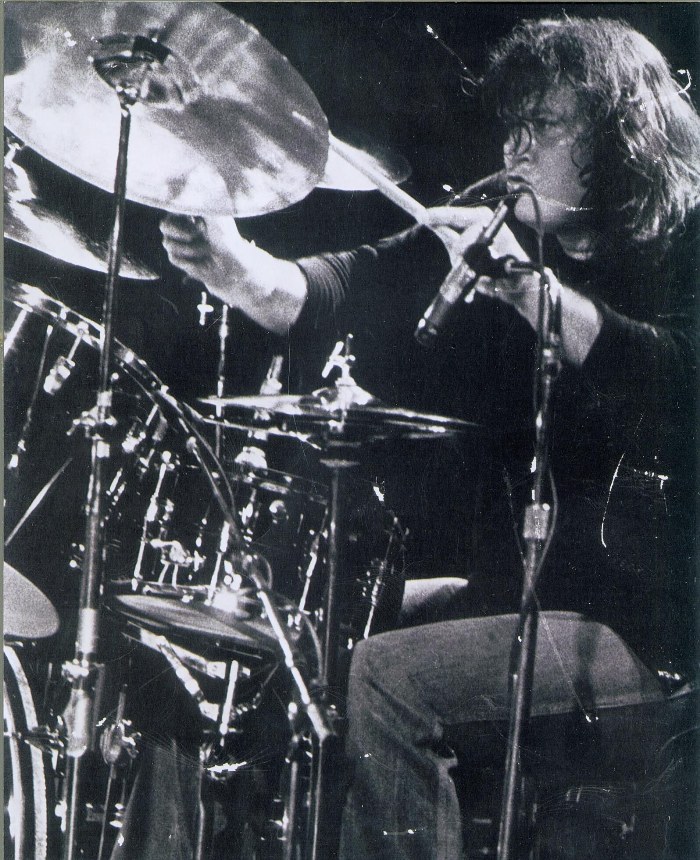 Do you still have contacts with your former buddies of the Atlanta Rhythm Section?
Yes, I often speak to Buddy Buie. Dean Daughtry, Alison Heafner, and I have written some really great new songs together. [Editor's note: Dean Daughtry is co-writer of three songs of the self titled of Alison Heafner's CD]
The Atlanta Rhythm Section seems to me a little bit forgotten today (to my knowledge, all the discs haven't been released on CD) despite splendid discs. Is this your opinion? Why?
I think that the Atlanta Rhythm Section brand has been cheapened by constantly playing with non original members of the band. Plus there is no management / publishing / promotion machine behind the band. The Atlanta Rhythm Section is only dignified by the still strong attention of radio airplay at the classic rock/southern rock level. This lives on only through the hit songs. There are no Bill Lowery's, Buddy Buie's, Arnie's, Alex Hodges', Buck Williams', Terry Rhoads', or Alex Cooley's behind the wheel anymore.
What did you do after having left the band?
I've been working with Alison Heafner. She is one of the greatest singer/songwriter/performers I've ever come into contact with. I've been blessed to have worked with Roy Orbison, Billy Joe Royal, B.J. Thomas, Dennis Yost, Joe South, Al green, and the great Ronnie Van Zant. Alison Heafner is a total artist in every since of the word and I put her at the top of the list.
When did you start working with Alison?
Now as for Alison Heafner. Artists like Alison come along maybe once in every twenty five or thirty years. She is a jaw-dropping performer live on stage. People are totally mesmerized and in awe of her when she is on stage singing. Steve Cropper adores Alison. He says when she sings that she is the only artist that makes him want to strap on his guitar and play, since Otis Redding. I first met Alison when I ran into an engineer friend of mine one night in Memphis. He said he was looking for me and please come down to the studio to hear this girl sing a capella. I went to the studio and could not believe what I was hearing. Alison sang like Janis Joplin singing Wilson Pickett. Except it was much better than that. I knew then that she was a very special artist. I didn't know that she was also an incredible songwriter. Later we started writing and cutting demos on our songs and I've learned how much of a natural-born genius she really is. Mix this with her live performance and its something that the world needs and must know about. I can think of a few that have had what Alison has and it starts with Elvis. George Klein (Elvis Now Sirrius Radio Graceland) says she has exactly that 'star stuff' that Elvis had. The Rock 103 DJ'S in Memphis say that Alison will shake the world with her music. Duane Hitchings (Rod Stewart's co-writer on 'Do Ya' Think I'm Sexy?', 'Young Turks', 'Infatuation', 'Passion', and many others, found Alison on the web and sent her a message saying she was the most important artist he had heard since Janis Joplin who he had worked with. He even asked Alison to write the lyrics and sing to two tracks that he was working on for Rod Stewart. Alison just finished writing the songs and we are about to record them.
What did you do between the Atlanta Rhythm Section and your collaboration with her?
Wrote songs and made a few records with some good ole' boys. Produced and played on a track of my song 'The Mighty Clouds of Joys' on Al Green's 'Testify album. I originally wrote it and recorded it with B.J. Thomas. It was a big hit single for B.J. Leon Russell recorded the song with his wife, Mary McCreary on her album. I'm real honored that everyone recorded my song.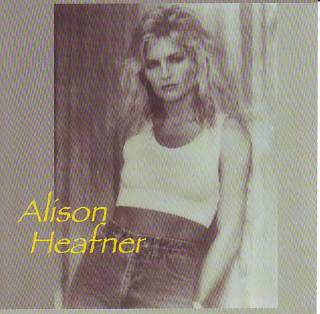 Have you participated? What is your role: drummer? producer?
Yes: producer, co-writer, drummer, mentor and everything else in between including trying to be a manager.
Aren't you, too, her husband as I have read in a newspaper article you sent?
Alison and I were married in Franklin, Tennessee on November 21, 2008.
Is this self titled CD her first album?
The self-titled album ALISON HEAFNER is actually a package that we put together for Rock 103 Memphis after Alison won the Great Unsigned contest in '07. She received 2,500,000 votes and then went on to play at the Crawfish Festival in competition with two other bands. She blew them away and went on from there to play on the big stage at the Beale Street Memphis in May Music Festival. She once again killed 'em.
When and where was it recorded?
Different tracks were recorded in different studios in Nashville, Dothan, Alabama, Atlanta, and Memphis over time
Who were the players?
'Designated Lover': Guitars, Cris Tench, Keyboards, Hassel Teakle, Drums, Robert Nix, Bass June Bass, Overdubs, Hal McCormack, Joe 'Boogie' / 'Killer': Guitars, Hal McCormack, Keyboards, Joe 'boogie', Drums, Robert Nix / 'End of The Line": Drums, Robert Nix, Guitars, Hal McCormack, Bass, Jeff Adams / 'Face In The Mirror': Drums, Robert Nix, Keyboards, Jim Hallengren, Guitars, Hal McCormack, Bass, Jeff Adams / 'Reggae Love': Drums, Robert Nix, Guitar, Larry Byrom, Keyboards, Larry Byrom, Bass, Larry Byrom, overdubs, Hal McCormack, Joe Boogie / 'Crucified': Drums, Robert Nix, guitars, Chris Tench, Keyboards, Hassle Teakle, Overdubs, Hal McCormack, Joe Boogie / 'To The Moon': Drums, Robert Nix, Keyboards, Dean Daughtry, Guitars, Doug Lanceo, Steve Stone, Chris Tench / 'Missta' Sippi' (*): Drums, Robert Nix, Guitars, Will Smith, Jimbo Mathus, Keyboards, Jimbo Mathus, Bass, Doug 'Handgun' Gordon, Blues harp, Jimbo Mathus / 'Ode to Billy Joe': Guitars, Chris Tench - Drums, Robert Nix - Keyboards, Hassle Teakle - Overdubs, Guitar, Hal McCormack - Keyboards, Joe Boogie / 'I Won't Take No': Drums, Robert Nix - Keyboards, Dean Daughtry - Guitars, Steve Stone, Ron Norris
(*) Recorded at Delta Recording Service, Como, Mississippi
Who are the musical influences of Alison Heafner?
Janis Joplin, Tina Turner, Elvis, Robert Plant, Ronnie Van Zant, and a whole lot of European Rock.
I saw her on the pictures with a Lynyrd Skynyrd T-shirt. Does the Southern rock and especially Lynyrd Skynyrd are influences to her?
Alison loves some Southern Rock and in particular the songs 'Tuesday's Gone' and 'Can't You See'. She also loves most of any thing the Allman Brothers have done.
Is the disc selling well?
It's doing great at the concerts and club gigs. It's also doing great by mail order. You can get it by sending a check or money order for $17.95 to Alison Heafner - P.O. Box 1932 - Batesville, MS.38606
You also sent a live track from the Thunder Beach Bike Rally, is it from a live album scheduled?
Alison loves the song 'Folsom Prison Blues' from the movie about Johnny Cash. She loved the sound track cut by Jaaqin Phoenix so much that she sings it live and the crowd goes nuts. We played Thunder Beach Bike Rally at Panama Beach, Florida last year and happened to catch it on tape. We are going to be recording live from now on and putting together a live track album of the best cuts.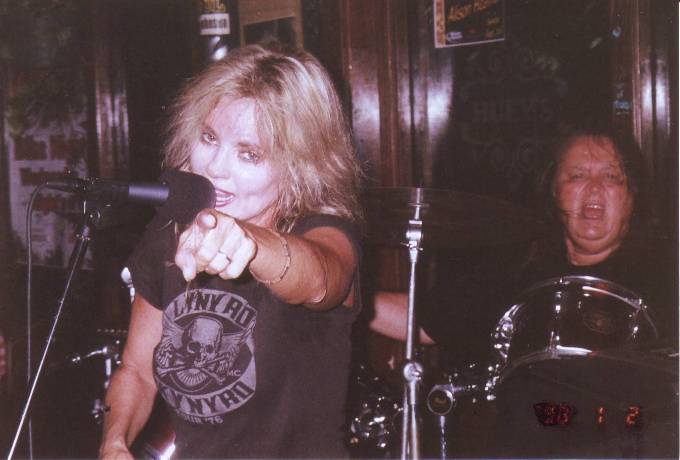 When was it recorded?
September of '07
Is it with the same musicians as on the studio CD?
Yes and also with Phil Swindle on slide. Phil is from Jacksonville and has played with all the Skynyrd people through the years.
The song is bluesier than the studio stuff. She plays more bluesy in concert?
Yes. Alison has this thing that comes alive in front of people. It's something I think you have to be born with. Elvis, Jimi Hendrix, and Janis Joplin had 'IT'. When you see her live you will get 'IT'!
Are you satisfied by her career development?
We just have to keep on doing what we do. The music industry at the corporate level is a big disappointment to me right now. With the help of people like you and all you do we can save some of our amazing heritage with a few amazing artists such as Alison Heafner. We most enlighten the young and satisfy the old with what we know is the truth. ROCK 'N' ROLL will never die.
Jimmy Hall talked us about Deep South. Where is the project?
Deep South is on the shelf for now but who knows about the future.
What are your favorites Southern rock albums?
Of course I love the Allman Brothers early stuff, especially the live things. I like some of Lynyrd Skynyrd's stuff. I love some of the Marshall Tucker things, "Can't You See" especially. There is an album that I think could be called southern rock. Derek and the Dominoes because of Duane Allman's influence along with Bobby Whitlock on keyboards could be in the southern rock category.
No Atlanta Rhythm Section's stuff?
"Dog Days", "Third Annual Pipe Dream", "A Rock & Roll Alternative", some of "Red Tape" and some of "Champagne Jam".