Billy Crain
Henry Paul Band - Outlaws
Interview by Luc Brunot.
Photo credits: photographers unknown except if mentionned. Photos provided by Billy Crain.
Original version of the interview published in Bands Of Dixie #102 (January - February 2015)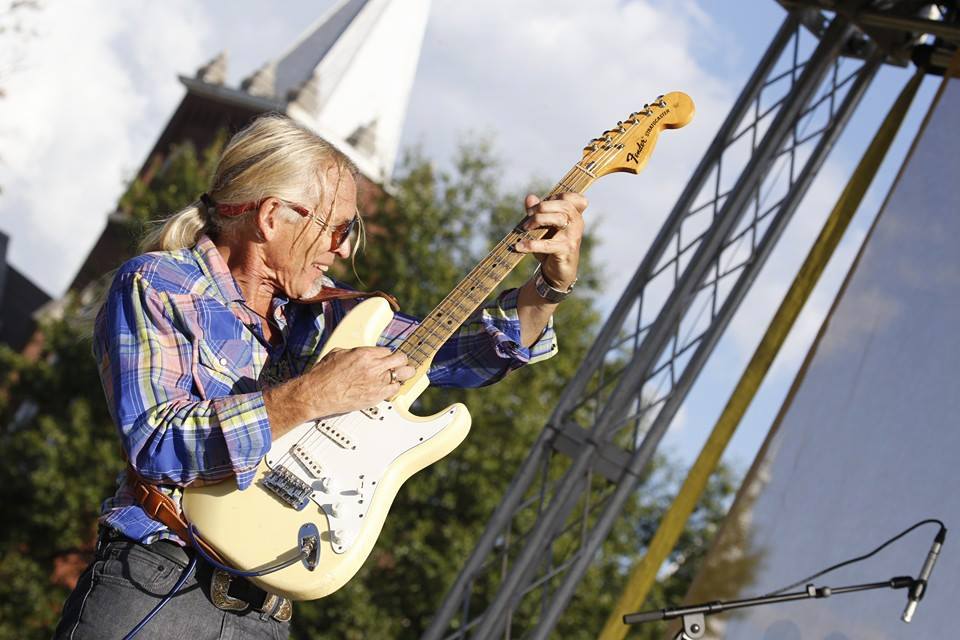 A lot of events happened to Billy Crain since our previous interview. A dark period opened for him with a succession of misfortunes. He tells about it as well off course as its new record. Third interview subject: we know the Billy Crain qualities as guitar player but Billy appears increasingly to be also a nice singer.
Hello Billy.
the last time we discussed, two years ago, you had released "Creole Shoes" and, with the Outlaws, "It's About Pride". Everything seemed fine for you but a few months later, your mother and your father passed away, it resulted in health problems and you were forced to leave the Outlaws. Would you tell some words about these dark times?
It was probably the darkest times I had ever faced, Luc. I had finally moved past my brother's passing in 2011 and my wife's breast cancer and the band's lawsuit. My health was already on the way down after going to Haiti in February of 2011. I came down with this mystery cough that took 2 years to overcome. I had 2 ruptured discs in my back and was in a lot of pain onstage so I was taking pain meds to manage on that end. I wasn't sleeping well on the road and wasn't sleeping well at home because of the constant schedule change. My weight dropped from 150 to 129 and I remember at Christmas of 2012 telling my older kids that I probably would not make it to next Christmas and this was BEFORE my parents passed away. As 2013 came in, I thought I had turned the corner and headed into the year with optimism. In February my mother suddenly passed away. I handled that one well but when my dad passed 4 weeks later I was a broken man. I was having terrible grief and panic attacks and going on the road was a nightmare for me. I just could not heal. In June of 2013, I had a doctor's appointment and he took one look at me and asked me what was going on. I told him and he looked me straight in the eye and said "You're done" I said no I was leaving at midnight and couldn't walk out on the band, could I at least do this last leg of the tour and he said fine but 2 weeks max. I had an appointment with my spiritual mentor, Father Ray Kasch after that and told him what had happened. He looked me square in the eye and said "You're done" I told Fr Ray that I would be in 2 weeks and he said "no you are done now. This is God's will for you" He told me to call Henry right then and there and tell him I would not be on the bus that night. Henry totally understood. These guys were all holding their breath wondering which day I just might not wake up. It was a tremendous shock to go from Southern Rock Icon to retired in one day. It turned out to be the best thing I could have done health wise. I was able to start working out again and by August of 2013 I was pain meds free and still am.
And now, how is your health?
Very good. I'm back up to 152 lbs and work out 4-5 days a week. I still have some chronic pain problems and deal with migraines and painful small fiber neuropathy but other than that I'm good to go thanks for asking!!!
Does this troubles resulted in changes in your songwriting, your playing, your singing, etc.?
Yes and no. I wrote some very dark songs during this time and some very hopeful ones. It was an immensely intense period of writing. I started writing by myself entirely or with my wife Sandy. I wrote lots of lyrics and the music later which was new to me and I am still doing that. My singing got better after I got off the pain meds (I'm not a great singer by any standards so better is a step up for me :) I'm still playing well and am spending more time on guitar parts these days and how to make them more unique...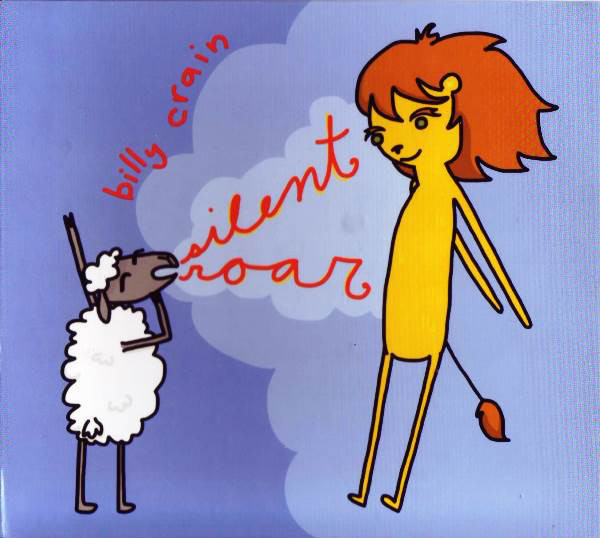 In the liner notes, you write that before these bad days you had enough material for a new CD but no concept. This one came later. Could you explain it?
I had a TON of material for what was going to be titled "BCIII". I had more than enough recorded for the CD but no concept. "Skeletons In The Closet" was my coming out party. "Creole Shoes" was all about my experiences in Haiti and the loss of my brother. I used that CD as a good fund raising tool for help to Haiti. The third CD had no concept. I was wandering around the house mumbling out loud that I needed something to make this CD stand out. I just pit out something off the top of my head and Sandy said you mean like a "Silent Roar?" Boom that was it!! I already had other songs on the new CD about the hardships my adopted children had been through and this song and title tied it all together and I was able to use the money from it to benefit the Papillion Center that benefits children born into fetal alcohol syndrome.
You had recorded several songs before these sad days. Do you have use it for "Silent Roar" or did you choose to restart all?
No I kept a lot of it. "Silent Roar" was the last thing I wrote. Some of it is going on the CD I am working on now. The big process for me was transferring everything from the hard drive format that I had been recording on for years into Logic Pro X. It was a whole new learning curve for me. I took a Logic course to learn the ins and outs. "Silent Roar" and "Man On A Mission" were the only two I actually cut On Logic and the only reason I rerecorded "Man On A Mission" is the darn song would just shut down my iMac every time I tried to work on it. I think God was telling me "OK Billy you can do better" and man was He right!! It came out way beyond my expectations...
As on your former CD, you're doing all or almost. Even the mix and the mastering for "Silent roar" whereas you planned to guest some musician, as you said in the last interview. The concept didn't permit it no more?
I wanted to bring in some guests on it but conflict of schedules didn't permit it. My life is so crazy with the 2 adopted little ones that I work on stuff when I can work it in...
The opening song, "Bad Rock", sounds harder than your usual songs. Is there a special reason for that?
Yes, I wanted it to be. I KNEW it was the opening slot on the CD. If you have ever read "Conversations with Tom Petty", he mentions that today's country music is just "bad rock with a fiddle" I knew I had to write that one. I had been to my share of country shows with elite acts playing ACDC and Led Zeppelin riffs so I was just poking a little fun at them. They probably sing right back at me "bad vocal with a guitar!!!!"
The next tune; "One Nation" begins with "Good Morning Mr. President" and the lyrics are about the welfare. Do you often write about this kind of subject in your songs?
I usually stay way clear of politics. The ONLY reason I wrote that song was I was having a conversation one day with my spiritual advisor and he said "did you know that welfare pays $29 an hour in Hawaii these days?" and I thought "One Nation Under Welfare" It's definitely NOT One Nation Under God anymore...
What about talk usually your songs?
My songwriting is the only place I can complain, get humorous, etc. and feel good about it. I can say what I want to say. I try to stay positive on the internet. I'm so tired of the negative stuff people post on Facebook and elsewhere. This world needs hope not condemnation. A lot of people brand me as borderline "Christian" music and no I don't think that at all. There is no praise and worship in there just redemption. Yes, there is a lot of talk about God and Jesus but that is because the Holy Trinity is an important part of my life...
Has this song caused reactions?
Not one single person has commented about it hahahahaha!!!!!!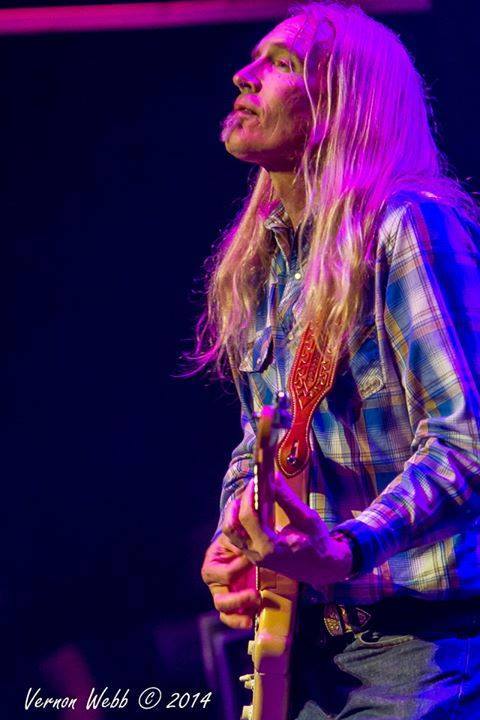 Could you talk about "Man On A Mission"? The song is musically quite unusual with its oriental flavors.
This song is about me. After I came back from Haiti I was on this incredible mission. Somewhere in all the tragedies and heartaches I got off mission. I was REALLY searching to find my way back. The track has a lot of unusual flavors on it. I wanted to have an East Indian feel to it and with all the loops and samples on Logic you can do that. Warning, if you don't like Celtic music don't buy my new upcoming CD!!!!!!!
The title song contains also some original elements like a few accordion sounds, a 2 or 3 seconds sequence of an unsettling laughing child and a guitar solo that reminds me the music of another era. First, could you tell us about the solo?
I modeled that solo after something Mark Knopfler or Eric Clapton might have played in the '80's. "Brothers In Arms" was a huge musical influence on my playing.
On this song as on "Man On A Mission" and as on some other, your music seems to offer an increasing diversity of sounds, influences, etc. Does it come naturally or is it the result of your will?
I hear it in my head and then the trick is getting it on the recording. Sometimes what I hear in my head doesn't translate so I go searching. "Silent Roar" was one of those. I wanted it to have a Gypsy feel to it so I started with that first opening feel and worked my way up from there. I listen to a lot of music from different countries and try to work that into my songs...
Weren't some songs of "Silent Roar" written at first for the Outlaws? I think of a song like "Dallas" where your singing seems to me close to the Henry Paul singing. But perhaps is it only a coincidence?
Just a coincidence. "Dallas" was about my adopted son. We had already written a ton of stuff for "It's About Pride" so all these songs were for my personal project.
The second part of the CD contains maybe fewer surprises but I enjoy the songs and the great guitar parts. The guitar is queen on a song like "Stella Rose". How was it born? And how did you record the guitar? All came in one take or did you need to work and rework on it a lot?
"Stella Rose" was about my adopted daughter who was born addicted to heroin. I heard all those parts in my head and was able to translate that onto tape, well, computer these days. That was one of those great one solo take songs. My brother taught me long ago that as SOON as you pick up the guitar, hit the record button because your best takes are your first ones. I'm not big on comping guitars. If anything, I will stick to one solo and work on it. I have NEVER liked the idea of playing a bunch of solos and then putting together one solo that I would never had played in the first place!!
You're a great guitar player but you're also a very good singer. You didn't sing with the Outlaws and the Henry Paul Band. Did you begin to sing only for your solo CDs?
You know, Henry Paul gave me the greatest compliment. We were writing a song for hopefully a 2015 Outlaws release and I played him a cut off of my new soon to be released CD and he said "Billy, you are singing great. You've really developed your own style" and I was like wow!!! I was always the guitar player. I sang backgrounds onstage but my brother TC was always the singer. "Skeletons In The Closet" was just a private project that I decided to release and I evolved from there. I don't consider myself a great singer but I do have a style and DEFINITELY know what my limitations are!!!!
Limitations maybe but some bands would benefit to change their singer for you. Their records are often very well played but have the singing as weakness; not your CDs. Did you sing like that naturally or did you take some lessons? Who are your main influences as singer?
I sang like that naturally but I had to find myself as a singer and probably did that after I joined the Outlaws. Tom Petty and Mark Knopfler are huge influences on me...
Inversely, your brother sang several tunes with the Charlie Daniels Band but was not the lead singer of his own band. Do you know why?
Tommy was not a super great singer either. He sang what he liked to sing. We were a dynamic guitar duo so we always had a featured singer in the bands with us. He considered himself a guitar player first and singer second and I am the same way...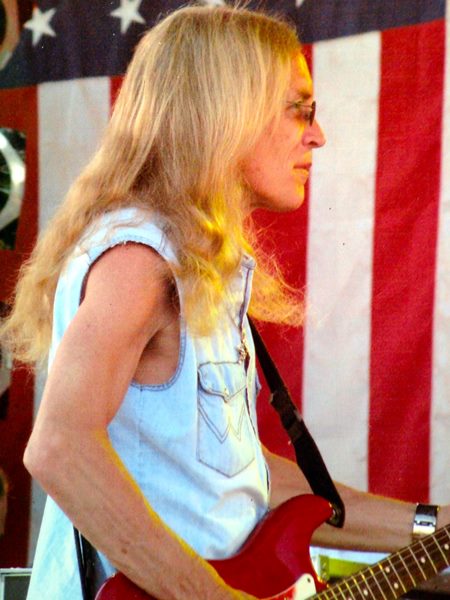 I'm very impressed by his posthumous "Live In Macon". Was the mood of his concerts still like that?
Yes, very much so. Tommy enjoyed playing so much. It just brought him joy to play and talk to his fans...
The CD is dedicated to the unhappy children. Is it the reason of the cover art work?
Yes and no. My daughter did the artwork for it and the lamb is Stella Rose and the lion is Dallas. With children with hardships they have to learn to roar to be heard. That is Dallas and Stella before the cross on the back cover. If you have Biblical knowledge you will know about the lion and the lamb. I originally was going to take on what I think is a black market adoption business here in the U.S.A. I know so many people that pay big bucks to adopt children from other countries and it is just blackmail in general what you have to go through. There are tons of children in the foster care system that need love and that is where Sandy and I started and that is what "Silent Roar" is all about. It's hard to love the unlovable but there IS a way and those children are roaring for someone to love and care for them. We are ALL about the children!!!
You take care of the children but also of your friends and the CD was the opportunity to raise money for Bill Mahoney. What are the news about his health?
His name was Jim Mahoney and he passed away 2 weeks in mid-December. We had been longtime friends. There will be a song on the new BC written for him called "Glory"
Hooo... sorry. He was also a musician?
No he was just a friend. I met him in the Henry Paul Band and we developed a friendship that lasted until his passing...
You have begun again to play again on stage. Could you tell us about that? Who are the players and what do you play? Only your own stuff?
I played at the We Fest here in Nashville back in the fall and I played my own stuff. I went out 3 piece Jimi Hendrix style and it was a blast. I'm trying to figure out how to do some dates in 2015...
Were you playing your stuff with Hendrixian arrangements?
Pretty much so. I would love to have a big band to play it the way it sounds on the CD but 3 piece is a blast. We can really stretch out and jam and take a song in a different direction...
What songs did you choose and how did you choose?
"Bad Rock", "Muddy Waters", "What Wouldn't Jesus Do", "Hard Times At Ridgemont High", "John Lennon", "Amazing Grace (instrumental)", and a blues song called "Bottle Up and Go". I knew which ones were going to work 3 piece so that's the ones I chose...
You've also recorded new songs. Is already a CD scheduled?
Yes. I have 5 songs recorded. I am mixing and mastering and then will do another 5. I would say a late spring release...
A concept?
Yes, it will be called Family Matters and it will cover some family history...
To have a band for concerts could give you the wish to record some songs with it?
Maybe but no plans at this point...
Is there a hope to see you to come back with the Outlaws?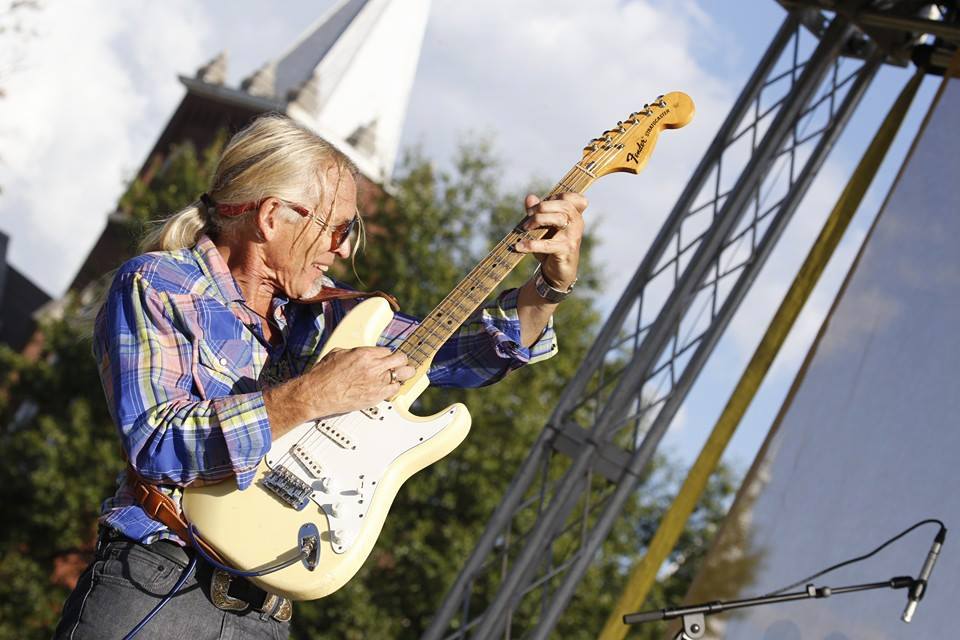 You know what Luc, I have given it a lot of thought. First of all, I have to remember that Steve Grisham stepped up and filled the slot so for me and to just walk in and say "here I am" would cost someone their job and I couldn't live with that. The second factor is they are working twice as much as when I was in the band and I can't hold up physically to that kind of touring. Hopefully more will be revealed and maybe I can open dates for the Outlaws and come out and join them for 3 or 4 songs during their set. We did it here in Nashville and it worked pretty well so that COULD be the next step. As for now I am helping Henry write for a new Outlaws CD...
Do you know when it is planned to record and release it?
I'm not sure what Henry's plans are...
About your own albums, do you sell mainly physical CDs or by download?
Both.
It is for you the best way to work independently or would you like to find a label, a promo agent, etc. to allow your music to be more promoted, known, listened?
No I will stay independent. At my age, I don't think I'm going to have some big radio comeback so I'm pretty happy to keep on doing what I'm doing. I don't know what the Good Lord has in store for me but I'm sure it will be something great!!!